In 2018, the European Union passed the GDPR law which requires consent for storing personal information. This includes any tracking cookies used in comment forms.
Thus, every website that has visitors in the EU needs to add a checkbox to WordPress comments for GDPR compliance.
And although this might sound like a pain, it's actually quite simple. The checkbox was actually added in WordPress 5.4, and it is available on every installation.
In this tutorial, I'll show you the easiest methods to add the checkbox to WordPress comments for the GDPR law.
Does Every Website Need To Be GDPR Compliant?
I know what you're thinking, I run a website in the United States, this doesn't apply to me. Wrong.
Even US websites are subject to this law if you collect any personal information from a citizen of the EU. All it takes is for an EU resident to use a VPN to visit your site and you could be subject to the penalties of the GDPR law.
So, yeah, every website should be compliant with the GDPR. The good news is that this has gotten much easier over the years. And that's because everything you use is probably already GDPR compliant.
Platforms like WordPress have taken steps to rollout GDPR compliant features like what we are about to talk about.
How to Add A GDPR Checkbox for Comments
Step 1: Go to Discussion Settings
I am not exaggerating when I say this will take less than a minute to implement.
On the left-hand admin panel, click on Settings and select the Discussion option.
Step 2: Check the Box for Cookies to be Set
Next, you just need to check a box to enable the feature in your comments section.
Locate the "Other Comment Settings" section. Check the "Show comments cookies opt-in checkbox, allowing comment author cookies to be set" checkbox.
And that's it. Scroll down to the bottom and click on the "Save Changes" button to finish.
Congratulations on making your comment section GDPR compliant. However, this doesn't mean your website is completely GDPR compliant. You have a lot of other stuff to do. Be sure to check out our other guides to become GDPR compliant.
Other Plugins to Add GDPR Checkbox For Comments
While WordPress provides a built-in way to make your comment section GDPR compliant, there are a number of plugins that may be useful in making your entire website compliant.
Here are a few plugins that will help not only your comment section be compliant, but your entire website.
Complianz – GDPR/CCPA Cookie Consent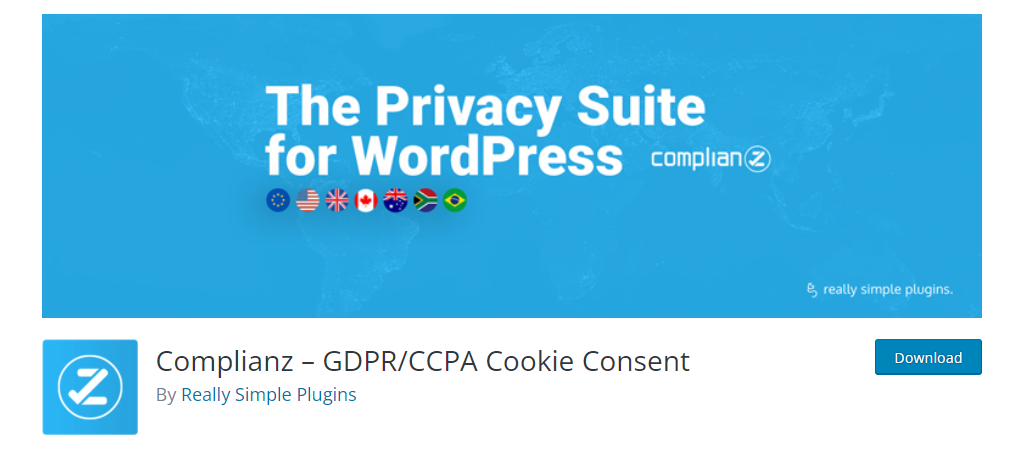 Complainz is a comprehensive cookie consent plugin that provides full coverage for your website. You can customize which regions to ask for cookie consent. This lets you not bother users that are not from the EU.
It also gives you the ability to block cookies that come from third-party tools. While most are compliant with GDPR, some are not. Thus, until you can confirm, blocking them is the safer option.
GDPR Cookie Compliance (CCPA ready)
GDPR Cookie Compliance is another all-in-one cookie consent plugin. What really separates this one from the rest of these kinds of plugins is its style.
Users have a lot more options to play around with, which is why it has over 200,000 active installs.
Outside of this, the plugin covers all of the cookie consent basics and it's pretty easy to use. It's a great choice for any website looking to be compliant with GDPR.
CookieYes | GDPR Cookie Consent & Compliance Notice
The CookieYes plugin is an all-in-one GDPR cookie compliance plugin for WordPress. The main focus is to ask users if they will accept your cookies. You can fully customize these notices, so they will always match your website.
While the main focus is GDPR, it's worth noting that it also supports a variety of other internet-related laws from around the world. These include CCPA, LGPD, DSGVO, and more.
Make Your Comment Section GDPR Compliant Today With A Checkbox
Over the years, GDPR has only gotten stronger and there are no signs of it ever going away. Thus, ensuring your website is compliant is mandatory in 2022. But the good news is that it's become really easy as WordPress has many built-in features for compliance.
Not only this, but third-party tools all have to be compliant as well. Otherwise, they wouldn't be usable within the EU.
While it doesn't take much to be compliant, not doing so could be catastrophic.
Do you use any other plugins to stay GDPR compliant? Does your website operate in a global setting?