In 2018, the European Union passed the GDPR law which requires consent for storing personal information. This includes any tracking cookies used in comment forms. If you plan on marketing your site to people in the EU, you need to add a checkbox to WordPress comments for GDPR compliance.
And although this might sound like a pain, it's actually quite simple with GreenGeeks and the right WordPress plugin. Best of all, you don't need to know a single line of code.
In this tutorial, I'll show you the easiest methods to add the checkbox to WordPress comments for the GDPR law.
Using GDPR Comments
Today, I'm going to demonstrate the GDPR Comments add-on. This is a great WordPress privacy plugin which simply adds the "I Agree" checkbox to the comment system. And it's compatible with multisite support.
It also anonymizes the IP address of any comments new or old.
Install and activate the "GDPR Comments" plugin. There will be several, and you want to use the plugin developed by flowdee to follow this tutorial.
Go to Comments and click, "GDPR Compliance."
Setting Up GDPR Comments
In this section, you can customize WordPress comments for GDPR compliance. It gives you the option to anonymize IP addresses as well as customizing the way the compliance fields are displayed.
For instance, you can disable the default cookies consent checkbox which forces commenters to click the box manually.
You can also change the text of the label and require commenters to check the consent box before a comment is saved. This is probably the better option if a lot of your traffic comes from the EU.
NOTE: It's probably a good idea to link to your privacy policy page in the "Compliance Text" editor. This way, users have direct access to the policy in the event it's needed. Not to mention that the privacy policy needs to be obvious on the site anyway.
Personally, I'd let the link open in a new page to make it convenient for the user.
You can change the text to your liking. The editor has all of the tools and functions as the WordPress WYSIWYG editor. You could even add a button link to your privacy policy to make it more obvious.
If you want the text to show, click the checkbox next to "Compliance Text."
After making your adjustments, click the "Save Changes" button on the bottom.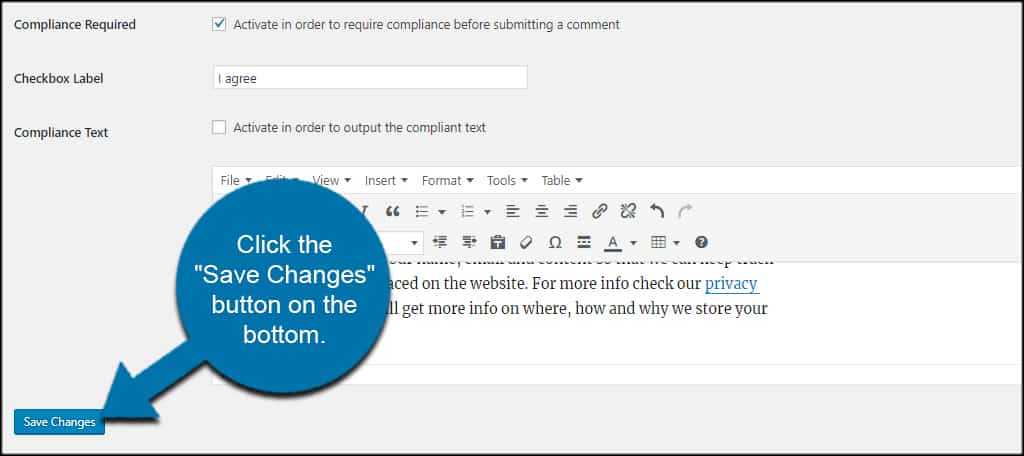 Your site will now show the comments cookies opt-in checkbox in all of your posts and/or pages.
In this instance, the "Post Comment" button is greyed out. This is because I selected the option to require users to agree to the policy.
Other Plugins to Consider
Although GDPR Comments is an easy plugin to use, it's definitely not the only one. In fact, there are a lot of tools that can easily enforce GDPR compliance in WordPress.
Here are just a few of the best GDPR WordPress plugins you can try out today.
GDPR Comments
Not to be confused with the plugin above, the GDPR Comments tool by Juan Manuel Civico Cabrera is a bit different. This plugin will add the consent box in WordPress while showing the basic information about data protection.
This offers a bit more obvious clarity to who is responsible for what and how data is protected.
WP GDPR
WP GDPR is a WordPress checkbox plugin that supports a lot of third-party tools. Not only does it let you control compliance for comments, but you can also integrate the feature with plugins like Gravity Forms and WooCommerce.
It's a great WordPress GDPR cookie plugin for those who just want to integrate the checkbox into website forms without a lot of alterations or overlays.
GDPR
The GDPR plugin is a bit more robust than some of the others in this list. It provides a wide scope of compliance information such as an overlay of the entire site.
Instead of adding a checkbox to WordPress comments, users need to agree before even seeing the content. It's quite robust and has a lot of customizable options.
As a blanket plugin, it might be a decent option.
Keep the Site Compliant
It can be quite a full-time job to remain compliant with the laws of various countries. Especially if you market your business on a global scale. Make sure you keep your site compliant and add the checkbox to WordPress comments.
What tools do you use to remain compliant with the EU's GDPR? How often do you market your business to other countries in general?