A lot of WordPress site owners want to give credit where credit is due. In the case of content, part of this is delivering a way to identify the creator. Using an author bio box in WordPress demonstrates professionalism while promoting the one writing the piece.
People often feel more connected to the content if they know a little bit about who created it. This is part of the reason why so many popular sites include this tidbit of information.
In this tutorial, I'm going to show you a couple of ways to add the author bio box to WordPress. It will help further engage the reader, especially if you take the time to use an author photo instead of an avatar.
Setting Up the Data in the Author Bio Box
Before you can display the bio information, authors need to create it. Most plugins and themes will use the information stored for the author page. This data is part of the user's profile.
If you don't allow others to access user data, you can edit the information yourself. Depending on the author's user role, he or she may be able to edit this information as well.
From the WordPress dashboard, click the "Users" tool in the left panel.
Hover over a name and click the "Edit" link.
Scroll down and use the "Biographical Info" box to add details.
Scroll down and click, "Update User."
If the author already has biographical information available, you need to do nothing in this screen and can move on.
Using Themes
Themes often come with a variety of tools. In fact, adding a new theme may help eliminate the need to install certain plugins or creating code adjustments.
Some themes will automatically have the ability to show the author bio box in WordPress. Unfortunately, not all are capable of doing this. The hardest part is finding a theme that has this featured built-in and will accommodate your design ideas.
So how do you find a theme that has the author box built directly into its framework?
Click the "Appearance" tool from WordPress. This will take you to the Themes screen.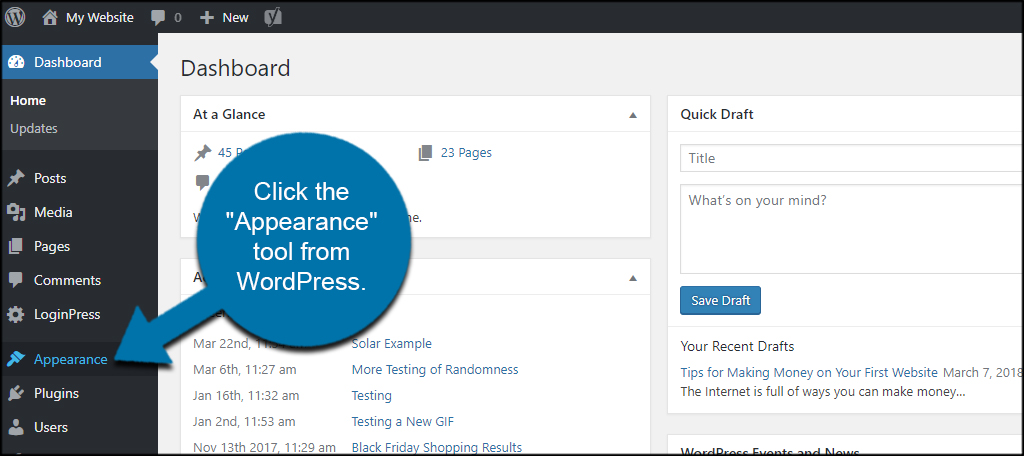 Click the "Add New" button from the top.
Enter "author bio" in the search field. You can also use other terms like "author box" or simply put "author."
Hover over a theme you like and click, "Install."
Click the "Activate" button after the install to make the new theme live.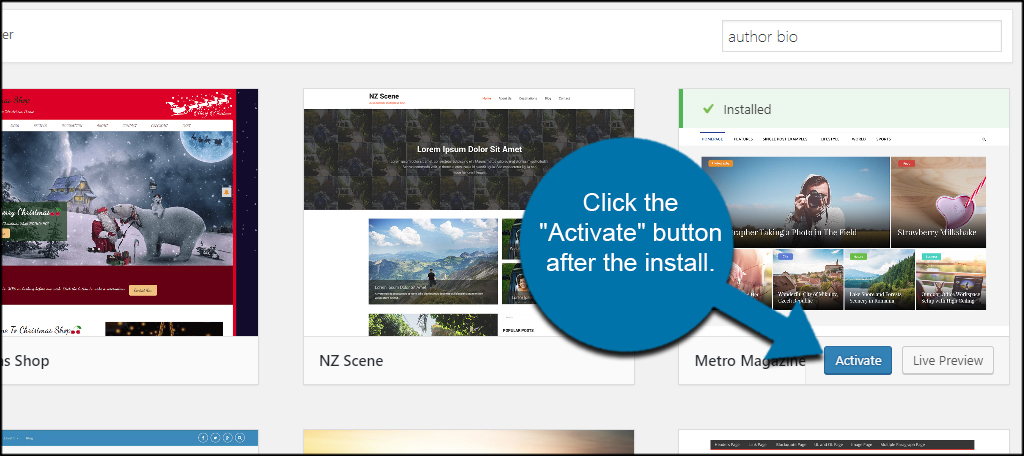 Some themes will simply activate an author box immediately. Others may have settings in the WordPress customizer. Each is different, and you may have to explore the theme a bit to determine its abilities.
But what if you don't want to change your theme? The easiest way to make WordPress add an author box to a post is to use a plugin.
Using Simple Author Box
Perhaps one of the easiest and best author box plugins for WordPress is Simple Author Box. It's quick to set up and delivers several design options to help you fine-tune it to fit your site.
Install and activate, "Simple Author Box." This creates a new tool to use in WordPress.
Once activated, the author box will show.
The default settings for the author box make it usable on the website. But what about giving it more life and pizzazz? Well, Simple Author Box gives you several options to add more visual appeal and functionality.
Click the "Simple Author" feature from the left panel.
In this screen, you have access to a variety of nuances to boost the appearance of the section. You can enable email links, show social media icons, modify the appearance, color and even the typography.
Simply make your changes and click the "Submit" button.
Using Meks Smart Author Widget
Perhaps you don't want to show the author box below the article but add it as a sidebar widget instead? That's when Meks Smart Author Widget comes into play. Although this sidebar widget doesn't have the customization as the plugin above, it does have a variety of settings to customize.
Install and activate, "Meks Smart Author Widget."
Go to Appearance and click, "Widgets."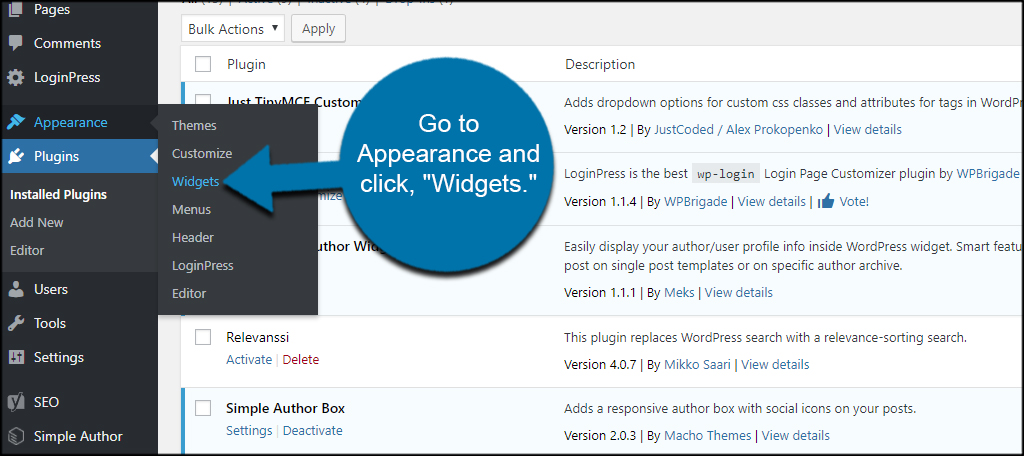 Drag and drop Meks Smart Author into your sidebar. Every theme is different, so you'll have to decide which sidebar element you want to place this on your own website.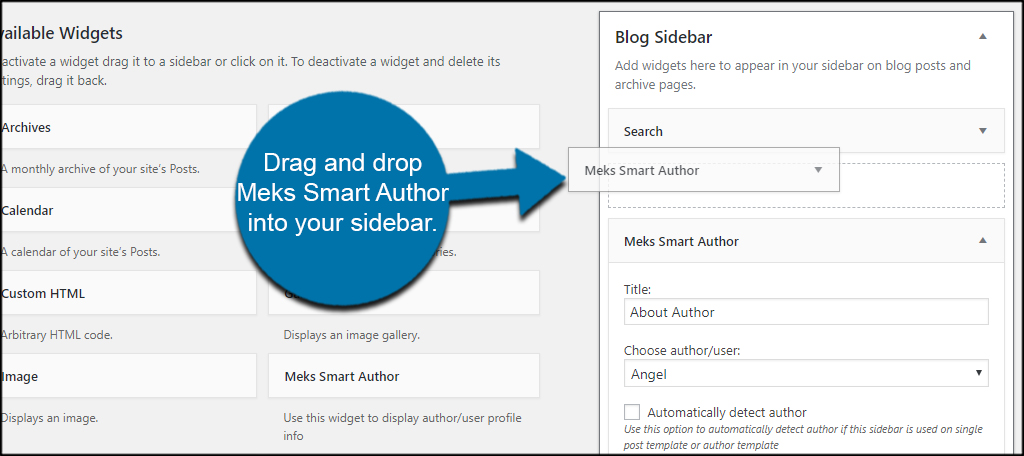 The widget is capable of automatically detecting the author of a post by checking the detection box. Otherwise, you can use any user profile in WordPress.
This plugin also lets you change the description, links, avatars or even add a custom URL for the author. Once you're done making adjustments, click the "Save" button at the bottom.
Once you do this, your settings will become live on the website.
Add More Flavor to Your Website
An author bio box in WordPress may not seem like a requirement for most situations. However, adding that personal element helps develop greater engagement from the reader. It also helps the author by establishing expertise. Discover more of what WordPress hosting can do for you and how it might enhance online success.
What additions do you have to accentuate your writers? How often do you encourage guest posting on your website?