Do you want to display how many times a post or page has been viewed or visited? You can easily accomplish this with a WordPress counter plugin.
Unfortunately, WordPress does not do a good job of displaying this information. In most cases, developers will use Google Analytics or other similar tools to get this number, along with much more.
Today, I will demonstrate how to add a views counter for posts with the Post Views Counter WordPress plugin.
Why Is It Important?
One of the biggest questions beginners have is how to grow their website. What most don't realize is that you cannot begin to grow until you understand your target audience. Understanding how many views each post or page gets is extremely vital.
For example, let's say you released a new post. Without seeing how many views and visitors it gets, you cannot see how well it is performing. And yes, views and visitors are different stats.
This becomes more important when you are trying to figure out how well a piece of content is fairing in comparison with another.
For example, let's say you just released a movie review and can see it got 1000 views. In comparison, a video game review you released got 1500 views.
This is a clear indicator that video game reviews may be bigger traffic drivers. However, make sure you have multiple pieces for comparison. This could certainly be an outlier and mislead you.
Half of the battle is understanding what each stat means.
Installing Post Views Counter
Post Views Counter is one of many WordPress counter plugins available for free. It allows you to see how many views a post, page or custom post content has received by category. It's very easy to set up and highly effective. And of course, it's completely free to use.
Let's start by clicking on Plugins and selecting the Add New option on the left-hand admin panel.
Search for Post Views Counter in the available search box. This will pull up additional plugins that you may find helpful.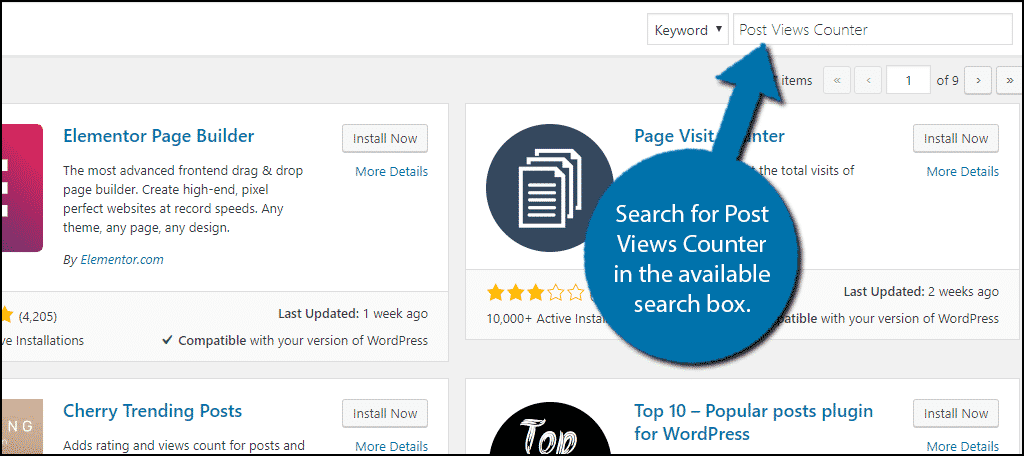 Scroll down until you find the Post Views Counter plugin and click on the "Install Now" button and activate the plugin for use.
Using Post Views Counter
On the left-hand admin panel, click on Settings and select the Post Views Counter option. This will pull up the plugin's settings page.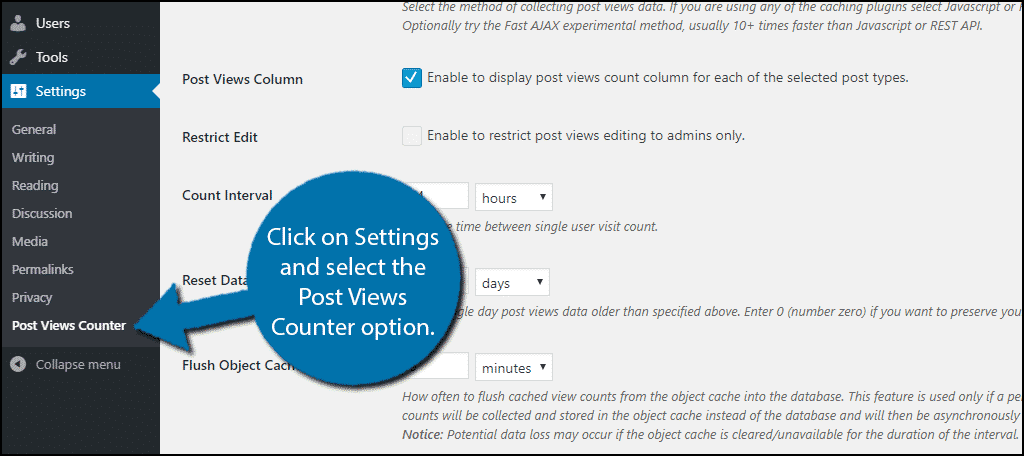 There are two tabs in the settings, General and Display. By default, you can view the display on your WordPress Dashboard. However, there are quite a few options that can make a big difference in what you are viewing.
In the General tab, you can change if you are displaying post or page views, which counter mode to use, if you want to restrict it to admin use (I recommend this), how often it is updated, how long the graph will run for (default is one month), and which visitors or IPs to exclude.
These choices are up to you and as always, I recommend testing out how each setting affects the plugin and pick what works best for you. Click on the "Save Changes" button when you are done.
Click on the Display tab. Here you will be able to customize a few extra settings including, the post views label, post and page type, the position the counter appears, the display type, and the icon class.
Don't forget to click on the "Save Changes" button when you are done.
Viewing the Counter
All that's left is to see the counter in action!
The easiest way to view it is by visiting your WordPress dashboard. To do so, click on Dashboard and select the Home option on the left-hand admin panel.
You can see it in action here:
Congratulations, you have successfully set up the Post Views Counter plugin.
Using Page View Count
The Page View Count is a great alternative to select. It has all of the features you would expect in a WordPress views plugin. It is fully compatible with the Gutenberg editor and even adds two new blocks. It's simple and free to use.
Understand the Meaning Behind Numbers
Stats are a great way to track and measure how much your website is growing, but it is easy to misinterpret what they mean. You need to study up on the meaning behind these numbers and how you can benefit.
For example, a view and a visitor are different stats. A view is any time a person visits or reloads the page. While the visitor is a unique person using your website for the first time.
This means that one visitor can give you multiple views, which in some cases can inflate the numbers.
There are plenty of important stats to look out for, but you need to understand what they represent.
How do you typically monitor your website's stats? Which stat is most important to you?