Affiliate marketing helps many websites become profitable, and the Amazon Affiliate Program is the most popular platform on the Internet. While there are many tools that can help make it easier, the Affiliate Super Assistent plugin is one of the best.
This plugin allows users to easily display products directly on their website using shortcodes. All you will need is the product ID and you can display almost any product from Amazon with accurate pricing.
Important Note: Pay close attention to the plugin spelling. For some reason, they have chosen to misspell the word "Assistent" thus, I will be following their spelling.
Today, I will cover how to use the Affiliate Super Assistent plugin to show off products in WordPress.
This plugin is for:
WordPress 5.9
Plugin: Affiliate Super Assistent v1.4.18
Why Use The Amazon Affiliate Program?
On paper, affiliate programs are simple. All you need to do is provide users with a link to a product. If they purchase that product, you make a small commission. However, it's a lot harder than it sounds.
For example, you need to make sure that a product appeals to your audience. After all, it would be pretty tough to sell barbecue supplies on a vegan website. And that's what makes Amazon such a powerful platform…they sell everything.
As a result, every website will be able to find products that interest its users.
More importantly, Amazon is one of the most trusted and used platforms when it comes to eCommerce. This makes it easier to convince visitors to buy a product on Amazon versus a lesser-known website.
Thus, with the trust of most users and an impressive selection of products at your disposal, Amazon is the best affiliate program to use.
How to Display Amazon Products with Affiliate Super Assistent
Step 1: Install Affiliate Super Assistent
Before you go any further, you need to make sure you sign up for the Amazon Affiliate Program. If you are not enrolled, you cannot get paid. Thus, there would be no reason to use this plugin.
Your Amazon ID is necessary to display a product with this plugin.
Once that's set up, all you really need to do is add products and then create shortcodes for each one. All in all, it's pretty straightforward.
Let's start by clicking on Plugins and selecting the Add New option on the left-hand admin panel.
Search for Affiliate Super Assistent in the available search box.
Find the Affiliate Super Assistent plugin and click on the "Install Now" button and activate the plugin for use.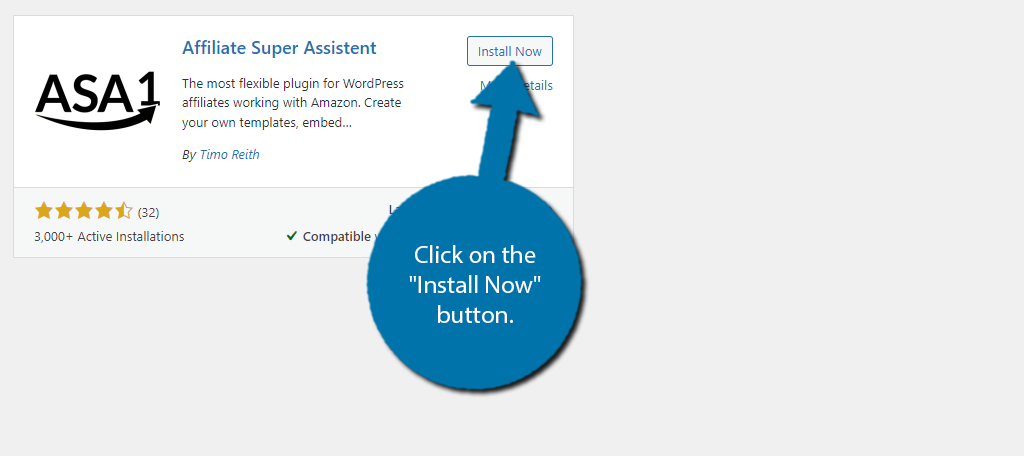 Step 2: Connect With Amazon
The first thing you need to do is connect Affiliate Super Assistent with the Amazon API. Again, you need to already have enrolled in the program as it can take multiple days before you are accepted. Or in other cases, it can be very quick.
Regardless, I'll leave that for you and just cover how to connect the two.
On the left-hand admin panel, click on Settings and select the Affiliate Simple Assistent option.
You'll start off in the setup tab. Here you will find an API Setup area where you can enter your Amazon Access Key ID, Secret Access Key, Amazon Tracking ID, and the Amazon Country Code. All of this information can be found in your Amazon Affiliates account.
The plugin will not display anything if this information is not entered.
Once all the information has been added, click on the "Update Options" button.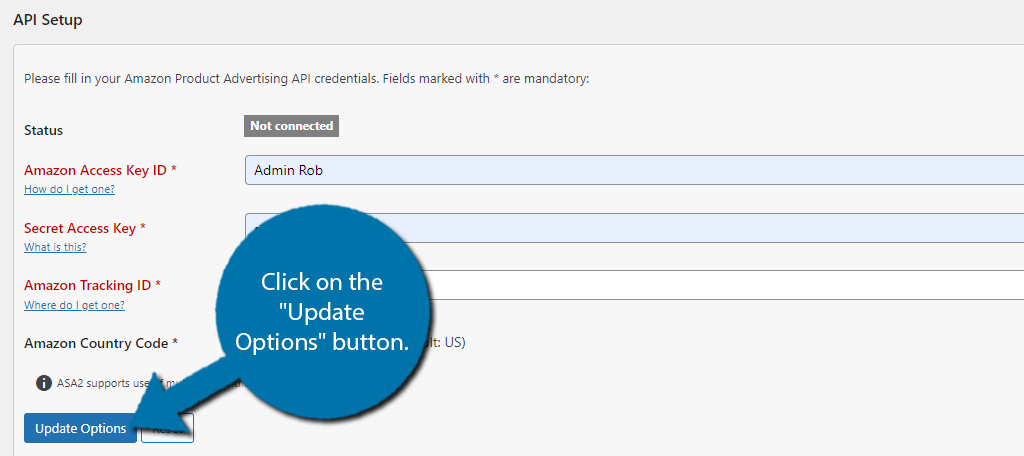 Step 3: Configure the Options And Add Items
Now that you are connected with the Amazon API, it's time to actually configure the plugin. However, you won't need to really change much, so the choice is yours.
Either way, go to the settings and click on the Options tab.
Almost all of the settings consist of a check box that enables a specific feature. Simply go through each option and decide if you want it or not. And don't forget to save any changes you make.
Once that's taken care of you can start adding products to the plugin. This is all done in the Collections tab, so click on it.
You'll be asked to enable collections, so check the box. Once this is done, you will be able to create collections. If you already have a collection from another website, you can import it here, or just create a new one.
To actually add products, you will need to locate that product's Amazon Standard Identification Number (ASIN). This is found on the product details page. Also, be aware that for books this might appear as an ISBN.
This will store the information within the plugin, which makes it easy to find if you regularly add it to content. However, it is not necessary to do so. Instead, you just need to use a shortcode, which I will go over next.
Step 4: Display Products in Pages and Posts
And lastly, you need to know how to actually display the products. The good news is that this is pretty easy as you just need to create a shortcode.
The standard shortcodes will look like this:
Essentially, you just need to add the ASIN in the shortcode and you are good to go. Again, adding it to a collection makes it easier to find, otherwise, you need to visit a product page every time.
And that pretty much covers the Affiliate Super Assistent for Amazon products. Showing off what a product looks like as well as the price tag and rating is a great way to increase sales.
Make Sure to Follow The Amazon Affiliate Marketing Guidelines
Every Amazon affiliate needs to follow the guidelines that Amazon sets forth.
Most importantly, this means you need to disclose the fact that you are an Amazon affiliate. For instance, if you were planning on posting an affiliate link on Twitter, you would need to make sure to include "#ad" or you would be violating the terms and conditions.
There are many other rules you need to follow, so be sure to check the official source for all of the details.
This can result in immediate expulsion if it happens frequently enough. Thus, you need to be careful, as Amazon really is the best affiliate partner.
Start Marketing Amazon Products Today With the Super Assistent
Websites can take a long time to make money from ad revenue. In fact, it could easily take over a year before you start earning a dollar per month. And that can be problematic for a variety of reasons, in fact, it's why so many people give up.
However, you can supplement your website with money from affiliate deals. It's one of the most effective ways a website can make money. The more popular your website, the higher the chance that you will make a commission.
And they can seamlessly fit into a lot of content due to how many products Amazon offers its customer. Just make sure they apply to your audience.
How easy did you find the Affiliate Super Assistent to use? Have you noticed more commissions since adding a picture and price to your content?