So your big day is coming up and you want to create a wedding website. Not sure how? Well, this easy to follow tutorial will guide you through everything you need to learn how to make a wedding website.
A wedding website is a great tool to have when you are planning that special day. You can make sure your guests are up-to-date on all of your event details. There are so many things to consider when you are trying to get through your wedding planning checklist.
Building a website for your wedding should not be difficult. Let's go through the steps together and you will have a better understanding of how to make one of your own.
What You Need to Create a Wedding Website
Every website is different. That being said, there are certain things you need to have to put on your wedding website. Let's take a look at some important things you need to build the site of your dreams. Having these things in place and doing them in the order given will make the process as easy as possible.
Wedding Website Checklist
Having a wedding website checklist in place will make the entire process of building a site much easier. It also helps to have one for the overall planning of the occasion. A lot can go into that special day, and you don't want to forget any detail.
Create a wedding planning website checklist for the things you need to put on your site to make your special day as memorable as possible. Here are some checklist ideas you can include:
Registry
Online Invitations
Wedding Date
Full Wedding Schedule
Venues
Directions
Photo Galleries
Your Love Story
Bridal Party Details
Wedding Attire
Guest Book
Preferred Contact Info
Honeymoon Information
Housing Options for Out of Town Guests
Web Hosting and Domain Name
The first thing you want to do is get your domain name and web hosting. There are all sorts of available domain names out there. If you can't find the exact domain name you want, then try searching it using a different domain name extension. There are so many extensions available now that you should have no problems finding something you can use.
A good example would be your first names, last names or variations thereof. Make it something that is easy to remember and connects the two of you to your guests.
You also want to find a solid web hosting provider that will give you everything you need and more to get your wedding website up and running quickly and easily. GreenGeeks provides you with all the tools you need, including a domain name. You can get your domain name and full hosting package all in one place.
Use WordPress and Here is Why
While there are a number of different web design platforms you can use to create a wedding website, WordPress is my recommendation for a number of reasons.
WordPress powers millions of websites across the planet. Its flexibility gives users a plethora of ways to create virtually anything they need. It is also very user friendly, and since there is so much information online about it, you will never have to go far to find tutorials and resources to help you.
WordPress will allow you to build a wedding website to modern standards. You don't have to worry about mobile viewing or if your website will be responsive on different size screens. This is because, by default, WordPress is mobile-friendly.
This particular CMS also comes with a ton of theme and plugin options that make it easy to build an advanced wedding website, even if you're on a strict budget.
Once you have chosen your domain name and grabbed your hosting, you will be able to easily install WordPress using Softaculous one-click installation, or by installing it manually.
Picking the Right Theme and Plugins
WordPress has thousands of themes, all for specific types of websites if needed. This allows you to more easily create a nice appearance because you already have a certain look and feel in place.
Here are some specific themes and plugins you might want to consider when building your wedding website.
Marriage
The Marriage WordPress theme is one of the best-selling WordPress wedding themes available. It is lightweight and very easy to use on the backend. The theme is SEO friendly and mobile-ready.
Jack and Rose
The Jack and Rose theme is another solid wedding website theme to use. It is also mobile-friendly, SEO-friendly, easy-to-use on the backend, and includes a fabulous drag-and-drop page builder. You can also easily integrate built-in Google maps on this theme.
Wedding Day
Wedding Day is a fun and vibrant theme that allows you to create a wedding website using several different layouts. Customize all your headers and other information, and select the layout you want. Simply add pictures and text, choose colors and you are all set.
Moments 
The Moments wedding theme is a multi-functional theme that allows you to easily put all your information in, including easily adding wedding invitations. The theme is easy-to-handle on the backend and creates beautiful, mobile-friendly layouts.
Unite
Unite is a free wedding theme that gives you more than enough to create a wedding website. It has a featured slider and is even WooCommerce ready if you need to list and sell items for your wedding. The theme is easy-to-use and understand, so give it a look.
Plugins
Plugins are what give WordPress a lot of its ability for customization. They offer tools and functions that can give a wedding website a bit of added flair. For instance, you can quickly add a count-down to the date so users know when you plan on walking down the aisle.
Here are some suggested plugins to help you along.
Wedding Press
The Wedding Press plugin is definitely a useful wedding website plugin. The plugin allows you to create an online guest list by adding your guests to the events they are invited to.
It also lets you list food and gift options and prices and take payments when needed.
RSVP Pro
The RSVP Pro plugin is exactly what you think. It provides you with a very easy to use and detailed plugin to get accurate headcounts and answers to tailor your events and make them successful.
It's perfect for wedding RSVPs
Responsive Image Gallery
The Responsive Image Gallery plugin allows you to create amazing image galleries and place them wherever you want. The gallery is fully responsive and you can create just about anything imaginable.
Perfect for all those engagement and wedding photos.
Easy Countdown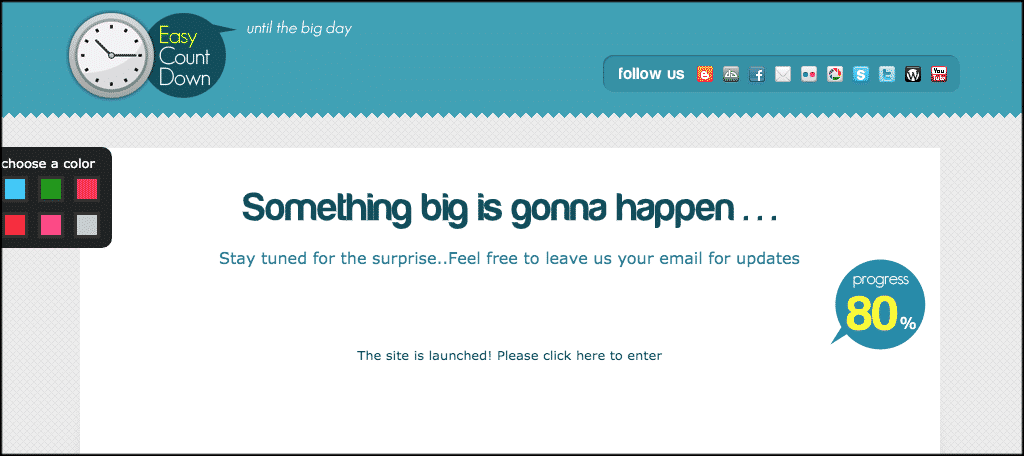 Easy Countdown is a versatile timer plugin that allows you to create specific countdowns. In this case, you can create an amazing one to countdown the days until your wedding.
RSVP and Event Management
RSVP and Event Management is a plugin that will allow you to easily track all your wedding RSVPs. It has an open registry and allows you to create customized RSVPs and front end questions.
Best of all, it is free.
Spreading the Word
Now that you have created your wedding website, it is time to get it out there and share it with everyone. Here are some good resources and ways to share and market your wedding website with all of your friends and family.
Share URL on Wedding Event Invitations
Use Social Media
Message Boards
Email
Ask Friends and Family to Share
Conclusion
Learning how to make a wedding website is not difficult, You just need to have a few things in place and have some direction.
Hopefully, the guide above got you through the entire process and you had a good experience creating something that has the potential to last a lifetime.
Growing up in Hawaii, Jeremy started his freelance writing career doing resumes, business plans, article writing, and everything in between. He now specializes in online marketing and content writing and is part of the Content Marketing Team at GreenGeeks.