Every major event in 2021 takes place online in some capacity, and weddings are no exception. For years now, many weddings sport a dedicated website that outlines information like the location, date & time, and other details, but how do you create a wedding website in WordPress?
In truth, it's no different than creating a regular website. It requires users to pick out a building platform, web host, and design each web page. Thus, it can be a bit overwhelming for first-timers, especially when planning a wedding.
Today, I will demonstrate the process to create a wedding website.
How to Make A Wedding Website in WordPress
It is important to realize that the website should only be created when most of the details about your wedding have been finalized. Otherwise, you will have to constantly update your website to match the new developments.
Not only can this be time-consuming, but it can also be costly if you are using premium themes.
Perhaps the most important aspect to figure out is your wedding's theme. Many weddings all have a unique theme that the decorations and festivities follow. This theme should be front and center in your website design, thus, it needs to be ironed out first.
Other things to make sure are in place include:
The Location of the Wedding
The Date and Time of the Wedding
Decide on an RSVP System (If you plan to use your website for it)
With that out of the way, let's begin.
Step 1: Select A Webhost and Pick A Domain Name
Believe it or not, websites exist in a physical location on a server. These servers are operated and maintained by web hosting companies, and you are going to need one for your website. Yet, not all web hosts are created equal.
Here at GreenGeeks, we strive to deliver the best customer experience possible by offering our customers the best services. For instance, we provide some of the fastest page load times, an excellent support team ready to assist you 24/7, and our servers are optimized for WordPress.
However, what really separates us from the competition is our commitment to the environment.
The web hosting industry has a huge emissions problem, and we aim to be the solution rather than the problem. We achieve this by carefully calculating how much energy our servers use and purchase three times that amount in clean wind energy.
So you can rest easy knowing your website won't have a carbon footprint.
You also will need to purchase a domain name. This is simply the name of your website and will typically include the bride and groom's initials or name. Just keep in mind that you might need to get creative with the domain name as there are literally billions of websites on the Internet.
Step 2: Choose A CMS (WordPress) to Build Your Wedding website
You now need to pick what you are going to build your website with. These are known as Content Management Systems (CMS) and there are a ton to choose from. However, I am going to save you some time and tell you to just use WordPress.
WordPress is already powering 40% of all websites, and yours should join them.
This is because WordPress was built for beginners, but offers enough depth to keep the pros on their toes. In reality, you can build a fully functioning WordPress website within a day and it doesn't require knowing a single line of code.
That's right, no coding.
This is all thanks to its huge libraries of both plugins and themes.
Plugins are like phone apps for your website. Each one adds a unique feature that can be removed at any time. Whereas themes dictate the appearance and layout of your website, and many of them are focused on weddings. Themes also include extra features, so they are not purely cosmetic.
Thus, you can create WordPress wedding websites very quickly.
Step 3: Pick Plugins and Themes
Everything you need to build a wedding website is available in WordPress. And it's probably available using free plugins and themes, but it is worth mentioning that there are premium versions of these tools.
While you may not need them, they can add that extra flair to your website. Premium versions of wedding WordPress themes and plugins also have better support options. If this is your first time building a website, those support options may be invaluable.
Here are a few plugins and themes that are perfect for a wedding website:
WeddingPress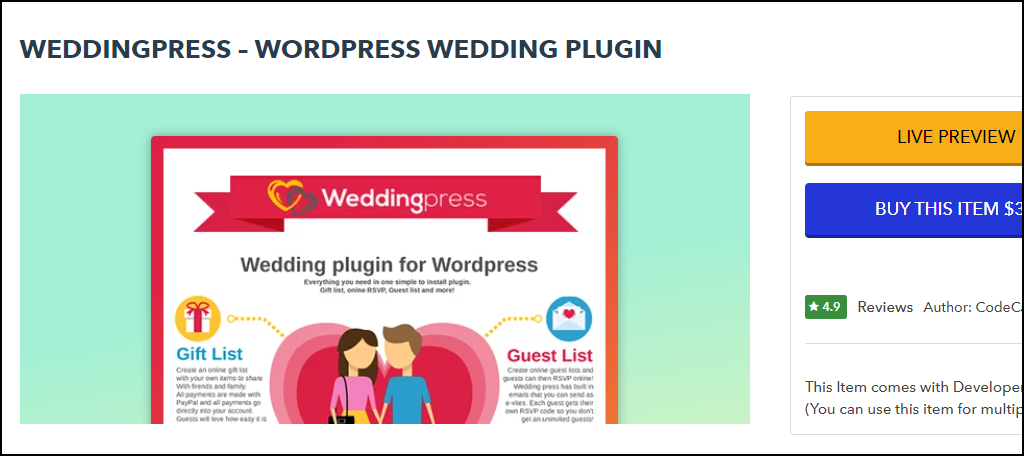 WeddingPress is a premium plugin for WordPress that allows you to build a full online guest list and even allows those guests to RSVP. And considering that RSVPs are one of the main functions of a wedding website, paying a little extra for the feature is not a bad idea.
It even supports sending out social links on your favorite social media websites like Facebook and Twitter. If you are offering specific dishes at your wedding, you can also set up the plugin to allows guests to pick out their meals.
It really is an all-in-one tool for weddings.
Photo Gallery by 10Web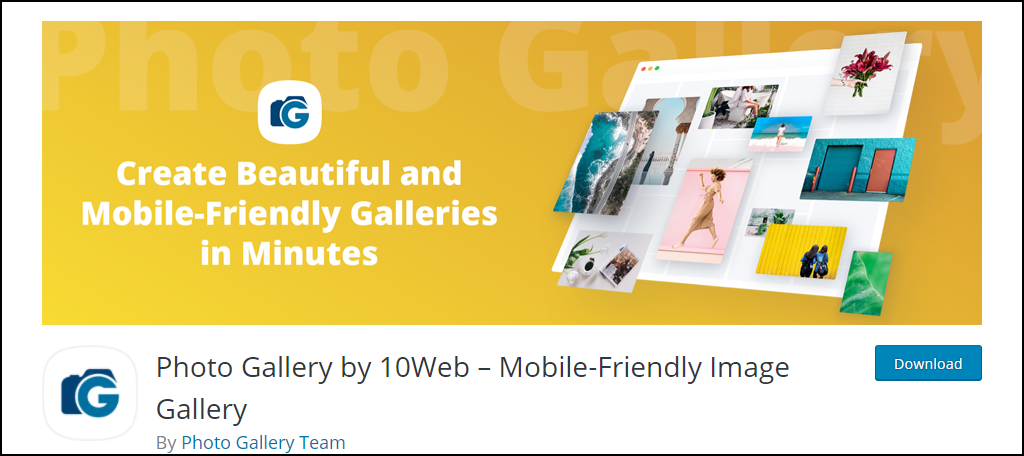 Another popular use of a wedding website is after the wedding. You can post all of the pictures on the website in a final showcase. If you plan to do this, you are going to need to create an image gallery, and the Photo Gallery by 10Web is the perfect plugin for the job.
With it, you can post all of your best wedding photos in a stunning gallery. And this plugin is completely free to use. Although it is worth mentioning that you could also build a wedding page on Facebook and post the pictures there.
Moments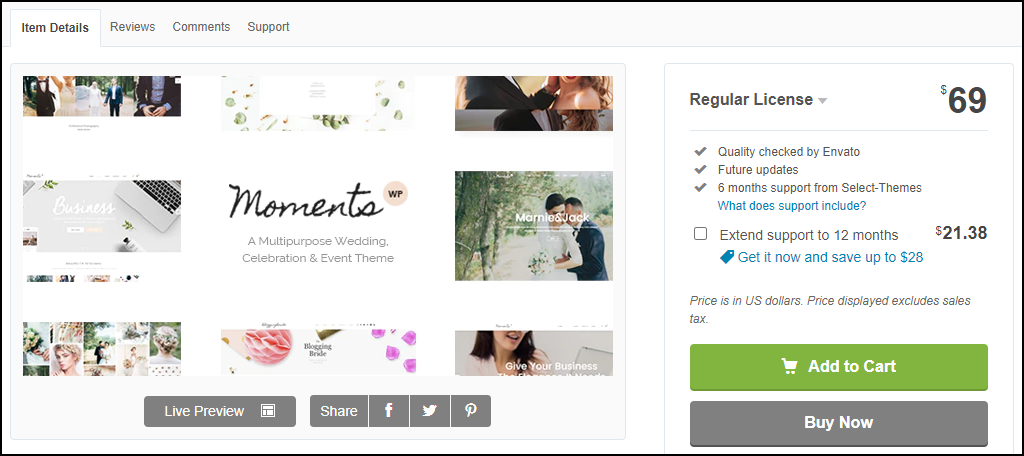 Moments is a premium theme that focuses on weddings. It sports a variety of customization options to make the theme look exactly like you want. However, the biggest benefit of the Moments theme is the plethora of tools it offers.
With it, you can build an elegant invitation system, including RSVP form templates, add your favorite social media feeds, keep track of guests with a built-in guest book, and much more. Moments is one of the best options when it comes to wedding websites.
Signify Wedding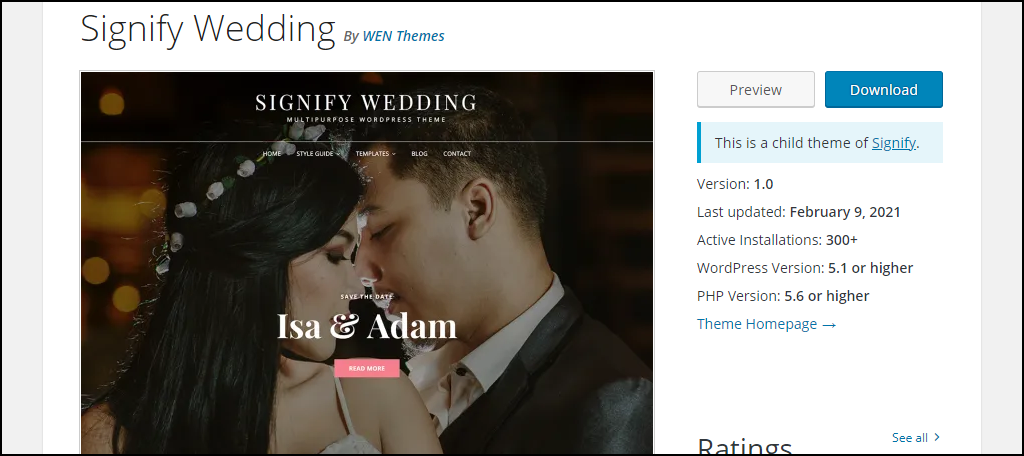 If you're looking for a free theme to consider, check out Signify Wedding. The theme offers users a clean and elegant design that displays the most important information front and center. It also comes with a host of features that are all responsive.
Thus, mobile users have nothing to worry about when viewing the website. Some of these features include an events section, a featured slider, testimonials, and much more.
Evergreen Countdown Timer
Making sure your guests remember your special day is a big deal, and one way to do it is by adding a countdown timer to your website. While there are a ton of options to choose from, the Evergreen Countdown Timer plugin is one of the best.
It allows you to display a timer on any post, page, or widget area on our website. It includes the number of days, hours, minutes, and seconds. It's a great reminder for guests that may have an aversion to reading the invite again.
Step 4: Spread the Word
Once you create your wedding website, you need to actually make sure your guests can find it.
Unlike a normal website, this is intended for family and friends only. One of the best tactics is to place the link inside of your wedding invitations. Especially if you plan to use it for RSVPs.
Another great way to display it is to share it with guests on social media platforms like Facebook and Twitter. In fact, you might want to create a dedicated Facebook page for the wedding with a link to the website front and center.
Step 5: Sunsetting Your Website
Unlike normal websites, a wedding website in WordPress is not intended to be available for a long period of time. In truth, the moment your wedding ends, your website serves no purpose, thus it's time to start sunsetting the website.
One approach is to immediately pull the plugin and end your website. However, I wouldn't say that's the best way.
A popular way to lead into this is to upload your wedding photos to the website. While many may opt to do it on social media platforms like Facebook, your website is another excellent location.
Or, perhaps you and your spouse could turn the site into a family blog. In fact, there are several of these where couples continue to write about experiences, relationship advice, or just sharing their lives with readers.
You could also tie in a YouTube channel with the website and make the experience even better. And as odd as you might think it is, some of these channels are exceptionally popular.
But, once, you're ready to take your website down, contact your web hosting company.
Make Your Wedding Website Shine With WordPress
Immortalizing your special day online is a great way to preserve the memories and showcase the event to friends and family. And it is surprisingly easy to put together a website nowadays, at least if you're using WordPress.
However, just remember that your personal wedding website should have a short lifespan. Unlike your marriage, the website should not be available forever. Thus you will need to take the website down at some point.
When you successfully create a wedding website, it can be an extremely rewarding and fun activity for couples. On the other hand, it can also be a nightmare if you're not sure what you're doing.