You need a better, faster web host.
Free Site Migration, Amazingly Fast, Secure & Eco-Friendly WordPress Hosting with 24/7 Support.
Check Out Our Hosting Plans
Not everyone wants to show their blog posts on the homepage. WordPress uses the format of showing posts on the front page as its default setup. In the event you want a static screen for your purposes, you'll need to set up a secondary WordPress blog page to display your posts.
For example, using the front area of your website is a good place to put company information. Blog posts don't need to be displayed in this area and can find a home elsewhere.
In this tutorial, we're going to show you how to set up that second blog page to show off your posts while keeping a static front design.
Why You Would Want a Separate WordPress Blog Page
One reason why you would want to create a secondary location for your posts is to keep the homepage a specific design. Some businesses will use this as a form of landing page for advertising products or services.
A static page is one that does not change. Unlike one that shows recent blog posts, this layout will remain the same way until you change it manually. Setting up separate pages is a way to keep the front design from being modified because of developing content. It will always look the same way forever.
Setting Up a Separate Blog Page
Setting up a separate location for your posts coincides with setting up a static front page. These work in tandem to help WordPress function correctly. To do this:
Step 1: Go to the pages area of your WordPress dashboard. It is located in the left admin panel.
Step 2: Click the "Add New" button on the top left to create a new document.
Step 3: Name this file, "Front."
Step 4: Now, locate the window in the editor screen for, "Page Attributes." If you use a two-column layout, it will be on the right. If not, you may have to scroll down until you find it.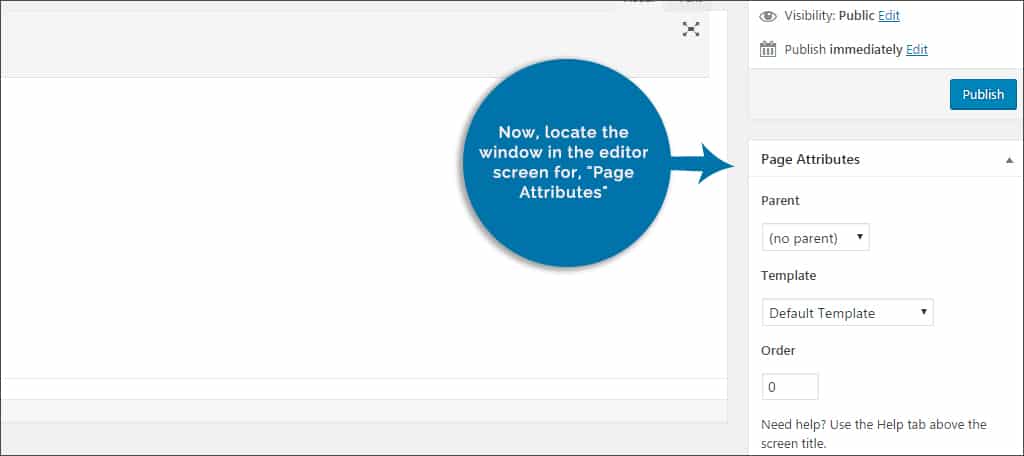 NOTE: If the attributes window is not available, click on the screen options tab on the top right of your editor. Look for the checkbox next to, "Page Attributes" and check it if it's empty.
Step 5: If your current theme supports templates, you can choose which one you want from the attributes window.
Step 6: Activate the "Discussion" window if it's not already. It is located in the screen options area.
Step 7: Scroll down to the discussion window and make sure both boxes for comments and trackbacks are disabled. This will prevent people from commenting on your homepage. A long line of comments may take away from the professional appearance you are trying to accomplish.
Step 8: Click "Publish" to save this page and then click to add a new one on the top left.
Step 9: Name this new file, "Blog." Again, if your theme supports templates, you can select it from the attributes window as before.
Step 10:  You may also want to disable comments and trackbacks on this page as well by following the previous instructions for discussions.
Step 11:  Click the publish button to save the file.
Step 12: On the left side of your admin panel, click to open your WordPress settings.
Step 13:  Click on the reading area.
Step 14: The first option available is changing the front page. Click the radio button next to it to choose, "A static page." This will activate the drop down boxes for both front and post locations.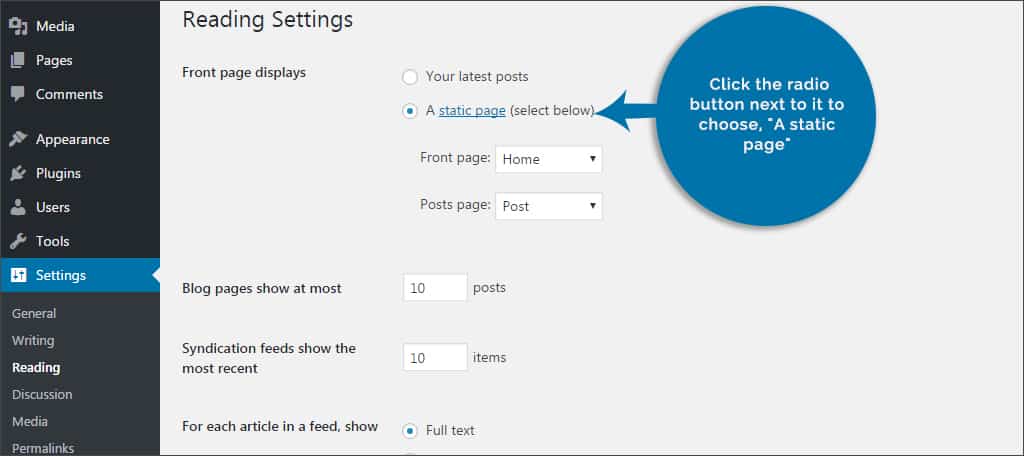 Step 15:  Use the drop-down for the front to select the "Front" page you created at the beginning.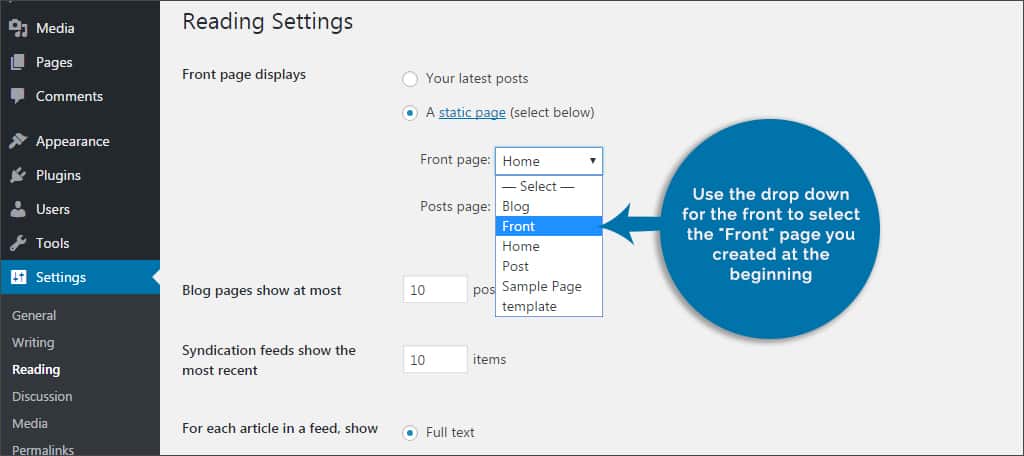 Step 16: Now, use the drop-down list next to posts and select, "Blog."
Step 17:  Scroll down and click the "Save changes" button on the bottom left.
WordPress will automatically assign the front and blog posts accordingly. Now, you'll have two completely separate and functional locations for the homepage and your posts.
What can be added to the separate blog page?
Any form of content can be added to the separate blog page. WordPress will put the posts after the material. For example, you can add a short blurb about the type of person you are or business you operate. WordPress will put that material first and then begin listing the posts.
Using a theme
Some themes give you a fair amount of control when it comes to adding content and widgets. Others may come with specific layouts to create a specific look. To find out if your theme supports such features, you can use the customizer:
Go to the appearance area of WordPress.
Click on customize.
Find the option for layout, front page or something similar.
If your theme supports layout designs for pages, it should be listed in the customizer. However, the theme will still be able to use a separate place for your posts if it doesn't have layout options.
Adding Shortcodes
If you use plugins or other additions that provide shortcodes, you're also capable of adding these to the WordPress blog page. This includes the tools that come default with WordPress.
Many layout plugins and galleries use shortcodes to display content and create a specific layout for the posts. These are added by directly editing the blog post page you created.
The WP Blog and Widget plugin adds more functionality through shortcodes while giving you the ability to arrange your blog posts. This is a useful tool to use if you want to customize the layout of your post display. It's responsive, customizable and integrates with Google fonts.
How will visitors find my content if it's not on the front page?
Many of your visitors will find your content through search engines. However, it doesn't hurt to set up a link on the homepage for your blog posts. You can do this by adding the blog posts as a menu item in your navigation bar and/or as a separate link within the content of the front.
Does this work with any theme?
Yes. Creating a separate area for posts works with any theme. However, you might want to check your theme to see if it has special features for creating pages. Some of them have excellent customization capabilities such as the widget control of the ColorMag and NewsMag themes.
What kind of customization can I do to this separate area?
Anything you can do in a regular page can be done to the post section you create. That includes various plugins, some widgets, adding HTML, images and more. You could even add affiliate links and banners above the recent posts should you want to monetize your website.
Does this work with styling plugins such as Page Builder by SiteOrigin?
If you use layout and style plugins, the posts will appear after the design or template you use. For example, choosing a layout in Page Builder by SiteOrigin will put the blog posts after the images and information of the layout.
However, you may want to disable your sidebar widgets for this separate blog page only. Some layouts take up a lot of space and can feel squished. This is done by modifying the sidebar additions themselves by going into the widgets area of WordPress.
Setting up a separate blog page allows you to create a static front display while keeping your content in a secondary location. It is beneficial when hosting a company website or setting WordPress as an eCommerce platform. Regardless of your reasons, it's a simple process that can add more functionality to your site.
What kind of modifications have you made to your layout? What kind of pages do you create for your site?