Looking for a way to upload post ideas to your website from spreadsheet files? Many people use spreadsheets to keep track of many things including new content. In fact, you can create some amazing data-driven files to help in content marketing.
For example, you can keep track of what posts perform better according to content style by having the spreadsheet create a graph based on visitors and dates.
In today's tutorial, I'll show you how to import CSV file data into WordPress for posts. Spend the weekend coming up with ideas and then upload them all at once Monday morning.
How to Use Import CSV Files
Perhaps the simplest way to import WordPress posts from CSV is by using the Import CSV files plugin. After activating, just go to Tools and access Import CSV Files to begin adding posts to WordPress.
Import CSV Files is a simple, yet effective, plugin for WordPress. It adds the simple tool of uploading a CSV file and choosing what and where you want data to show in a post.
The only drawback is that it doesn't currently support custom post types and taxonomies. However, it's exceptionally easier to use than some of the other plugins you can use.
I'll mention those a bit later.
Step 1: Install and activate the "Import CSV Files" plugin.
Go to Tools and click, "Import CSV Files."
Step 2: Add CSV File to Import
For this example, I've already created a basic CSV file. It has the title, content, and a few other fields. We'll just be worrying about the title and content sections for this tutorial.
Click the "Choose File" button and select your CSV file.
Step 3: Select Import Type
Choose whether the import is for posts or pages. By default, the post option is selected.
Click the "Next" button on the bottom.
Step 4: Adjust Your Plugin Settings
As you can see, I have five elements in my spreadsheet to keep track of content. However, I only want to include titles and content.
Keep in mind that Post Titles and Post Content are required fields. All the rest can be ignored.
I'll assign the "title" to "Post Title" using the drop-down box. Of course, this is going to depend on what you labeled the titles in your spreadsheet.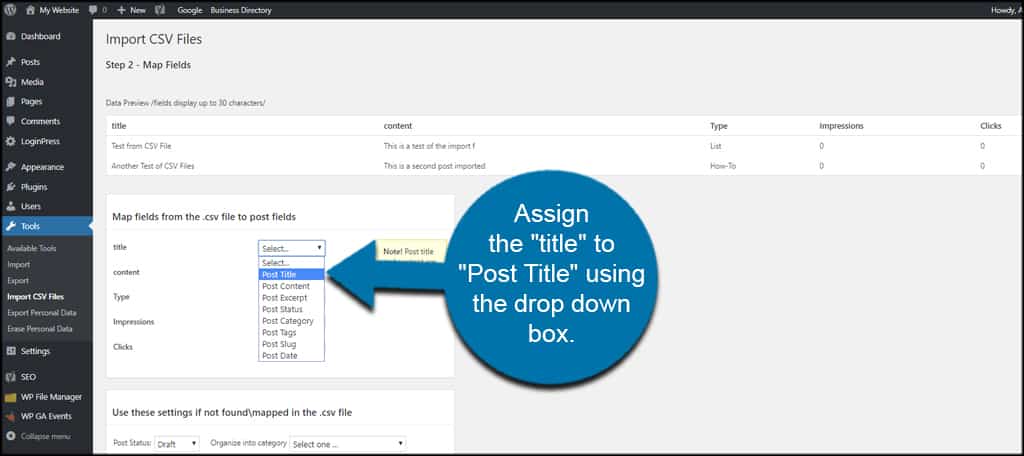 Using the drop-down again, I'll assign the "content" as "Post Content."
Set the Post Status and Category if you have one. Because I want to edit these files, I want to keep them as "Drafts" and "Uncategorized." This way, I can make edits before the posts go live.
Step 5: Import the CSV File
Click the "Next" button.
The plugin will give you a quick report of its process.
Your posts are ready for edits and publishing.
Other Post CSV Import Plugins to Try
The Import CSV Files plugin is a simple tool, but what if you want more abilities and flexibility when uploading? Perhaps you have custom posts you want to edit instead of the built-in posts and pages of WordPress.
Here are just a couple of the more feature rich plugins you can try. While they may take a bit more time to upload your CSV files to WordPress, these plugins have far more options available.
WP All Import
WP All Import is a flexible system that includes the ability to upload from CSV or XML file types. It has a range of options for posting content whether it's a post, page or WooCommerce product information. While the Pro version is attractive, the free plugin works exceptionally well for importing WordPress posts from CSV files.
Ultimate CSV Importer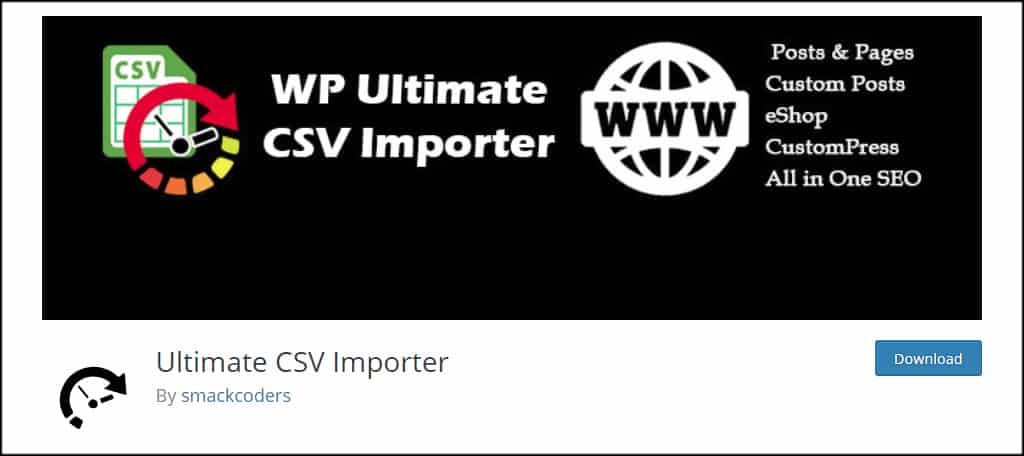 Ultimate CSV Importer not only gives you a strong plugin for uploading content from CSV, but it also comes with importing statistics. It also comes with extensive customization and a drag-and-drop interface. One thing that sets it aside from the others is support for the Yoast SEO plugin for optimization settings.
Importing Post Ideas to Manage the Workflow
Spreadsheets are incredibly useful, especially for those who love data and crunching numbers. Using WordPress to import CSV info into a database helps cut time and build a good process for content creation. All it takes is the right plugin and a bit of patience to learn the tool.
How do you keep track of your WordPress post ideas? How often do you use a spreadsheet to keep track of information and site statistics?
Michael has been in the tech industry in some form or another since the late 1990s. He's built a variety of websites using HTML, Joomla and WordPress. Starting his freelance writing career in 2012, he's completed thousands of projects world-wide covering a wide scope of topics. Michael is currently the Content Marketing Team Lead. Today, he manages a team of writers to create tutorials, blog posts and support content for customers. Outside of GreenGeeks, he manages a YouTube channel that helps others learn how to become freelance writers, bloggers and overall professionals.