Are you a baking enthusiast? If so, you should consider sharing your experience by creating your own baking blog. A blog about baking can be quite profitable and can help others find the same passion you have.
Today, I will share how to create a baking blog using WordPress.
Make A Recipe for Success
Every excellent baker knows the importance of following a recipe, and building a website is no different. However, just like there are a ton of different cakes, there are a ton of websites you can make.
Thus, the first question you need to ask yourself is what kind of baking blog will you create?
Will you be a baking recipe blog? Will you explain the science behind baking? Perhaps you will focus on a particular type of sweets and/or cakes?
You can not build a website until you know what it is about. You should also start thinking about the design of your website. What colors will you use? Is there a specific font you like? What type of layout will you use?
These are all questions that you should think about before you proceed. But once you have the answers, you are ready to build.
Picking A Web Host and Domain Name
Whether you are a baking blogger or a different kind, every blog starts off the same way. You need to find an amazing web hosting company. A web host will rent you a web server, which you can store your website on. Whenever anyone accesses your website, they are really connecting to the server.
Thus, the web host is extremely important. However, they are not created equal.
Here at GreenGeeks, we are proud of the customer experience we provide. This includes delivering excellent speeds, strong security, a well-trained support team ready to help 24/7, and most importantly, our web servers are optimized for WordPress.
And all of this comes at a reasonable price.
However, we separate ourselves from the competition with our commitment to the environment. The web hosting industry has a monumental emissions problem that is eclipsing the airline industry. To help fix this, we carefully calculate how much energy we use and purchase three times that amount in wind energy.
Thus, every website we host is carbon-reducing.
You will also need to select your domain name. This is the URL of your website. As such, it should follow three simple rules:
Be Short
Easy To Remember
Reflect What Your Website Is About
Why You Should Use WordPress to Build A Baking Blog
Next, you need to pick a platform to build your website, and just like the web hosting industry, not all of them are created equal. Luckily, when it comes to the CMS or platform to build your website, there is a clear winner.
WordPress is hands down the best platform to build a blog on. In fact, it already powers over one-third of the internet, so don't just take my word for it.
But how did it achieve such widespread success?
WordPress is extremely customizable, scalable, and it is the easiest CMS you can use as a beginner. Unlike other CMS, WordPress does not require you to write a single line of code, which is usually the biggest obstacle a beginner faces.
This is accomplished by the vast library of plugins and themes. These allow you to customize the appearance and features on your website with only a minor effort.
What Are Plugins and Themes?
Are you wondering what plugins and themes are?
A plugin is a small piece of software that adds a specific feature or set of features to your website. Think of them as apps for your smartphone.
A theme is a collection of templates that allow you to customize the appearance of your website. This includes things like the layout, how many columns you have, the sidebar area, etc.
Each of these come in both free and premium versions. When just starting out, free plugins and themes make the most sense. Typically, you do not need a lot to start with. However, as you grow, you may want to reexamine the usefulness of a premium version.
These typically have more powerful tools that will give a larger website the oomph it needs, and by that time, you will make enough to warrant the price.
Here are a few plugins and themes to help you get started:
Smart Slider 3
If you want to give visitors a taste for what you are offering, then you cannot go wrong with a slider. A slider is a slideshow of images that you can place anywhere on your website. But, you will need a plugin to add them. The Smart Slider 3 plugin is perfect for the job.
All the sliders are customizable, responsive, and you can place them anywhere on your website.
RecipePress Reloaded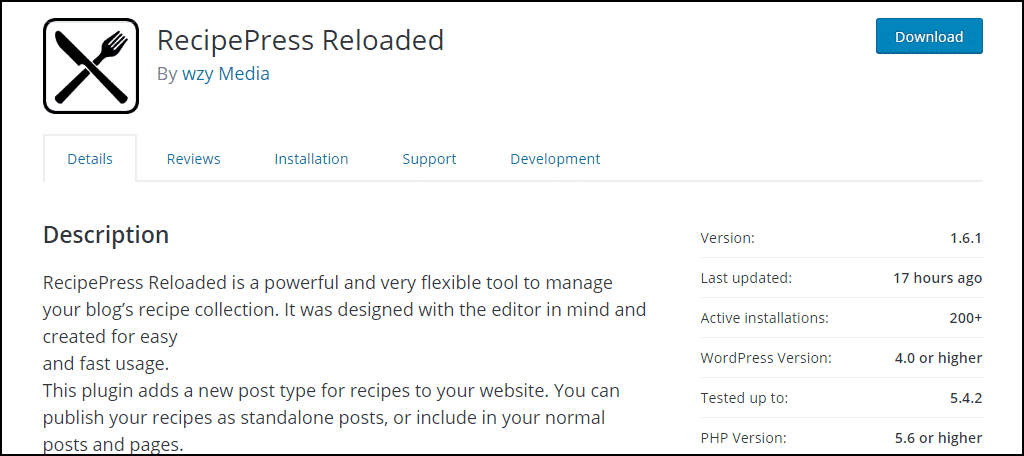 A big part of any food-focused blog is to share recipes. However, you don't want to just throw your recipes into a regular post. Instead, you want to have a stylish design, and the RecipePress Reloaded plugin can help you do just that.
This plugin allows you to create stylish recipe cards that include ratings, serving sizes, and much more.
Bakes and Cakes
The Bakes and Cakes theme is designed around cakes, as I'm sure the name implies. And that makes it perfect for a baking blog. It is an SEO-friendly theme that comes with a variety of sections like testimonials. The theme was also created with speed in mind, and as a result, it is really fast.
And don't worry, just about everything is customizable. So, you won't have a problem making it look the way you want it.
Creamery Lite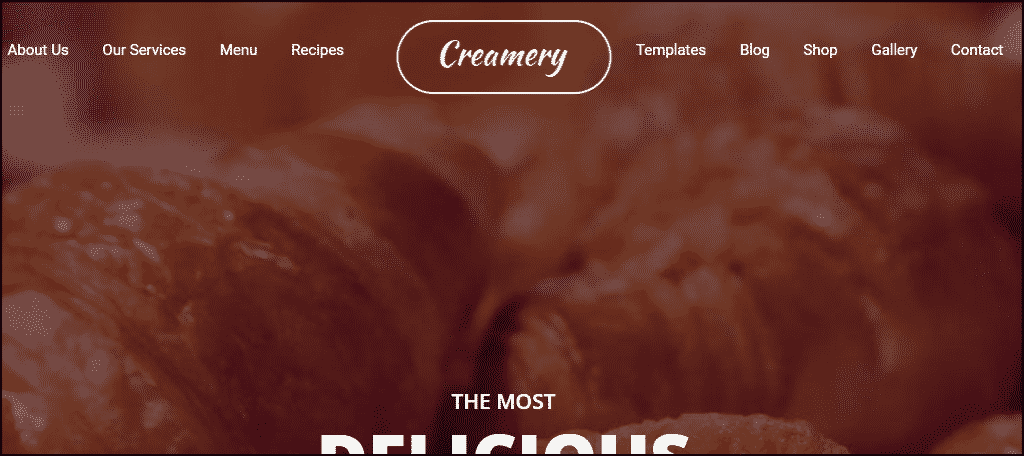 The Creamery Lite theme offers a minimalist design perfect for food blogs. In case you are wondering, minimalist design is when the theme isn't very flashy, which allows your content to stand out more. It's very effective for food blogs because the food previews/thumbnails can really shine.
Marketing Your Baking Blog
You also need to take some time to consider how you will market your website to the world. As you probably already know, if no one visits your website, all of that hard work is for nothing. Thus, you need to have a plan in place to attract visitors.
Over the years, marketing websites have evolved. And you have a ton of options to choose from. However, what's most important is understanding what your audience is into. For example, as a baking blog owner, you are probably targeting a slightly older audience.
Thus, marketing on TikTok may not be the best choice.
However, you may find more success as a baking blogger on Pinterest or Instagram because you upload pictures of your culinarian creations. Here are some of the most popular marketing methods:
Social Media Accounts
Paid Advertisement
Collaborations
YouTube Tutorials
Any of these, and so many more, are great options to pursue with a baking blog.
Get Baking
Once your website is set up and you have a marketing plan in place, all that's left is to release amazing content. I recommend setting up a content schedule to ensure that visitors know when your next publishing is available. And make sure to take some awesome pictures for thumbnails.