Are you looking to add more widgets to your WordPress site? If so, I have the perfect plugin for you: Blossom Themes Toolkit. This plugin was made for Blossom Theme's themes but will work for others as well.
Simply put, the plugin will add an additional 20 widgets that you can use to better customize your website. These range from showing off social media profiles to displaying advertisements. But rest assured, there is something for everyone.
So without further ado, let's get right into it.
This plugin is for:
WordPress 5.9
Plugin: Blossom Themes Toolkit v2.2.2
How to Use Blossom Themes Toolkit in WordPress
Step 1: Install Blossom Themes Toolkit
As with all plugins, we need to install the toolkit. Start by clicking on Plugins and selecting the Add New option on the left-hand admin panel.
Search for Blossom Themes Toolkit in the available search box.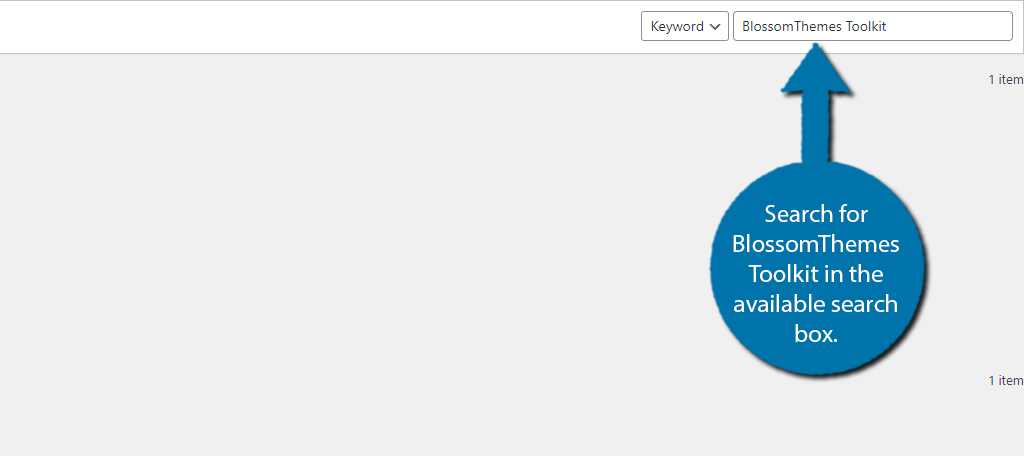 Find the Blossom Themes Toolkit plugin and click on the "Install Now" button and activate the plugin for use.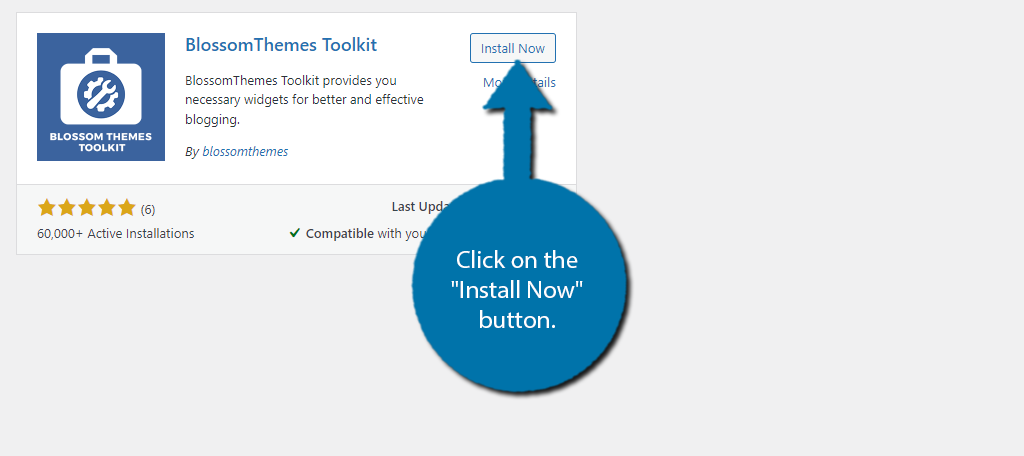 Step 2: Widget Overview
Unlike most plugins, Blossom Themes Toolkit does not have any settings to configure, at least not in a general sense.
Instead, upon activation, the plugin will add twenty additional widgets to your website. Each one has its own settings that are present in the widget section.
You can easily find these widgets by typing "Blossom" into the widget search field. Some of the widgets are just upgraded versions of default ones but can feel completely different when fully fleshed out.
I will now provide a brief overview of what some of the widgets can do.
Note: Unless you are actually using one of Blossom Themes' themes, it is very likely that not every widget will work. You will know if the widget doesn't work if you see an error message when adding it to the widget area. Simply remove the widget to resolve the error.
Blossom: Client Logo Widget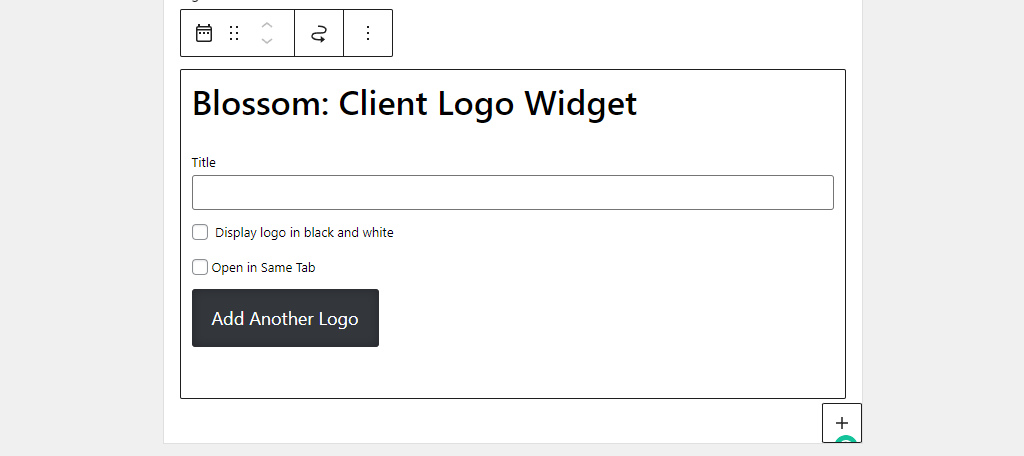 This widget is intended to display a client's logo. You can enter a title, choose to remove the colors in favor of black & white, and open it in the same tab. To add the logo, just click on the "Add Another Logo" button.
Here you can upload an image from the media library. You can also enter a URL in the Featured Link textbox. You can add multiple logos, so it's great for businesses that want to show off their clientele.
Blossom: Call to Action
Do you want to have your call to action on every page or post? Most likely, and you can do that with this widget. It allows you to enter a title, description, and customize a button.
This includes the button's color, link, label, and deciding if it will open that link on a new tab. You can even upload an image to display on the button. It's great if you want to add a signup button to attract more customers.
Blossom: Featured Page Widget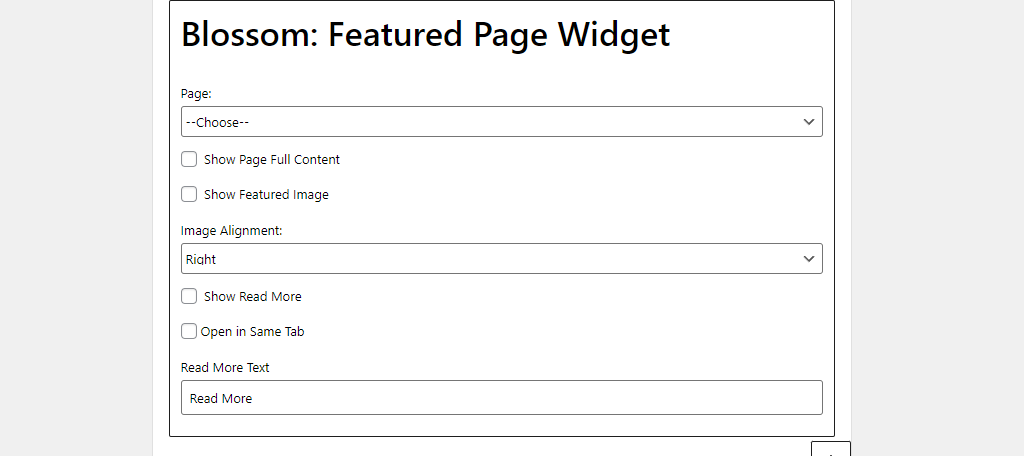 Are you trying to direct your traffic to a certain page? Perhaps a sales page? If so, you are not alone, and this widget was built just for you. This widget allows you to choose an existing page to show off in the widget area.
You can either choose to display its featured image or a text excerpt. You will also find some customization options to make sure the widget looks exactly like you want it to.
Blossom: Stat Counter Widget
The stat counter widget is pretty simple, but many websites will find it useful. You can create a title and insert the number you want it to display. Then just choose an icon and you are good to go.
Just to be clear, this counter will not actually count up or down. Instead, you need to manually enter the number it will display, thus it can be a bit involved.
Blossom: Author Bio
If you write all of the content for your website, then adding an author bio to your widget section is a no-brainer. This widget will allow you to enter a name, description, and display an image.
On top of the basics, you can even upload their social media profiles. That way, the visitors can find them off of the website. It even has an option to display their signature. Just remember this doesn't work well when there are multiple authors on a webpage.
Blossom: Contact Widget
For most websites, providing contact information is crucial. It helps customers and other businesses contact you, thus, increasing the amount of business you can do. And Blossom Themes Toolkit has a widget for that.
The Contact Widget allows you to enter a title, description, phone number, email, location, and add any social media platforms on which may be present.
Blossom: Custom Categories
While you can already list categories in WordPress with the Categories block, the Blossom: Custom Categories block allows you to add icons next to them. Overall, it's a very stylish upgrade that gives you more control over the categories you display.
For example, you could add a cat icon to your "Cats" category. It's a small detail, but many web developers and visitors will appreciate it. Just make sure that the icons are of high quality. Generic images get generic results.
Blossom: Team Member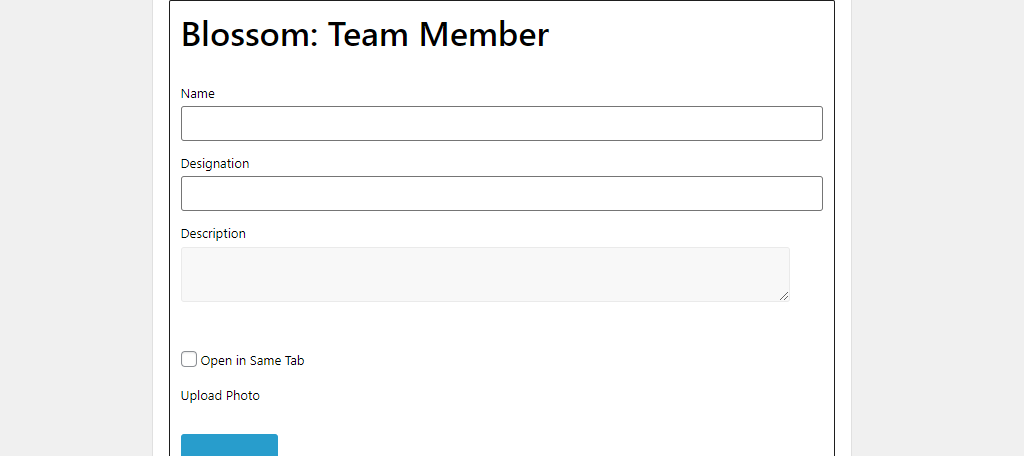 The Team Member block is quite similar to the author Bio block from earlier. You can use it to share the contact and more information about your staff. This even includes their social media accounts.
The only downside is that the widget is only for a single member. Thus you will need several blocks for multiple members, which can eat up space in the widget area.
Blossom: Facebook Page
Want to make sure your visitors know you have a Facebook page? Well, display the key information from that page as a widget. Here you can show off your friends, timeline, events, and even a messages tab in the widget.
When it comes to Facebook widgets, this plugin is one of the easiest around.
And That's Not Even Half Of the Widgets!
This plugin offers users a crazy amount of new widgets to utilize. And by doing so, your website will be better off for it.
That said, you may be curious what else the plugin can do. Similar to the Blossom: Facebook Page widget, there are tools for other social networks. For example, the Blossom: Snapchat widget makes adding Snapchat snapcode a breeze.
Or you could use the Blossom: Posts Category Slider to make it easy for visitors to view different posts under a single category. You could even display your advertisements through a dedicated Blossom widget.
There is something for everyone in this plugin.
More Widgets, More Options
At the end of the day, more widgets give you more options as a developer. This is true for just about everything in WordPress. The closest example would be the blocks in the Gutenberg editor. There are a ton of plugins that give you access to more blocks.
These additional options can help you customize your website to fit your needs and your brand. Even the smallest detail can help you make a sale.
What is your favorite widget in the Blossom Themes Toolkit plugin? Did any of the widgets not work for you?