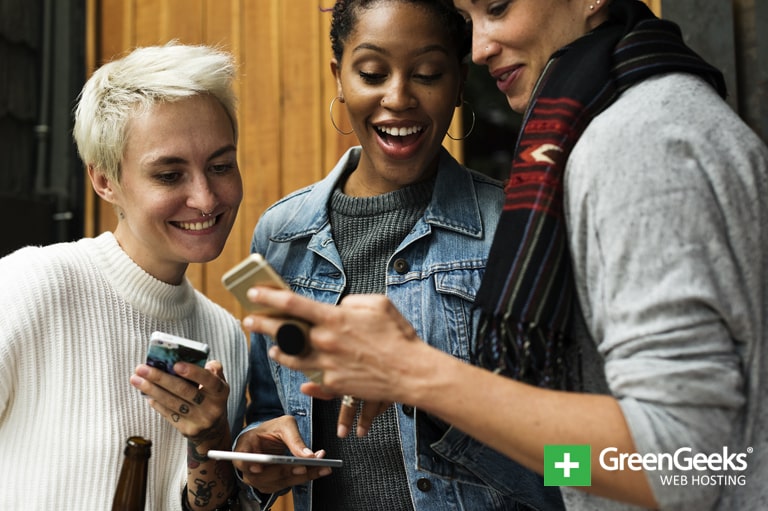 We know that business websites and blogging sites are very popular. However, building a community website can actually bring a large number of people together who share the same interests.
There are a few different styles of community websites you can create. Creating a website with user accounts is always popular, as this will give you a full user database. This allows you to see everyone involved on your website.
A community website is usually geared toward letting people have website user profiles, and allowing them to interact with each other through messaging, blogging, and message board. A community website will always be very interactive and can be used in a number of ways. We will look at that more below.
What You Need to Make a Community Website
When you are thinking about building a community website, there are a few things you may want to have in place before you go about the rest of the process. Here are some items I suggest having ready to go.
Community Information
A community website is supposed to be all about a community. Think of it as a niche blogging site. You are learning how to make a website with user accounts and profiles, but you are gearing it toward a certain community.
For example, is the site a message board about community activities and events? Is it a message board involving groups, activities, and opinions? Is it a place where people can interact, find jobs, and sell items? Whatever the community is, make sure you have all that information ready to put on the website.
Email List
Chances are you have been building toward this project. You should have an email list in place of potential users that will be interested in the site when it goes live. Having something like this in place is a perfect way to get a solid user database going. This also means you can have website user accounts in place and people interacting on the site right away.
Website User Profile Rules
One of the more specific things you have to be aware of when building something that allows website user accounts is how you will allow interaction. What rules will you set? For example, will there be a messaging system for extra personalization? What topics can people discuss? What information can people put in their profiles? Will you block certain trigger words from being used?
The process of figuring this all out will take time, but have something in place to start. That way, you have something working that you can modify until you get it perfect.
Steps to Take to Build a Community Website
So at this point, you have some content in place and you are ready for the next steps. If you want to move forward and learn how to make a website with user accounts and profiles, then the following steps are what should be done next.
Let's go over them together.
Purchase a Domain Name and Choose Web Hosting
The first thing to do here is to go find the domain name you want and purchase it. You can pick from a number of domain name registrars, the choice is yours.
You may not be able to get the exact domain name you want, but don't worry. There are so many different domain names and domain name extensions available that you should be able to find something close to what you want.
Once you have purchased a domain name it is time to go find a solid webs host. You will have several to chose from, but you want one that has everything you need to get your community website up and running smoothly.
This way, you can access all your tools and have everything you need, including an SSL, in one place. Now let's move forward to the next step.
On a side note, you can use GreenGeeks and get your hosting and domain name in one location.
Build Your Website Using WordPress
Once you have opened a web hosting account you will find that there are several different CMS available to use to build your website. I recommend you go ahead and use WordPress, and there are a few reasons behind this.
WordPress is very user-friendly and will offer you a lot of resources to help you build the community website you want. Furthermore, WordPress is open source.
This means that anyone can contribute and you always have someone to refer to and access while you are building your site. Need to talk to a theme developer or a plugin creator? Chances are you will be able to.
Choosing the Right WordPress Theme
As is the case with building any type of site, you want to find the right type of theme to build around. Below are some really solid WordPress themes to checkout for building a community website.
Lynk Community Theme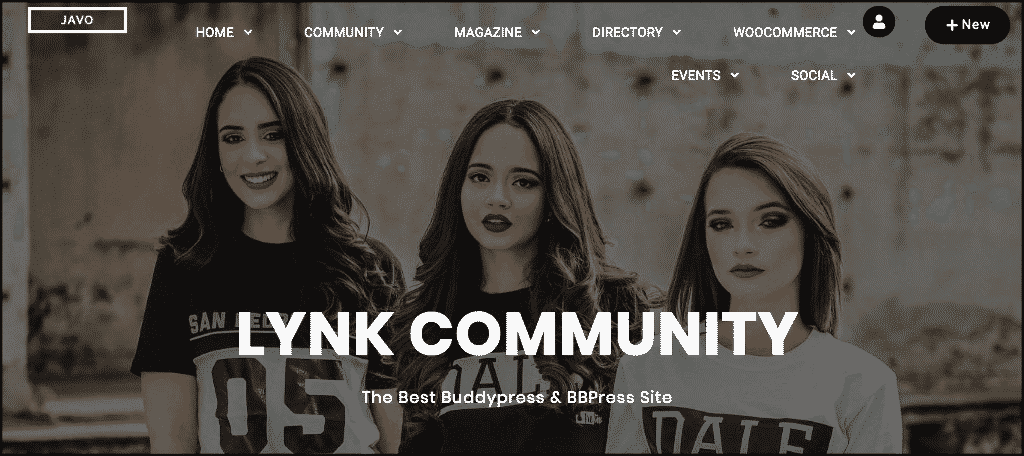 The Lynk Community Theme is a solid community and social networking theme and will give you a great start in building a modern community-based website. The theme comes with several pre-built page layouts and templates, all designed for a community look that helps website users interact. Add the right plugins (which I will discuss below) and you will have an amazing community website.
Kleo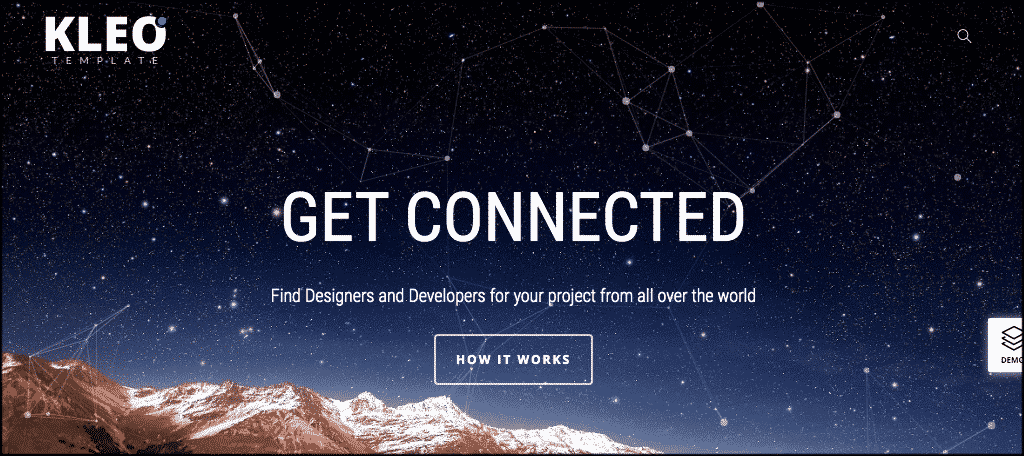 The Kleo theme comes packed with demos and uploads that you can use to build a website with user profiles. It is built around the BuddyPress plugin (which we will get to in a few minutes) and is fully compatible and ready to go out of the box. Kleo is perfect for a website that needs a user database and a message board or forums.
BuddyBoss
The BuddyBoss theme is probably the most advanced community website theme on this list. Easily increase user engagement, create groups, messaging systems, profiles, website user accounts, and more. All of this with the top-level security you need to keep everyone's data and information safe.
Olympus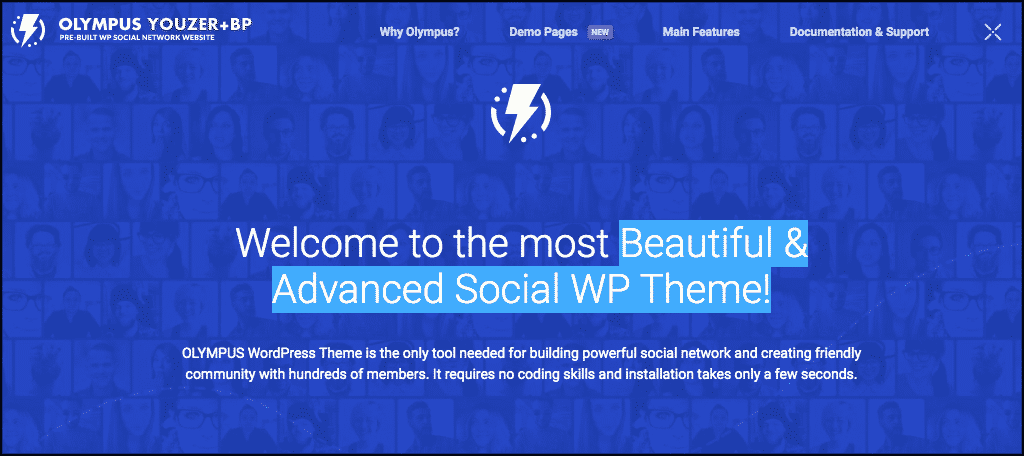 The Olympus theme was built for one reason. To help you build an amazing online community or social networking website. It is fully compatible with BuddyPress (as most of these are) and while not as heavy on options, it does provide you a solid theme for community building. Plus, Olympus makes setup very easy and is perfect for storing user profiles.
OneCommunity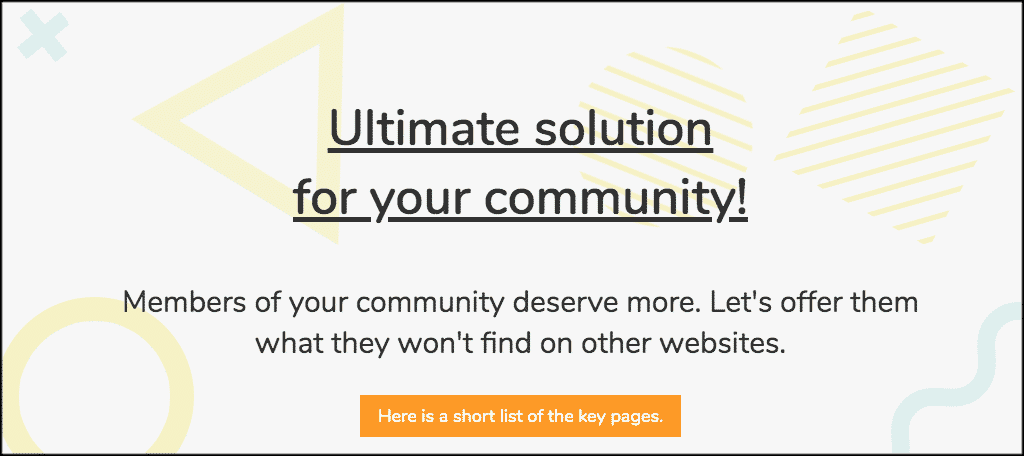 The OneCommunity theme is yet another great community-driven WordPress theme that has a lot of users and is very popular for building websites that need to have user accounts and profiles. Not only is this one also BuddyPress ready, but it also comes integrated with the WPBakery visual page builder plugin. This allows you to create pages using the easy drag and drop design technique.
Choosing the Right Plugins
Of course, every WordPress website should have certain plugins on it no matter what. However, there are also plugins you need based on the type of website you are building. In this case, let's take a look at choosing some solid plugins for a community website.
BuddyPress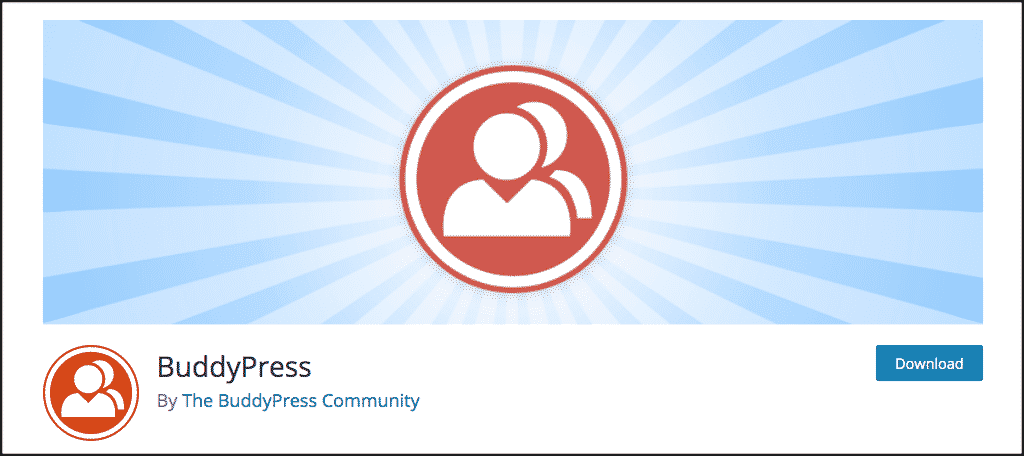 The BuddyPress plugin is definitely one you want to have if you are building a community website. The plugin is filled with functionality and components for building community and social networking websites. It integrates a complete message board, messaging, and community-based system into your theme.
Ultimate Member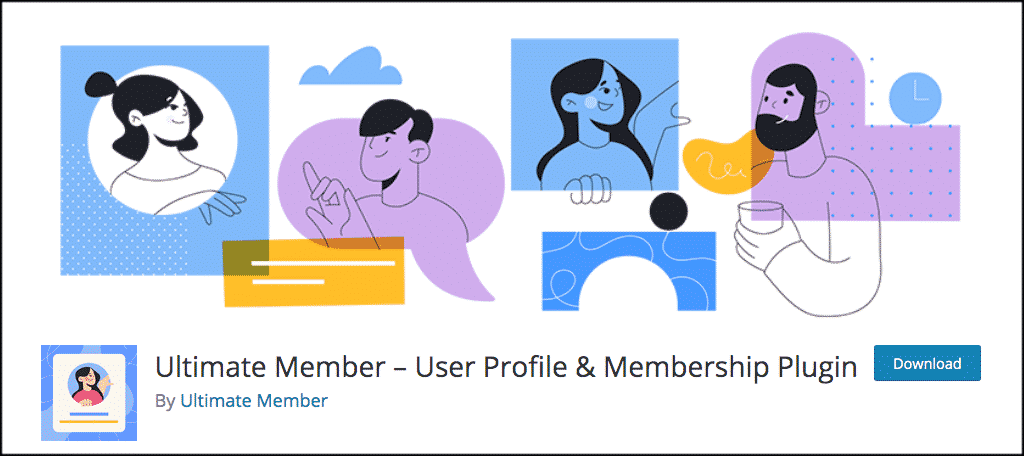 The Ultimate Member plugin does not have the social ability of BuddyPress, but it does allow users to create profiles for various reasons. Actually, it is the #1 profile and membership plugin for WordPress. If you are pretty familiar with what you are doing, you can even get away with using nothing more than the free version of this plugin.
PrivateContent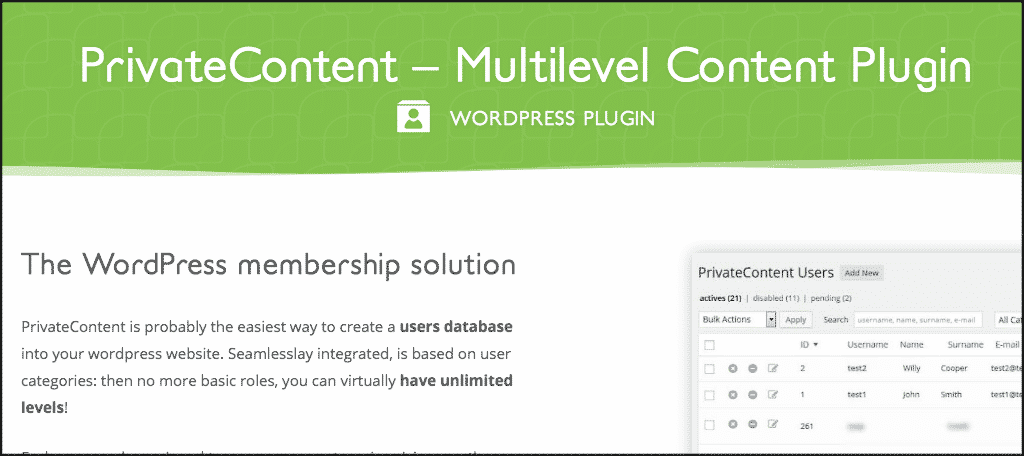 The PrivateContent plugin is a solid tool for building membership levels on a community website. It will allow you to set tiers of what website user profiles can access based on the membership they have chosen. It is also a solid plugin for blocking and hiding content that can only be accessed through memberships. This is a great tool for a membership-based community website.
WooCommerce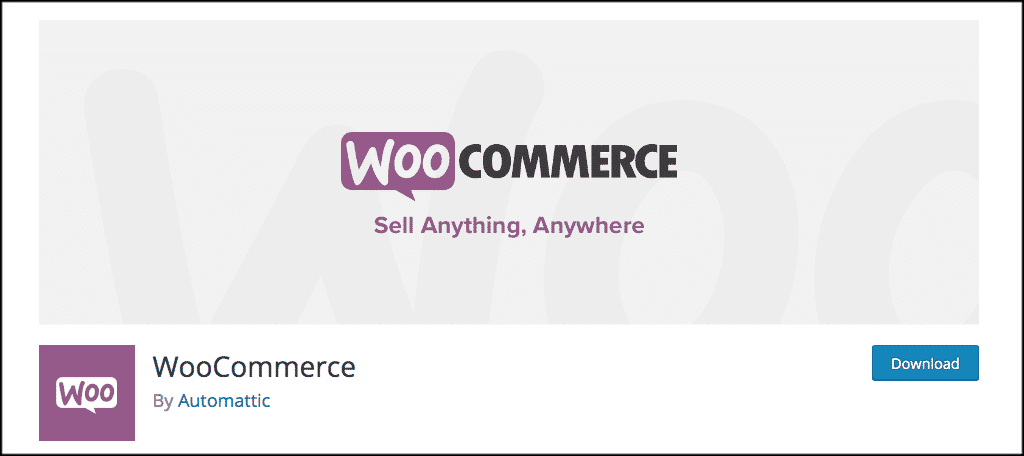 You might be surprised to see WooCommerce on here. Don't be, many membership websites and community websites have WooCommerce installed for one reason or another. This will provide you with an easy way to sell membership tiers, or even certain products in the membership community area of your website.
Yoast SEO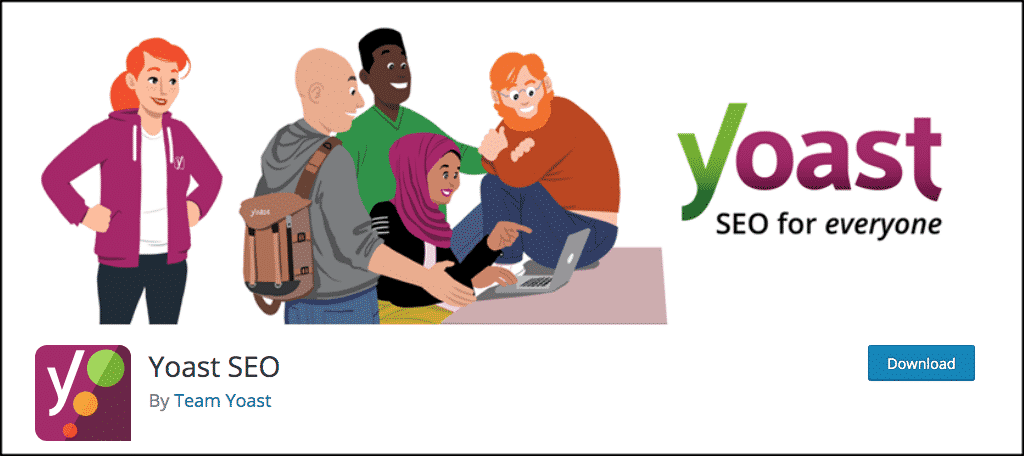 Every website, no matter what type of site, needs to have proper SEO set up. Any community website is included as well. The Yoast SEO plugin will walk you through the process for proper optimization and make it very easy for you to set everything up according to best SEO practices. This plugin is a must have for any website.
Sharing Your Community Website
Once you have a community website built, there are a few different options you have to promote it. Here are some sharing ideas.
As it is in most cases, sharing anything on social media platforms is a great way to get the word out about something. The same is true for your community website. Once it is online and live, blast the link out through social media and let everyone know that they can come to be a part of the community.
Word of Mouth
Since this is a community-based website, chances are people who use the site are spreading the word around. This is actually a great way for your website to gain traction and become relevant in a shorter period of time. Word of mouth is free marketing and will gain you community website users quickly.
Community Message Boards
There are all sorts of online message boards and forums that you can use to spread the word about your new community website. Use these to post links, spark discussions, and get traffic flowing to your site faster.
Email Marketing
This should be on the top of any list no matter what type of website is being built. Having an email list, or building one, is very important for so many aspects. In this case, you can use your email list to create a blast about your new website, what it is about, what it offers, and how people can become a part of it.
Advertising
Perhaps you don't want to look at this option right away because funds might be low. However, truth be told, advertising is a sure-fire way to at the very least, get people interested and looking at your website. A great place to start for a decent price is Facebook advertising. You can target specifics and release to a certain amount of people daily and over time.
What to Use Your Community Website For
Once your community website is up and running, you can use it for a number of different things. You may have already implanted some of these. However, here are some suggestions.
Message Boards and Forums
You can use your community website as a message board and forum site. Allow everyone who has a website user profile to connect, post, and interact with each other based on the rules and outlines you set. Forums are a fantastic way to build a community and allow people to interact, ask questions, and debate.
Job Listings
You can use your community website as a tool to post job openings. There is always someone out there looking for a job. Allow your users to posts jobs, or tell others about potential openings. Over time, your job posting board can really grow and become very interactive.
Business Directory Listings
Another really good way to use your community website is as a business listing directory. You can create categories, list different businesses, give information and provide maps and allow users to post reviews. In time, your website could become the go-to resource for local business listings and information.
Conclusion
Learning how to make a website with user accounts and profiles doesn't have to be difficult. Creating a community website and using it for a number of things is a great idea. Hopefully, the information above is easy to understand and follow.
If used correctly, you will be on your way to creating a community website in no time at all.