WordPress post types are a great way to modify a website to fit your needs. There are WordPress custom post types available at your disposal, all of which give you the ability to create something unique.
WordPress also allows for post type revisions, which makes things quick and easy to change and fix when you are on the go. However, there are a few drawbacks to WordPress custom post type revisions.
In this article, I will show you a quick and easy way to control your WordPress post type revisions by using a nice little plugin called WP Revisions Control.
The Problems With Post Type Revisions
Custom post type WordPress revisions do provide a very easy way to perform important functions on your website. You can easily undo changes, restore posts, and revert back to old drafts.
However, a lot of users think (and rightly so) that too many revisions lead to an increase in their backup file sizes, an increase in post query times, and overall affect the performance of their site. It isn't too difficult to disable post type revisions, but to do that manually you would need to edit the configuration file.
With that being said, let's look at an easier way to control your custom post type WordPress articles now.
Install and Activate WP Revisions Control
The first thing you need to do is go to the WordPress plugin directory of your website and install and activate the WP Revisions Control plugin.
When you have activated the plugin simply click on "Settings" in the left sidebar and then on "Writing" and you will be able to control WordPress custom post types at the bottom of the page.
The boxes for post type revisions are empty, and you have to fill them with the number of revisions you would like to store for each post. The screenshot below shows the boxes full of the number I preferred to put in. You can put in whatever number you would like.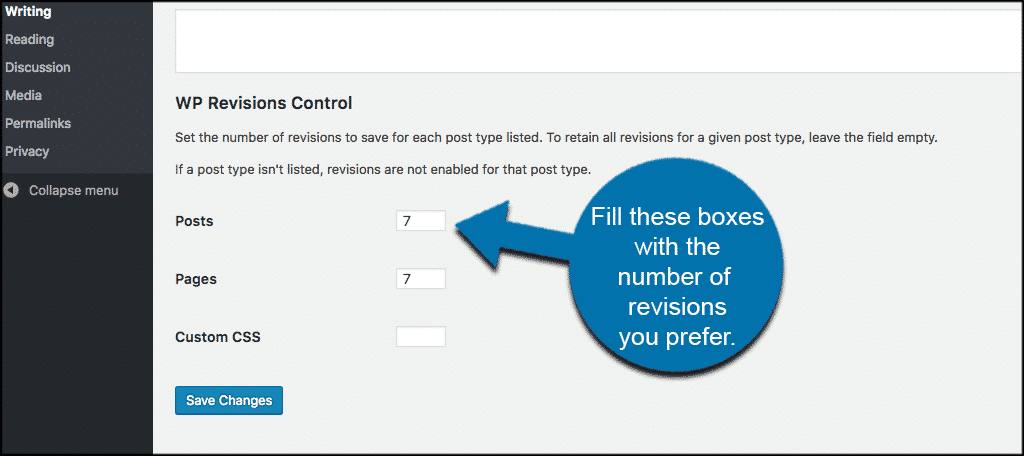 A Few Things to Remember
There are a few things you want to remember when using custom post types. If you are not using any extra post types, then only the post and page boxes will appear.
If you have several post types, i.e. testimonials, products, video, gallery, etc., then they will all show when the plugin is activated.
Finally, if you would like to keep all the post type revisions for a particular post type, then leave the box blank and WordPress will automatically store all of those revisions.
When you are done filling in the appropriate boxes just click the save button and you are good to go.
I hope this article gave you an understanding of WordPress post types and how they can be used. Controlling them can be important for a number of reasons and the WP Revisions Control plugin helps you do this very quickly and easily.
Have you used other plugins to control custom post types in WordPress? Do you prefer to just edit the configuration file yourself?