There are several ways to make money with a blog or website. Running ads and agreeing to sponsored posts are two great ways. However, building affiliate websites may be the most lucrative if handled correctly. Let's go through the process of building an affiliate website so you can make money as an affiliate website publisher.
Affiliate websites are platforms that essentially promote another company's product. These products can be both physical and digital in nature, but more often than not, it is a physical product.
When you are an affiliate, you are not selling your own products. You are actually selling other people's goods and services through "affiliate links." These links earn you a commission on the sale when a website user clicks through it and makes a purchase.
However, these purchases need to be made through your affiliate link in a certain time period for you to gain a commission. Usually, this is a 30-day or 60-day window, but times can vary depending on the requirements of the company.
Having an affiliate marketing website can provide you with extra income or can make you a lot of money if handled well. Let's take a look at the steps to take in order to create one of your own and make money as an affiliate website publisher.
What You Need to Build Affiliate Websites
Every website needs to have a few things in place before you actually start to build. Here are a few things to consider before you build an affiliate website.
Choose a Niche
Most affiliate websites concentrate on a specific thing or find a certain niche. This is important for a number of reasons. It is better for overall SEO when putting the site together and it leads to getting the right people visiting your content. So, choose a niche to focus on before you do anything else.
For instance, you could create a website about electronic reviews and then affiliate yourself with companies that sell those goods.
Find Affiliate Products
After you choose your niche you want to go about the process of finding appropriate products to add to your affiliate site. There are a number of places to find these goods and a number of ways to go about getting affiliate links. We will talk about this more below. Finding relevant products will help you make money as an affiliate website publisher.
Create a Catchy Name
If you want your affiliate website to stand out even more, then create a catchy name. This will help people not only find your site online, but remember you as well. A catchy name is always something site visitors remember.
Where would we be without "Google" or "Yahoo?"
Steps for Building an Affiliate Website
Now that you have the above things in place, it is time to take the steps needed to build your affiliate website. Do the following in this order to make it the smoothest process possible for you. If you complete these steps below in the order they are described, you will be on our way to making money as an affiliate website publisher.
Domain Name and Web Hosting
The first two things to do is to choose a domain name for the website, and then find a good web host. There are a lot of different domain name registrars to choose from, so pick your favorite and go get the name you want.
If you try to get the domain name you want and it isn't available, then just try another version of the name, or try using a different extension. There are so many available domain name extensions today that you are bound to find something you like.
Now that you have your domain name picked out, it is time to choose a web host provider. Again, there are a lot of choices out there, and a lot of them are not good. Make sure you get a web host that will give you everything you need to start building affiliate websites easily.
If you use GreenGeeks web hosting, you can get your site and domain name all in one account. This means you don't need a third-party domain registrar should you choose.
Now that you have a domain name and have chosen a web host, it is time to pick the right CMS.
Use WordPress and Here's Why
When it comes to building websites these days, there are a lot of different CMS choices available for you to use. I recommend using WordPress for a number of reasons.
WordPress is now powering over 40% of all websites that are online. Furthermore, it is very user-friendly and easy to install whether manually or by using a one-click installation.
WordPress is also an open source project. This means that anyone can contribute to it and there are thousands of developers that have. You will never be short on people to talk to, resources, or tutorials to learn from.
Finally, WordPress is very secure, which is key today. Sure, there are always steps to take to secure a website even further, but WordPress itself offers a very secure CMS.
Choosing the Right WordPress Theme
There are thousands of different WordPress themes available that will help you create a fantastic layout. Let's focus on some that are actually perfect if you are building an affiliate website.
Genesis Framework
The Genesis Framework is actually one of the best WordPress themes to use for affiliate websites. With a ton of security and functionality, you can use the framework to build a dynamic affiliate site. You also have a selection of child themes you can choose from to add and build.
Kupon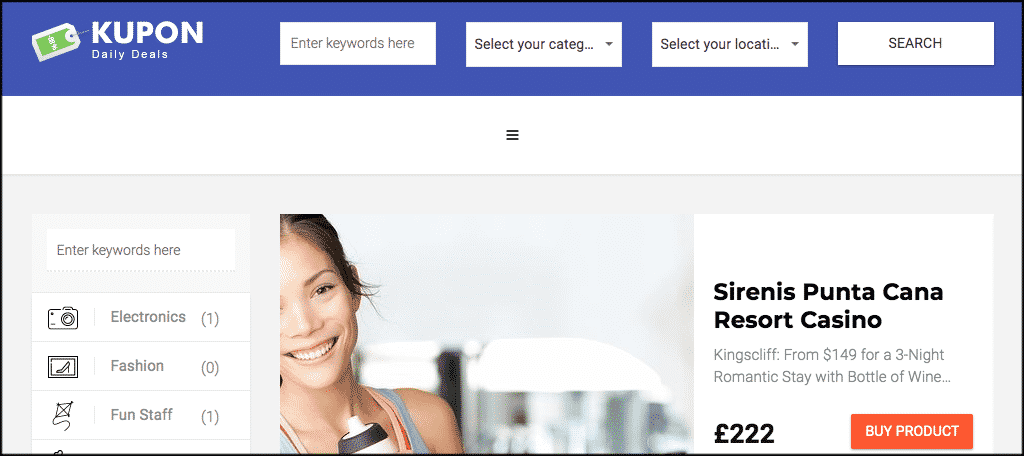 The Kupon theme is the perfect theme for affiliate marketers. It is specifically built to allow you to provide daily deals and coupons through affiliate links. It has a very easy to use back-end interface, and you will not need to install any third-party plugins to get the functionality you need. The Kupon theme has it all built-in.
Marketing Pro
The Marketing Pro theme is an all-purpose WordPress theme that comes pre-packaged with 9 different layout templates. You can use these easily to manipulate the templates and build a fantastic affiliate site and start making money. It has an easy-to-use, drag-and-drop page builder included as well.
Steady Income
With a name like Steady Income, this WordPress theme was practically built to create affiliate websites. It comes with a powerful subscription tool, the ability to easily add affiliate marketing links and ads, and has a very responsive design. All of these work together to boost your online earnings.
MoneyFlow
The MoneyFlow WordPress theme is a modern style blog appearance that is built specifically for those who are trying to make money online. It has an easy monetization process built-in, and it is mobile-friendly and responsive. On top of building your affiliate marketing site, you can also easily add Adsense, and support for WooCommerce is already built-in.
Choosing the Right Plugins
Now that you have your theme picked out, it is time to review some plugins that are a must-have for affiliate marketing websites. There are certain plugins you want for specific elements, so here are some to consider while building your site.
ThirstyAffiliates
ThirstyAffiliates is an affiliate link manager that allows you to organize all of your links in a single area. What this means is that you can be making money on affiliate links as a publisher using different affiliate accounts, but you can manage and track them all in one singular space. The plugin is lightweight and can be easily used from your WordPress admin dashboard.
Pretty Links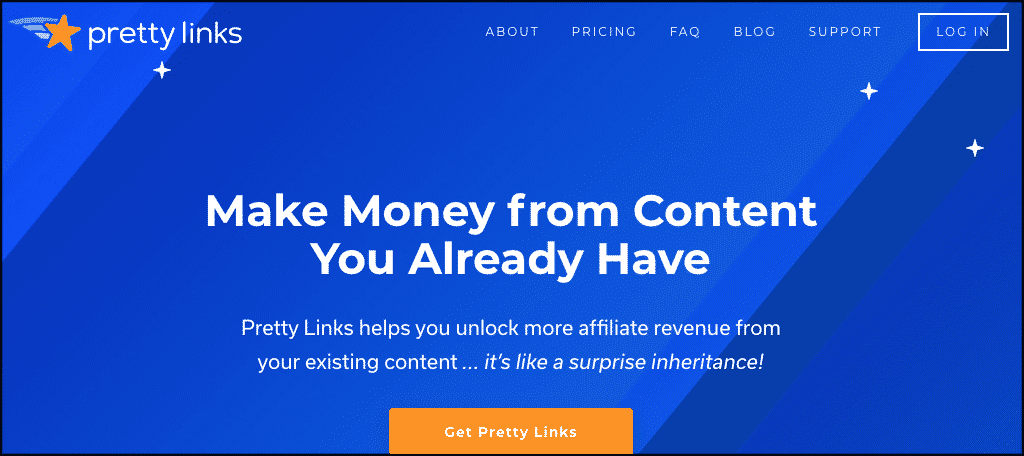 Pretty Links does a lot of things that will be useful for your website, including giving you the ability to setup shortlinks to share over social media. It also has as the ability to set up both permanent and temporary redirects. However, for an affiliate website, Pretty Links will allow you to cloak the affiliate links you have on your website. This gives them a more professional look and makes it less obvious that you are trying to earn a commission.
MonsterInsights
MonsterInsights is a WordPress Google Analytics plugin that will track anything you can think of. This will include any type of data imaginable coming from your affiliate link clickthroughs. It ties right into the backend of your affiliate website and gives you up-to-date data in an easy-to-read way.
RafflePress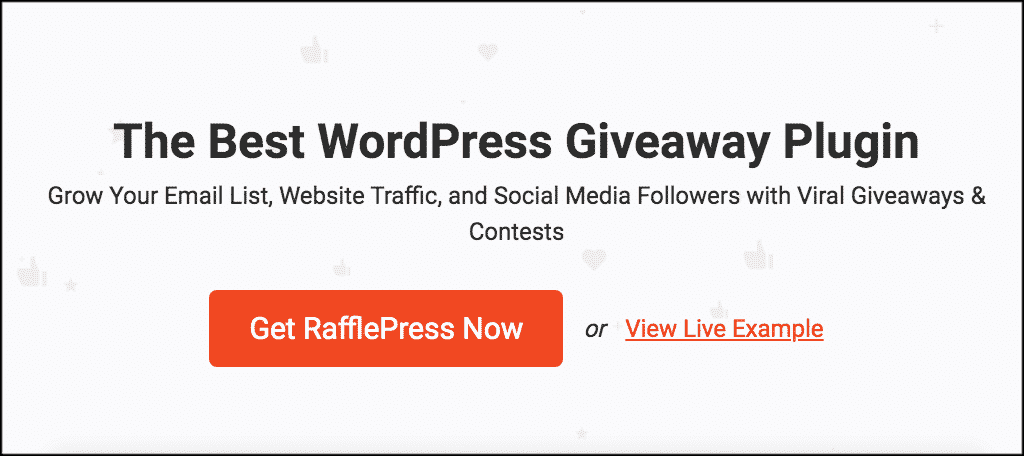 RafflePress is a WordPress plugin that will help you get traffic to your affiliate site by allowing you to easily do viral giveaways and other types of engaging content. It is a drag-and-drop giveaway builder that is a sure-fire way to get your affiliate marketing website noticed.
MailChimp
MailChimp is an email list building and marketing plugin that will help you create ready to roll emails, newsletter, coupons, incentives, and affiliate links. This is a great list builder and perhaps the best part about it is that MailChimp has a very good free plan to get you started.
Sharing Your Affiliate Website
Now that you have your affiliate marketing website built and live, you need some different sharing options. Here are a few suggestions on how to share your website and get the name out there.
Create a Contest
Since you should be using RafflePress, you can create a contest or a big initial giveaway. Then get the word out and let the content or giveaway run for a while. This is a great way to get the name out there and also build your email list.
Publish Blog Posts
It never hurts any site to have a blog section. This includes affiliate websites. Post blogs about your site, your products, what you are about, and more. Then share these posts on social media and drive people to your affiliate site.
Social media platforms are probably the quickest way to get the name of your affiliate marketing website out there to the masses. You can post your site link and some information on it, or even post ads that will gain you clicks and traffic.
YouTube
Since YouTube is the second largest search engine in the world, it only makes sense for you to make use of it. Publish video content that directs people to your website. Make it fun and interactive and you will start to see the benefits.
Get on Quora
Quora is a question website that provides users the ability to ask any questions they want and have people answer them. Direct affiliate links are not allowed, but links to websites and blogs with relevant content are. Try getting on there and answer some relevant questions to direct people back to your site.
How Can You Use Your Affiliate Site?
You can change up the niche or process of how you choose to use your affiliate marketing website. Here are some suggestions on how you can use it.
Amazon Affiliate Site
This is perhaps the most popular option because you can easily access thousands of different affiliate links in one place. Setting up your affiliate site and running it through Amazon products is a great way to make money.
Other Affiliate Programs
There are other very popular affiliate programs available for you to join. You can look through these, see which ones offer the best items, and pick what you want from there. Some of the most popular affiliate programs include ShareASale and CJ Affiliate.
Specific Product Affiliate
While many affiliate websites have a specific niche, they also offer several different products within that niche. If you want to be even more targeted, offer one main product only. If you are able to get to a point where your site is getting a lot of traffic, then you will start making some decent money on one product, because you will be a main supplier.
Conclusion
Affiliate websites are a fantastic way to either make some extra money on the side or even replace a full-time income. There are all sorts of ways you can build an affiliate site, but the steps above will give you a great starting point and get your site online fast.
I hope the information above was helpful. Let us know how it went if you use this guide to build an affiliate website. Following everything above in the order it is given should lead you to success.