Using WordPress for a real estate website can be a great time and money saver for an independent agent. Even if you work for an agency that provides a corporate website, having a site that you control and manage can give you a competitive edge.
As recently as 2007, almost half of all home buyers began their search in newspapers. Now, 95% of real estate searches take place online. The more online ground you can cover, the better your chances of attracting people at the beginning of their search.
Online search numbers being what they are, setting up a WordPress real estate site is something you can greatly benefit from. Assuming you already have a WordPress site up and running, we'll use the Estatik Real Estate Plugin to get started.
Installing the WordPress Estatik Real Estate Plugin
Log in to your WordPress admin panel.
In the left column navigation, mouse over the "Plugins" link and click the "Add New" link.
In the "Search plugins…" box, enter "Estatik Real Estate Plugin."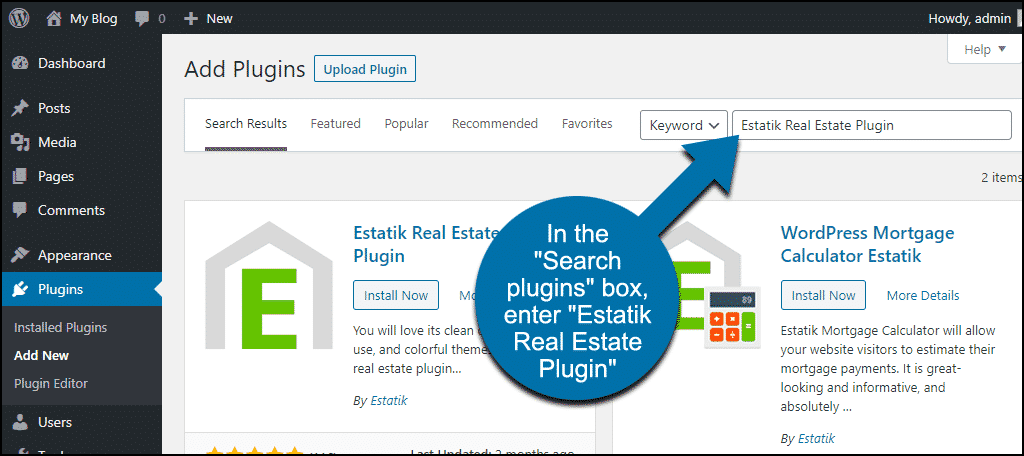 Once you have located the plugin, click the "Install Now" button.
Click the "Activate" button.
Configuring Estatik Real Estate Plugin
When the plugin is activated, it will generate a pair of notices advising you to create login and password reset pages using shortcode. Let's take care of that before we go any further.
In the left column navigation, mouse over the "Pages" link and click the "Add New" link.
Create the login and password reset pages. I named them "Estatik Log In" and "Estatik Password Reset" for purposes of this tutorial, but you may want to use something less obvious in actual practice.
The only thing needed in the pages is the Estatik shortcode. That's [es_login] in the log in page and [es_reset_pwd] in the password reset page.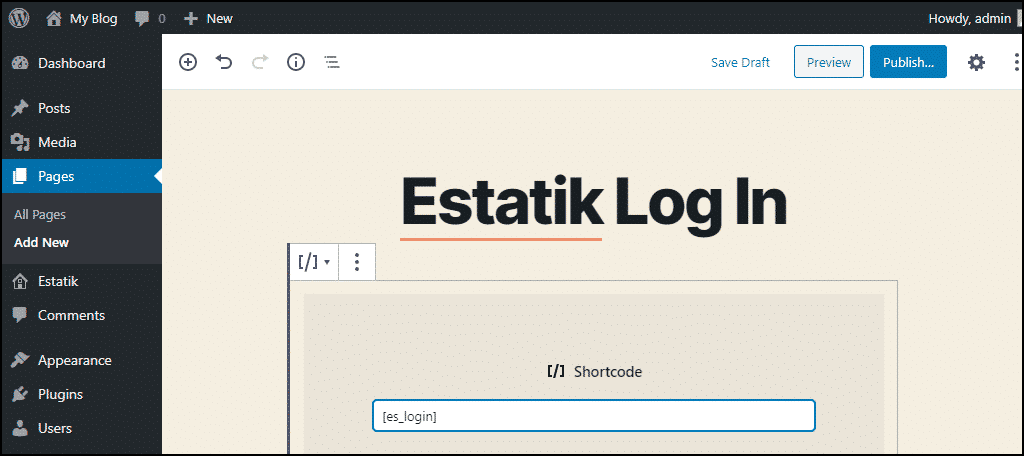 When both pages are created, mouse over the "Estatik" link and click the "Settings" link.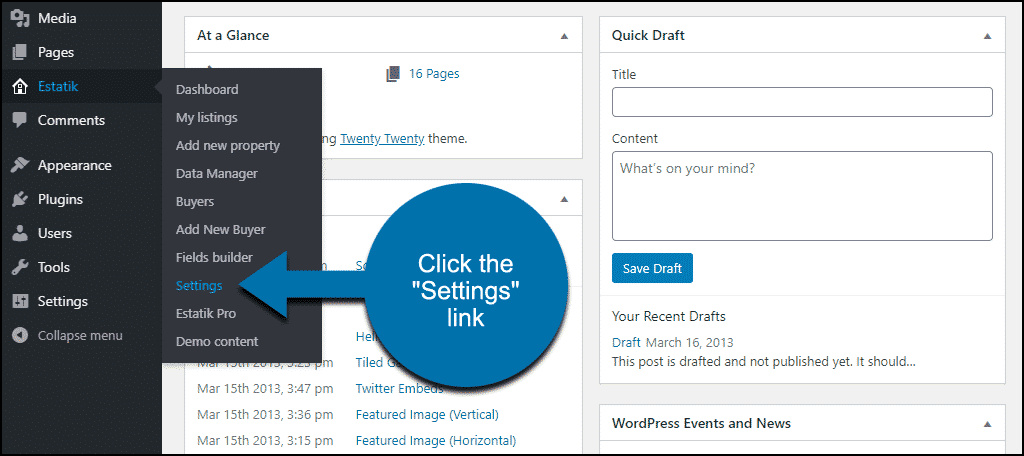 Click the "Account" tab.
Select the pages you just created from the "Login page" and "Reset password page" dropdowns.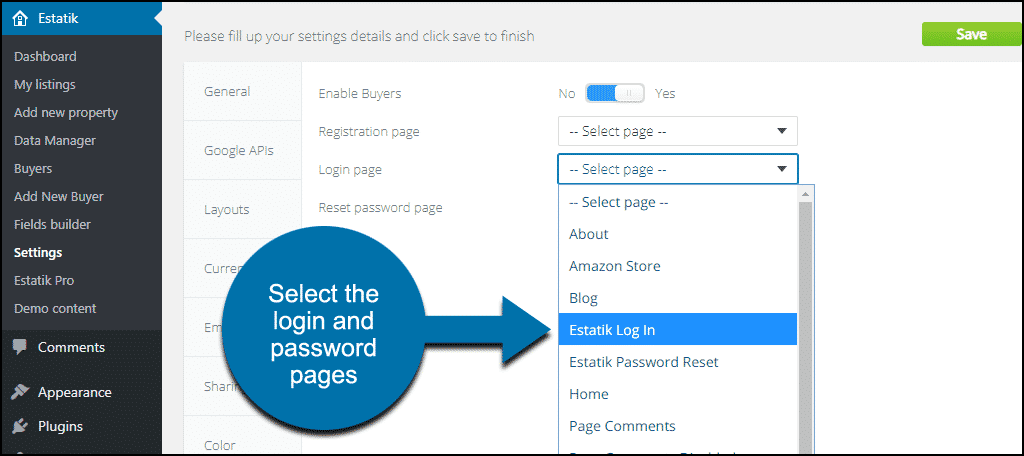 Click the "Save" button.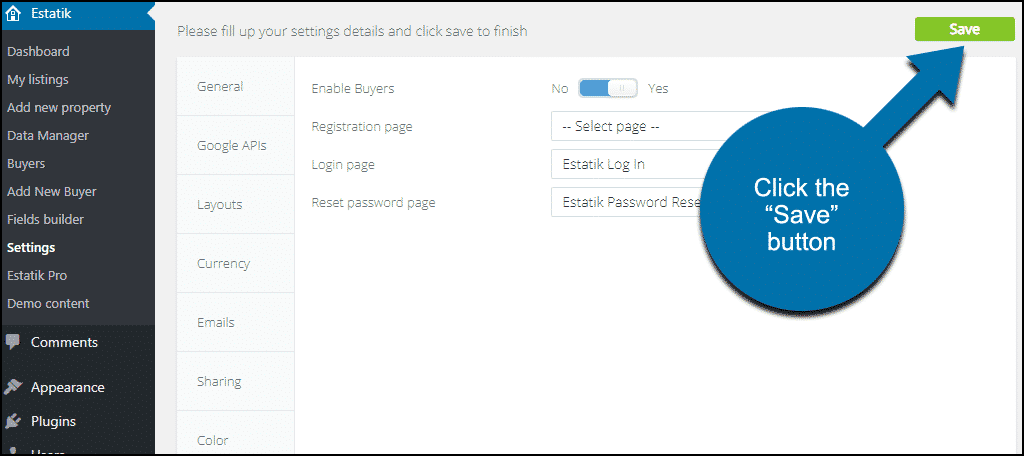 Google Integration
To make use of Google maps on your site, you will need an API key. API keys are a Google Developers/Cloud Platform feature, so getting the keys is not the most user-friendly process in the world. But if you have a Google account, it only takes a couple of minutes.
In addition to the Maps key, you'll need reCaptcha API keys for certain login pages. You get those keys from a different Google site.
Once you have the keys, click the "Google APIs" tab.
Enter your Google map API key
Select the Recaptcha API Version you want to use
Enter the Recaptcha SiteKey and SecretKey
Click the "Save" button
Let the Demo Content Guide You
The plugin features many configuration and display options, but demo content has been provided so you can see examples. Demo data can be very helpful in getting a handle on what a plugin can do, so let's take advantage of it.
In the left column navigation, mouse over the "Estatik" link and click the "Demo Content" link.
Click the "Setup DEMO" button.
Select the demo pages you want the plugin to create and click the "Next step" button. We already created login and password reset pages, so don't select those options.
The plugin may prompt you to provide the Google API keys again. If so, enter them and click the "Next step" button.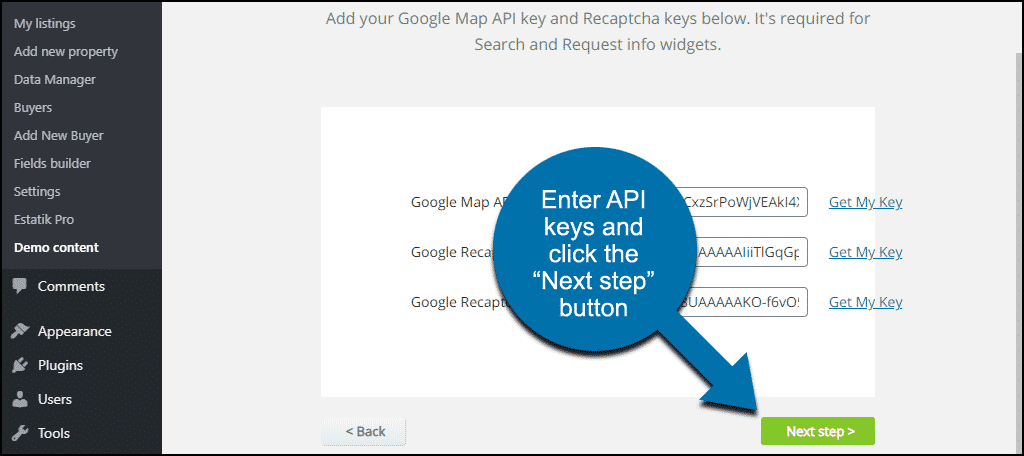 Click the "Import" button.
When the import is complete, click the "VIEW DEMO LISTINGS" tile.
That should take you to the Properties page with some demo listings.
Adding Listings and Other Configuration
Usually, this is where I would walk you through the basics of the plugin. But as I mentioned earlier, there are a lot of options with Estatik Real Estate. There's not a basic path that every user will follow. So rather than offering incomplete advice that couldn't begin to answer all your questions, I give you to the experts.
What Happens if You Uninstall the Plugin
If you uninstall the Estatik Real Estate Plugin, pages and posts that used the plugin will be affected.
Pages created by the plugin (listings, etc.) will be deleted.
Plugin-related pages that you created yourself, log in and password reset, for example, will have to be deleted manually.
The plugin shortcodes will stop working, so the shortcodes themselves will be displayed anywhere they were used.
Free Real Estate Themes
The default WordPress themes are great for blogs, but may not be ideal for a real estate site. In specific business niches like real estate, the best WordPress themes are usually paid "premium" themes.
But if you're just getting started or testing the waters, here are some free WordPress real estate themes to consider.
Real Estate Lite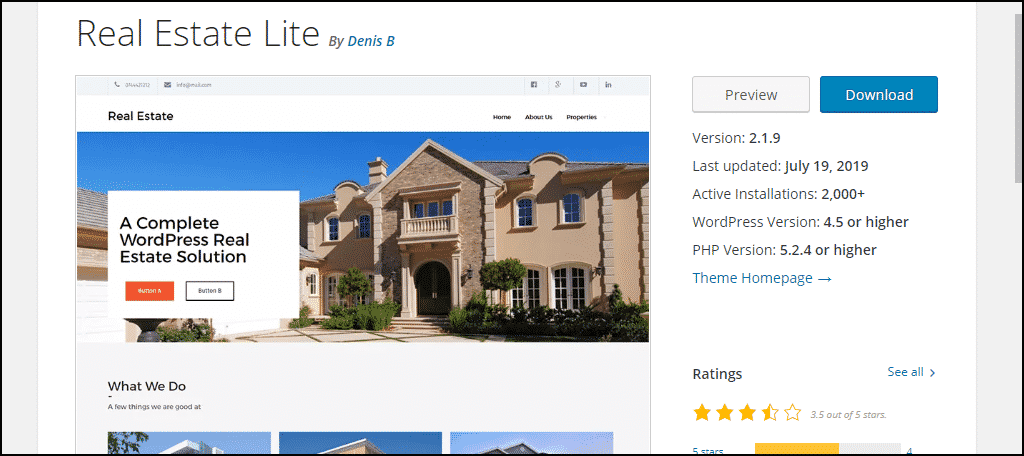 If the number of sites using a theme is a good indicator of quality, look no further than Real Estate Lite. If you like it, there's a pro upgrade that unlocks a featured property slider, some customization options, and one-on-one support.
Real Estater
If you like your themes clean and straightforward, Real Estater may be for you. It's a user-friendly magazine-style theme great for apartment and house listings.
Real Estate Right Now
If you're looking for a real estate plugin that supports languages other than English right out of the box, check out Real Estate Right Now. It does many of the same things the Estatik Real Estate Plugin does, but it includes French, Italian, Romanian, Spanish, and Portuguese language files. If you're setting up a real estate site in a region that uses one of those languages, Real Estate Right Now can save you a lot of time.
WP Real Estate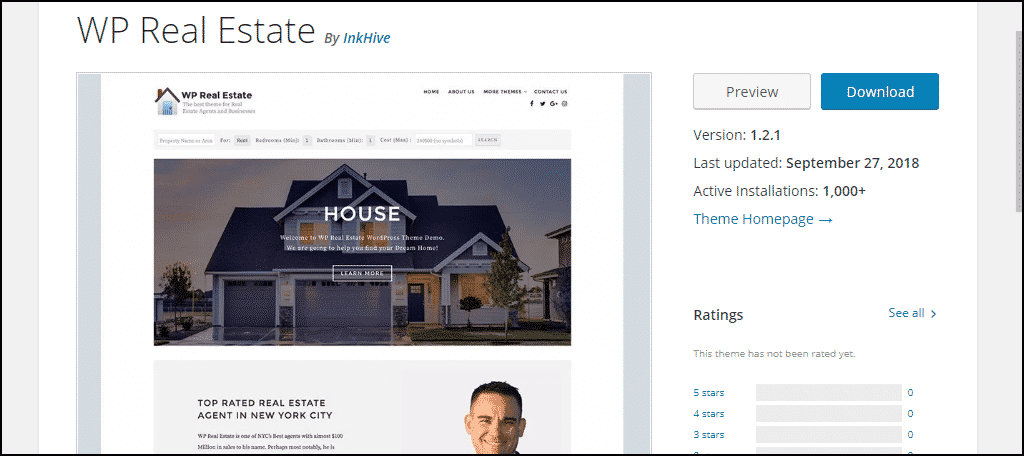 WP Real Estate is a stylish, simple, fast WordPress theme that was designed with listing properties in mind. A nice theme, but hasn't been updated in a while.
Set Yourself Apart With a WordPress Real Estate Site
Real estate is a competitive business, so every advantage you can gain is welcome. If you're working in a big city, the competition is even more fierce. Improve your visibility and usability with a good, functional listings site, and you're already a step ahead of the game.
Don't forget; your site is just the beginning. SEO can be your secret weapon. Commit some time and energy to local marketing for your website, and you can rank next to the big companies in search results.
Have you considered a personal real estate website to supplement your listings on a larger corporate site? Do you have any other real estate plugin recommendations? Let me know in the comments.