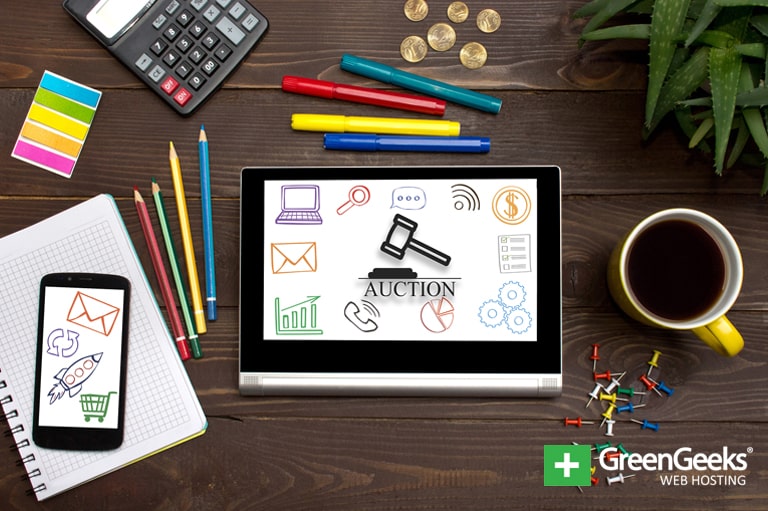 Are you interested in learning how to create an auction website? You have seen them popping up all around and becoming increasingly popular.  Let's go through the steps together to get you up and running.
What You Need to Create an Auction Website
As is the case with most types of websites, you need to have a few things in place for the site before you start to build. These things will allow you to have certain content in place to fill the site the minute it goes live.
Here are a few things I recommend having in place before you create your own auction website.
Website Content
You will need some content in place to add to your auction website template. This content will include things like an "about us" page, some contact info, what types of products you are auctioning, and an FAQ page. You may also want to add a terms of service and privacy policy page to your site as well. Get that content written and ready to go.
Decide What Type of Auction Site You Want
You need to have a type of auction site in mind. Will the site be for your own personal use? Is it an event auction site? Is it for a small business or non-profit organization? These are things to consider and make a choice before starting the rest of the process.
Auction Items
Once you have decided what type of auction website you want to build, you need to make sure you have certain things ready. Having these in place beforehand will allow you to start live auctions on your site right away.
Steps to Creating an Auction Website
Now that you have the above materials in place, you can start on the rest of the steps to create an auction website. Doing these things in the order they are given will give you the easiest road toward getting your auction site up and running.
Get a Domain Name and Web Hosting
The first thing you want to do is find the domain name that you want for your site. Remember, your domain name is what will represent the site and what most people may recognize in search results.
Try searching for the exact domain name you want. If that particular domain name is already taken, then try different variations of the wording. You can also use a different domain name extension as there are many of these available.
Once you have your domain name bought and in place, it is time to find web hosting. You will come across a lot of choices, some good, some not. However, keep in mind you want a reputable web hosting company that will give you a great price and provide you everything you need to easily build the auction site of your dreams.
Use WordPress and This is Why
Now that your domain name is purchased and you have found a solid web host, it is time to choose the CMS you want to use to create your auction website. There are some different auction website builders available, but I recommend using WordPress to build your site. There are a few reasons behind this.
WordPress is an open source CMS. This means that anyone can contribute to it and you will never be short on resources and tutorials to help you through the building process.
Furthermore, WordPress is very user-friendly and very scalable. This means you will be able to build a large website and continue to grow with no problems. WordPress is also very secure. Sure, you will want to take certain steps to further secure your website, but the platform itself is very solid.
Finally, WordPress installation is quick and easy. You can install it manually, or use the one-click installation process provided by your web host. Either way, you will have the CMS installed quickly and easily and be able to start building and designing in no time.
Choosing the Right WordPress Auction Theme
WordPress offers tons of amazing themes that you can build around and use to create an auction website. That being said, here are some recommendations for you to look at.
Adifier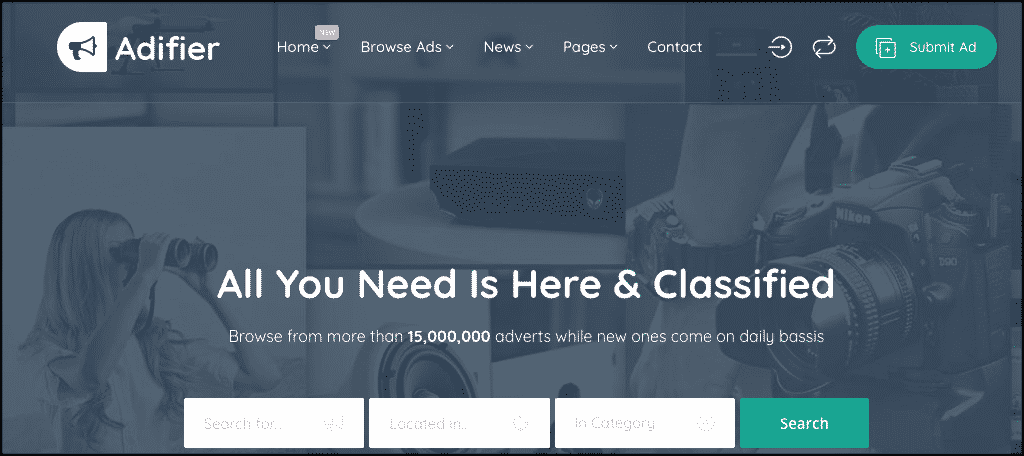 Adifier is a WordPress theme that is built specifically for auction websites. The theme is loaded with functionality and built-in tools. Perhaps one of the nicest things about it is that it comes with 14 pre-built templates that you can use to set up an auction style website. With tons of monetization methods as well, this theme is ideal for most situations.
AdForest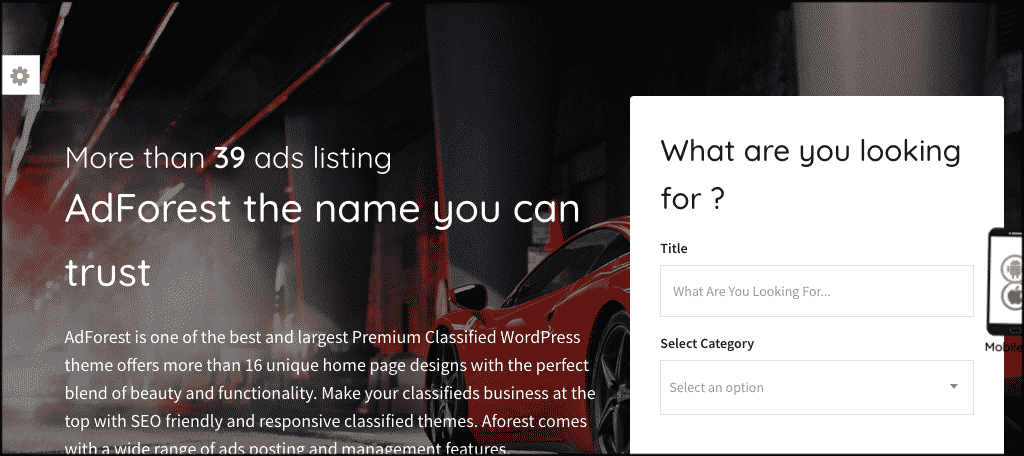 The AdForest theme is another great auction theme template. It provides you with a ton of color and style options. The theme also allows you to build and design through a number of mobile-friendly layout options. It has Google Map integration and allows you to set up and sell auction items quickly and easily.
Auction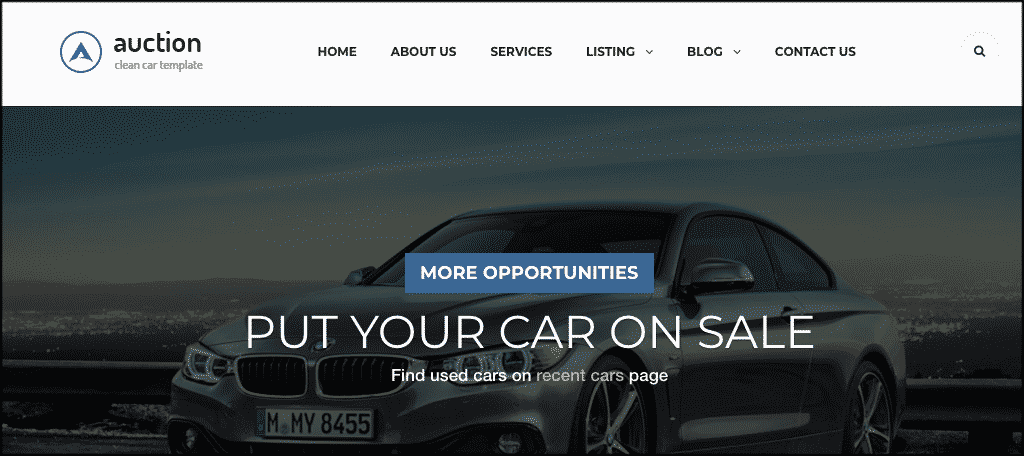 The name pretty much says it all, here. The Auction theme is actually a very clean and smooth WordPress layout built for selling cars. However, you can customize the theme and design to be specific to any type of auction items and layouts you prefer. It comes with a powerful page builder as well that will make creating pages easier than ever.
Classify
Classify is a nicely built, lightweight theme that is excellent for creating an auction website. The theme comes with plenty of ad placement slots, it is SEO friendly, and there is the ability to have users add front-end submissions and pay online easily. Give it a look.
iBid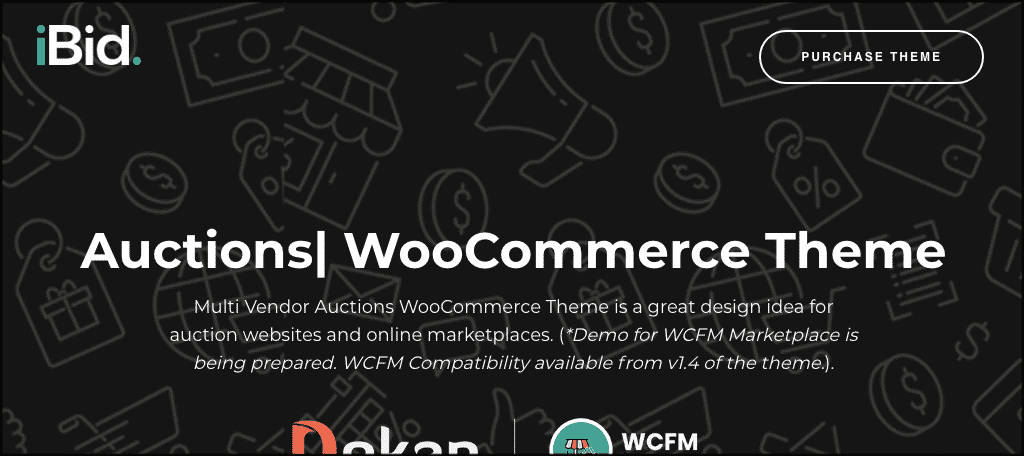 iBid is a very powerful theme built specifically for an auction-style website. It allows you to build up to 6 different marketplaces. So, if you have not settled on a certain niche for your marketplace, the iBid theme is right up your alley. It is very customizable and comes with a drag and drop page builder for easy designing and layout.
Suggested Plugins for Auction Website
Now that you have chosen a theme and have it uploaded, you are ready to install and activate plugins. Here are some I recommend you get when creating an eBay auction site or any other type you wish.
Ultimate WordPress Auction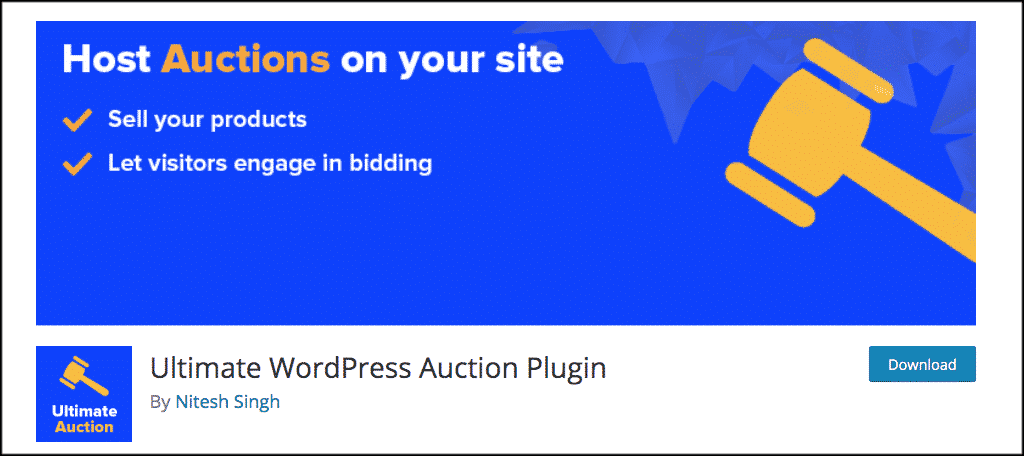 The Ultimate WordPress Auction plugin will allow you to quickly and easily set up auctions on your website. The plugin is lightweight and simple to use. It will give you access to all the basic things you need to have in place to create an auction website. Of course, you can always take a look at the pro version of the plugin as well for every feature imaginable.
WordPress Automatic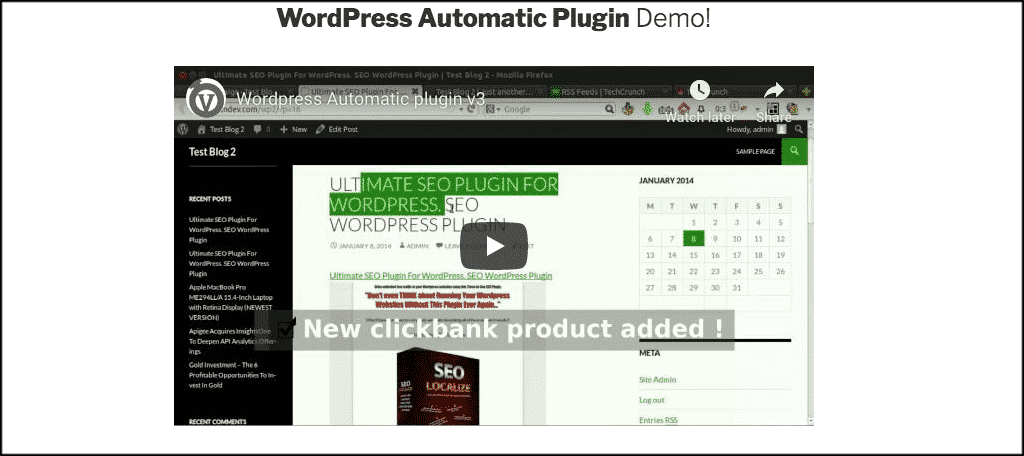 The WordPress Automatic plugin is a fantastic addition to have if you already built auctions on eBay or something similar. The plugin allows you to import all sorts of content form your eBay auction site, YouTube, social media, and more. Basically, if you have content in multiple places that you need on your auction website quickly, this is the plugin to use.
Yoast SEO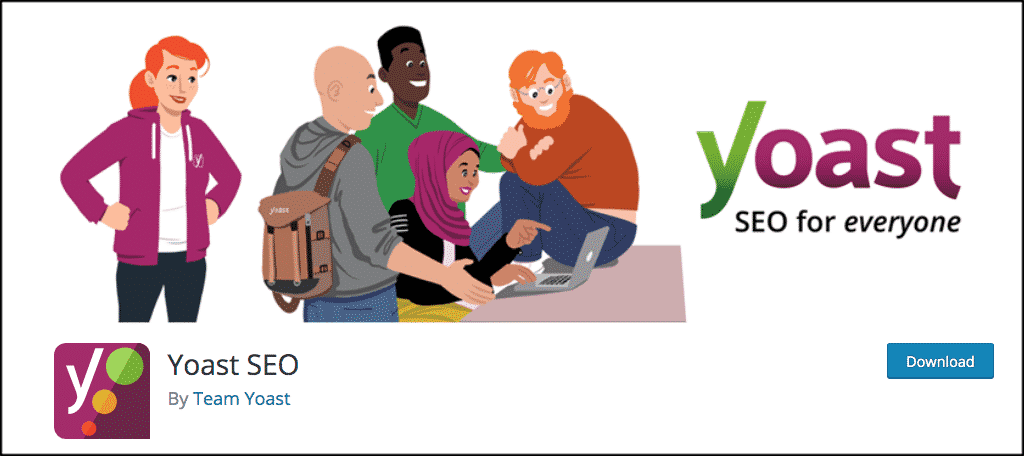 Yoast SEO should actually be installed and used on any WordPress website. The plugin gives you so many useful SEO tools. Use the Yoast plugin to optimize your auction website and create the type of listings that are using SEO best practices and are easily searchable in Google.
Smush
Smush is a plugin that will compress and optimize all the images in your media folder. It will also automatically optimize the images you upload after the plugin has been installed and set up. This will be a very important aspect of your auction website. You are sure to have a lot of images, and it is important that they are optimized properly.
MailChimp for WP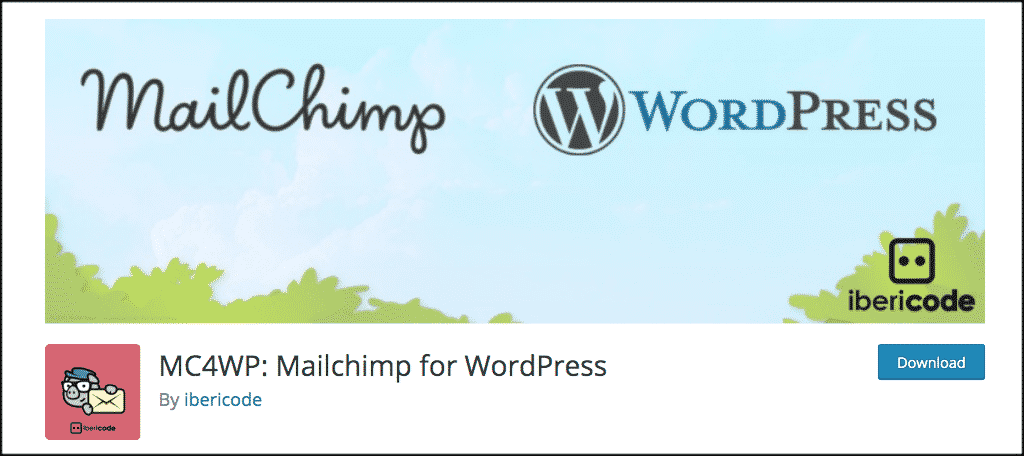 MailChimp for WP is a fantastic plugin to use f you want to leverage your MailChimp account on your WordPress website. It will help you get people to signup to your updates and newsletters, and help you successfully build an email list for your auction website. Simply open a free MailChimp account and then utilize the plugin.
Sharing Your Auction Website
After you successfully create an auction website, it is time to get it out there to the people. There are several great ways to share your new site. Let's take a look at a few ways to get your auction site in front of more people.
Drive Traffic Using Social Channels
Drive traffic to your new auction website through social channels. Post on all of your social media outlets, such as Facebook and Twitter. You can use a little blurb about the site and post the link to it as well. This will help you reach a wide audience fast.
Use Partnerships
Find a few organizations that may be interested in partnering with you. This will be especially helpful if your auction website is more locally based. Organizations can partner with you and help get the word out to the local community.
Email Marketing Blasts
Chances are you have spent some time building an email list. Now it is time to tap into that list and do some marketing. Send out email blasts about your new website. Leverage that list and allow people to click through to the website and see everything going on.
Blog Posts
Creating blog posts is a great way to drive traffic on any site. When you create an auction website, you want to have a blog section as well. You can talk about upcoming auctions, products, and much more. Make these posts shareable as well.
Use eBay
Yes, use eBay to market your new auction site. You can let your users know that you have created a new auction website and that most of your items are over there now. This is a fantastic way to get your built-in supporters over to your new site.
How to Use Your Auction Website
You can use the new auction website you created for a number of things. Here are a few suggestions for you to think about.
Local Auctions
Holding local auctions on your new site is a great way to be a part of your local community. Allow people to post items and sell them on your website.
Car Auction Site
This may take you a little more work and research. However, car auction sites are wildly popular. If you put in the work, you can have one of your own. This is a great way to give people access to vehicles in an auction-style setting.
Allow Front End Submission
If you are allowing all sorts of different people to auction off items on your website, then allowing front-end submissions is ideal. They can submit items, pay fees, and easily contact you. They can also have their own profiles.
Conclusion
It takes a lot of work to create an auction website. However, this guide should give you a pretty good idea of everything you need to complete the task.
Using the steps above and following the order will help you get an auction website up and running in no time. Enjoy your new site and all the connections that it helps you make.