A sitemap on your Joomla website is a vital element in web design. Have you ever wondered how to accomplish this? There are many important things that go into building a website that has good indexing and follows SEO best practices. Let's take a look at how you can easily add a sitemap to Joomla.
A sitemap is a key element to any website. It adds a lot of functionality, not so much for the website user, but for Google and other search engines. Having a sitemap will make the entire process of getting ranked higher in Google much easier. This is just one of several things you need to do to properly optimize a Joomla website.
Let's go through some information on sitemaps and explore a little bit about them. After that, I will show you how to leverage a fantastic extension to easily add a sitemap in Joomla.
Why Add a Joomla Sitemap?
Simply put, a sitemap is a collection of links on your website. It creates an index of content that helps Google and other major search engines find you. It also helps with proper site structure and indexing.
There are a couple of different sitemaps you might hear about. A visual sitemap, or HTML sitemap, and an XML sitemap. A visual Joomla sitemap will show your website pages and posts visually to your site visitors.
A sitemap XML index is actually for Google and the other search engines. When you are learning how to make a sitemap, these two things are actually different. One is for your audience and is laid out in an appealing manner. The other one is for the search engines to properly crawl, index, and categorize your content.
Are Joomla Sitemaps Necessary?
No, they are not necessary. That being said, they are very helpful and you should definitely be on the side of having a Joomla XML sitemap available.
Building on what I said above, a sitemap in Joomla will tell Google exactly where everything is and help with overall SEO. Google will have a much easier time trying to understand and searching your site.
There is an easy way to add a sitemap in Joomla using an extension. Let's take a look at the OSMap extension for Joomla. Adding this can also help other aspects of your website as well.
OSMap Extension
The OSMap extension is a Joomla sitemap generator that is easy to install and use. The extension will build you an SEO friendly XML sitemap on your Joomla site that Google and other search engines can use. It will also build an HTML sitemap for your visitors.
This is a very popular Joomla sitemap extension and is lightweight and easy to install and configure. There is a pro version of the OSMap extension if you feel you need it. However, the free version that we are using today does have a lot of great functionality built-in. Some of the main features include:
Automatically builds a sitemap that is SEO friendly.
Builds an HTML sitemap for your visitors to view.
It will build an image sitemap for Google and other search engines.
Builds a news sitemap.
It supports all Joomla core extensions.
Basically, the OSMap Joomla sitemap generator is all you need to build a sitemap in Joomla that will benefit you in so many ways.
Let's take a look at how to install and activate the extension.
Install and Activate OSMap
In order to use the OSMap extension to add a sitemap in Joomla and become more SEO friendly, it needs to be installed and activated. You can easily install and activate the extension by downloading it from the extension homepage onto your machine.
Note: You will be taken to another page when you click the download button above. Scroll to the bottom of the page to find the free download.
When you click on the download button, you will get a popup box that asks for your email. Put your email in.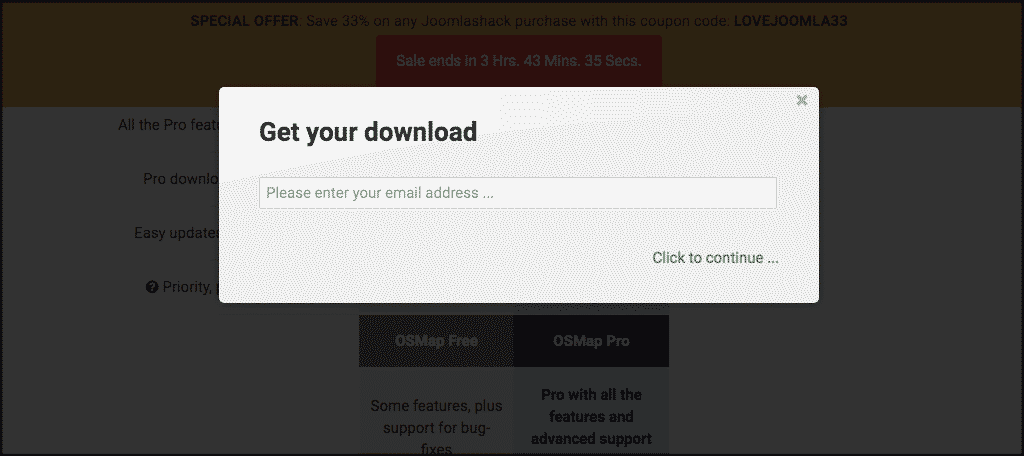 Once you have put your email into the field and submitted it, they will send a download link to you. Simply click on the link in the email they send and you will be able to download the extension to your machine.
Upload to Website
Now that you have downloaded the extension to your machine, drag and drop it into the file upload box located in your Joomla control panel area. You can access this area by clicking on the "Install Extensions" tab located on the left side menu.
Note: You can also browse for the file and upload it that way if you prefer. Joomla also gives options to install from a folder or from URL, but the process below is easiest.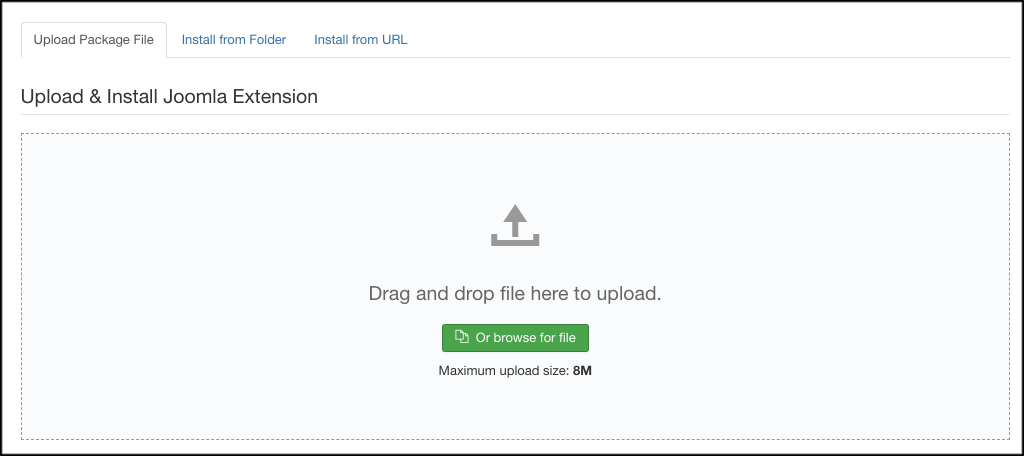 Once the extension has been installed, you will get a green box detailing the installation and letting you know it was successful. The box just tells you that the extension was installed correctly and is ready to activate and configure.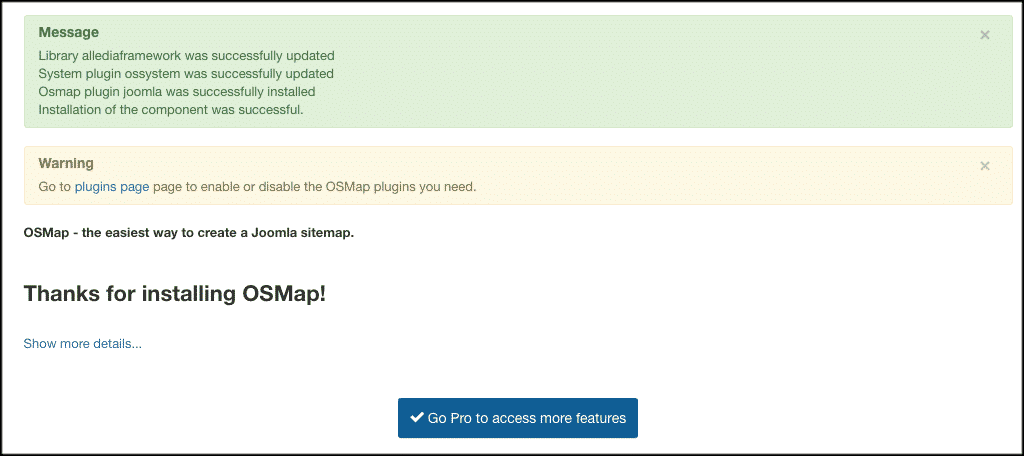 Now that the extension has been installed, you have to activate it. On the top menu bar, click on Extensions > Plugins. This is located on the top menu of your Joomla website admin area.
If you prefer, you can also click on the "plugins page" link that is provided when the OSMap extension is installed. Either way gets you to the same point.
You will see a list of your plugins. Search for the "OSMap" extension you just installed. If it has a red circle with a white "x" in it, click the icon to activate (enable) the plugin.
If the icon has a green checkmark, it means it's already activated and the extension is live and ready to be configured. Go ahead and click on it to start the configuration of your sitemap in Joomla.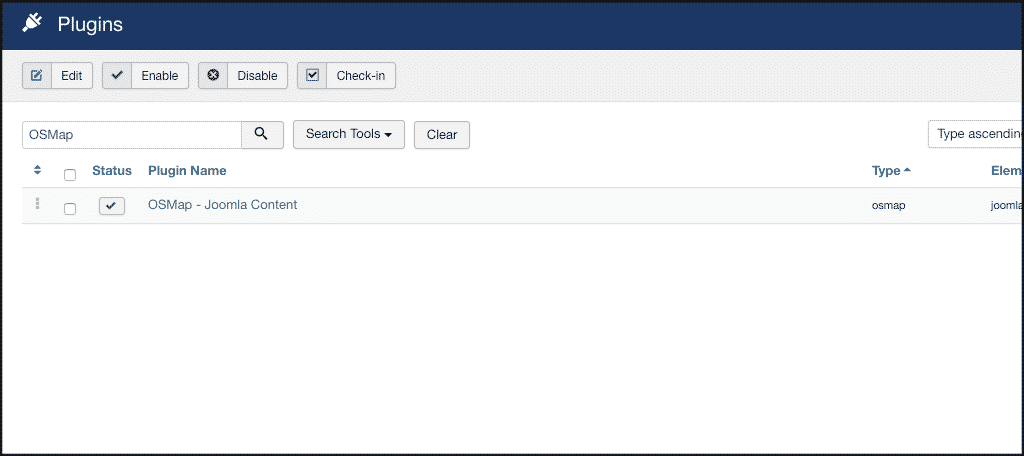 Configure the Sitemap for Joomla Plugin
Once you get on the plugin configuration page, you will see three tabs. These include:
Let's go over these together to set the plugin up. It is very simple and easy.
Plugin
This is where you will set all the settings for the actual plugin that you want. Things like categories, links, page breaks, and archives can all be set how you would like. Go ahead and set this up how you prefer.
XML
Configure the XML sitemap portion of the extension here. Images, category priority, and article priority can be adjusted here.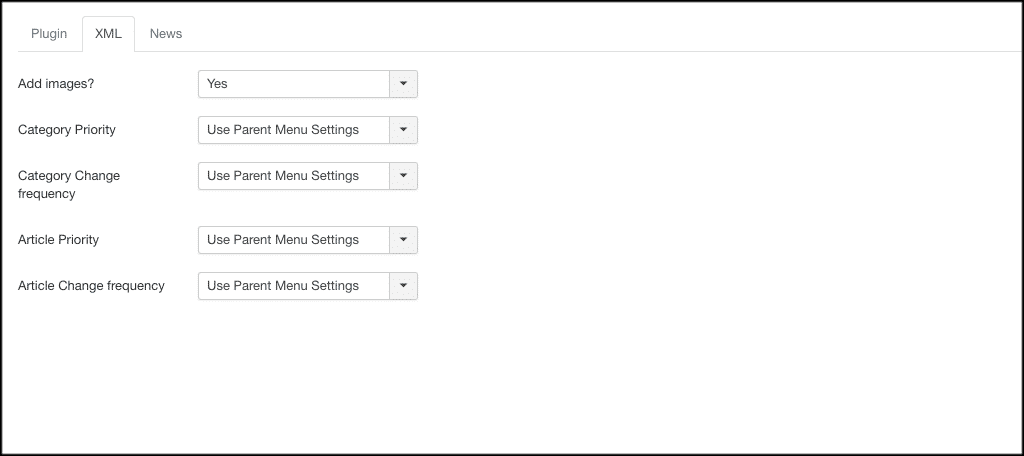 News
The final tab is News. Click the dropdown menu and choose the setting you want for your news XML sitemap.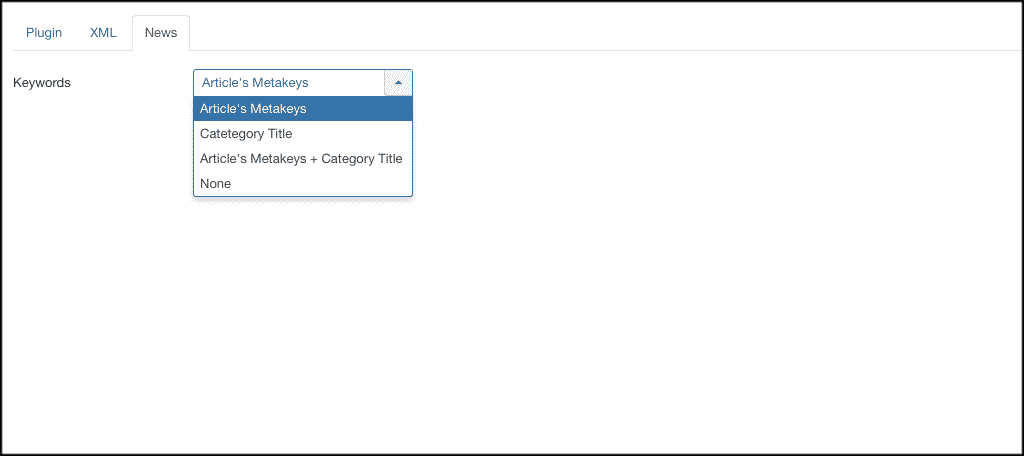 That's it! Simply click on the "Save" button and you have successfully completed the process to add a sitemap in Joomla.
Final Thoughts
Adding a Joomla sitemap is important for a number of reasons. It helps visually with your site audience, but more importantly, it gives Google an easier way to index and crawl your content.
Using OSMap will give you a very easy way to include a sitemap in Joomla without having to code or do any heavy lifting. Simply install and activate the extension, configure it to your liking, and you are done.
Do you prefer another sitemap extension instead of OSMap? Have you found that your overall SEO and indexing for your site on Google has been better since you added a sitemap?