Are you looking for a way to display your YouTube intro as a background in WordPress? If you have a strong presence on YouTube, you have probably dedicated a lot of time into constructing a quality intro. In some cases, your brand may already be tied to that video.
Thus, it is only natural to want to use what you have for your WordPress website. Today, I will be demonstrating how to use the Slider Hero plugin to display a YouTube intro video as a background in WordPress.
Why Use a Youtube Intro As the Background
A YouTube intro will typically include the channels logo using a special effect. In recent times, they have begun to become more complicated and use actual animations if the channel can afford them.
In other cases, some intros are simply a specific line being said. For example, you may say something like "Welcome back to "Insert Channel Name Here" and today…" and in some cases, this could really catch on.
However, regardless of the actual video, what's important is that it represents the brand of your website.
What Types of Websites Is This For
In many cases, showing off a YouTube intro as a background in WordPress is not necessary. In fact, it might just not make any sense at all. However, it has its place.
For example, let's say you are a YouTuber starting a website.
Using an intro your fans have gotten used to over the years is a great way to welcome them. At the same point, it may help people who are not familiar with your channel, find you.
On the flip side, let's say you run an eCommerce site.
While video content certainly has a place on these types of websites, you don't see many do as a background. And that's because the first thing someone should see is the products and deals you are offering.
Each website is unique, so make sure it matches the rest of the layout and design.
Installing Slider Hero
Slider Hero is the perfect plugin when it comes to adding YouTube videos or animations into the background of your website. Creating a cool intro background could have a huge impact on the number of clicks you receive. In some cases, static banners are better, while in others, making animated wallpapers are more appealing. It really depends on the website and target audience.
The plugin is loaded with plenty of great features and is easy to set up. there is also a pro version to consider that offers lots of awesome effects. Let's get right into it.
Let's start by clicking on Plugins and selecting the Add New option on the left-hand admin panel.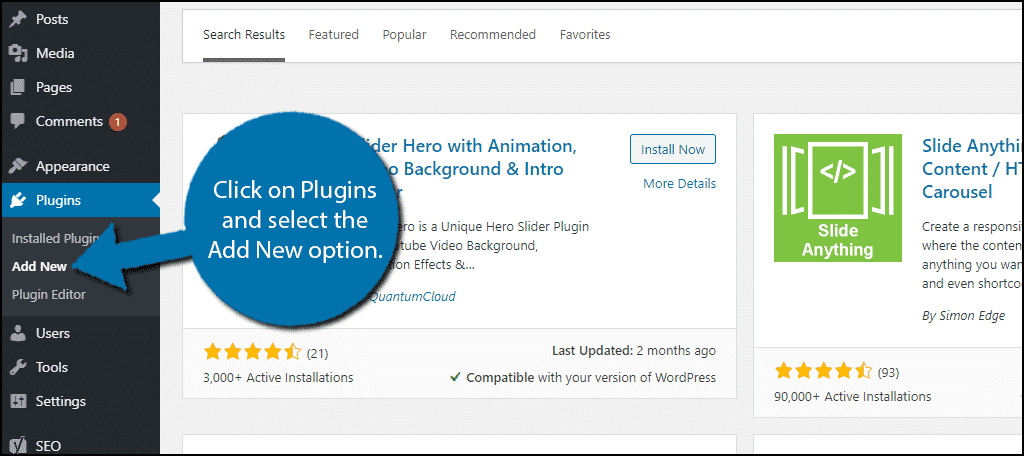 Search for Slider Hero in the available search box. This will pull up additional plugins that you may find helpful.
Scroll down until you find the Slider Hero plugin. Click on the "Install Now" button and activate the plugin for use.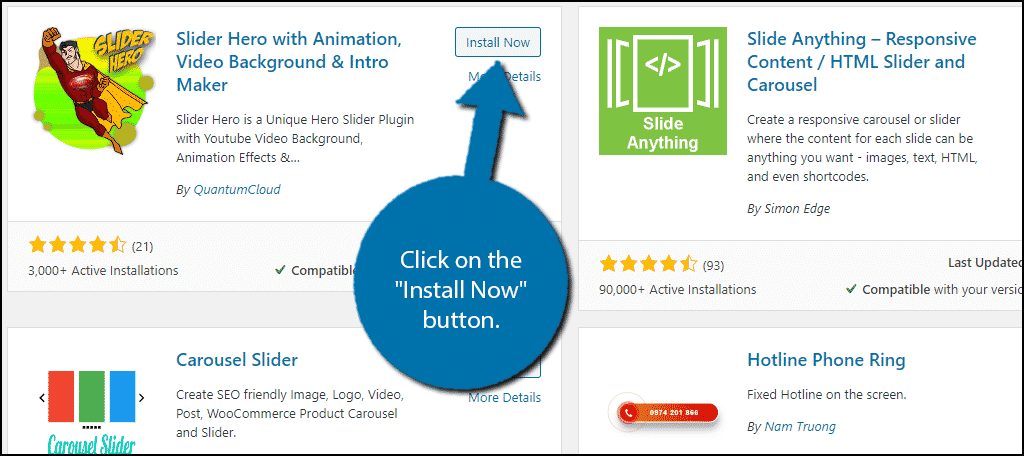 Obtaining the YouTube Video ID
Slider Hero comes equipped with 8 slider option, with plenty of more to choose from if you upgrade to the pro version. For the purposes of this tutorial, we will only be using the YouTube Video Slider. This allows you to make any YouTube video as the background.
Note: You are not limited to just the intro of the video. You can add any video to the slider. However, if you only want the intro, you will need to upload a video file containing it.
On the left-hand admin panel, click on Slider Hero and select the New Slider option.
Locate and click on the YouTube Video Slider option.
The first thing you need to do is click on the "Add Slide" button.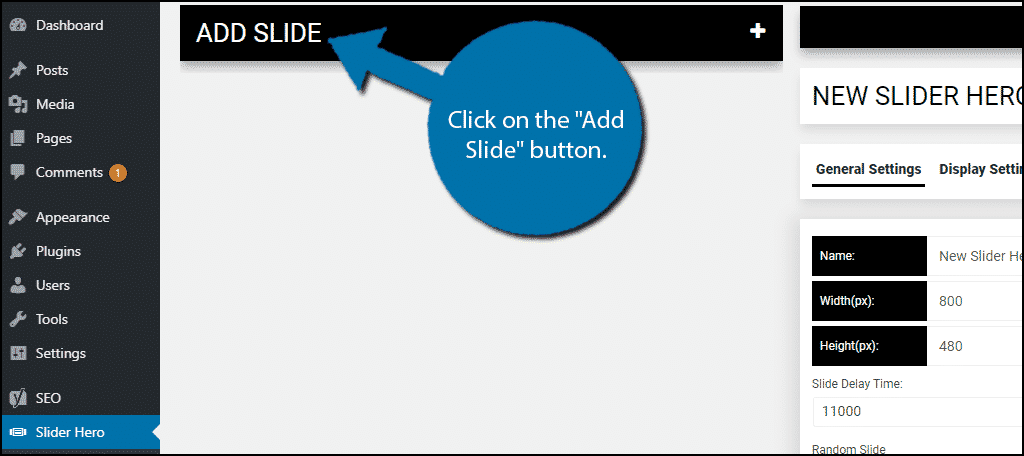 This is where you can add the video you want to use. You will need to obtain the YouTube video ID. Luckily, this is really easy to do. Go to the video you want, click on the URL, and copy everything that follows the "=" which is the Youtube video ID.
Note: You may realize you can copy any video's ID to use, but I highly advise against this. The creator could file a claim against your website if you use it without their consent.
Paste the YouTube Video ID into the appropriate box.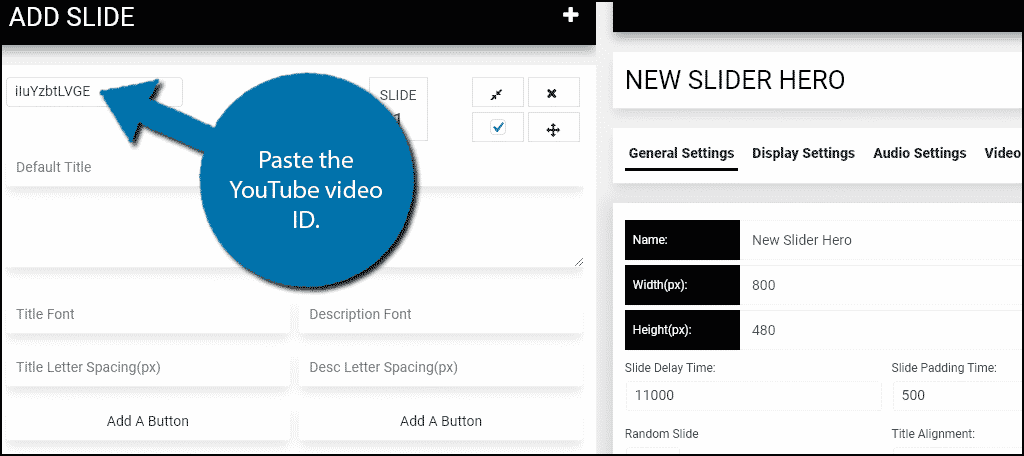 You are now ready to customize the rest of the settings.
Using Slider Hero
In the same area you entered the YouTube video ID, you can add a title and description and buttons to the slide, which will make the video the background for the text.
Alternatively, you could choose to make everything blank if you just wanted the video to appear. This is useful if your video already has text for the visitors to read.
In either case, what you choose to add in these fields is completely up to you.
With the title and description in place, all that's left if to customize the slider settings. These are broken into multiple tabs. These include the General, Display, Audio, Video, Effect, Arrows, and Shortcodes.
The last is only to copy the shortcode, there are no actual settings there.
Since each of the settings is very straightforward, I recommend going through each one and picking what you think is best. I strongly recommend checking out what each one changes by using the preview option. This will help you get the best results possible.
Once done, click on the "Save" button.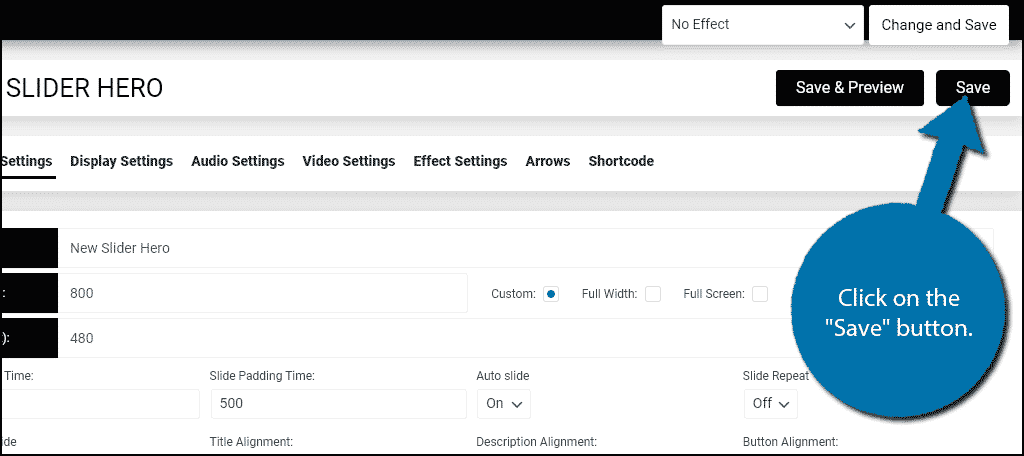 Now it is time to add the slide you created to a post or page.
Note: I had trouble using the Preview Slide option the plugin offers. While I could not view the video in the preview, the slider worked perfectly when added to a post or page. To counter this, I simply saved all of my work, copied the shortcode, and pasted it into a post or page. I then used the WordPress preview option and was able to see it in action.
Adding Your Video Slider to a Page or Post
Click on the Shortcodes tab and copy the shortcode.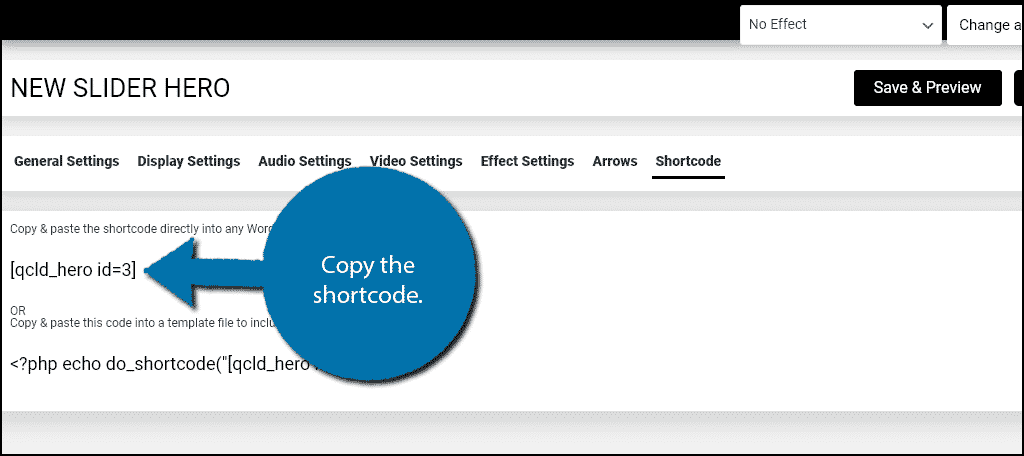 Go to any post or page on your website and paste the shortcode in the desired location.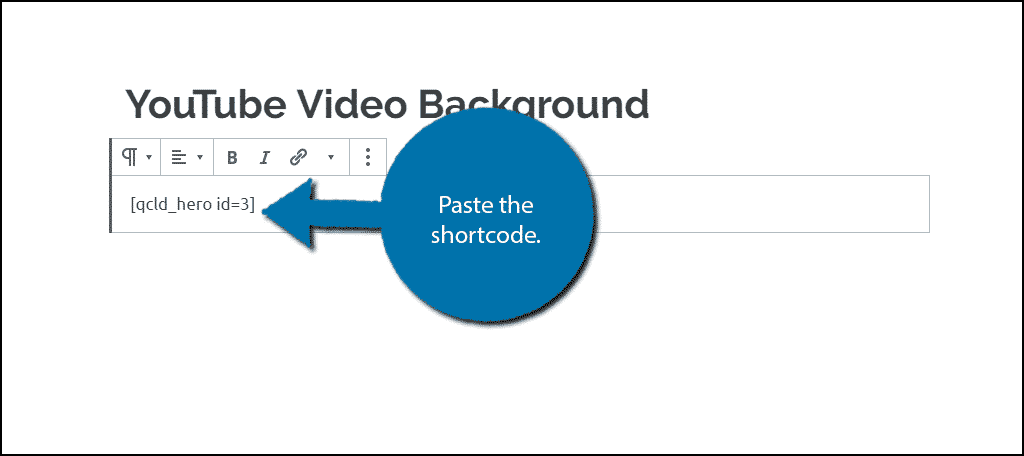 Check out the slider you just created on a preview or live page.
Congratulations on learning how to use the Slider Hero plugin to use Youtube intro as the background. Remember to make sure everything is readable when you are looking at the preview. The last thing you want is to create an unreadable message.
Don't Be Limited by the Intro Clip
While this tutorial is to show you how to get your intro as the background, don't be limited by it. You can use any clip and you may find to have better success with a custom clip of something else.
In fact, you may just want to create videos for a specific slider or event. For example, you could create videos specifically tailored to upcoming holidays. This may help boost engagement and return visits.
The possibilities are almost endless when it comes to this, especially when you add in effects!
Will you use any other videos as the background in WordPress? How long did it take you to go through the settings?