Do you want to create an audio playlist for your audio content? This playlist may include content like music and podcasts. Podcasts have become very popular among bloggers and deserve their own spot on your website. One of the most important development considerations is making sure your content is easily accessible. You can do this by adding audio playlists in WordPress
Keep in mind that the only audio content you should be providing must be your own content. Copyright infringement is a very significant crime and is taken very seriously by most artists. Make sure you have created the content or have the proper permissions to use it on your website.
WordPress comes fully equipped with audio capabilities and you can make a playlist without adding any plugins. Today, I will demonstrate how to create an audio playlist in WordPress.
Why Create an Audio Playlist in WordPress
Playlists are a great way to organize your content in one place. Many audio files like podcasts can be located throughout your website. This makes it increasingly difficult to locate a specific podcast or audio track.
This can be extremely annoying to your visitors who are looking for one piece of content but end up having to check multiple pieces instead. Your goal as a web developer should be to create a website that is organized, easy to use, stylish, and has great content.
It's not easy to achieve all of these, but this is what makes a great website. An audio playlist is very similar to creating a video playlist and has the same benefits. For example, imagine you are looking for an older podcast, but you don't remember the date it was released.
You begin checking every podcast location, but don't have any luck. If you had a podcast playlist in one location, the visitor would be able to find what they are looking for in just a few clicks.
Today, I will demonstrate how to create an audio playlist in WordPress. You will not need any additional plugins to accomplish this task. Adding an audio track is very similar to adding images, videos, GIFs, and anything else from the media library.
I will go over two ways to add audio files just in case you do not know how to. Before you begin, make sure that any audio track that you would like to add to the playlist is an MP3, OGG, or WAV3 file format. Any other file formats will not work on the WordPress platform.
How to Create Audio Playlists in WordPress
Step 1: Add a Single Audio File
To begin you must first know how to add a single audio file. Go to a new or existing post or page and click on the "Add Media" button.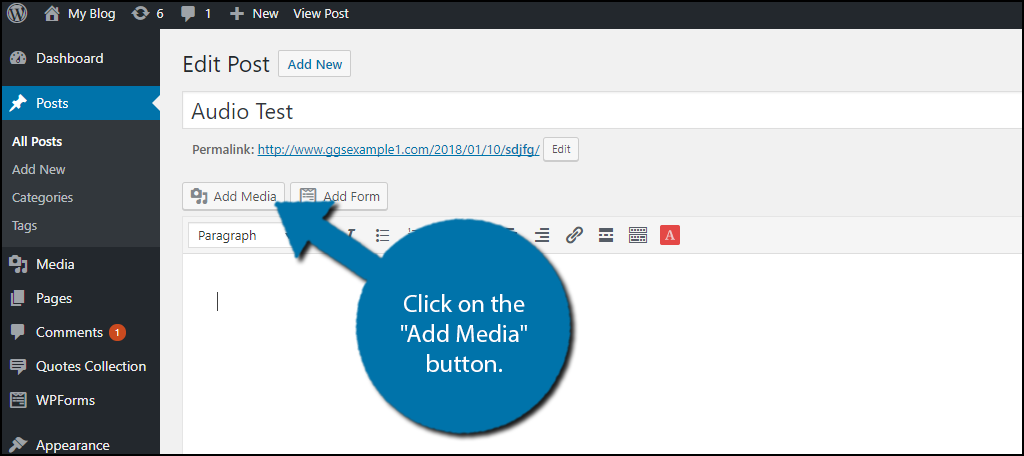 If you need to upload new audio content, click on the Upload Files tab and upload them there. If you already have audio files uploaded or on your website click on them and click on the "Insert into post" button. Once you have added it, you should see the playbar.
Alternative Way to Add Audio File
A second way to add a single audio file is to paste the file's URL into the editor. This works exactly like embedding videos in WordPress. This playbar will act very similar to images and videos in your posts or pages. Feel free to type above or below the bar to make your content look better.
Step 2: Create an Audio Playlist
Of course, you probably already knew how to add one track and you came to learn how to make an audio playlist. Click on the "Add Media" button. Click on the Create Audio Playlist option.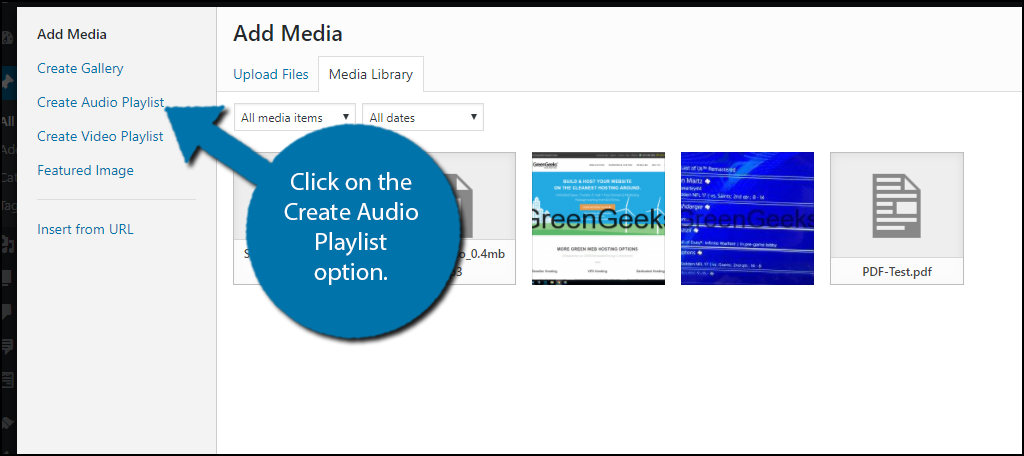 All of the Audio files in your media library will appear. Click on all of the audio files you would like to include in your playlist. Click on the "Create a new playlist" button.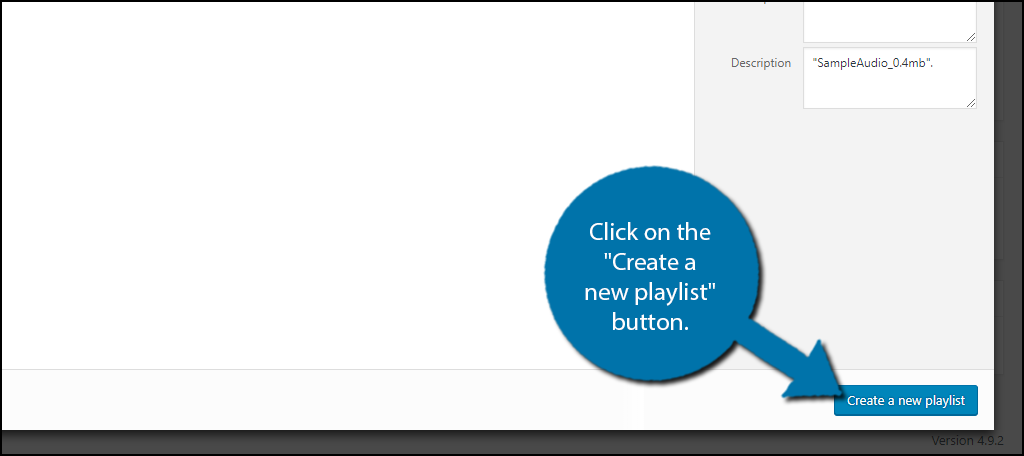 Your playlist is now fully operational. You can change the order by moving the tracks ahead of each other. The tracks play in order from the top left track.
You may also choose to include the tracklist, artist name, and an image inside of the file. Once you have selected the track order and other settings, click on the "Insert audio playlist" button.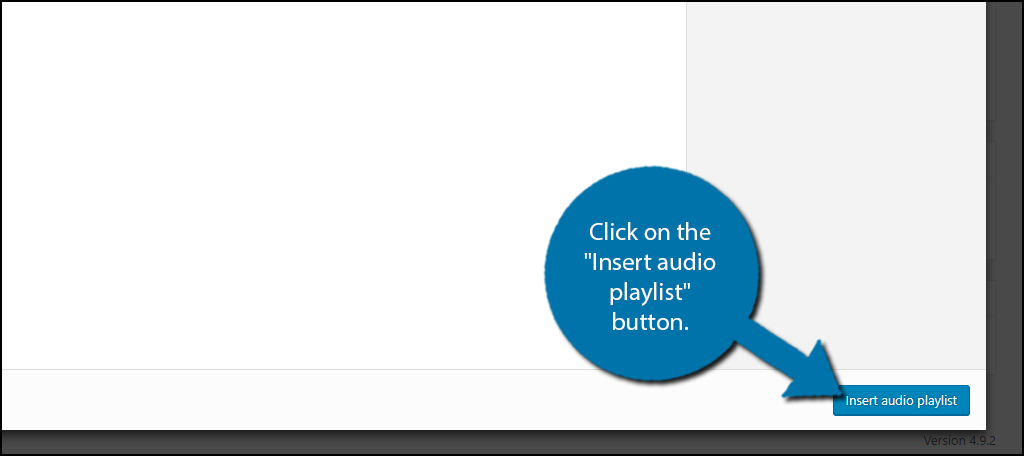 Step 3: Include Meta Information
Your playlist is now fully operational. However, you may want to include meta information. To do so, click on the audio playbar and click on the edit button, which is represented by a pencil.
You will now be back on the playlist page. Click on any audio track. On the right side of the media library, you will see familiar text boxes that are identical to the ones used for images and videos. You may fill out or change the title, artist, album, caption, or description. Once you are done, click on the "Update audio playlist" button.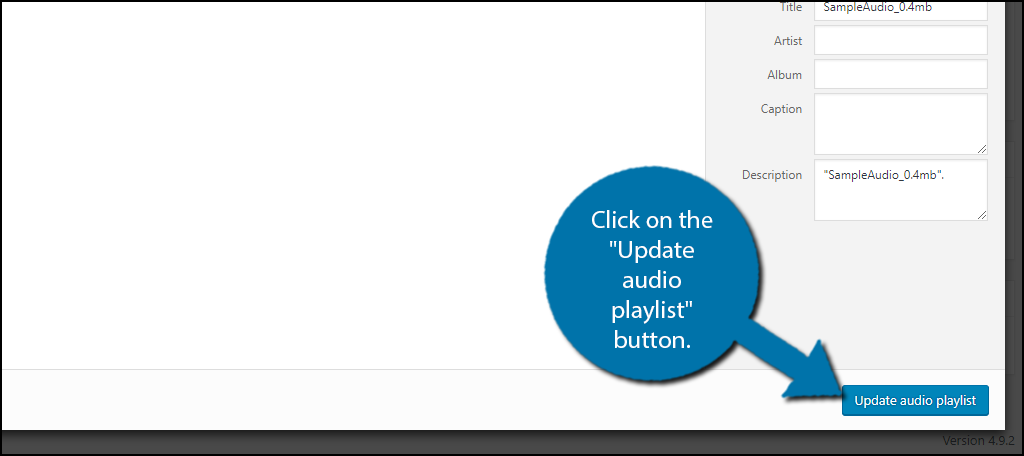 Step 4: Add Audio File Images
You may want your audio files to have images inside of them to display when they are playing. On the left-hand admin panel, click on Media and select the Library option. Click on the List icon to display all of your files in a list.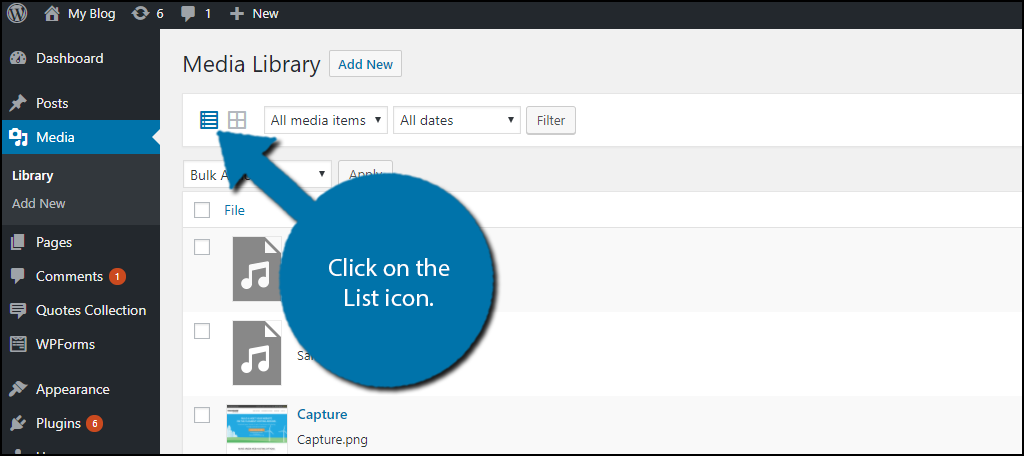 Locate your audio file and click on the Edit option underneath the file name. You just hover your mouse underneath to get the option to appear.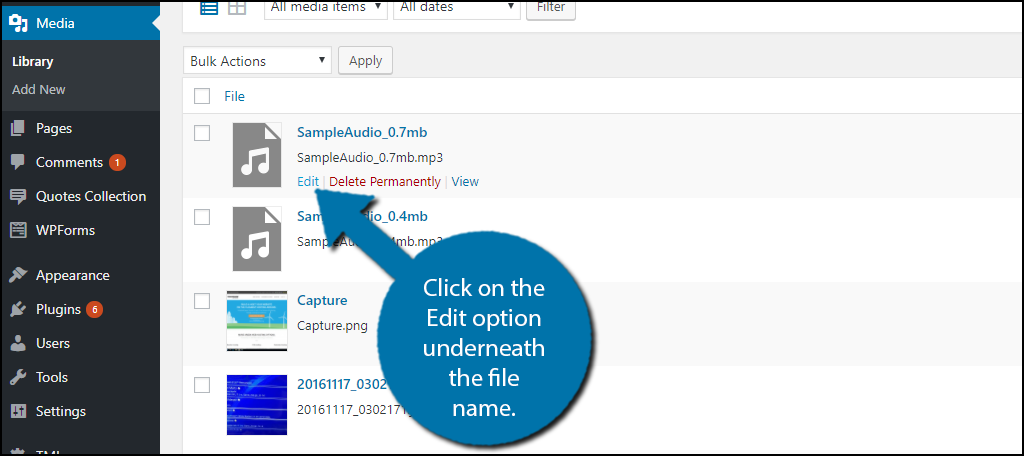 On the right side of the screen under the "Update" button, you will see a featured image box. Click on the "Set featured image" option to set an image for the audio file to display. Click on the "Update" button to save your work. Repeat these steps for every audio file you would like an image to display on.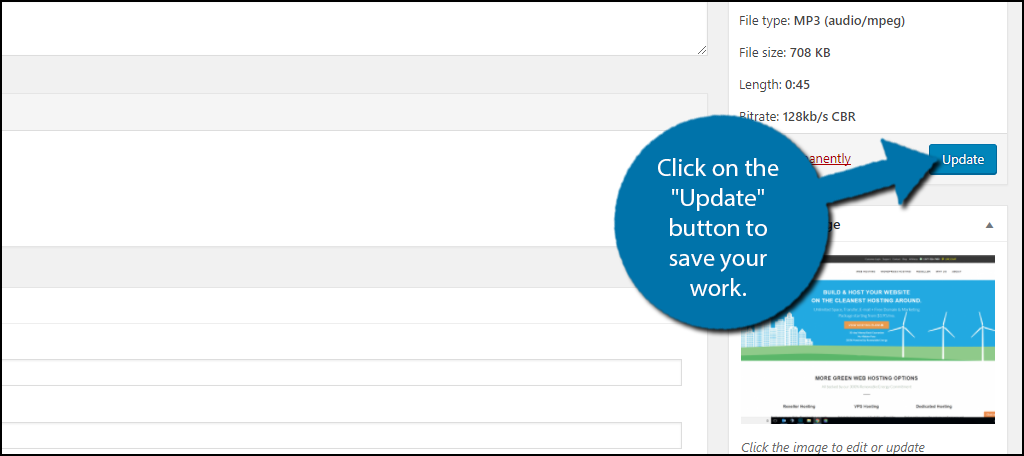 Step 5: Enjoy Your Playlist
Congratulations, you have successfully learned how to create an audio playlist in WordPress. Audio playlists are a great way to keep all of your audio files in one place, which makes it easy for visitors to listen. Remember, you can edit your playlist at any time and change the order or add new tracks.
Give Your Visitors Something to Listen To
Making an audio playlist is great, but make sure you keep it fresh. Add new content to it regularly or make new playlists. For example, create a playlist for each season of your podcast. This will make it easy for visitors to be sure they are caught up with your podcast. If you are only displaying a few tracks of music for visitors to listen to while they read, be sure to change it up.
Make sure any audio tracks you post on your website are owned by you or that your website has the proper permissions. Copyright laws are severe, and music is no exception. Many websites have fallen victim to copyright claims.
Final Thoughts
Adding audio playlists in WordPress is not difficult at all. As long as you know where to start, you can create as many playlists as you would like.
I hope this showed you how easy the process is. You don't need a plugin and you don't have to know any type of custom code. Simply follow the steps above and you will have custom audio playlists in WordPress in no time at all.
What kind of audio playlists will you be making? Do you think audio playlists are easy to make?