Do you want to embed Facebook videos on your WordPress website? In 2017 alone, Facebook videos had almost 700 million views, which is very impressive. Of course, if you're wondering how YouTube performed in 2017, 10,113 of its videos were able to generate over 1 billion views. This is a clear sign that YouTube is still the king of videos on the Internet. However, over the last couple of years, Facebook videos have continued to rise.
Facebook is the largest social media website in the world and can help get the word out about your website. Building a great Facebook page will only help your website in the long run. If you regularly post videos on your Facebook page, why not repost them on your website? Today, I will demonstrate how to embed a Facebook video in WordPress.
Why Embed a Facebook Video in WordPress?
While Facebook may not be as big as YouTube when it comes to videos, it is the largest social media website. Social media is a great way to engage with your community and can drastically help your website grow. Posting your Facebook videos on your website will help get visitors to like your Facebook page. It will also make visitors aware that you have a Facebook page if they did not already know.
Adding Facebook videos is great, but you should also take the time to add other Facebook features to WordPress. I would personally recommend adding a Facebook like box, displaying Facebook events, and automatic posts to your Facebook page. These features will help integrate your WordPress website with your Facebook page.
However, don't stop with just Facebook. It may be the largest social media platform, but Twitter and Instagram are insanely popular as well.
Today, I will demonstrate how to embed a Facebook video in WordPress. You will not need any additional plugins to accomplish this task. The process is extremely easy because Facebook videos can be embedded anywhere embedding is allowed. It is an almost identical process to embedding videos from YouTube.
Keep in mind embedding is not just limited to your posts or pages. You can also embed videos on your sidebars or floating footers as well.
How to Embed a Facebook Video in WordPress Posts and Pages
Step 1: Search for Facebook Video to Embed
The first step is really easy. Find a Facebook video you want to embed. Once you have found your video of choice, click on the "Share" button at the bottom of the video. In the dropdown menu that appears, click on the "Embed" option.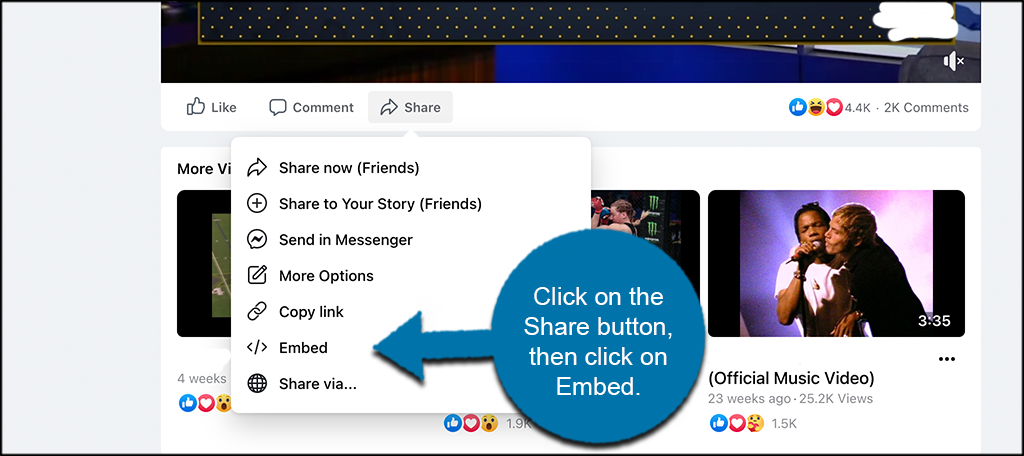 Step 2: Copy the Embed Code From Facebook
A pop-up window will appear on Facebook with the embed code. Copy the embedding code.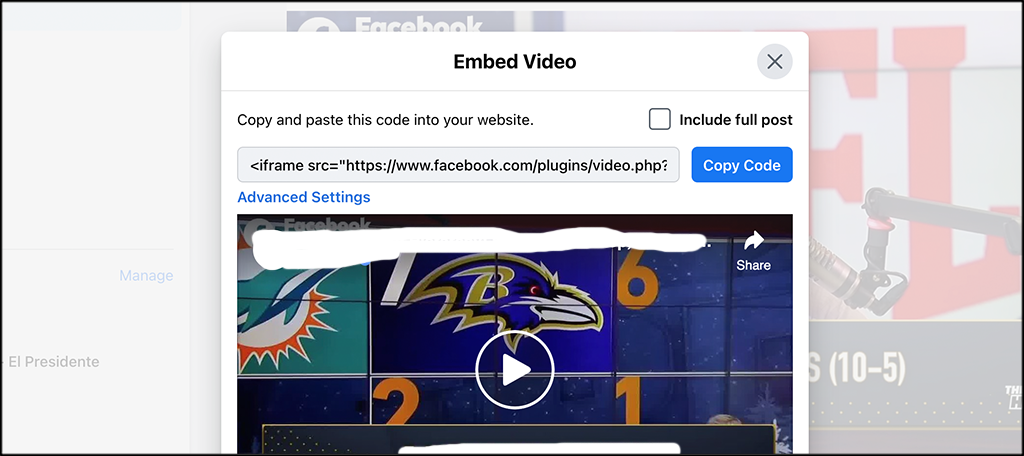 Step 3: Paste Embed Code Into Post or Page
Go to the post or page that you wish to embed the video in. Select the Text editor. Pasting the code in the visual editor will not work and only the code itself will show up.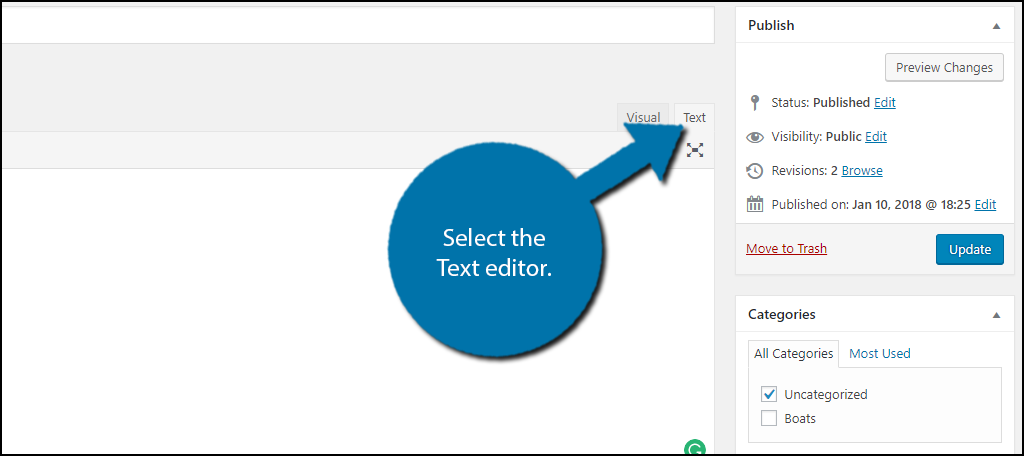 Paste the embedding link in the text editor. If you switch back to the visual editor, you should see the video. You can preview the changes to see how it will look on your live page. Click on the Save or Update button to save your work.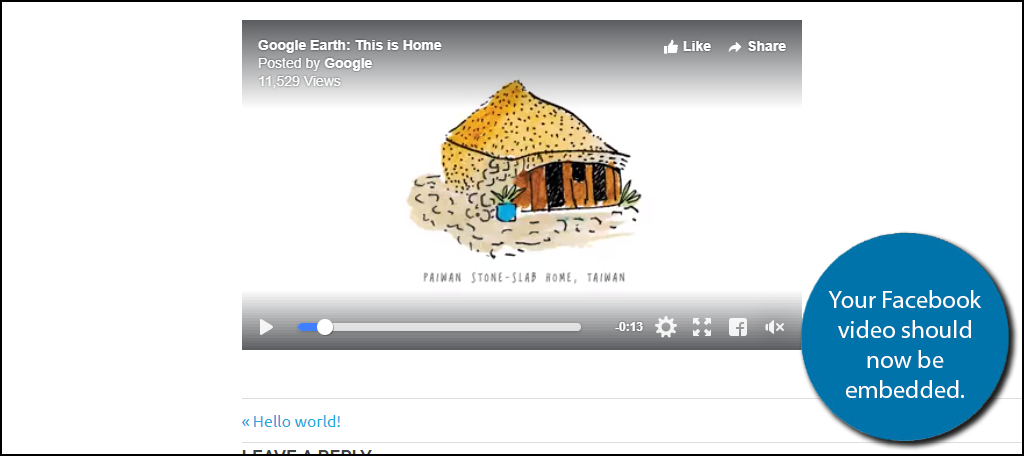 Add Facebook Videos to Sidebars
If you want to add videos to your sidebars, it's just as easy. On the left-hand admin panel click on Appearance and click on the Widgets option.
The widget area of WordPress can customize your website in many different ways. Widgets add extra functionality or change the appearance of your website. Locate a Text widget and drag it to your sidebars area.
You can now give your Text widget a name and you will see a mini text editor. Click on the Text tab and insert the embedding code.
This is where things get harder. The embedding link has the height and width inside of it and they are far too big for sidebar usage. I would recommend using a width of 220 pixels and a height of 220 pixels.
What your sidebar displays are dependent on the theme. These settings can, of course, be changed, but may be slightly challenging for new developers. There are numerous plugins that will help with resizing content, especially videos, in WordPress.
Once you have the video placed click on the "Save" button. You can now view your video in the sidebar.
Congratulations, you have successfully learned how to embed Facebook videos in posts, pages, and even sidebars. Facebook is always adding new features for websites to take advantage of.
This is one of the reasons Facebook is so well received. Take some time and learn how to integrate other Facebook features on your website.
Using a Plugin
If you prefer to embed Facebook videos to WordPress by using a plugin, then you are in luck. There is actually a smooth plugin that can help you easily do this as well. Let's take a quick look at it, and if you like it, try using this method instead.
Magic Embeds
Formerly known as WP Embed Facebook, Magic Embeds is a plugin that will help you easily and automatically embed any content from Facebook directly into your site. All you have to do is copy the URL into the editor, using shortcodes or the new embed block.
The system is built on a number of shortcodes that not only allow you to embed video but also allow you to take control of other Facebook actions and functions. The plugin supports a number of different types of embeds. These include:
Videos
Live Videos
Albums
Photos
Fan Pages
Groups
Fan Page Event Lists
Post Profiles
Comments
This is definitely a great alternative to look into if you do not care to copy and paste the embed codes provided as we did above.
Keep Your Website Connected to Facebook
Facebook is a social media juggernaut and it is not losing any momentum. In fact, Facebook is still growing and your website will be able to use its growth to its advantage. Social media is a great way to interact with visitors. Every interaction they comment on or like is viewed by all of their friends. This means that one like can be seen by everyone on their friend's list.
Many Facebook users have over 200+ friends who can see their activities. This makes Facebook one of the best places to advertise on the Internet. Remember that Facebook is not the only social media platform. Twitter and Instagram are also insanely huge and growing. Try to make successful accounts for as many social media platforms as possible.
Conclusion
It has never been overly difficult to embed Facebook videos on a WordPress website. If you know the steps you need to take, then you can accomplish this in no time at all. Before you know it, you will be embedding multiple videos and increasing awareness and shares for the videos you love.
YOu can embed as many videos as you want on your site. In the case of the plugin, you can also embed all sorts of other Facebook functions if you choose to do so.
What is your favorite social media platform? What kind of Facebook videos will you be sharing on your website? Where are you displaying your videos?