Security is a major concern on any platform, and one way you can let visitors know you take it seriously is by adding a TrustedSite verified seal at your website's footer area. It's a great way to make visitors trust your website.
You might also want to add the GreenGeeks seal to show your website is eco-friendly.
In the past, this security seal was known as the McAfee Secure Seal, but that name has been retired and replaced with the TrustedSite Verified Seal. Rest assured, they are identical and it is simply a name change.
Today, I will demonstrate how to set up the TrustedSites plugin and add the Trusted Sites Verified Seal in WordPress.
What is the TrustedSite Verified Seal?
The Internet is a dangerous place and that's why so many security plugins exist for WordPress. These plugins do a great job behind the scene. This can leave some visitors questioning if it is safe to use your website.
Adding a TrustedSite Verified Seal will boost the confidence of your visitors. This seal comes from McAfee, one of the most well-known web security tools on the market. As such, most visitors will recognize the name and know they are doing business on a safe website.
Now, just to be crystal clear, this plugin is not a security plugin itself.
No. Instead, this plugin checks the security status of your website and if it meets certain specifications, your website is awarded the seal. Thus, this is not a replacement for your current security plugins.
If you do not have a security plugin in place, I would recommend WordFence Security. On top of security plugins, you should also consider installing an SSL Certificate on your website.
Let's take a look at the plugin we are going to use today and see all that it has to offer.
How to Add a TrustedSite Verified Seal In WordPress
We will be using the TrustedSite plugin. It's actually pretty easy to go through as it just checks the current security status of your website. If your website meets the necessary specifications, you will be able to place the seal on your website.
Now, this plugin is free, but with a caveat. You see, only the first 500 visitors every month get to see it. After that, no one can see the seal until the next month. The only way around this is to purchase the Pro version of the plugin.
The Pro version does include more features that are ideal for online stores, so, it's more than just removing the seal limitation.
In any case, getting the plugin setup is quite easy, so let's begin.
Step 1: Install and Activate the Plugin
In order to get the seal on your site, you first need to install and activate the plugin. You can do this by heading over to the Plugins page in the WordPress admin dashboard and using the search field to search for the plugin.
Let's start by clicking on Plugins and selecting the Add New option on the left-hand admin panel.
Search for TrustedSite in the available search box.
Find the TrustedSite plugin and click the "Install Now" button and activate the plugin for use.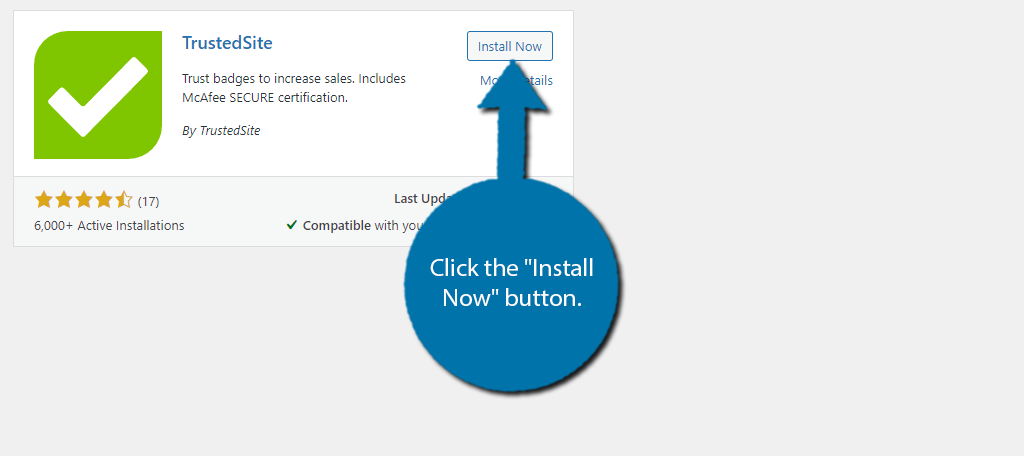 Step 2: Create An Account
With the plugin installed, you'll need to create a TrustedSite account. Luckily, this is pretty easy to do and as I said before, it is free for the first 500 visitors every month.
To begin, click on Settings and select the TrustedSite option.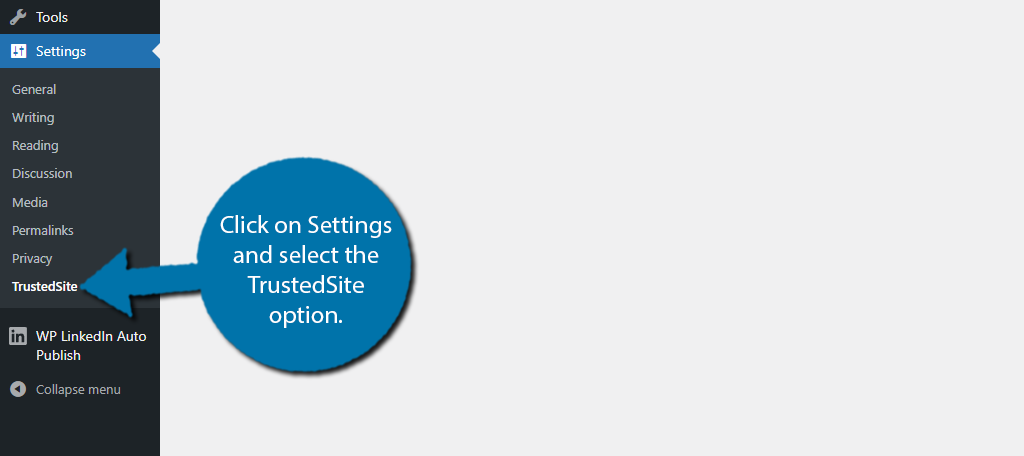 You'll then see an option to enter an email address and your domain name. Both of these should be auto-filled, so all you'll need to do is click on the "Create Account" button.
This will take you to the TrustedSite website where you can create an account. After submitting your info, you will need to verify your email address. Once you receive the verification email, click on the link inside.
Step 3: Get Certified
This will take you to a screen that will give you three options. Choose the Website Certification option.
You will then need to enter your website's domain name again to continue.
After this, you will be asked to add some code to every page of your website. Simply copy the provided code and add it to the specified locations on your site. Obviously, this can take a while for larger websites.
Once that's done, click on the "Add Site" button to continue. After doing so, TrustedSite will commence with a website scan. Again, the length could take some time if your website is very large, so be patient.
Once the scan is complete, your website should be eligible for the TrustedSite Verified Seal if there were no problems found. If problems were found, you must correct them and run a new scan.
Congratulations on learning how to add this seal to your WordPress website.
Security is Not a Choice
The Internet is not a safe place and you will need all of the help possible to keep your website secure. Cyber attacks and malware can cripple a website of any size. In fact, protecting your website starts with the initial installation of WordPress.
Infecting your visitor's computer with malware or virus will ruin your reputation.
This can completely wreck small websites that are just starting out and make it impossible to grow. Security needs to be one of the first issues you think about when starting a new website.
What could be worse than infecting a computer with malware or viruses? How about having your personal information stolen? This information could range from an email address to credit card information.
This can be extremely harmful to visitors who trusted your website enough to store this information.
Having strong protection and showing the TrustedSite Verified seal in WordPress boosts confidence while protecting that data.
Create a Backup
If your website is compromised or infected and stops working, you have a big problem. Creating a backup will get your website running again and can fix almost all issues you could encounter.
On top of helping out with security, backups are extremely handy when you are about to make changes to your website. This will ensure if any changes are made that cause your website to break, you can revert back to the previous version.
Due to how important they are, you have a ton of plugins to choose from. So be sure to install one that matches the needs of your site.
Make a Multilayered Security System
What's better than one security system? Two of them. There are multiple ways to protect your website and keep your visitor's information safe.
For instance, you might have one plugin that specializes in keeping your login area safe, while having a second plugin that examines coding errors that may open up exploits hackers can use to get in.
You can use multiple plugins, but make sure they are compatible and do not interfere with each other.
Compatibility issues can completely shut down your defense. Security plugins are not small since they guard your entire website. And running multiple plugins can significantly hurt your website's speed.
So, make sure everything flows great with site performance and functionality.
Add A TrustedSite Verified Seal Today
Adding a TrustedSite Verified Seal to your website does not have to be difficult. As a matter of fact, if you have the right information and the steps, then adding the seal to your WordPress website can be done in no time at all.
Again, this is not a replacement for a security plugin. Thus, be sure to install one first. In fact, failure to do so could actually make it so your website is not safe enough for the seal in the first place.
Especially if it is already compromised by malware. You'll have to remove it first before adding the seal.
How important is your website's security for you? Do you think visitors feel that your website is a safe place to visit even if you don't have a security seal?