Every WordPress developer should try to fully customize their website. However, sometimes things don't quite go as planned and something breaks or even worse, the website goes down. That's why you need a WordPress backup plugin.
These plugins allow you to quickly restore your website and avoid downtime. However, like most things in WordPress, you have a ton of options to choose from. So many in fact, that it can be overwhelming to choose one.
That's why I have taken the time to pick out the 10 best backup plugins you should try.
Why is a WordPress Backup Important?
A backup is a copy of all of the files stored on your website and it can be used to restore any of those files at a moment's notice.
Thus, in the event that your website suffers from a fatal error, hack, ransomware, hard drive failure, or something else, you can restore it within minutes.
This helps prevent your website from being down for an extended period of time.
Of course, there are other uses for backups.
For instance, let's say you wanted to experiment with specific features on your website in a testing environment. You could use your backup to clone your website and install it on a staging or development section.
This will allow you to test the changes on your website and work out any problems in advance.
The plugins within this list vary from full backups to specific files. Therefore, it is important to make sure the backup includes the services that you find necessary.
The Best Backup Plugins to Try
1. UpdraftPlus
UpdraftPlus is one of the most comprehensive backup solutions available in WordPress and it's free to use. It handles both full and partial backups and allows you to customize exactly what gets backed up. And, everything can run automatically.
Did I mention that it's one of the most popular WordPress plugins with over 3 million active installs?
With it, you can upload your backup to a variety of cloud storage sites like Dropbox, Google Drive, Amazon S3, UpdraftVault, Rackspace Cloud, FTP, DreamObjects, Openstack Swift, and that's just the free version.
The premium version gives you even more options like Microsoft OneDrive.
Benefits of Using UpdraftPlus
Offers users the most cloud-based storage options
Supports a multisite network
Utilizes database encryption to keep your data safe
Excellent customer service is always available
Great interface makes the plugin easy to use
2. Duplicator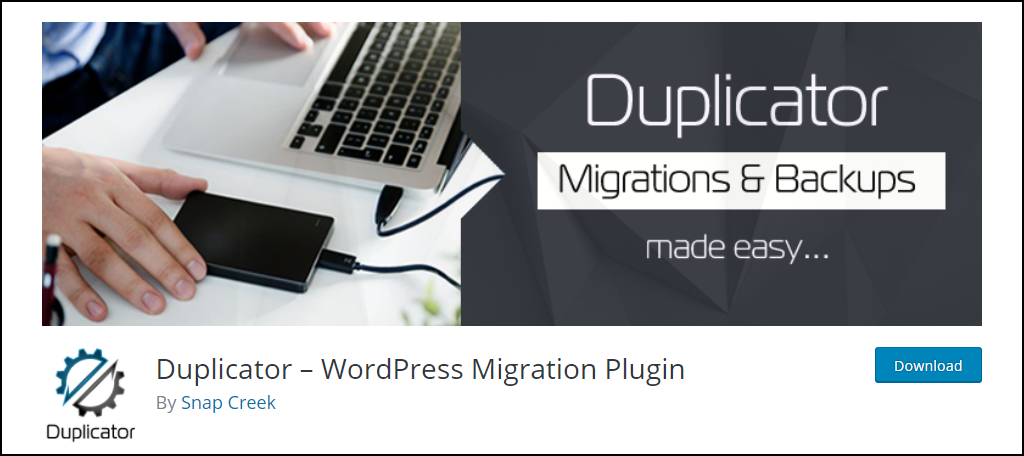 The Duplicator plugin excels at cloning websites to help them migrate from one web host to another. It makes a backup of everything including website content, database, plugins, and themes, which allows you to easily move your website around.
It is also ideal to use a testing environment because of the cloning functionality.
If you are in the business of setting up websites for others, you know the pains of setting up the same theme, plugin, and WordPress core settings. With Duplicator, you can avoid this by making a copy of your WordPress foundation.
It is the perfect tool for the job.
Benefits of Using Duplicator
Easily create sites for customers by importing a copy of your site template
You can drag and drop your installs to the correct directory
Receive email notifications when backups are made
Backup individual parts of your website
Professional support is available with the Pro version
3. Jetpack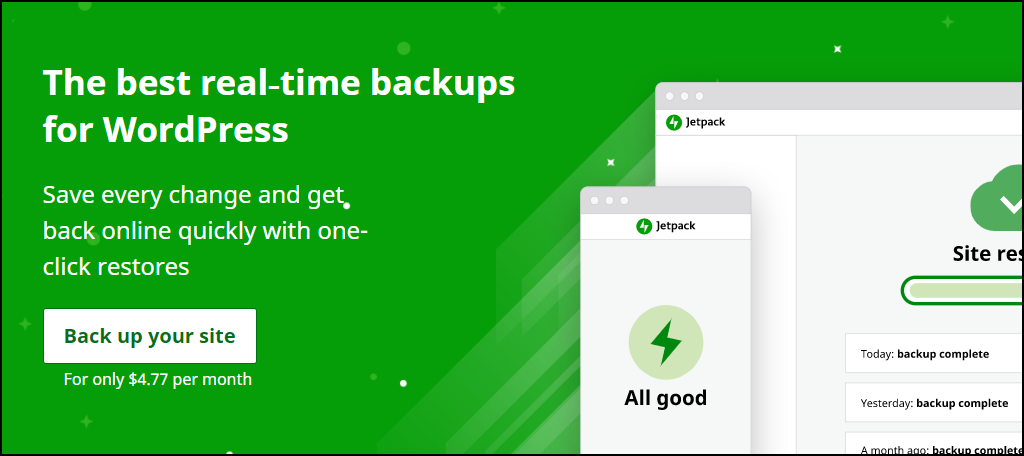 The Jetpack plugin has a lot of different modules., and backups are one of those things. However, backups are not part of the free toolset Jetpack offers. Instead, you will need to purchase a backup plan.
Luckily, it's pretty affordable at only $4.77 per month.
With the Jetpack Backups mobile app, you can create a backup from any location. Of course, this is unnecessary for many because you can set up regular automatically scheduled backups.
One of the best features is the activity log. With it, you can see a list of the most recent changes to your website. As a result, you can identify who broke your website at a glance.
Benefits of Using Jetpack
Jetpack has a ridiculous number of features besides backups
The mobile interface is very easy to use
You can easily duplicate your website for testing purposes
Create backups in real-time as you edit your website
Restoring your website with backups is easy
4. WP Time Capsule
WP Time Capsule is another useful backup plugin because it works slightly differently than others on this list. Instead of creating a full backup, it will only backups files that have been changed.
As a result, the amount of time it takes to back up your website is much smaller. That said, it is worth mentioning that this is not a free plugin, although there is a 30-day free trial available.
One other very useful feature it includes is database encryption for your backups. This ensures that your backups can never be held for ransom and cannot fall victim to a hacker.
It also has a staging feature that you can utilize to test what a plugin update does to your website.
Benefits of Using WP Time Capsule
The staging feature makes it a breeze to test out new features
Create real-time backups so you can easily revert recent changes
Access to a variety of cloud-based storage options
Encrypt your database backups for safety
Everything about the plugin is intuitive and easy to use
5. BackupWordPress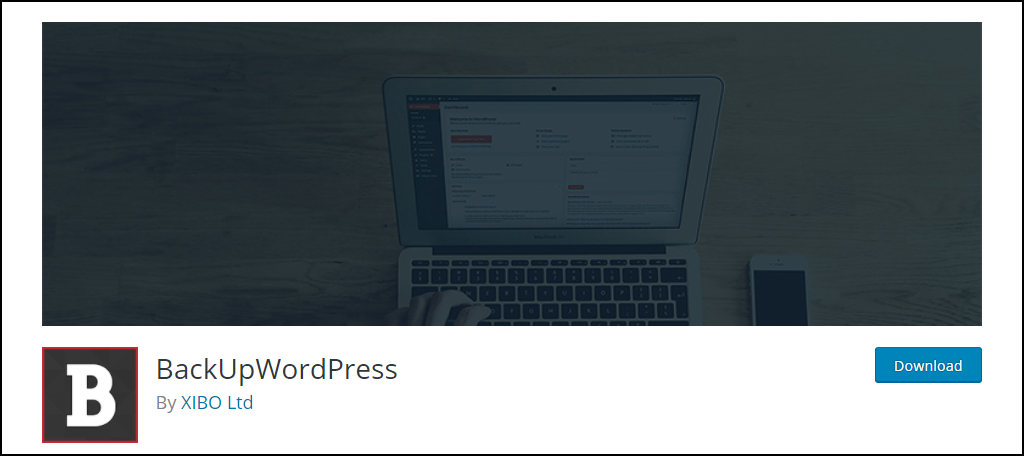 BackUpWordPress is another free and easy option to backup your WordPress site. There is no setup configuration involved as it is ready to go immediately after activation.
In fact, as soon as you activate it, the plugin will create a full backup of your website.
Yeah, it really doesn't get any easier.
The backups are automatically stored on the backend of your site. However, this should not be the only location you keep your files. Instead, you should copy the backup and store it in a different location like the cloud.
In the event of a hack, the backup could be compromised.
Benefits of Using BackUpWordPress
Supports low-memory self-hosted web hosting environments
Supports a wide range of languages
Works on both Windows and Linux web servers
You can send your zipped backup to your email address
Extremely easy to use
6. BackWPup
BackWPup is a great choice for developers who want control over every aspect of their website. This includes the ability to send your backup to multiple locations such as Dropbox or Amazon S3, with more options available for premium users.
Of course, with just the free version, you can rest easy knowing your backups will be on time and secure.
It is worth mentioning that while the features are great, they can be a bit involved, and the plugin UI could use a bit of work. Hence, it is not the most beginner-friendly tool.
However, experienced developers will make full use of what the plugin does offer.
Benefits of Using BackWPup
It doesn't just backup your database, it optimizes it
Supports a variety of storage options
Helps repair a database if something is wrong
Multisite network support
Encrypt your database backups to protect data
7. Migration, Backup, Staging – WPvivid
The WPvivid Backup and Migration plugin is a great choice for any website looking to create a backup. It's easy to use, regularly adds new features, supports automatic backup scheduling, and has plenty of other reasons to give it a try.
And restoring your website couldn't be easier as it supports a one-click restore.
One of its newest and most useful features includes the unused image cleaner. This option will scan your media library for any image that is not currently being used on your website and provide you with an option to delete it.
This helps shrink the size of your backup and save server space.
Benefits of Using Backup & Migration
Control who can use the plugin with user role permissions
Easily restore backups from a remote location
Support for multisite networks
Customize your scheduled backups by selecting what to include/exclude
Staging site creation has never been easier
8. WP All Backup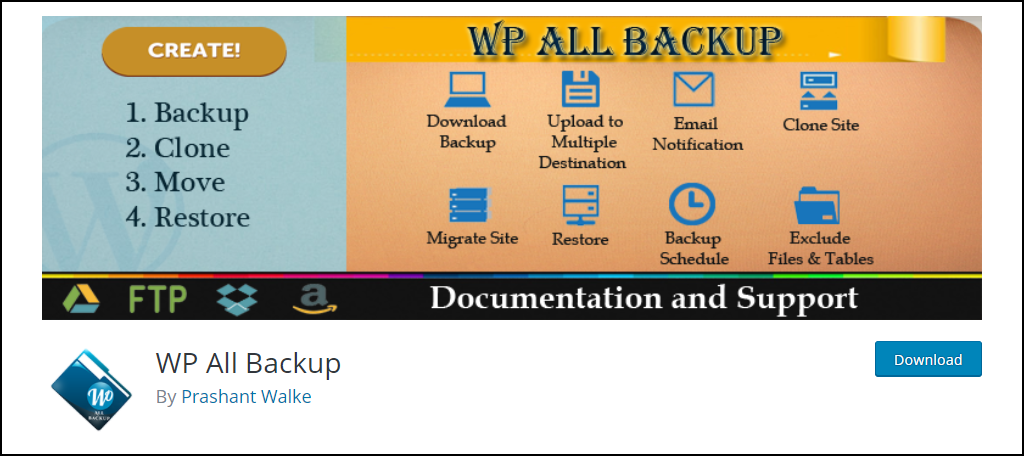 Although this plugin isn't as popular as many of the others, WP All Backup offers an automated system with a one-click restore feature. It can be integrated with FTP servers as well as Dropbox should you need the files saved elsewhere.
It also provides a "Clone" and "Move" feature which may make it easier to transfer your WordPress website to a new location, domain, or server.
As an added bonus, this plugin supports multisite use for those who manage more than one installation of WordPress.
Benefits of WP All Backup
Sorting filters help you locate a backup from any time
Utilizes Zip to help speed up backup creation
Allows you to configure how many backups it stores to save space
Receive email notifications for all backups
Choose how comprehensive the backup is (complete backup, database backup, etc.)
9. WordPress Backup and Migrate Plugin – Backup Guard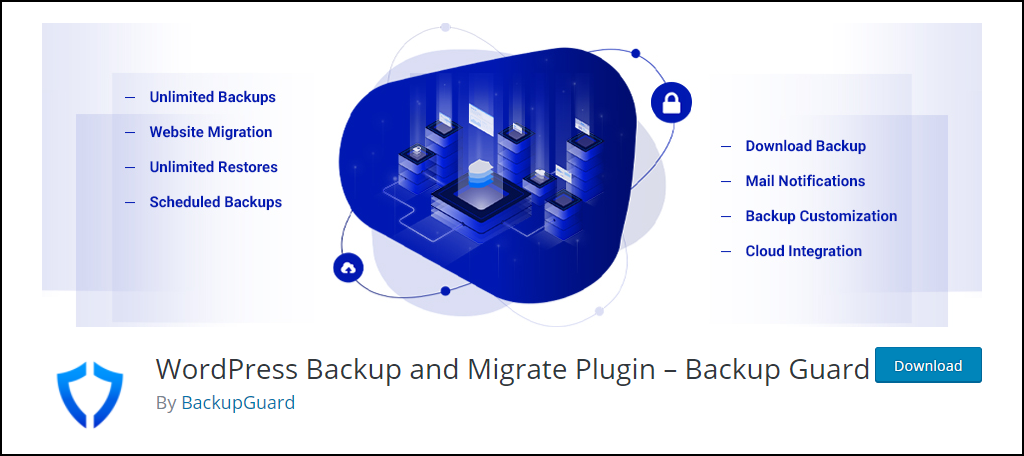 Another great option to this list is Backup Guard, but don't let its placement fool you. It is a terrific option for any website in need of a WordPress backup plugin.
It keeps multiple backups in storage and an easy-to-use restoration log that can help you select the best option.
This is a very useful feature in the event that the latest backup suffers from the same problem your website is facing. After all, in some cases, the backup will trigger immediately after an update is made.
This is why a test environment is so important; it helps you avoid those situations from ever happening. And with this plugin, you can easily migrate your website into a testing environment.
Benefits of Using Backup Guard
Support for multisite networks
Email notifications when your website is restored
View the progress of a backup or restoration in real-time
Choose a specific part of your website to restore
Store your backups on your computer
10. Backup & Staging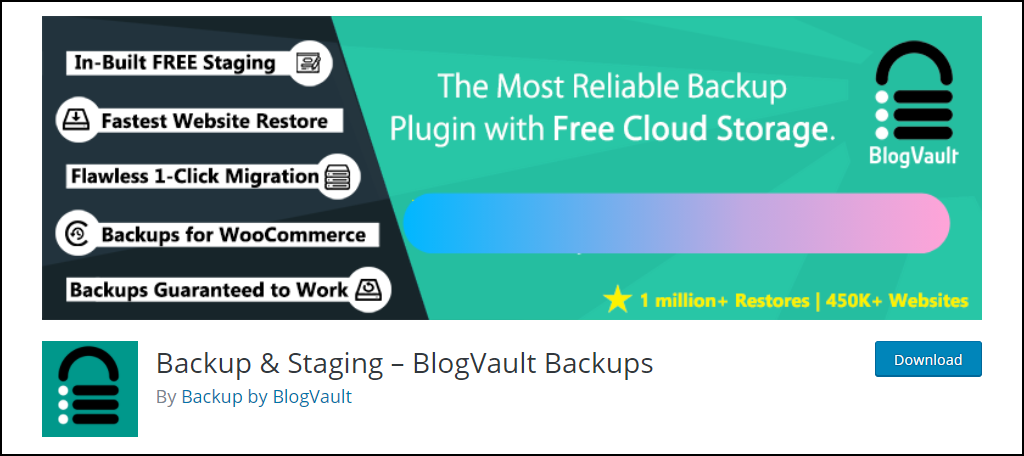 If your looking for a free cloud storage backup plugin, look no further than Backup & Staging. You can schedule regular backups of your website and store them on cloud servers. And you never have to worry about your access to the backup.
They are available 24/7 and it is one of the best ways to migrate your website to another server. All you would need to do is install the plugin on the new server and, in one click, download your backup from the cloud.
Benefits of Using Backup & Staging
Free offsite storage is available
Data stored offsite is encrypted for your protection
The support team is available to help
Has a 90-day archive so you have a huge window to revert to
Multisite network support
Instead of A Plugin Use Softaculous to Backup Your WordPress Site
The above plugins are a great choice to solve your backup problems, however, you don't actually need a plugin. Instead, your web hosting environment should provide another option, Softaculous.
Softaculous is an app installer that can install just about anything. In most cases, you will use it to install the CMS of your choice, but it can also be used to regularly update those installs and even back them up.
And unlike many plugins, it is a free service to take advantage of if your web host supports it. On a side note, we at GreenGeeks do.
If your web host has not enabled this feature, well, you can't use it to back up your website. But if they do, you simply need to check a box on that installation to enable it.
So in this case, you would view your WordPress installation through Softaculous and enable backups.
However, I strongly recommend still using a plugin alongside Softaculous. This is because your backup is saved in the same location as your website, thus, it doesn't do you any good if a hardware failure occurs on the server end.
If You Don't Back Up Your WordPress Site, It Could Cost Everything
There's a great saying among web developers, "The most expensive backup is the one you didn't make," and it is absolutely true.
Not making a backup of your website is a mistake. Sadly, while we would like to think we have control over our website data, there are way too many factors that we cannot control.
For instance, what happens if your website is hacked?
Even with great security plugins, it could still happen. And if a hacker gets in, they could delete everything or severely damage your website to the point of no return.
Alternatively, they could encrypt your website data and hold it for ransom (ransomware). And sadly, this could happen at any time.
Yet, with a backup, you could recover from such an attack within minutes and avoid extended downtime.
Backups have become so common, that they are now free for the most part. So, there's really no good reason to not keep an up-to-date backup at all times.
Install A WordPress Backup Plugin Today
Security, SEO, and backups are the three most important plugins you can install on WordPress. And frankly, they should be the first ones you install.
A backup is more than just a disaster recovery tool as it can help you test changes to your website.
Testing is one of the most underutilized options new developers don't take advantage of, and it is baffling. It's like cutting a piece of wood before measuring. Avoid downtime on your website by installing a WordPress backup plugin today.
Was it hard to learn how to back up your WordPress site? What's your favorite backup plugin for WordPress?