Although WordPress is a stable and safe system, you can always make it more secure. This comes in the form of amazing security plugins, most of which you can start using right now for free.
And while most will have pro versions you can buy, the free plugins are often more than adequate depending on the website you're building.
Today, we're going to take a closer look at 15 of the best WordPress security plugins. These are all easily accessible through the plugin installer from your WordPress dashboard.
While some may offer premium services, the free features may be worth exploring for yourself.
1. Wordfence Security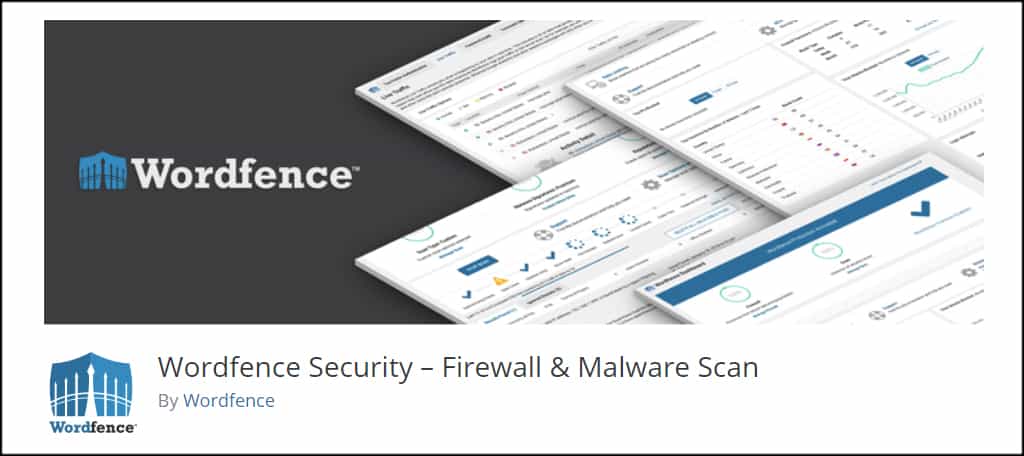 The Wordfence Security plugin is one of the most popular WordPress security plugins available. It is a free tool that provides a wide range of protection such as firewalls, blocking features, login security, and regular scanning for compromises.
It's compatible with IPv6 networking, included caching features, and provides support for platforms like WooCommerce. A premium account is not needed, but it greatly expands your protection.
More importantly, in terms of usability, it really couldn't be easier to set up WordFence. You just need to install it and go through a few various settings.
The plugin will recommend any changes you need to make, so, it's beginner friendly.
Malware scanner checks the core WordPress files
CAPTCHA support for all website forms
Monitor all activity including the number of hack attempts
The ability to repair files and restore them to default
Supports 2FA to log in
2. BulletProof Security
When you need a system that does it all for protecting the website, the BulletProof Security plugin may be a good choice. It delivers a wide range of tools such as .htaccess protection, cookie expiration, error logging, and much more.
You can also set the plugin to back up the database in order to make recovery much easier to handle in the event of a severe problem. You also have access to a security log from the backend of WordPress.
Potentially one of the most useful features it offers is that it will automatically fix over one hundred plugin conflicts. Or in other words, it will prevent any compatibility issues from arising, which is always a concern when installing a new security plugin.
Easy to set up, one-click wizard
Maintenance mode for both the front and back end
Requires all users to use a strong password
Advanced logging features for HTTP errors and security
Log out idle users
3. iThemese Security
Formerly known as WP Security, iThemes Security is among some of the most installed components in WordPress. It allows you to shield the website from more than 30 different ways hackers can attack the site.
The Pro version offers an incredible number of features such as detecting bots, spam protection, user logging, and much more. It also detects hidden 404 errors that may be affecting the search engine optimization of your site.
And with around a million active installs, it's among some of the more popular security plugins. As you might have guessed, with such a huge install base, the plugin is usable at all skill levels.
Supports Google Authenticator on mobile
Updating your websites SALTS and keys is simple
Utilizes WP-CLI integration
Export your plugin settings from one site to another
Set an exploration date on passwords to force a change
4. Sucuri Security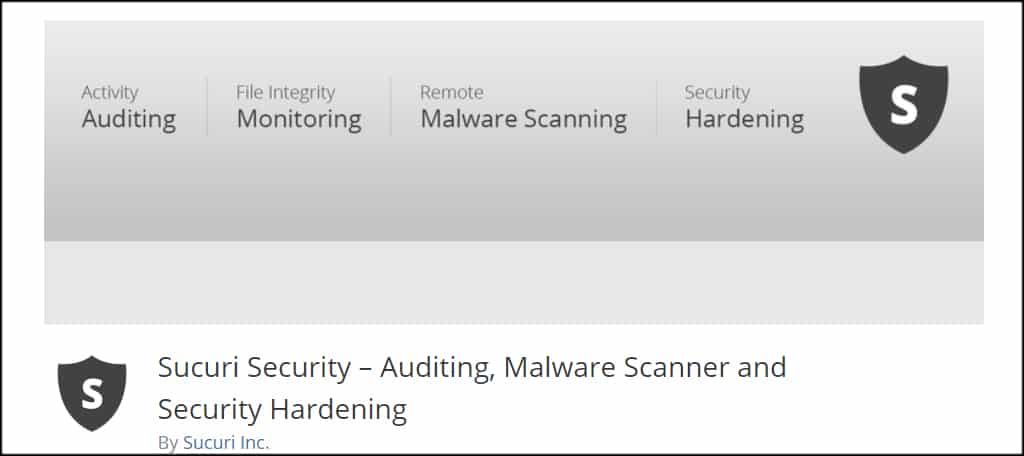 Another one of the most trusted platforms for WordPress, Sucuri Security is a good choice for those looking for a kind of all-in-one system. Features of this plugin include activity auditing, blacklist monitoring, and file integrity monitoring.
One of the more effective points of this system is the engines it uses for blacklist monitoring. Engines such as Sucuri Labs, Google, AVG, and other popular databases fuel this plugin's malware scanner.
One of the most useful features is that the plugin provides a real-time security section. This will let you see everything that is wrong with your website the moment it happens.
Provides a post-hack wizard to ensure your website's security
Compatible with all other Sucuri WordPress tools
The Website Firewall protects against DDoS attacks
Compares files to find suspicious changes
5. All In One WP Security & Firewall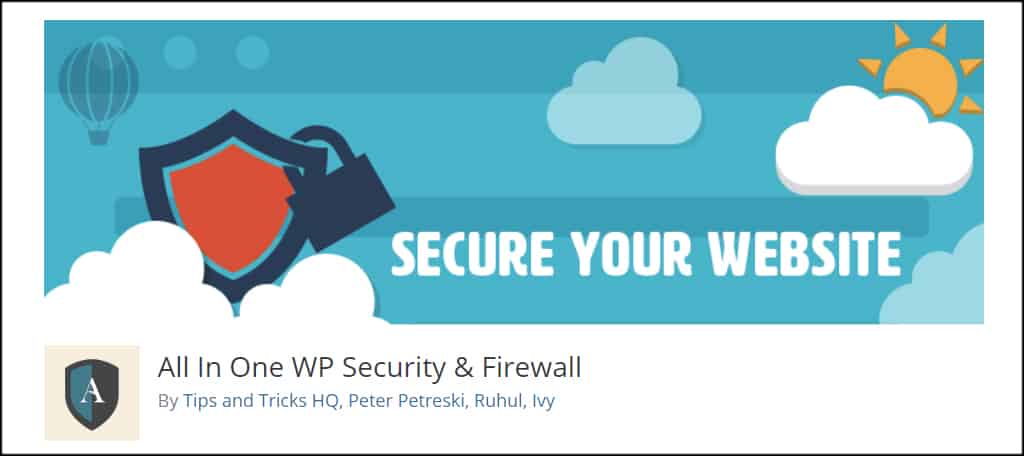 The All In One WP Security & Firewall plugin is one of the top systems available for WordPress. Not only does it help protect your website, but it will also deliver an easy-to-read grading system regarding your current practices.
Aside from offering security improvements, this plugin also runs database backups on a schedule with email notifications when each has been completed. And it also protects your website from Bruce Force attacks.
This is done by blocking the IP addresses of anyone who repeatedly tried to log into an account.
Essentially, it shuts the hacker out for a set amount of time, but this can technically affect normal users that just can't remember their password, so set it up with caution.
Displays password strength to users
Enhances the security of the WordPress pingback feature
Disable right-click on your website
Prevents access to the readme.html, license.txt, and wp-config-sample.php files
View a list of currently logged in users
6. Shield WordPress Security
One of the most attractive features of Shield WordPress Security is that it doesn't have a "Pro" account. All of its features are completely free and unlimited. It works as a spam filter, monitors for malicious URLs, prevents brute force attacks, and more.
One of the best aspects of this plugin is its performance. One thing that security plugins have a reputation for is slowing down your site. This one avoids that problem by making optimizations for speed.
Although it may not be as feature-rich as others in this list, it's still a useful tool to have when you simply need something to protect your site.
Never blocks a Google or other search engine bot
Detects and fixes core file changes
Additional security for WooCommerce forms
Detects abandoned plugins
Activate the plugin and it's ready to go
7. SiteGuard WP Plugin
The SiteGuard WP Plugin protects WordPress from being accessed from the backend. One of the more effective features is preventing access to the admin page if the connecting IP address does not match.
The login information can be changed, locked, and protected through CAPTCHA. SiteGuard can also disable pingbacks while providing login email alerts of registered accounts. It's a simple system that is easy to use and maintain.
One of the more unique features is that it can help you rename your login area. This can help throw off hackers. If WordPress doesn't use the default login URL, then it's very difficult to find.
Renames the wp-login file
Automatically disables pingbacks in WordPress
The Fail Once feature can bolster important accounts login security
Prevents user name leakage
Emails are sent to users when they sign in
8. Security & Firewall by CleanTalk
CleanTalk offers a good tool in the plugin Security & Firewall. It prevents brute force attacks from succeeding, which means there is less of a likelihood someone can gain access from login credentials.
It adds a few seconds to a failed attempt when someone tries to login into WordPress. This means that hackers cannot set up a bot to constantly bombard the login screen with login attempts. It's a simple and effective way to keep many hackers at bay.
It also includes a Malware Scanner for SQL. It can identify code that will allow for SQL injections, which is essentially a way for hackers to get into your site. Overall, it's a robust tool that's worth checking out.
Checks all outbound links to prevent spam
Supports 2-factor authentication
Change the URL for your login pages
Automatically block users that make a certain amount of requests
Limit the login attempts to block DDoSers
9. Security Ninja
Security Ninja isn't a traditional security plugin. Instead, it is a tool that tests for problems in your website. It essentially takes a closer look at more than 40 vulnerabilities while giving you a report.
Not only will this help you plug the holes in your site, but Security Ninja will also give you details on how to fix each of the problems the plugin found. Thus, it's an invaluable tool to use alongside another security plugin.
With a single click of the mouse, you can test a variety of areas of the site simultaneously. For instance, if a plugin you have installed has a known vulnerability, you will be alerted. That way you can find an alternative.
Run over 50 unique security scans in an instant
Optimizes the database for security and speed
Tests and prevents 0-day exploits
Hide the current version you are using
Over 30 unique security tests
10. WP Fail2ban
WP Fail2ban is a terrific addition to any website that is looking to secure its login area. It has a variety of features that focus on keeping bots from making multiple login attempts and preventing spam in other areas of your website.
And unlike many other security plugins, there are no settings to configure, at least in the free version. Thus, it becomes an excellent option for beginners that just want to improve website security without messing with settings.
It is also fully compatible with popular form builders like Contact Form 7 and Gravity Forms. And it even has support for a multisite network.
Here are some of the other key features:
Filters out login attempts that did not enter a username
Works with Gravity Forms and Contact Form 7
Limit login attempts
Support for Multisites
11. WP Hide & Security Enhancer
One of the easiest ways to secure a WordPress website is to hide common files hackers go after. The WP Hide & Security Enhancer allows you to change those default locations making it much more difficult for hackers to target specific areas.
The reason this is so effective in WordPress is that WordPress installs are identical. The important URLs are the same for every site (minus the actual domain name), which hackers can take advantage of.
It also provides control for custom admin URLs, blocking XML-RPC API commands and theme URLs. This plugin works with those who use CDNs such as Cloudflare as long as the cache is clear.
Change default wp-content path
Removes WordPress admin bar for specific user roles
Minify HTML, CSS, and JavaScript
Creates a new wp-admin URL
Blocks access to multiple default files
12. WP Cerber Security
WP Cerber Security is a fairly strong all-in-one platform, even as a free plugin. You benefit from the anti-spam features, creating custom login pages, file scanning and so much more.
This plugin will also check all WordPress files and folders to make sure it matches what is available in the WordPress repository. If your site experiences an unknown change, Cerber informs you immediately.
Users can also receive both email and mobile notifications if the plugin detects something is wrong. This gives you a better chance of reacting to malicious activity on your website.
Check activities for each IP address
Get mobile notifications if something is wrong with your site
One of the best malware scanners
A variety of anti-spam tools including specialized ones for WooCommerce
GDPR compliant
13. NinjaFirewall (WP Edition)
The NinjaFirewall plugin is another with excellent coverage for WordPress. It comes equipped to handle heavy issues, such as file monitoring and real-time detection.
This tool also delivers a Live Log allowing you to watch your site's traffic as it happens. This is all thanks to the firewall that can prevent any HTTP or HTTPS request from making it to your website.
Some of the things that give NinjaFirewall a reason to consider include multi-site support, IPv6 compatibility, and event email notifications to keep you in the loop if something happens.
The File Guard feature detects any changes to files and immediately chacks for problems
Email alerts when specific actions are taken on your website
Multi-site compatible
All features within the plugin offer detailed descriptions
All of your information remains on your servers to improve privacy
14. SAR One Click Security
When you need something to block attacks and bots, the SAR One Click Security plugin may be a good choice. It will block public access to specific sensitive files, prevent XST attacks, block direct access to certain PHP files and even prevent sensitive TXT files from being read.
SAR will also remove version information from headers which may reduce attacks from hackers looking for older components. More importantly, there are no settings to configure.
That means you just need to install and activate the plugin and it is ready for use.
Disable directory listings
Prevents spam bots from accessing the wp-comments-post.php file
Prevents access to commonly accessed files by hackers
No set up necessary, just activate the plugin
Hides your versions for WordPress, plugins, and themes
15. Defender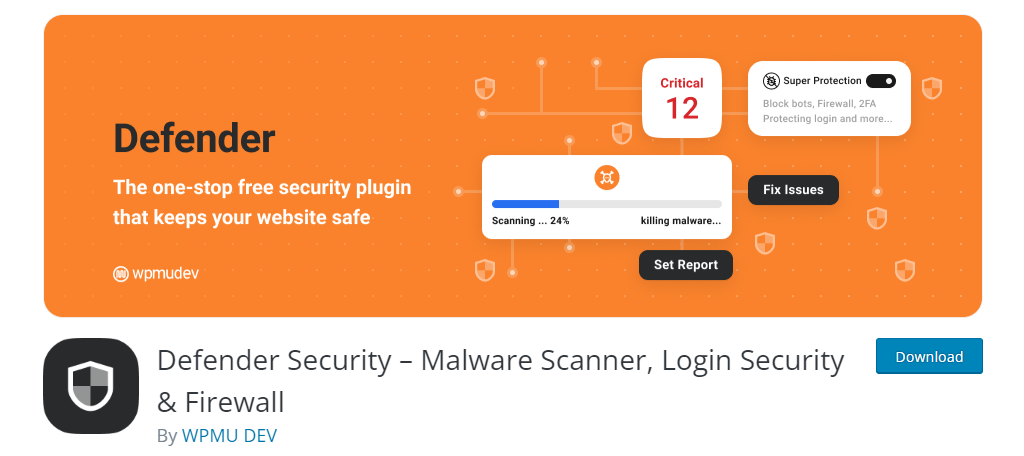 From the developers of Smush and Hummingbird, the Defender plugin adds incredible security to your WordPress site from talented programmers. It provides cross-site scripting prevention, login lockouts, disabling the file editor, and much more.
One of the things I like about Defender is two-factor authentication. To protect your site, you can use passwords and mobile app verification codes. In reality, this is becoming a common practice on the Internet.
Of course, another approach you can use is adding reCAPTCHA. The plugin fully supports this, and you can add it to your site's login and registration areas.
Some other key features include:
Block IP addresses that come from specific countries
Disable the file editor
Add security headers to improve security
Prevents PHP executions
Prevents spam by disabling trackbacks and pingbacks
How to Find the Best WordPress Security Plugin for You
As you can see there are a lot of impressive tools, but what's the best one for you?
It depends.
Consider the price point. There are many free and premium security plugins, and while the paid ones may have more features, the free ones are still powerful tools in their own right.
If you're on a limited budget, saving money on a plugin is a smart choice.
Some security plugins also have other features built-in like anti-spam. Consider if you already have a plugin in place to handle several individual features. You may be able to delete a few and reduce the number of plugins on your website.
Some security plugins can be bulky and end up slowing down your website. Speed is definitely an important factor to consider.
I personally recommend getting an all-in-one security plugin because they offer the most tools and protection for your website. This also avoids you needing multiple plugins to get the same features.
Keep the Site Safe
There is more to WordPress than just widgets and plugins to entice your visitors. These are merely a handful of the ways you can protect your site and add features to the backend for your administrators.
Take a deeper look into what WordPress security plugins can do for you. From data theft to site hacking, you don't want your website to be vulnerable.
What kinds of tools do you have installed on your WordPress website? What measures do you take to keep your data and visitors safe?