Potentially, the most important aspect of any website is its SEO efforts. Without a proper SEO strategy, your website will never be found by visitors as it will never appear in search results. Luckily you can change this by using free SEO tools.
These tools are designed to help improve your search ranking by using the known criteria search engines like Google look for. That said, not even these tools or SEO experts actually know everything about the algorithm.
As such, SEO does often come down to guesswork and luck. Yet, without a doubt, using a dedicated SEO tool will yield better results.
Today, we will take a look at the best free SEO tools you can use to improve your website's rankings.
What Is Search Engine Optimization (SEO)?
Search engine optimization, or SEO for short, is the process of optimizing your website to display content the way search engines prefer. However, instead of search engines providing clear guidelines for what they are looking for, it's a guessing game.
No seriously, it really is a guessing game. They provide the bare minimum when it comes to how rankings are displayed. This is because they want to reduce the chances of people trying to game the system with bad practices.
Thus, it is up to content creators to figure out what works best. And as a result, SEO tools have been designed based on information collected by thousands of websites to provide you with tips to optimize.
And to be perfectly clear, while there are multiple search engines in the world, the only one you should be focused on is Google. It dominates virtually every country in terms of search volume. Today, it accounts for 84.08% of the search engine market share.
It's also safe to assume that if you optimize for Google, you optimize for all search engines. And as you are about to see, Google itself provides a variety of free SEO tools to help you optimize.
1. Google Keyword Planner
If you are looking for help finding keywords for your next blog, look no further than the Google Keyword Planner. Keywords are an essential part of SEO because they are the terms that visitors look for in search engines.
And as such, there's no better option than Google itself when it comes to keyword research.
Luckily, the Keyword Planner is simple to use. You can search for individual keywords or some that are related to your website. The information you can view includes the frequency the keyword is searched for, how searches change over time, and even the competition you can expect.
Most notable is the inclusion of an advertisement budget. This is in the form of a "Suggested Bid," and its purpose is to provide a rough estimate of how many results the keyword is likely to bring up.
With that said, this estimate is based on Google searches and does not take into account your website's social media efforts.
Benefits of Google Keyword Planner
Provides keyword information to help you pick out the most profitable option
Did I mention it's free?
There is no limit on the number of keywords you can research
Price of Google Keyword Planner
2. Yoast SEO
When it comes to free on-page SEO tools, there is no bigger name than Yoast SEO in the WordPress community. It is a comprehensive tool that provides SEO tips and helps improve the readability of your content for actual visitors.
After all, it's easy to forget that the content is actually for real people.
On the SEO front, Yoast provides a variety of tips like keeping track of keyword usage, reminders to fill in the meta description, tracking the number of outbound and internal links, image alt attributes, and title width of your post to name a few.
It also helps you increase the readability of content by displaying the percentage of passive sentences, the Flesch reading score, catching consecutive sentences, checking the length of sentences, and more. All of these tips for both SEO and readability happen in real-time.
Benefits of Yoast SEO
Provides simple and effective SEO tips while writing
Checks the readability of your content to make sure visitors can enjoy it
All of the tips are in real-time
Price of Yoast SEO
There is a free WordPress plugin available
The premium version for one website costs $99
3. Ahrefs Broken Link Checker
Ahrefs Broken Link Checker is an excellent choice if you want to rid your website of broken links. Broken links can significantly hurt your rankings if search engine bots continuously find them, and that's something you want to avoid.
Thus you need a tool that can check your entire website in a matter of seconds.
After all, websites that have been around for years likely have thousands of links, which means manually checking them on a daily basis is out of the question. This tool allows you to enter your website's URL or any for that matter, and in seconds you can view broken links.
While the free version is a great starting point, the premium version has a variety of filtering options. You can search between internal or external links, the type of broken link, and much more. These options are ideal for larger websites.
Benefits of Ahrefs Broken Link Checker
View all broken links in a matter of seconds
Locate both internal and external broken links
Filtering options help big sites
Price of Ahrefs Broken Link Checker
A free version of the broken link checker is available
Ahrefs SEO plans start at $99 a month
4. Google Search Console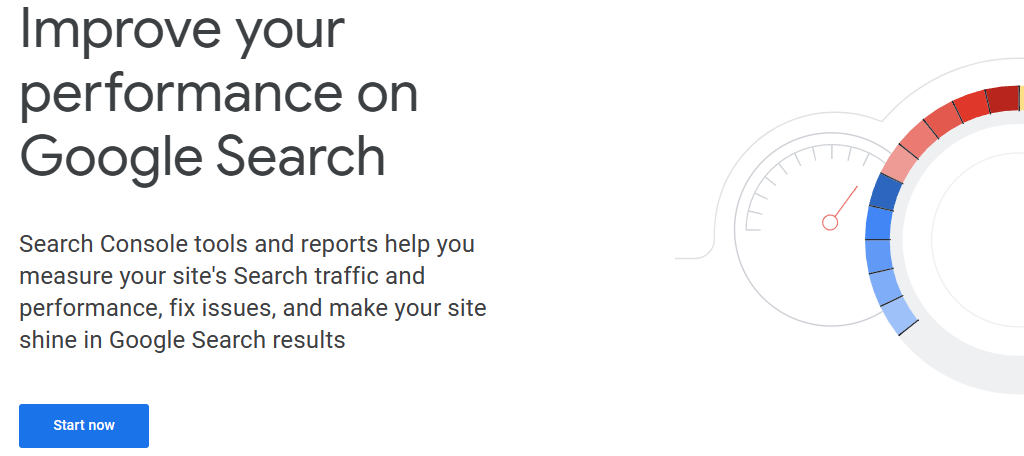 The Google Search Console (formerly known as Google Webmaster Tools) is a free service to help website owners track technical problems that hurt their website's rankings. Google will analyze and tell you exactly what your website is doing wrong.
And trust me, you are going to want tips directly from Google.
This includes being able to see your website's performance for specific keywords over the last 16 months, a URL inspection tool, the ability to directly upload a sitemap to Google (you no longer have to wait for the bots), and mobile usability tracking tools.
It is important to note that almost every major search engine has a similar service. While I am mentioning Google Search Console, you may want to also take a look at others like the Bing Webmaster Tools. These tools are tailored for the specific search engine.
Benefits of Google Search Console
Optimization tips directly from Google
Checks the mobile usability of your website
Upload sitemaps directly to Google for fast results
Price of Google Search Console
5. XML Sitemaps
XML Sitemaps is a free WordPress plugin with over 2 million active installs. It focuses exclusively on generating a sitemap that can help search engine bots crawl through your website. It works on search engines like Google, Bing, Yahoo, and Ask.com.
Everything the plugin does is automatic, so it doesn't get any easier.
A sitemap is exactly what it sounds like, a map of your website. It contains a list of pages within a domain and search engines can use it to crawl through a website. This will ensure that the bots crawl through the pages you want them to and speeds up the indexing process.
In fact, you can speed up the process even faster by uploading your sitemap on the Google Search Console. For new website's it could take anywhere from four days to four weeks before a search bot crawls through your content. Providing a sitemap to Google speeds it up tremendously.
Benefits of XML Sitemaps
Provides Sitemaps compatible with multiple search engines
The plugin does all the work, simply install it and press the button
Helps search bots navigate your website
Price of XML Sitemaps
It's a free plugin for WordPress
6. Google My Business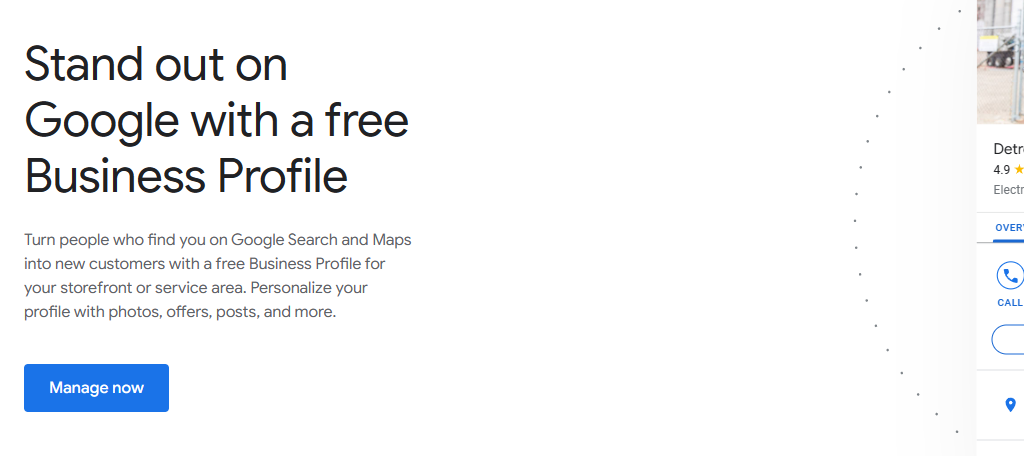 If you own a business that only operates locally, optimizing your local SEO is critical for success. And Google My Business was designed with this thought in mind. This free service helps you customize how your business appears in both searches and on Google Maps.
And trust me, local businesses need all the help they can get.
I guarantee you have been taking this feature for granted as a user. If you've ever done a "stores near me" search on Google, you will see a list and Google map showing the location of stores that match your search.
As a result, it's one of the most powerful SEO tools for local businesses.
This allows customers to find the location, business hours, the website for ordering online (essential for restaurants), phone number, and customer reviews.
All of this information is added via the Google My Business service. Again similar services are available for other search engines like Bing Places for Business.
Benefits of Google My Business
Tremendously helps your local SEO
Helps customers find your business with Google Maps
Makes your phone number visible in searches
Price of Google My Business
7. GTmetrix
Speed plays an important role in both the visitor experience and your rankings. In fact, it's one of the very few confirmed factors Google uses in its rankings. GTmetrix can help you determine how fast your website is loading.
And it provides tips to help you improve your speed.
This tool provides an enormous amount of data that you can use to troubleshoot your pages. It provides a letter score based on the structure and performance of the website and how long it takes for various pages and elements to load.
For instance, if you have a very large media file like a banner on your homepage that takes too long to load, the tool will make you aware of that. By using the troubleshooting tips it provides, you can shave load time with minimal work.
And there's even a free version available.
Benefits of GTmetrix
Provides numerous statistics about your website's load speeds
Find out what's slowing your load times
Compare your website speeds against the average
Price of GTmetrix
It's a free SEO tool for online speed tests
A Solo plan starts at $10.67 per month
The Starter plan starts at $21.25 per month
The Growth plan starts at $42.50 per month
8. AlsoAsked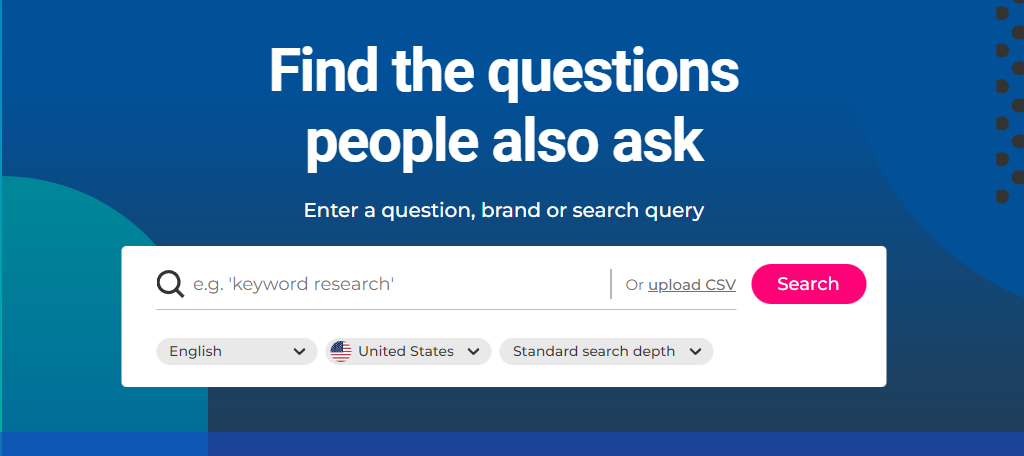 To this day, one of the most common ways people use search engines is to ask questions. And answering common questions is a surefire way to rank higher, but how do you figure out what questions to answer?
One way is to use the AlsoAsked.
This free SEO tool allows you to enter a keyword and pull up the frequently asked questions you would find on search engines like Google. It provides this in an easy-to-understand form.
The proper way to use this tool is to look at the questions it pulls up, and try to answer these questions in your writing naturally. This will ensure that your post will appear in searches when that question is asked.
Benefits of AlsoAsked
Pulls up over a dozen different questions
Shows which questions are more popular
Search in different countries
Price of AlsoAsked
Free version that you can use right now
The Premium plans cost depends on the number of searches you want to perform
9. Ubersuggest
Ubersuggest is an amazing SEO tool that gives you limited access to its features for free. You might also recognize the owner, Neil Patel. He is one of the best online marketers in the business, and this tool is a perfect match for his brand.
So what can you do with Ubersuggest?
There are two main ways to use the tool for free. The first is to enter the keyword you are looking for. It will show you the search volume and other information about the term. The second is to search for a domain.
The domain search will show you how much organic traffic you get, the number of backlinks, your domain authority, keywords rankings, and much more.
With that said, you are only allowed to get three searches a day for free, so make the best of it.
Benefits of Ubersuggest
Backlink data is robust and makes it easy to see what websites you should approach
Find new content ideas based on keyword data and search volume
You can use the tool to check out how other domain names are performing
Price of Ubersuggest
A free version is available that includes 3 searches per day
Individual plans begin at $29 per month
Business plans begin at $49 per month
Enterprise options begin at $99 per month
10. SEO Analysis & Website Review by WooRank
The SEO Analysis & Website Review by WooRank is an amazing SEO tool that comes in the form of a Google Chrome extension. This tool analyzes your website and provides a score.
More importantly, it tells you exactly how to fix the problems it detects on your website.
It does this in a really innovative way. Once the tool is done analyzing and provides a report it will also provide a checklist you can use to solve each problem it detected.
This is a big departure from the tools that just tell you the problems, but leave out the most important bit…how to fix them.
Benefits of SEO Analysis & Website Review
Shows which problems should be a higher priority to fix
Website reviews always use the latest data
Can be used to analyze the competition
Price of SEO Analysis & Website Review
This is a free extension for Google Chrome
11. Mobile Friendly Test By Google
Perhaps one of the biggest changes to occur in SEO was Google's "Mobile First" indexing change. For those unaware, Google will load all pages using the mobile view first. This ensures that mobile users get the best experience, as their number has surpassed desktop users.
Luckily, Google has many free SEO tools, and the Mobile-Friendly test is one of the most useful.
The tool itself is easy to use. Just enter the URL of the website you want to test, and after a minute, the tool will provide if the website is mobile-friendly or not. If everything loads correctly, you are good to go.
If not, you will receive a message indicating so, with some helpful resources. What makes this tool extremely useful is that this is an actual Google search bot. You are getting the results straight from the horse's mouth.
Benefits of Mobile-Friendly Test
The tool is extremely easy to use
You can choose to enter the URL or manually enter the code for any page you are working on
Provides insights on how to improve the mobile experience
Price of Mobile-Friendly Test
A great addition to the best SEO tools available is a platform called SEO Panel. What makes this particular platform unique is the fact that it is the only one on our list that is open-source and totally free to use.
It can be accessed using the cloud, or users can get download it for free and install it on a Mac or Windows computer. It is compatible with either.
The fact that it is totally free is always nice. However, don't let the fact that it is free deter you from trying it out. The product actually has a ton of great features that can help improve your SEO rankings.
The features provided are comparable to any other SEO tools on this list. It is a great tool if you are looking to get into SEO for free, and it offers a very easy-to-use dashboard option.
Benefits of Using SEO Panel
Check keyword ranking and targeted keywords
Auto-submit sites to directories
Check on social media details
Price of SEO Panel
Use Multiple SEO Tools for Free
As you can see there is a great variety of free SEO tools you can choose from in the WordPress ecosystem. Some focus on finding keywords while others focus on the way content is written, and there are many other types of tools.
The biggest mistake you can make is limiting yourself to one tool because each one offers its own benefits.
Getting opinions from multiple sources is ideal in the SEO world, after all, the rules are constantly changing. Not every tool updates at the same speed, and that could cost you if it's the one you rely on.
I highly recommend utilizing an analytical tool, keyword research tool, and an on-page SEO tool, like Yoast SEO. Utilizing these three types of tools in conjunction with one another will help tremendously, and there is no real disadvantage.
And since many SEO tools are free, you don't lose anything by trying multiple of them.
Content Matters
While many websites spend a tremendous amount of time writing to please Google, it's important to remember that the content your write is for people. Even if you rank highly, the traffic you gain won't last long if they start actively avoiding your posts.
This happens often to websites that regularly produce low-effort content or use clickbait titles to draw in visitors. High-quality content is what makes successful websites, and SEO is how they are found.
Thus, even if you have the best SEO ranking, it will only result in a short-term gain.
What free SEO tools do you use to boost your website's rankings?