Search engine optimization is the bread and butter of getting traffic. The Yoast SEO plugin for WordPress may be one of the best options to use when it comes to site performance in this regard.
Filled with tools and settings, you could manage a variety of things within your site to score well with search engines and visitors alike.
Why You Would Want Yoast SEO
Yoast SEO is more than a tool to help you build an optimized site. It can be used as a learning platform as the plugin gives you suggestions on how to fix problems. Its settings also give you greater control over how your links are displayed.
Here are nine of the most useful points Yoast helps in website development.
1. Paragraph Structure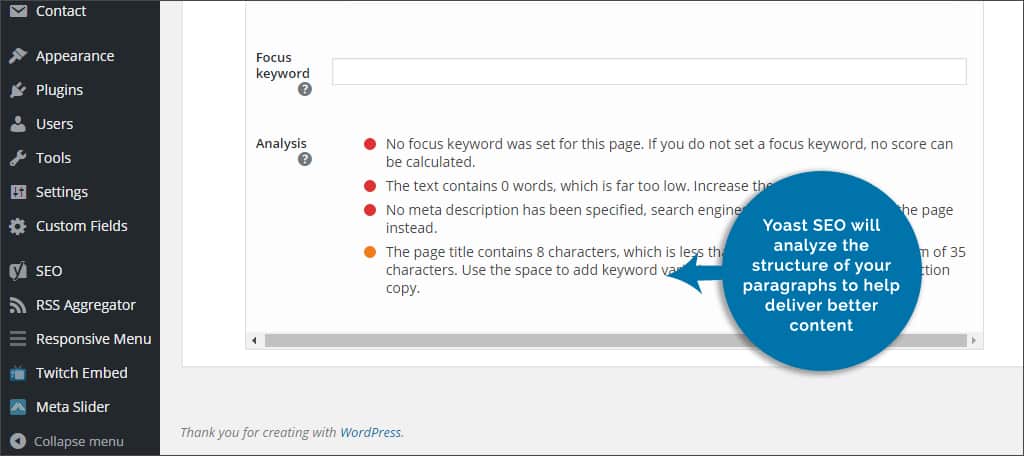 Yoast SEO will analyze the structure of your paragraphs to help deliver better content. This includes making sure the paragraphs are not too long, sentences are shorter and transition words are present.
This helps the average visitor understand your content. You don't want to lose them when trying to express your point in long jargon. Consumers who understand your material are more likely to make purchases or turn into adamant fans.
2. Keyword Density
You don't want your keyword density to be too high. This can result in the post being ranked poorly by Google and other search engines. This is because search engines are looking at content that isn't saturated with keywords in order to provide quality.
The Yoast plugin shows how often keywords are used and if you're filling the post with too many or too few. Think of it like the "Goldilocks Zone" for keyword use.
3. Flesch-Kincaid Reading Ease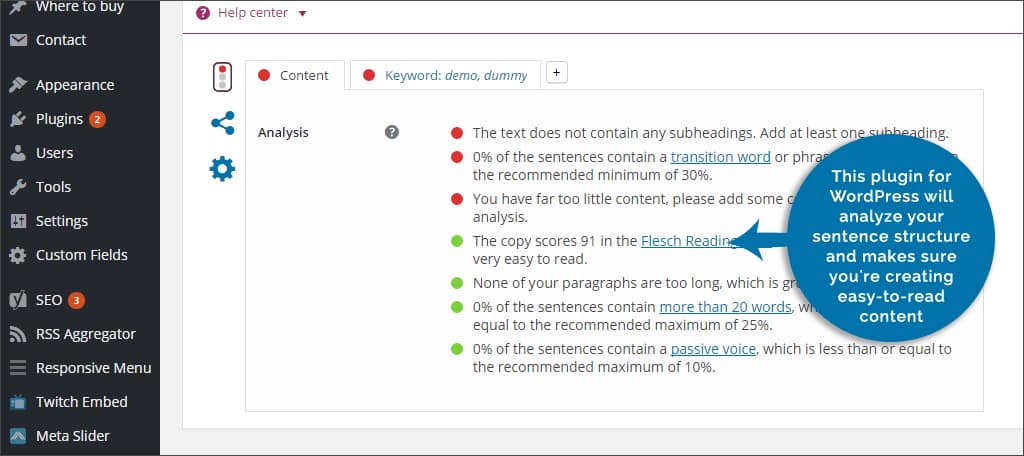 Studies have shown content that reads easier has higher retention rates and more frequent visits. Yoast SEO plugin for WordPress will analyze your sentence structure and makes sure you're creating easy-to-read posts.
As a result, people will have an easier time absorbing the material. It's all about keeping the audience engaged, and this tool helps you deliver that content.
4. Meta Descriptions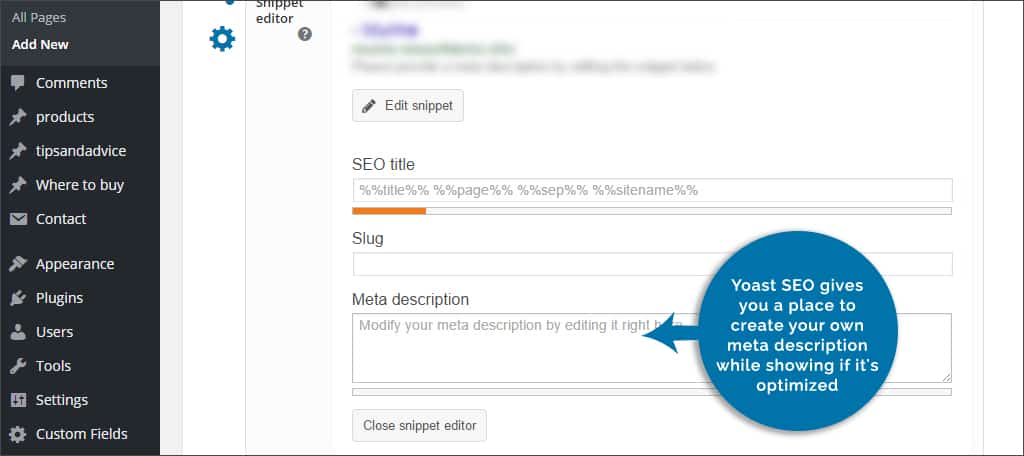 Although Google doesn't put as much emphasis on meta data as it once did, descriptions still play an important role. It's the little snippet of text that shows up under your search engine link that attracts visitors.
Yoast SEO gives you a place to create your own meta description while showing if it's optimized. Using a color bar, the plugin will display a green line if the content is perfect.
5. Link Support
Whether you're using internal or external links, Yoast SEO can monitor these for you. This may be especially useful when considering the "link juice" of your content.
This is when your post shares its authority with other content on your site. It's also beneficial to give links to visitors to help them find additional relevant content.
Yoast will determine if you have enough links and whether or not you're using "No Follow" tags.
6. Prior Keyword Usage
Most SEO strategies will focus on a different keyword for every post created. It helps those pages rank higher in search results without competing for the same slot.
Yoast remembers all of the keywords you've used in the past and will inform you if you've used one before. Otherwise, you could inadvertently spend money marketing one of your webpages against the other.
7. Keyword Use in Subheadings
Another facet that Google and other search engines put less focus on is subheadings. However, these still play a role in crawling your posts for relevance. Yoast checks these subheadings and informs you whether the keyword is missing or not.
Most experts believe that inserting the keyword at least once into a subheading is ideal for search engines and readers.
8. Permalink Cleanups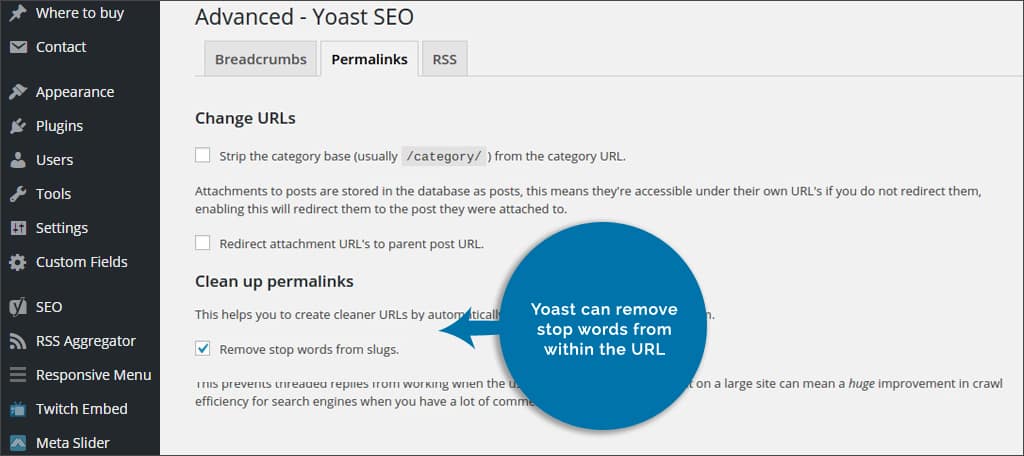 Keeping the permalinks tidy can help people find your content. While WordPress has the ability to modify the permalinks on its own, Yoast SEO gives you greater control.
For example, Yoast can remove stop words from within the URL. Some experts feel that this is a good practice for keeping the links short and more identifiable in search engines.
9. Social Sharing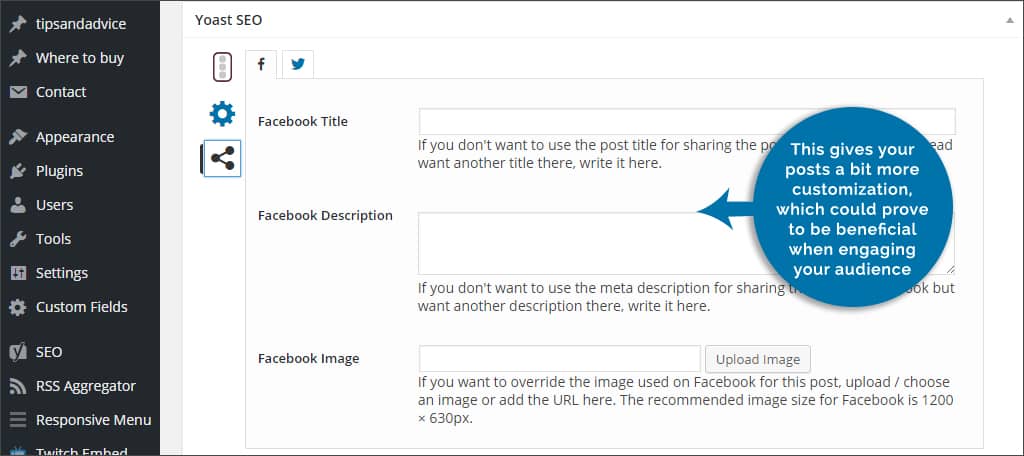 The Yoast SEO plugin for WordPress also has the built-in ability to share certain information with social media. While the posts can still be shared without these changes, you can add different imagery or create specific descriptions for Facebook and Twitter.
This gives your posts a bit more customization, which could prove beneficial when engaging your audience.
Make it Easier For Your Visitors to Find Content
Content is the driving force behind getting traffic, and you need to deliver that material in the best way possible. Allow your website to be effective for both search engines and humans. It's all about what you write and how you write it.
Put the best tools you can find to work for you and deliver the best quality possible.
What kinds of things do you do for the optimization of your site? Have you noticed a difference in visitor interaction when using SEO practices?