The right SEO tools can make what seem like impossible jobs possible. They can also make the life of an SEO specialist easier, as the best ones usually provide a set of features that can help with all types of SEO issues. Below, we are going to explore some of the best SEO tools available today.
Choosing between SEO platforms can be difficult. There are so many out there, and honestly, a lot of them cost quite a bit of money.
However, with the right knowledge and a place to start, not only can you find some fantastic SEO platforms, but you can also find some that are either totally free to use, or very low-cost.
What Are SEO Tools?
SEO tools are those that can help an individual or a business plan and execute an online search strategy in a more organic way. These types of platforms are mainly used to improve the website search ranking for the specified individual or business.
The best SEO tools will provide customers a full suite of features and functionality. Some of the main things that these different SEO analysis software platforms give the user include powerful keyword research tools, backlink aids, rank tracking means, and reports.
The best SEO tools can also be used to look at what the competition is doing. These platforms will help give the user an inside look at different industry niches and see what works and what doesn't.
Here are some of the best SEO tools online today. Give them a look, compare them, see which one works best for you, and then make an educated choice.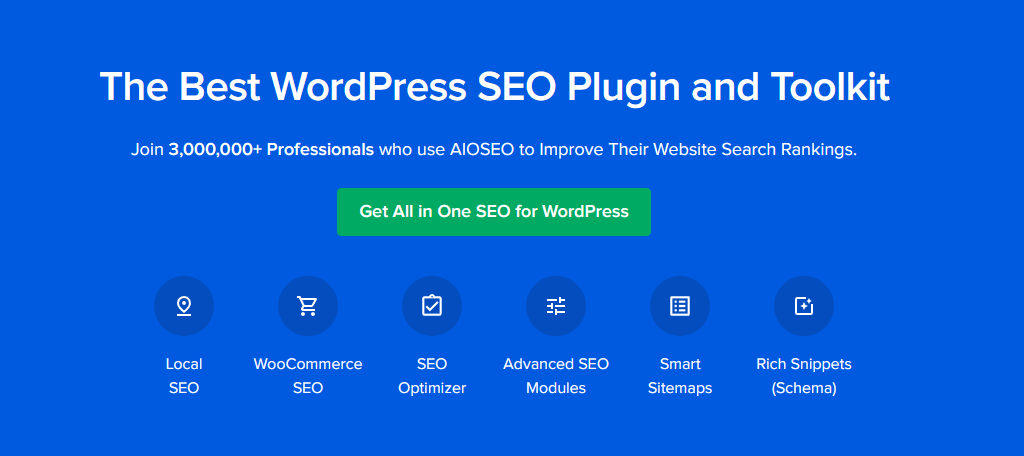 All In One SEO (AIOSEO) is one of the best tools available on WordPress when it comes to optimizing your website's SEO. And it's insanely popular with over 3,000,000 users, which puts it among the most popular plugins in general.
It works well for both general SEO, or you can focus on your local SEO efforts exclusively.
In terms of usability, it's quite simple. Simply scan your website and the tool will generate an SEO report. The report will not just list off what it found your website is doing wrong, but instead provide information on how to fix it.
On top of this, you'll also gain a slew of features to utilize. For instance, this tool can generate XML sitemaps and submit them to Google for you. With everything it offers, it's one of the best choices for small businesses.
Features
Video SEO sitemaps
Link assistant helps you improve internal links
Create and manage redirects
Social media integrations
Edit the robots.txt file easily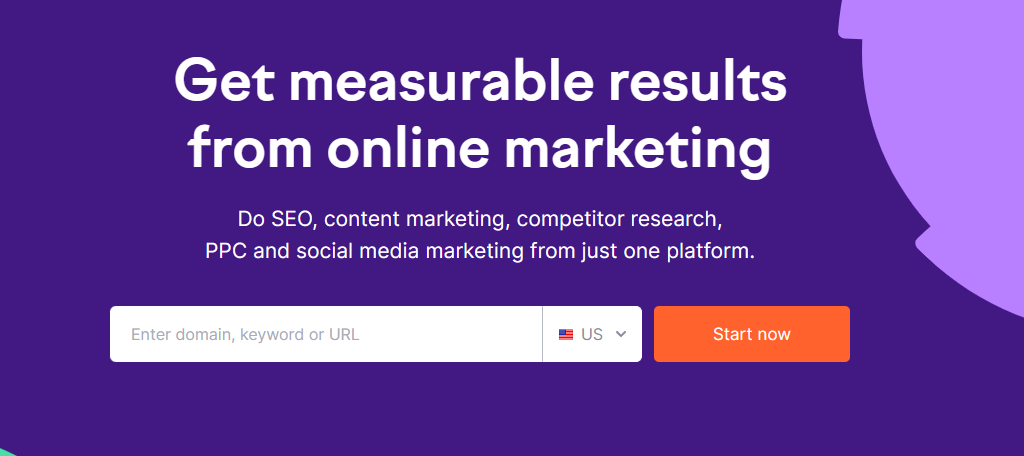 Another one of the best SEO tools out there is SEMrush. This platform provides an all-in-one tool that is perfect for beginners. They also hand out 7 days of their platform for free. This means you can try it for a week to see if you even like it.
Sure, keyword research and backlinks are both very important in the SEO world. That being said, SEMrush looks to give users a package where they can do a little of everything, all from one dashboard.
The platform is designed with beginners in mind. It is intuitive and accessible. It is also well-organized and as stated above, has arguably the most detailed dashboard of any platform on this list.
Features
Excellent online support
View competitor backlinks
Topic research for new ideas
Find valuable keywords
Check on-page SEO rankings
View keyword ranking over time
Monitor website backlinks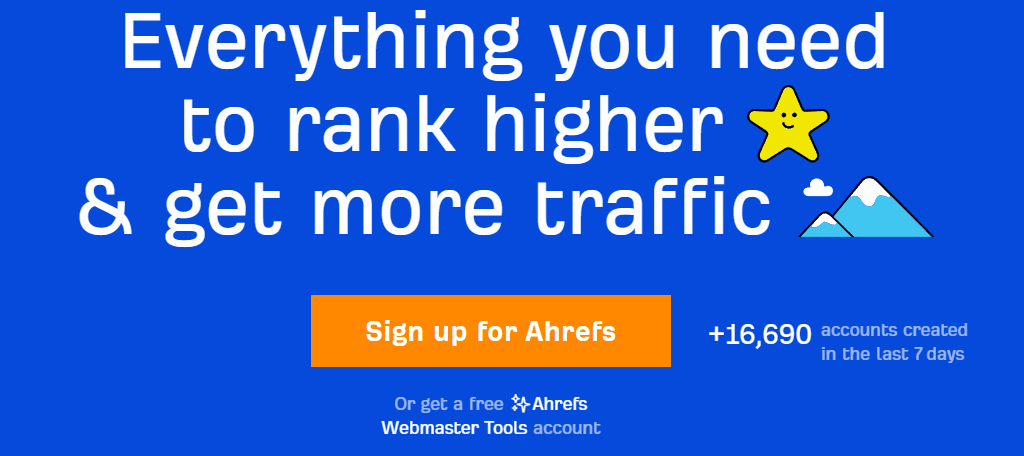 Ahrefs is another all-in-one tool that makes the list because while it is very similar to SEMrush, it goes a step further and shines when it comes to depth.
If you have actually been around SEO for a while, already know what your goals are, and are looking to maximize everything you can, then Ahrefs is the SEO tool for you.
While the platform is not as intuitive and easy to use as SEMrush, it does have a set of tools that can get your SEO strategy exactly where it needs to be, provided you take a little while to learn the platform.
Ahrefs has the best backlink analysis tool around. They also give you the ability to search for popular content using keywords. All-in-all, Ahrefs is one of the most detailed SEO tools online.
Features
View search results and traffic profiles of any site
Audit any website's user on-site performance
Generate keywords
Analyze keywords
Calculate traffic potential
Find and analyze top-performing content
Monitor ranking and compare them over time
Conductor is a very powerful SEO tool that uses a combination of SEO marketing and content marketing platforms. This allows users the ability to improve their SEO results by making necessary changes.
The platform has custom reporting capabilities as well as detailed competitor data feedback that you can look at and use to your advantage.
The design is very user-friendly as well, which means even if you are a newbie to the world of SEO, you should have no issues using it.
Conductor offers a free trial, like most of the SEO tools on this list. Test it out for a while before committing.
One other thing of note is that pricing for Conductor is actually customizable. You will need to contact them to get pricing info and discuss what all you are looking for.
Features
Integrates with Google Analytics, Search Console, and Adobe
Allows users to track competition
On-page editor to make content changes on the fly
Chrome extension available
Supports paid search and organic search
Keyword research and tracking tools
Track SEO results over time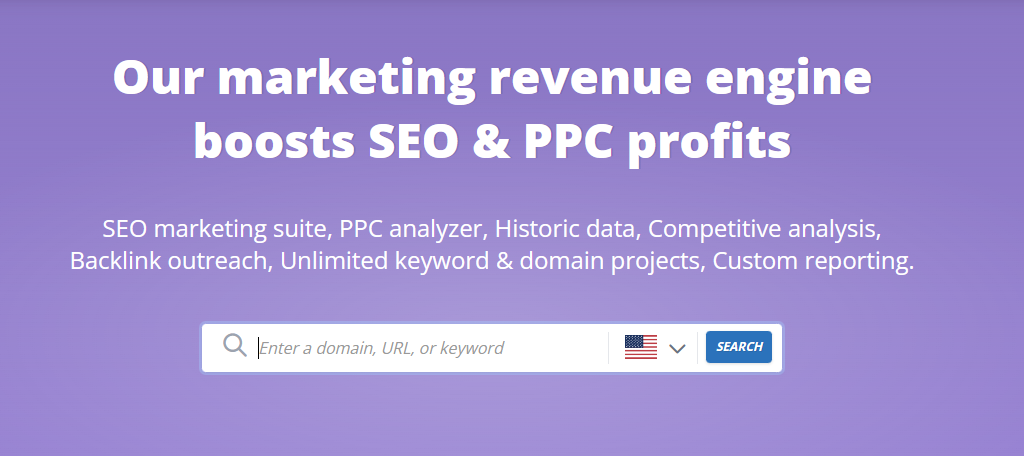 SpyFu makes our list because it is probably the best SEO tool to use when it comes to competitive analysis. Basically, this doesn't act as an all-in-one tool, but it does offer the very best competitor analysis out of all the systems on this list.
The name kind of says it all. It basically allows you to spy on your industry rivals (legally) when it comes to their SEO practices. The SpyFu tool can really give you a leg up on the competition if you are able to leverage and use it the right way.
The best thing about SpyFu is that they give you access to all the data they uncover no matter which level of their services you sign up for.
If you are looking for a competitive edge in a niche-specific industry, then give this platform a look.
Features
Determine competition keywords and how they rank
Discover organic keywords on a competitor's site
Find out how many clicks per day, week, or month a site gets
Investigate what Google Ad campaigns are being run
View past ranking history
Utilize Adwords templates
Ongoing site monitoring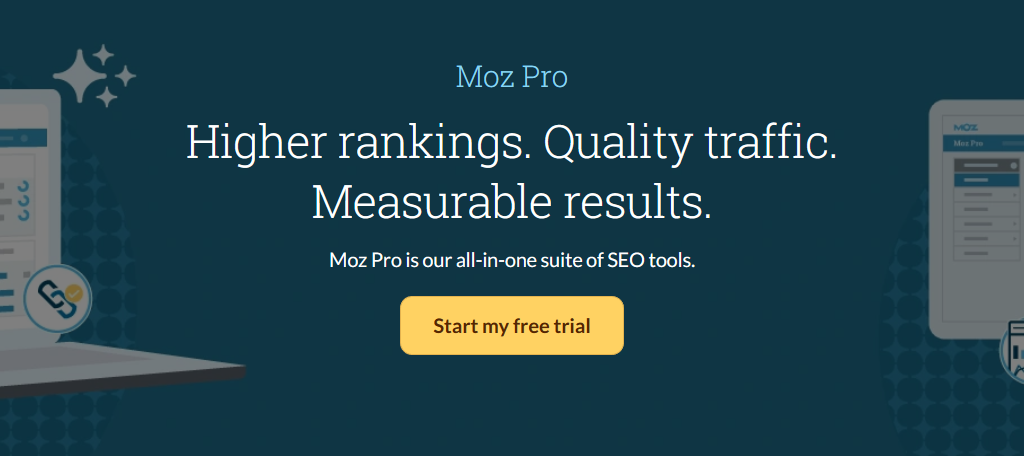 When it comes to names in the world of SEO tools, it doesn't get much bigger than Moz. They are a recognized and trusted name, and they have been around for quite some time. Still, even with all that notoriety, a platform still has to provide excellent tools, and Moz does exactly that.
The software comes with a very user-friendly layout. With keyword research and tracking built-in, the product gives you everything you need to get your website search rankings up.
There is also a really nice competitor research page that can be utilized, as well as page view tracking rules. Moz continues to bring value to the SEO market, and its platform remains in the discussion of the best SEO tools out there today.
Features
Discover and prioritize the right keywords
Find website SEO errors
Get suggestions on how to fix all errors
Trace keyword rankings over time
Improve your link-building strategy with the link research tool
Gain insights on competitors that are very valuable
Custom reports and gathered campaign data
Another fantastic web-based SEO tool to consider is Searchmetrics. The platform is packed with great features and is very well-priced. Users will have the ability to improve all sorts of SEO-related content.
With Searchmetrics, you can improve search engine optimization, web content, and website performance all in one place. Not only are a ton of great tools provided, but the platform also integrates easily with third-party apps.
Some of the notable ones include Adobe, AT Internet, IBM, IntelliAd, and Webtrends.
The reporting tools will show you a lot of helpful and valuable data, including providing you with some really great visual graphs. It will take a little time to learn the interface, as it is not quite as intuitive as some of the others on this list.
Features
SEO crawler that can help spot errors
Set up custom crawls to monitor a website regularly
Includes a "Research Cloud" tool
Find relevant topics to help with content strategy
See what keywords competitors are ranking for
Use built-in linking tools to improve backlink strategy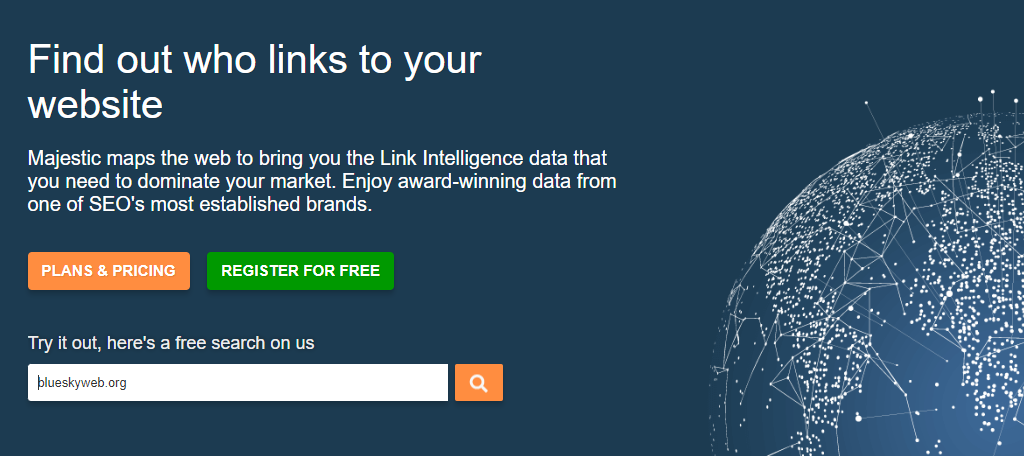 When it comes to SEO, it isn't just how you write content, it's also about how you link to other websites and how they link to you. These links add authority and if more websites link back to you, it makes search engines think you are an authority.
One way to keep track of this information is to use Majestic.
This tool allows you to see all of the links that lead back to your website. It also displays the weight of each link, which in simpler terms, means how important each link actually is.
You can use this information to see what links are the most successful and try to collaborate with websites that could help add more backlinks to your own website. Thus, adding more authority to your website, which increases your rankings.
Features
See the trust rating of the website that links to your website (a more trusted website gives you more authority)
Discover link potential by viewing sites that link to the competition
Upload a million websites at once via CSV files
Import the data to your spreadsheets
Compare links based on a variety of filters like category, language, and more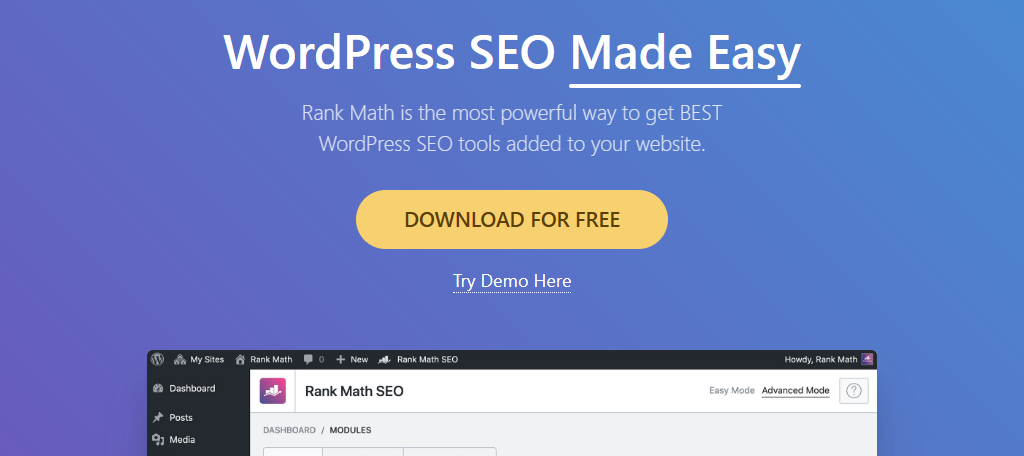 Do you want to receive SEO insights while writing your content? If so, then there's no doubt that RankMath is the best SEO tool for you. It helps you optimize titles, metadata, and much more in real time.
Of course, this is only one aspect of this tool.
You'll also gain access to more advanced analytics that you can view directly from your WordPress website. This includes how well the keywords that you are using are ranking.
And unlike other SEO tools, this plugin was built for speed. This ensures your website runs as fast as possible, which also helps improve your SEO efforts. Overall, it's a terrific addition to any website.
Features
The setup wizard is easy to follow
See a rating of every post and page in real-time
Import Schema from other websites
View a history of a page's rankings
Integrates with Google Analytics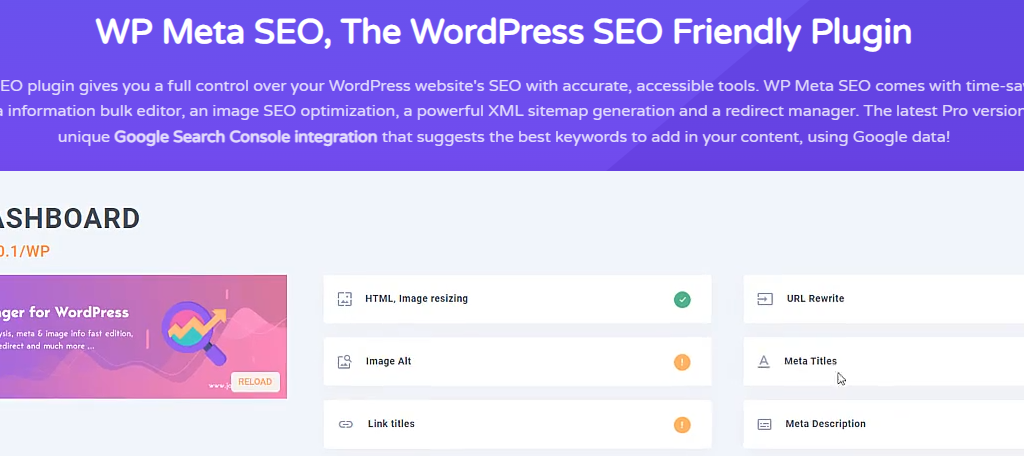 If you are making widespread changes to your website, managing the SEO of every new page or updated page can be a tall order, especially on larger websites. One way to ease the burden is to use WP Meta SEO.
This is one of the best SEO tools for developers looking to redesign their websites.
This is all thanks to its unique bulk editor, which as the name implies, allows you to manage SEO properties across the entire site at once. This can help you save time, as it avoids you having to constantly go from page to page making the same changes.
There are also a variety of other useful features like a full redirection manager, or the ability to integrate with Google Search Console to get keyword ranking data. It's a comprehensive tool that website owners should take advantage of.
Features
The dashboard summarizes all of the SEO data for you
Create a sitemap to submit to Google
Gain advanced image SEO tools
Integrates with major plugins like WooCommerce
Has multiple options for local SEO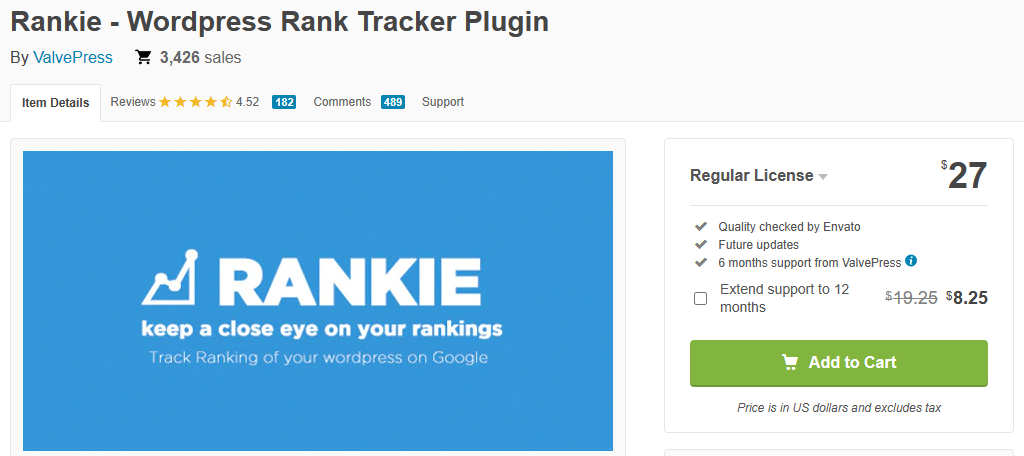 Do you want to keep an eye on your Google rankings from your WordPress website? If so, the Rankie plugin is one of the best options available. You'll be able to see all page rankings updated in real-time.
And all of this is viewable directly from your WordPress website.
As you can guess, this tool is mainly focused on SEO analysis, which may seem strange when free tools like Google Analytics exist, but being able to do it all from WordPress itself, warrants the price for many developers.
In fact, you can even use it to connect to Google Analytics from your website. If this is your goal, then Rankie is definitely one of the best SEO tools for your site.
Features
Generate ranking reports to see your progress
Research keywords from WordPress
Supports all languages
Receive reports via email
Proxy support
Main Benefits of SEO Analysis Software Tools
Truth be told, there are a ton of benefits, both individually and professionally, to be had when using the best SEO tool online. People usually think of one thing, search ranking. Rightfully so, as this is the main reason we use SEO tools.
That being said, here are some other main benefits of using SEO platforms:
Automated Reporting: The very best SEO tools should help you automate all reporting. It does this by automatically pulling data points for you. You should also be allowed to set up custom reports and see almost any type of data you want.
Higher Search Rankings: SEO tools are considered by many to be good for one specific thing, better search rankings. The best platforms allow you to build an SEO strategy that has a lot of different uses built in.
Along with the main keyword research tools, things like website improvements, quality backlinks, and a social media campaign should all be incorporated.
Higher-Quality Website Traffic: Last but definitely not least, the best SEO tools will help your site connect with your target audience. This means targeting the right leads, which leads to higher-quality organic search traffic.
What Features Are a Must When Choosing SEO Tools?
As is the case with anything, not all SEO software is created equal. The one you choose is going to be based on what your personal preferences are, along with what tools and fictionality are best for your situation.
With that being said, some of the must-have features you should look for when making your decision include:
Keyword Research Tools
Reporting Features
Competitor Analysis Tools
Link Management Tools
Website Monitoring Tools
Get all this in one place, and you will definitely be on your way to better search rankings.
Are Free SEO Tools Worth Using?
When it comes to plugins in WordPress. they can always be broken up into two categories. Free and premium. While this list has looked at the best premium SEO tools, it's worth considering the free tools.
In many cases, free SEO plugins and tools work well and can help get your website into shape. They are usually one of the best options for newer websites on a budget. That said, the money spent on SEO plugins is well-spent.
At the end of the day, a website that gets no traffic isn't much of a website, to begin with. That's why prioritizing your spending on tools that can improve your website's SEO or online exposure (marketing) is one of the best ways to spend money.
Conclusion
With all the available SEO tools out there today, it can be tough to make an educated decision. You can't go wrong with any of the platforms on the list above.
All of them offer solid features and can get you on a path to better website rankings right out of the box.
There is something important I want you to remember. In this specific case, picking the best SEO tools for your situation does not necessarily mean picking just one tool. Try starting with one of the all-in-one tools from the list above and see how you like that.
You may need (or want) to integrate that platform with another and combine tactics. Whatever the case may be, when it comes to SEO, the landscape is ever-changing.
It is a good idea to always try and be one step ahead of the game.