Online collaboration software has been playing a key role in many businesses for a long time. However, with more people switching to a remote style of work, online collaboration software is as important as it has ever been. Let's explore some of these collaboration tools together.
In order to choose between the best collaboration tools available today, you first need to have a place to start. The list below will act as a solid starting point for your search.
Let's dig right in.
What is Collaboration Software?
Collaboration software is something that is changing the entire landscape in regards to the way people work and communicate. These types of collaboration platforms are built to help people that are not in the same vicinity get work done together.
Yes, there is email, voicemails, and texting, but why should someone have to access this every time work is done or part of a project has been completed? Online collaboration software allows businesses to collaborate and communicate with their entire employee base, all in one place.
It does this by providing a suite of tools that can be used for communication and updates.
The very best online collaboration software comes with a lot of features and functionality, allowing all the right people to have all the access to the assets they need most.
These types of productivity apps really push online collaboration to the next level and enable smooth and critical functionality for remote teams. This means that businesses can feel more comfortable about their remote work employees, as plenty of access to collaboration tools can be given.
The Best Online Collaboration Software
It should be surprising to no one that monday.com is at the top of this list. Simply put, they are one of the best, if not the best, online collaboration tools available. Instead of having to check email, Slack, Salesforce, and Excel just to track down information about one project, you can collaborate and put everything into the platform.
monday.com helps teams stay in-sync no matter where they are. Whether your employees are working in the office, from home, or from across the globe, this platform helps everyone easily manage projects together.
The platform is visually stunning and fairly easy to use. It can be customized to present what works best for your specific team. Things like automated data entry, workflows, and other repetitive tasks can all be handled easily in the platform.
Features
Free trial with no payment details available
Pre-designed templates
Multiple projects in one place
Check all progress using a mobile app
View projects in calendar mode
Assign new tasks at any time
Automate workflows without coding
Integrate all apps in one place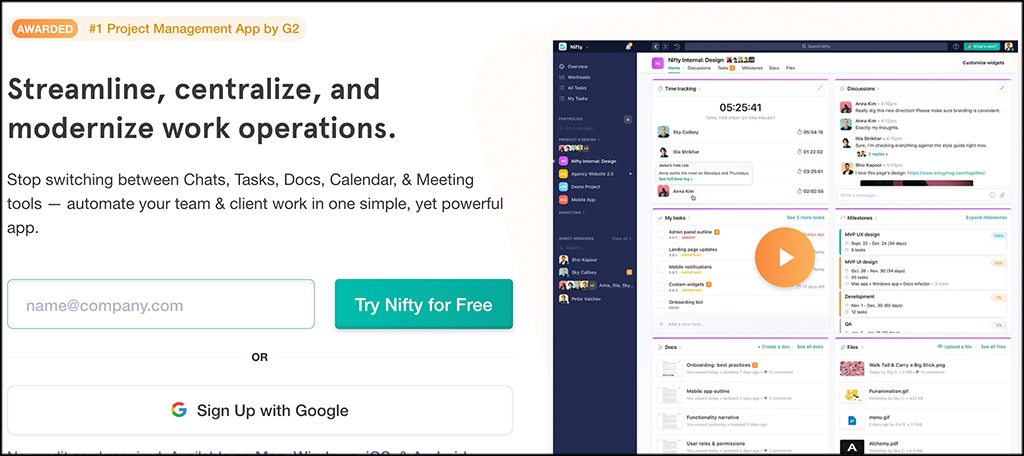 The award-winning Nifty is a project management tool that helps close the gap between communication and action. It aims to serve as a true all-in-one remote office platform and may be exactly what you are looking for.
The platform is packed with project management tools and group messaging systems that are second to none. If you are looking for the perfect balance between planning and execution, then Nifty may be right up your alley.
Features
Build roadmaps with "Nifty milestones"
Timeline, Kanban, List, and Swimlane views allow employees to visualize their work in the way that suits them best
Full tagging features across all platform apps
Built-in docs and presentations
Overviews and workloads
Project discussions in team chat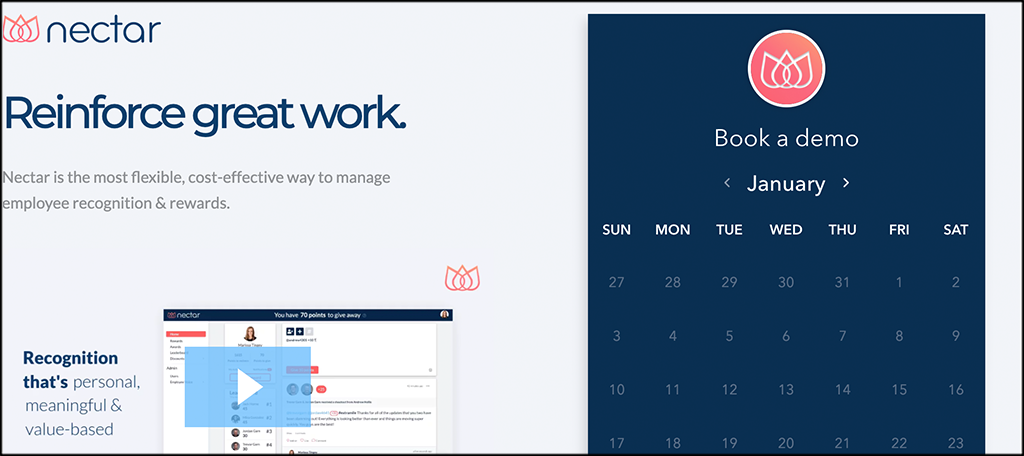 Another one of the best online collaboration software tools is Nectar. The platform was built to create a simple, easy to use, standardized way for organizations to give out recognition and help employees better themselves.
Peer-to-peer recognition is a high priority on the Nectar platform. Nectar not only allows businesses to conduct a fantastic workflow and keep everyone on the same page, but it also allows managers to keep morale up, keep teams connected, and promote company core values.
All-in-all, this is a solid and unique collaboration tool.
Features
Connect with other important tools like Slack and Microsoft Teams
Robust awards engine

Pay for active users instead of per employee per month
Free tier is available to use
Seamless online working environment
Asana is an online collaboration tool that specializes in workflow management. That being said, it also provides task management with extreme detail and functionality. It does incorporate a new timeline feature, but it should not be confused with full-blown project management software.
While it does come loaded with features to help with task management, there is no native time tracking or other advanced tools we would expect to see involved with a full project management system.
However, when it comes to managing tasks and workflows, you will be hard-pressed to find a better collaboration tool than Asana.
Features
Flexible design
Modern and fast user-interface
Free version available
Feature-rich
New and improved timeline view
If you are looking for a collaboration tool that focuses on a smooth, simple, team chat solution, then Chanty will be worth a look for you. The collaboration features are easy to use and pleasant to view.
The platform allows an unlimited message history, along with a selection of apps that are designed for team-building and transparency.
At its core, Chanty is actually a slick messaging tool for businesses, that also enables teams to complete projects, activities, or tasks at a much faster pace. The platform allows you to consolidate everything into one place, so definitely check it out.
Features
Unlimited searchable message history
Built-in task manager
Simple, clean, smooth interface
Easy to get started and easy to use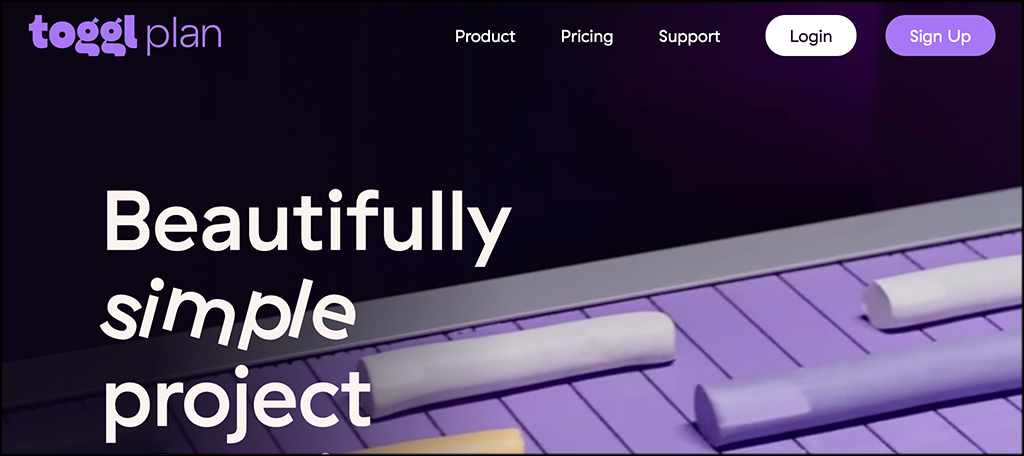 If you are a manager, stakeholder, or team member with a vested interest in how everyone can come together and collaboratively plan and deliver projects, then Toggle Plan is worth a look. The system uses color-coded visual overviews that make communication and management transparent and easy to follow.
Easily plan work based on availability and workloads per your team members. Give your team visual and stunning cues and notifications about what is coming next in a project.
Team members will also be able to work together on tasks, as well as share ideas and files seamlessly throughout the platform. Toggl is very unique and easy to use, so give it a look.
Features
Basic plan is always free
Improve work clarity
Detailed, color-coded project plan timelines
Set milestones and track progress
Manage team availability
Time-tracking integrations with Google Calendar, Github, Slack and Toggl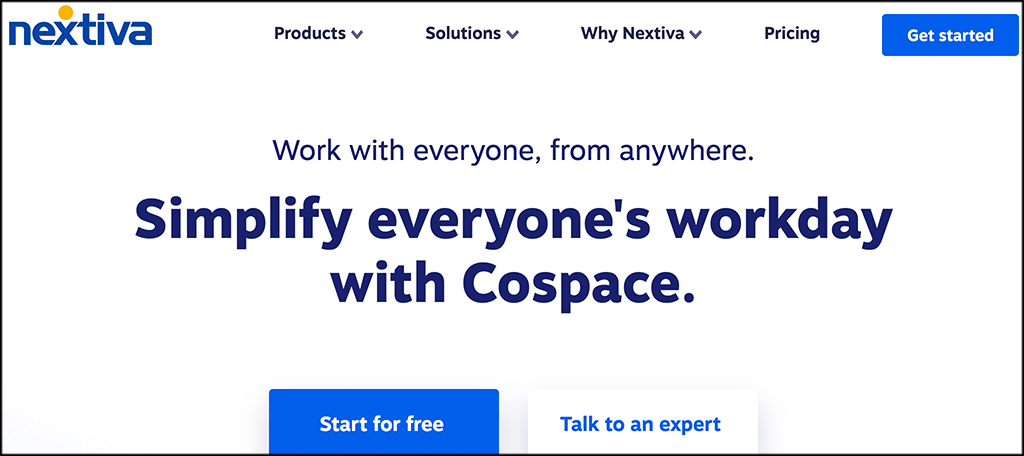 Another one of the best online collaboration software platforms in Nextiva. While they do have amazing collaboration software as part of their platform, they excel in the field of business phone systems.
Basically, it is built to allow businesses to use just one robust online platform (and one service provider), that allows you to deliver and manage reliable phone service to employees no matter where they are located.
Nextiva was built to help companies overcome the remote communication barrier. The system will allow you to easily manage call traffic over the Internet, establish a cloud-based call center, and provide you with top-notch customer service.
Features
Free trial period
eligible, cloud-based VoIP
Streamlined Control Panel
Single platform management for phone, email, chat, SMS
Security monitoring and protection
Automations and integrations
Physical phones available upon request
The Filestage platform allows managers to quickly and easily review content with their team and clients. The user-interface in Filestage is clean and easy to use. It is an intuitive tool that allows users the ability to collaborate in real-time, both internally and externally.
The best thing about Filestage is that it gives clients the ability to interact as well, making them feel more comfortable about the project review and approval process.
Features
Manage all project members and clients
All-in-one platform

Review videos, images, and documents
Timestamped
Document approval from everyone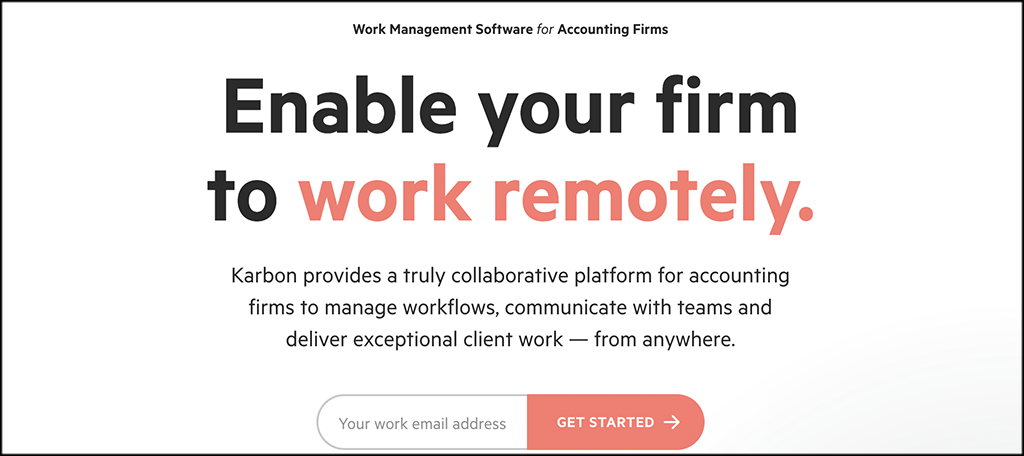 Rounding out our list of the best online collaboration software available today is a platform called Karbon. This is a work-management platform for accounting firms and other professional service businesses.
Manage workflows, communicate with the team in real-time, and work with everyone to deliver the highest quality work for a client. With Karbon, you have the ability to combine email, internal discussions, tasks, and powerful workflows all in one place.
Since your entire team can collaborate, increased visibility and efficiency are right at your fingertips.
Features
Integrated email
Automatically compiled activity timelines
Lots of task automation
Extremely robust
Feature-rich
What to Look For
Most online collaboration software is closely related when it comes to what they provide. As a matter of fact, these tools can be broken up into other productivity tools. These include:
Business communications like VoIP
Community platforms
Cloud storage
Project management software
Online office suites like G Suite
Many platforms include collaboration features. However, a lot of them like to focus on one of the productivity tools above, and then add on other apps. The one you choose to go with will depend a lot on what exactly you are looking for in a platform.
Be sure to double-check that the platform you chose has all of the most important features. Make sure and look for things like:
Integrated messaging
Live chat
File comments and sharing
Group chats
Privacy and access settings
Conference calling
Video chats
Screen sharing
Project-based conversations
As long as all of the above functionality is there, then it is a matter of simply picking the one you like best.
Online Collaboration Software FAQs
Do you still have a few questions when it comes to collaboration apps? Here are common ones that many people ask. You may be able to find your answer right here.
What is an Online Collaboration Tool?
We dug into this a little above. However, more simply put, online collaboration tools and apps are web-based platforms and technologies that help teams connect, no matter where they are located.
The best collaboration apps will allow full teams to communicate, share project status, delegate assignments, create seamless feedback loops, and more.
What Can Online Collaboration Tools Help With?
What makes even free collaboration software so attractive is its ability to keep everyone in the loop very seamlessly, even when they are scattered throughout different locations and timezones.
The tools that are provided allow everyone to easily see and communicate about ongoing work. As a result, transparency keeps everyone up-to-date with information.
Why You Should Use Online Collaboration Tools?
In the world we live in today, businesses should use online collaboration tools no matter where their employees are. These types of tools enhance the clarity, transparency, and efficiency of work. Therefore, it helps with continuity.
How Much Will it Cost?
There is no one singular answer to this question. The amount of money you pay will vary depending on the number of results. Things like how many users will access the platform and what kinds of features you want will play a huge role in the overall pricing structure.
The fact of the matter is, one size does not fit all when it comes to online collaboration software.
Conclusion
There is online collaboration software available for just about any type of business. With the unparalleled collaboration that can be accessed using this type of software, there is absolutely no reason why most businesses (small or large) should not be using some sort of platform.
In reality, you can't go wrong with any of the platforms above, as they all provide something great.
The one you choose will be based on personal preference, as well as the actual apps you might be looking for.
The list above gives you plenty of information to use when making a final decision. Test some of the tools and see which one fits best. Good luck on your journey!