With the rising number of small businesses, as well as the expansion of bigger businesses, help desks have been created to help provide both customers and internal users with a central location for information and support for processes, products, and/or services.
There are many different help desk software programs out there. Let's take a look at some of the best.
The best help desk software will offer a singular place for businesses to answer questions and troubleshoot problems. This enables a better response time from support, as well as a better overall customer experience for the user.
What is Help Desk Software?
Help desk software is a tool that helps businesses execute a lot of core tasks. These tasks differ from business to business but are usually based on corporate best practices that have been put in place.
For instance, the ITIL (Information Technology Infrastructure Library) may be something that is used as part of the standard. The entire point of having the right support desk software is to manage in-house and customer issues as quickly as possible.
While the best help desk software can offer a number of interesting features and advantages, it still has a primary objective of keeping and restoring normal service operation both quickly and effectively.
Help desk ticketing software can be a very valuable tool if handled correctly. It allows technology teams to offer support for customers and in-house interactions in a number of ways including:
Phone
Chat
Email
Social Media
Help Forums
Let's take a look at some of the best help desk software out there today.
Best Help Desk Software
Regarded by many to be the best help desk software available today, Jira starts out our list because of all the things it offers. It has a nice set of comprehensive features, as well as a complex solution for internal support.
It's full of features including email to ticket support, internal ticket tracking, user ticket tracking, and automated ticket assignment. The product really makes the help desk experience a smooth and fantastic one.
Jira is also very easy to use when compared to other help desk software programs. Everything you need is located in one place. Further, the dashboard is smooth and all ticketing is neatly organized through colorful menus.
Pros
Highly configurable workflows
Track tickets easily
Provides service updates
Over 1,000 integration options
Simple design
Fully customized
Good knowledge base and solutions
Cons
Pricing is higher than other vendors
Only available as a SaaS or data center product
No integrated knowledge base
No customer access through social media channels
When talking about the best help desk software out there, it is almost impossible to leave Zendesk out of the conversation. The platform allows you to easily connect with a customer on any platform you want.
Customers will have the ability to contact your business for help via phone, chat, email, social media, or website. The system is very easy to use and perhaps even more attractive, can be set up in just a few minutes.
With a state of the art ticketing system, an intuitive knowledge base, and great community forums, Zendesk is definitely worth a look no matter who you are.
Pros
Excellent ticket management options
Customizable reports
Intuitive dashboard
Flexible queries
Solid integration options
Fully functioning free trial available
Cons
Pricing is a little high
Best features are assigned to the highest-priced tiers only
No enterprise features like asset management
Freshdesk is yet another one of the best help desk software platforms available today. It is perfect for small to mid-sized businesses looking for an affordable help desk option.
The platform gives businesses the ability to easily process service tickets from external customers while at the same time providing agents with information and resources in a speedy and easy-to-find manner.
For this reason alone it makes the list.
It also features advanced automation and workflows at the higher tier levels that can be implemented and taken advantage of. Custom tickets and basic SLA management is located in the easy to use app gallery.
Pros
Top-notch gamification features
Uses a scenarios setup for better efficiency

Free tier is offered with good features
Solid pricing options
Custom ticket views
App gallery integrations
Cons
Reporting tools are not the best
Key features are only available at highest-priced tiers
Not to be confused with Freshdesk, FreshService is labeled the IT help desk software that provides all your needs. This is a cloud-based service that is modern and intuitive.
Perhaps the most attractive thing about FreshService is that it can be used by just about anyone, with little to no formal training.
It provides automated support for almost any issues raised. For instance, it can be used through a number of channels including email, a self-service portal, phone, chat, or in-person.
The tool provides a list of abundant features that make it one of the most popular help desk software tools available. Likewise, a built-in user portal, workflows, and a flexible ticketing system makes FreshService definitely one you want to look at.
Pros
Extensive knowledge base
Very flexible ticketing system
IT support tools
Award-winning lead management
Customizable workflow
Tons of integration options
Cons
Too expensive for small help desks
Feature overkill
Geared toward an internal customer base
When it comes to purely managing tickets, you will be hard-pressed to find anything better than HappyFox. While it is a little on the pricey side and does not offer a ton of integrations like some of the other platforms on this list, it is still a top-notch help desk software platform that is consistently regarded as one of the best around.
HappyFox provides an all-in-one help desk ticketing system that agents will love to work with and customers will enjoy experiencing. After purchase and installation, the product will provide you with a robust support ticket system, self-service knowledge base, and excellent community forums.
You will be able to handle all inbound ticket requests in one ticketing system that is attached to email, phone, chat, and web. With the smart help desk software and fully customizable workflow experience built-in, HappyFox is a simple yet powerful help desk software platform.
Pros
Ticket management is top of the line

Asset management functionality

Highly customizable

Self-service knowledge base
Cons
Missing key integration points

No free tier available

Priced above some of its peers
Another one of the best help desk software platforms out there is probably a name you are familiar with. Zoho Desk gives businesses the ability to offer 24/7 customer support without having to have a global team.
The platform allows you to deliver consistent, quality support to your customers. It doesn't matter what type of product or services you are selling, the platform has you covered.
The ticket center is easy enough to use and understand. And the Zoho name has been around for quite some time in many different aspects.
So, this is definitely ideal for smaller companies that want to deliver a platform that can grow with them. In addition, the platform constantly adds abilities and features and is priced very fairly. Give this one a shot if you want something simple to start with the ability to expand as much as is needed.
Pros
Easy integration with the vast number of other Zoho products

Highly configurable

Easy to manage

Very fairly priced

Easy to grow and expand
Cons
Limited gamification

Dashboards are a little harder to learn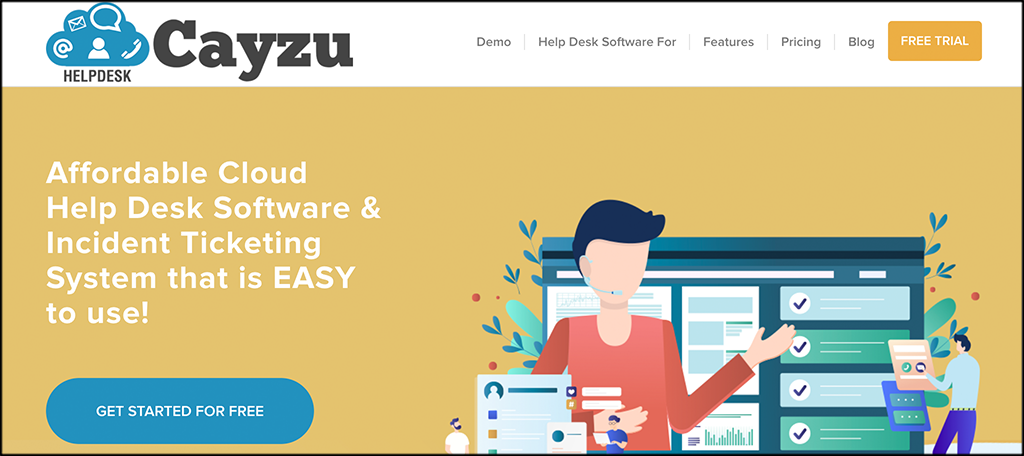 Rounding out our list of the best help desk software platforms available today is one called Cayzu. This platform is specifically built for smaller businesses and startups.
They offer a solid set of features and really good third-party integration options. Cayzu also provides a very nice price, which is why smaller businesses are so attracted to it.
If you want enterprise-level capabilities, this is probably not the help desk solution for you.
Configuration and setup are easy. Also, adding agents, configuring all your branding, and adding topics to the self-service portal is all breeze.
This platform offers tools that help save time because customers can start tickets through a web form, customer email, or even through social media such as direct messages (Facebook Messenger).
Moreover, the ticketing system is easy to use and the platform is not hard to manage or understand.
A fantastic choice if you are a startup or a small business looking to get your feet wet in the help desk arena. Take a look at Cayzu today.
Pros
Handles multiple brands and products very easily

Excellent self-service portal

Google analytics integration

Very fairly priced

Free tier for small teams

Easy to use
Cons
Automation tools are lacking

Not as comprehensive as other platforms

Does not support custom reports
Key Features to Look for in Help Desk Software
The list of help desk software above gives you a lot of different companies that offer an excellent product. You can see by the information given what all of them can and can't do.
What one looks for when searching for the right service desk software may differ from company to company based on what is needed. However, there are a few things everyone should look for when making a choice of which help desk software to chose and implement into a business.
Ticket Management
Ticket management helps prioritize, categorize, and assign tickets to the correct agents. This is a key feature of most support desk software and should be a priority for you when making a choice. If ticket management is good, the rest of the software should fall into place.
Automation
Help desk software can help you create business workflows that will run automatically. These are usually based on triggers that are established. These types of automation workflows can be processed using pre-set rules and can solve issues based on customer classifications. This reduces manpower time and helps save money in the long run. It also negates the problem of having to deal with repetitive jobs, which can be time-consuming and frustrating.
Collaboration
The best help desk software allows team members and supervisors to easily interact and resolve issues. You can usually get a great back and forth going without losing any content that a customer has provided. This leads to a fantastic customer experience.
Customization
Simply put, you want the help desk software you choose for your business to be fully customizable. This means you have the ability to customize templates, forms, workflows, and other set responses. It is also important to have the ability to customize with a business logo, colors, emails, custom fields, and even customized SMS messages.
Analytics and Reporting
Like anything else, you want to be able to track analytics and receive important data that can help you provide an even better overall experience. The best help desk software will provide you with detailed reporting, insights, and analytics into every customer and in-house function imaginable.
Custom Views
Each department within the help desk setup you use should have its own custom view. Agents should be able to personalize and customize their own layouts. You have to remember, conditions and server operations for support may look much different than they do for managers.
Native Apps
This is a big deal in the world we live in. Do you have the ability to respond to customer service requests on the go? A mobile app will allow for this and also allow for an easier connection from a customer to the help desk when needed.
Conclusion
There are a lot of good help desk software companies out there. However, it can be tricky knowing which one to go with, or where to even start your search. You simply can't go wrong with any of the ones in our list above.
All of them provide you with all the features you need to implement and provide a solid help desk experience to customers. As a result, there is a better chance of returning business.
Take a look at a few of them. Compare, even try the free trials where you can. Once you do this, odds are you land on one that will fit your business perfectly. Good luck with your search!