Logos are important. When starting a new business or looking for a new logo, it's become common to use a free logo maker.
It makes sense since professional designers are expensive. Most of us may be able to hack something together in Photoshop, but the results may not always be…impressive.
In 2008, Pepsi spent a million dollars on a new logo. In more recent years, British Petroleum, Symantec, BBC, and others have eclipsed that number rebranding with new imagery.
Rebranding involves more than just a new logo, of course. But the astronomical amounts companies are willing to spend reflects the importance of a brand identity.
Your logo is the most visible part of your brand or company's identity, but it doesn't have to cost millions. The web has blessed us with several free logo design tools. Some let you import your own graphics as a starting point; all of them allow you to tweak fonts and colors.
And don't ignore the psychology of color when you're designing your logo. A large part of your company's message is conveyed before a potential customer reads a single word. The right colors can help you set the right tone.
Today I'm going to introduce you to 11 logo creation tools. Since they're all free to try, I encourage you to take all of them for a test drive.
They all do the essentially same thing, but they do it in very different ways. Invest a bit of time to see which one gives you the best results.
Full disclosure: yes, all of the tools listed here will help you design a logo for free. And yes, many of them will let you download your logo image for free. But to download a high-quality, editable file with no usage restrictions, most charge a fee.
The free downloads are typically PNG, JPG, or PDF files. Those are undoubtedly useful. But they're less flexible than vector formats (SVG, EPS, PDF, AI) if you want to edit or resize the image.
Okay, let's get started.
#1 Canva
I've written about Canva as a tool to create social media graphics. But Canva can create a logo for your business as well.
Canva's design tools are easy to use, and they provide a nice selection of logo templates. Choose your own colors, fonts, and graphics and download your design as a PNG, JPG, or PDF for no charge.
Canva Pro offers slightly more flexible download options, like PNG with transparent background. But they don't provide any vector formats. However, there is a 30 day free trial for Canva Pro should it pique your interest.
Like most of the logo designers we'll talk about, Canva bases most of its designs on templates. So it's important to have your logo in an editable format. Without the ability to edit, you risk using a logo design that's similar to one someone else created.
#2 Designmantic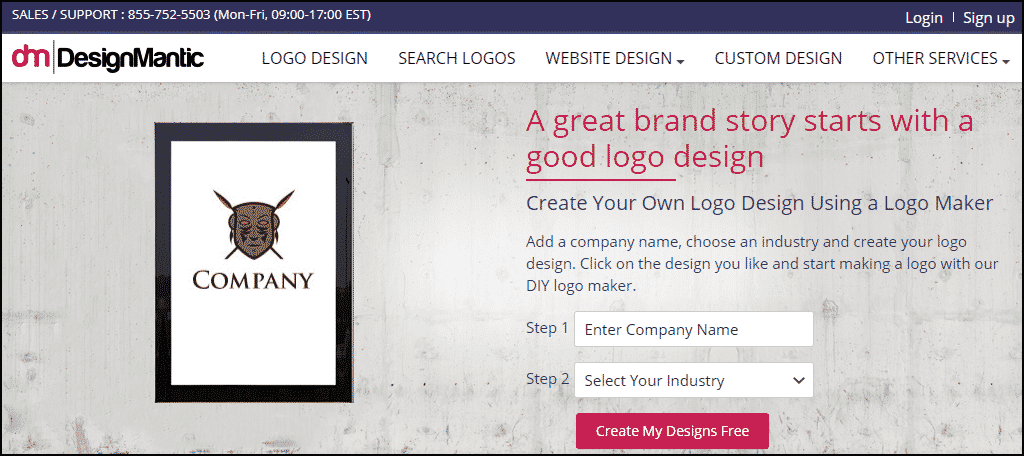 The Designmantic free logo creator is a bit limited in what you can edit. You can arrange the image and text separately if you click the "I will make changes myself" link. But it does create a lot of logos to choose from.
You'll have to create a Designmantic account to complete the logo creation process. But that's a requirement for many of the sites here. And there's no free download available.
Should you pay for the account, you get a PNG, JPG, or PDF downloads, plus a PDF vector file.
#3 Logotype Maker
Logotype Maker gives you access to more than 200 fonts and 1,000 templates. There are thousands of vector shapes that you can use in your logo design. The editing options are among the most flexible and complete of any of the free logo tools.
The fee is fairly reasonable to download a 300dpi PNG or JPG. The price jumps more than twice, though, if you want a vector file download. But that price includes a year of access to edit, change, and download the file, which differentiates Logotype Maker from many of the tools here.
#4 Looka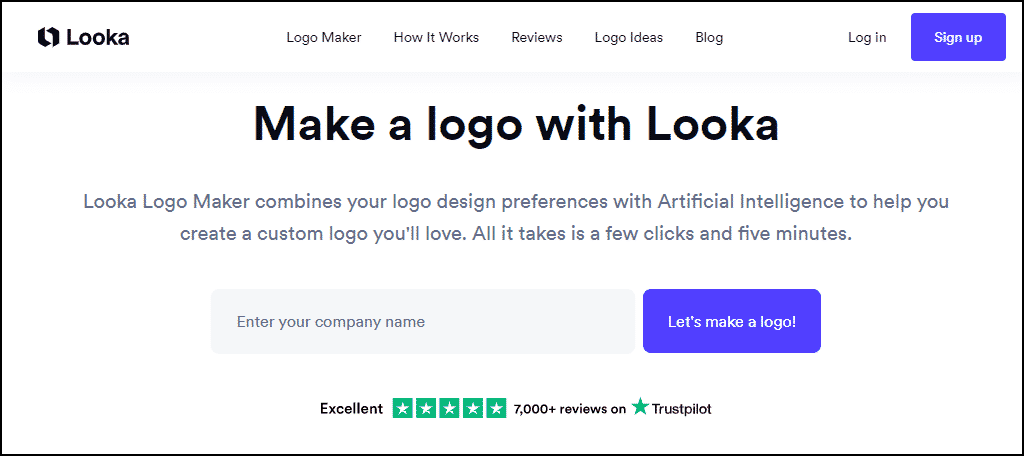 Looka has the most modern feel of any of the free logo creators. You start the process by choosing some logos you like, then the colors you prefer. A cool feature is that they include some color psychology tips in the color selection process.
Once you select the style, colors, and icons you want to use, the site generates about a dozen logos based on your specifications. From there, you can customize by changing the font size, colors, and any icons or images included in the logo.
Downloading a low-resolution logo file is cheaper than some of the others on this list. And a high-resolution vector file is comparable in terms of price.
One plus for Looka is they let you download a (watermarked) sample of each file so you can compare.
#5 Brandmark
Brandmark is another logo maker with a modern interface. Though, the horizontal scrolling and mystery navigation may drive you crazy.
The designs it comes up with are distinct, however, so you won't likely create something similar on another site.
A basic PNG logo isn't all that expensive to download. The upgrade to a vector file is about the same price as you'd see on other tools in this list. There's also an "Enterprise" option.
Unfortunately, I couldn't read the dark text on the dark background, so I don't know what Enterprise offers.
Can you tell that I was annoyed with this site? 😉 The user interface is hands-down the worst of the bunch. But I include the site here because their unique designs may be worth the trouble.
#6 LogoMakr
LogoMakr doesn't do any logo creation for you. It's a tool that you can use to build a logo by selecting images, text, colors, and fonts. You have to start from scratch, but the tools are easy to use, and they work well. Once you get the hang of it, LogoMakr is an extremely flexible system.
Not the easiest to use free logo maker online, but unlike some others, there is a free download available. It's a PNG file, and to use it, you agree to credit the LogoMakr site.
The price for a high-quality vector file is among the lowest in this list, though. And if you buy multiple logos, the cost per image decreases.
#7 Online Logo Maker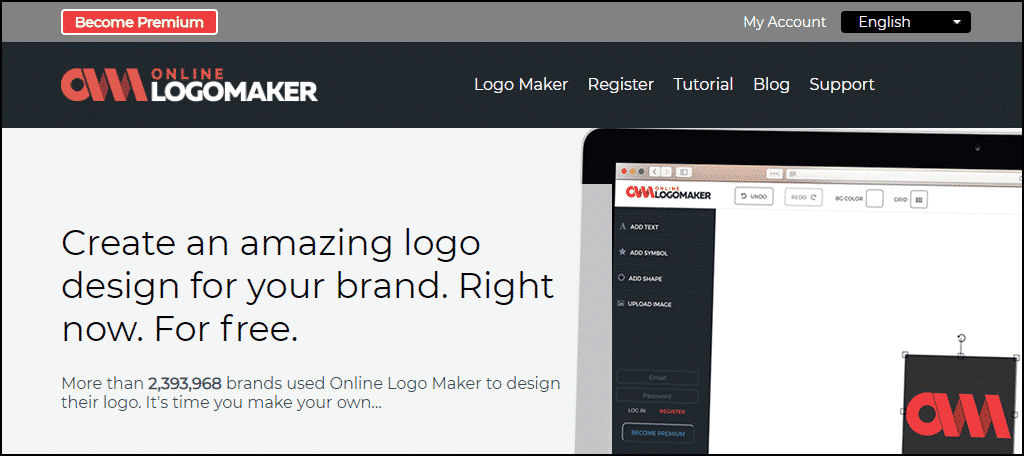 Online Logo Maker is fast and easy with a good selection of templates and fonts. You can use their images and icons or upload your own. Even with a free account, you can save your design and come back to it at a later date.
That's a nice feature.
Online Logo Maker offers a free (low-resolution) download "intended for personal-use, hobby groups & clubs, and non-commercial organizations use only." So it isn't appropriate for a business site.
The free download will cost you your email address since they send the file to you.
An upgrade to Premium buys you EPS and SVG vector image downloads for a bit more than some of the others on the list. The site calls that a special price for today only, but I suspect it may still be there tomorrow.
Premium also allows you to come back any time to edit your logo if you want to make changes online.
#8 Free Logo Design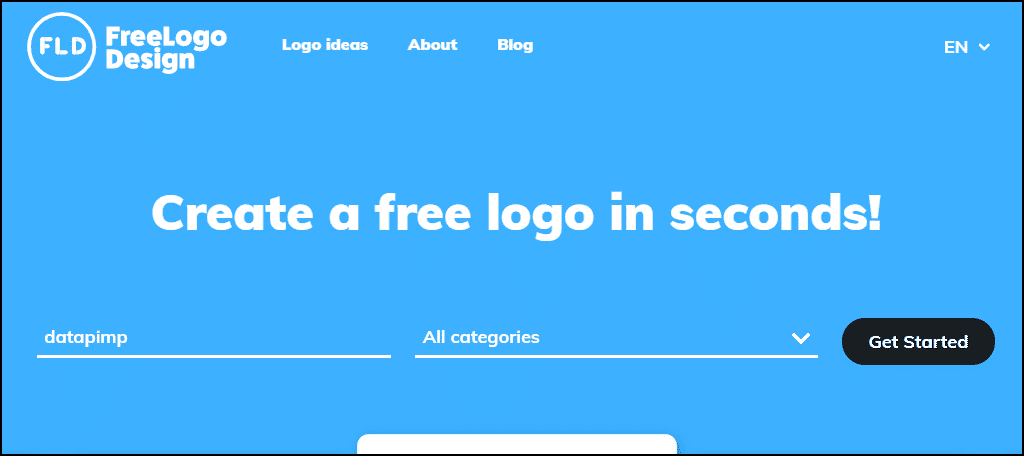 Free Logo Design offers a unique and addictive shape-based editor. It allows you to alter certain parts of some illustrations, rather than just changing the overall size of the illustration.
Not something I saw in any other free logo maker.
The free download is a tiny PNG file. A high-resolution or vector version of your logo is much higher than a lot of offers from alternatives. For an additional fee, you can get their "Black & White" option, with versions of your logo in light and dark backgrounds.
You probably don't need that option since you're getting a vector image. But if you don't like to mess around with graphics programs, it may be useful.
#9 Graphic Springs
Graphic Springs is a basic logo creator and editor. But if you want to get in and out quickly when you make your own logo, it could be a good option. It does have a decent library of shapes and symbols.
There should be something here for everyone.
One of the pricier options, with the least expensive download being a JPG for a comparable fee. But a vector file requires an upgrade to Pro with a monstrous fee that puts it one of the most expensive in this list.
#10 Tailor Brands
The Tailor Brands logo maker presents you with more preference choices before generating sample logos. That made it feel like the samples were more carefully constructed. And I'll say that the logos it came up with did feel closer to my mark.
The download options are more extensive than many of the other free logo maker sites here. One nice thing they offer is graphics specifically sized for various social media platforms.
The high-resolution downloads were only JPG and PNG for a substantial cost when compared to others. To get an EPS vector file download, the price climbs quite high. And the prices are for a yearly subscription to the site.
You keep your logo even if you cancel the subscription, but it is another payment to keep track of.
#11 LogoMaker
LogoMaker has been around for a long time, and according to their website, they're trusted by over 20 million businesses. That's a lot of logos. I wasn't crazy about the logos the site generated, but art is subjective.
There's also a lot of hard-selling going on there, but if you can look past that, they might have something that interests you.
Unfortunately, there's no free download. But it has a paid option for a package including multiple sizes, versions, and vector files.
Though, unlike any other logo maker we're covering here, they offer a free domain name when you buy a logo. That's unusual, and I couldn't find any details about the offer, so take it for what it's worth.
Bonus suggestion: Zillion Designs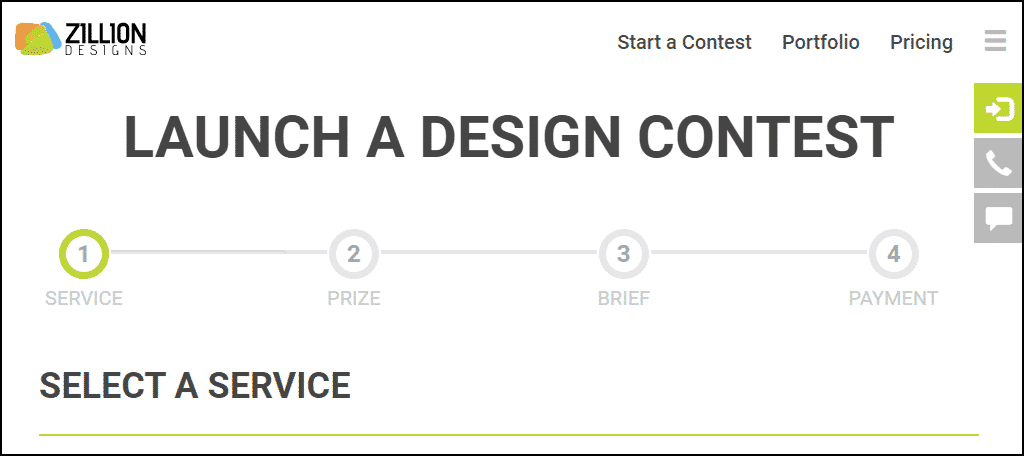 Zillion Designs isn't a logo design tool; it's a tool to create a logo design contest. Prices start at $199, so it's far from free. And of course, the more considerable the prize amount you offer, the more professional designers you'll attract.
But even at the minimum price, there's more significant potential for a design that isn't as cookie-cutter as some tools.
Along the same lines, you might try sites like Upwork or Fiverr to find an affordable freelancer.
Your Logo is Important!
However you go about your logo design, don't settle for something that doesn't convey the feeling that you want for your company.
Make sure you spend some time reading up on color psychology I mentioned near the beginning of the article. And always take a day or two to consider (or sleep on) any logos you come up with.
Design-by-committee doesn't usually turn out too well, but do run your designs by friends or other objective viewers. Often, fresh eyes will see something you missed, or point out ways to improve.
Don't get so wrapped up in details and technicalities that you forget to have fun creating your new logo.