A Customer Relationship Management system, or CRM, is the backbone of the relationship you build with customers. As such, picking the very best CRM software to match the needs of your business is a priority.

However, over the years, there have been a lot of CRM tools to choose from. This often makes the choice very difficult to make. Luckily, we have combed through multiple pieces of software to find you the best CRM software to match your needs and price range.
What is CRM Software?
CRM software is any form of technology that helps a business manage its communications with both current and potential customers. They can log the communication between employees and customers, create chatbots, track employee activities (i.e how many customers they help), and much more.
While a new business may be able to survive without CRM software for a bit, it is almost a requirement as your business grows.
This is because customers want and need to communicate with your business, and keeping proper logs is an essential part of doing business. This is also an extremely effective way of monitoring your employee's performance.
After all, bad customer service can end a business before it even gets started.
Here are the 8 best CRM software of 2020:
The Best CRM Software of 2020
1. Hubspot
Starting off this list is perhaps the most well-known CRM software, Hubspot. Unlike many of the others on this list, you can start using Hubspot for no cost at all. But as your business grows, you will undoubtedly need to use the premium version.
And let me assure you, it's well worth the cost.
However, that's not to say the free version is anything to snuff at. Features you can use for free include contact management, ad management, email management, live chat, ticketing, and so much more.
The premium version simply takes these features to new levels to meet your growing business's needs. Thus, making Hubspot the best CRM for small business due to how cost-effective it really is.
Benefits of Hubspot
It can scale to businesses of any size
Perfect for brand new businesses
Amazing online training libraries
Pricing of Hubspot
It's free to start with
The Starter Growth Suite starts at $50 a month
The Professional Growth Suite starts at $1,275 a month
The Enterprise Growth Suite starts at $4,200 a month
2. Zoho CRM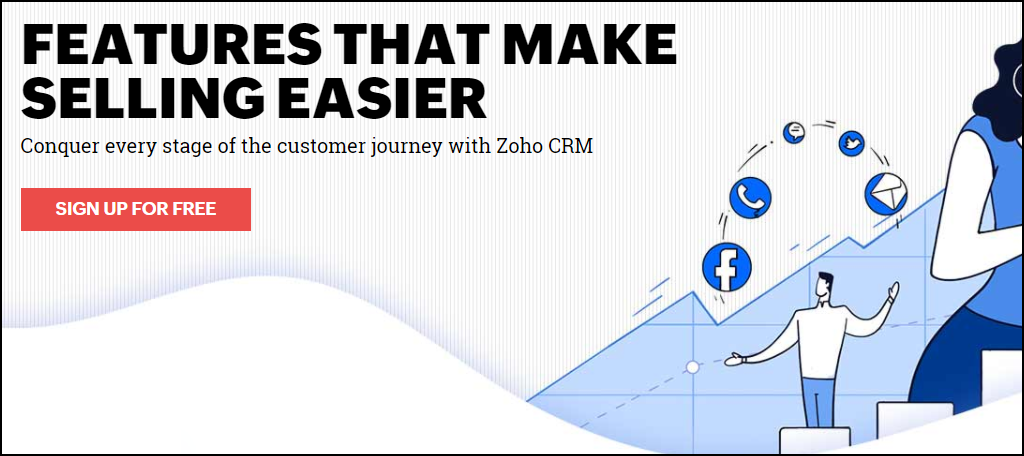 For small to midsize businesses, Zoho is one of, if not the best CRM software to use. It's even free to use if your business has less than 10 users, which makes it perfect for brand new companies to start with.
And once you see how great the services are, you will never stop using it.
It comes with a variety of necessary features that every business is going to need including workflows, bulk email support, inventory management, canvas access, omnichannel communication (email, telephone, social media, etc.), and so much more.
However, what really sets this apart from others on the list is the price point. It starts off cheap, and even its most expensive versions are still insanely low compared to alternatives.
Just take a look at the pricing to judge it for yourself.
Benefits of Zoho CRM
Awesome email marketing tools
Makes communicating a breeze on any platform
Insanely cheap
Pricing of Zoho CRM
Free up to 10 users
Standard starts at $12 a month per user
Professional starts at $20 a month per user
Enterprise starts at $35 a month per user
Ultimate starts at $45 a month per user
3. Apptivo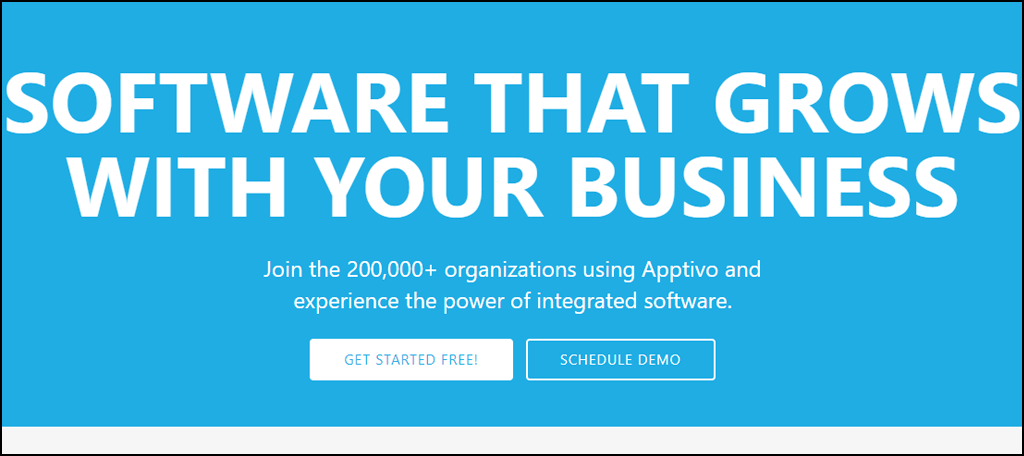 The mobile market for users has grown rapidly over the years and is still continuing to grow. As such, you are going to need CRM solutions that excel in the mobile aspect of your business, and Apptivo is exactly what you are looking for.
Trust me, your interactions with mobile users will improve tremendously.
As you can imagine, Apptivio has a lot of features for businesses to take advantage of. Some of them include integrations with other large platforms like Slack and Office 365, sales planning, lead tracking, mass email support, and other features.
The best part about Apptivo has to be its incredible mobile platform. In the past, you would need multiple mobile apps to manage all of your add-ons, but that changed in 2020. Now you can manage everything from just one app.
Benefits of Apptivo
All-In-One mobile app
Easy platform integration
An awesome interface
Pricing of Apptivo
Free for up to 3 users
The Premium plan starts at $8 a month per user
The Ultimate plan starts at $20 a month per user
The Enterprise plan is available upon contacting Apptivo directly
4. Salesforce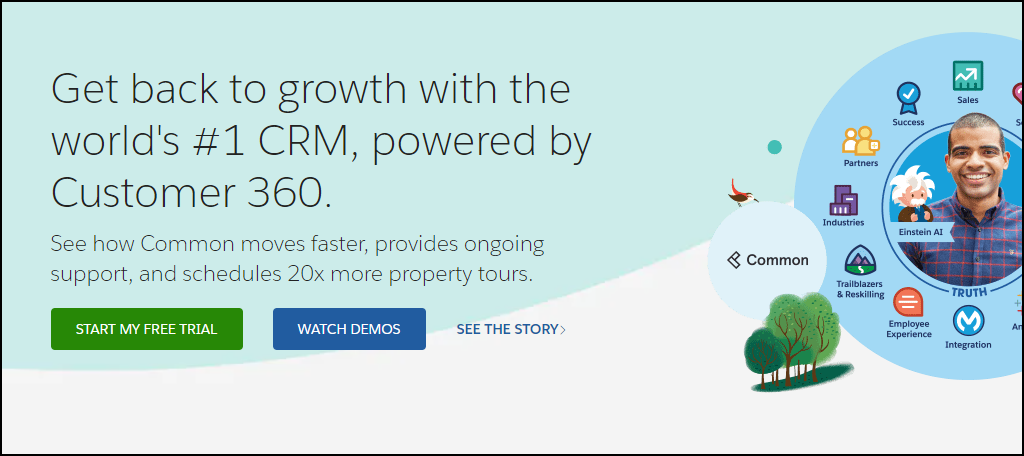 For quite some time, Salesforce has been the CRM to beat when it comes to the quality of the services it provides. In fact, it is considered by many experts and businesses to be the gold standard of CRM solutions.
And that's because Salesforce has branched out past just CRM software.
Simply listing the features does not do this service justice. Instead, you need to carefully look at what each package they offer includes as there is a lot to choose from. Each one was built to deliver a specific experience catered for specific business types.
And don't worry if you pick the wrong package, the first 30 days are free to use. This means you have plenty of time to switch to the package that your business needs. Most importantly, unlike other CRMs, you can never outgrow Salesforce.
Benefits of Salesforce
Free online training
It can scale with your business regardless of the size
The best workflow among CRM software
Pricing of Salesforce
Free 30-day trial
The Essentials plan starts at $25 a month per user
The Sales Professional plan starts at $75 a month per user
The Service Professional plan starts at $75 a month per user
The Pardot Growth plan starts at $1,250 a month
5. Less Annoying CRM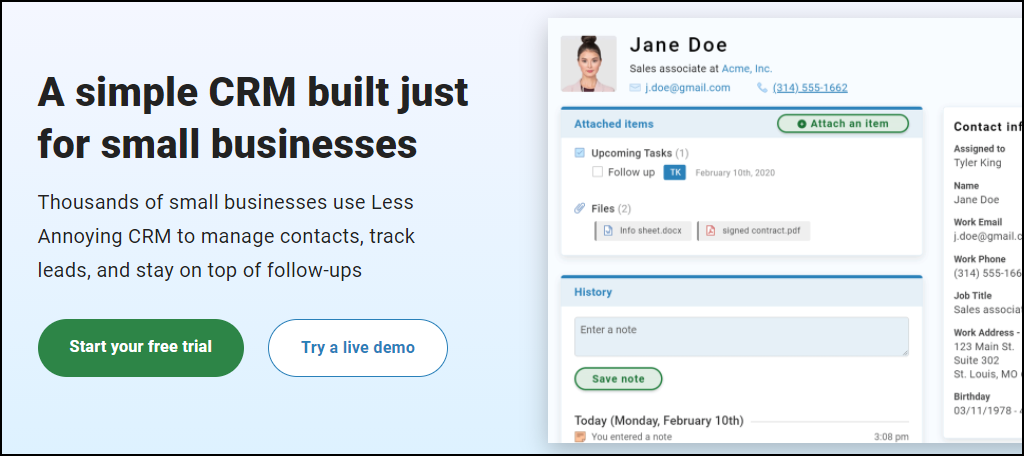 Less Annoying CRM has the best name on this list, and let me assure you, it is one of the best pieces of CRM you can get for the price point. Unlike others on this list, it is not as feature-rich, but that isn't a bad thing.
In fact, it might just be its biggest strength.
Setting up a CRM can be quite a daunting task, especially if it has a lot of features to offer a business. And as a new business, it can cost you quite a bit of time to get started. But as the name implies, Less Annoying CRM saves you from the headaches.
However, don't be fooled into thinking that this CRM is lacking. It offers essential features every CRM needs which includes contact management, leads and pipelines, mobile access, calendar and tasks, and collaboration support.
Benefits of Less Annoying CRM
No pricing tiers makes it simple to understand
The intuitive interface makes navigation a breeze
Mobile access means you are always connected
Pricing of Less Annoying CRM
Free 30-day trial
It's $15 a month per user
6. Keap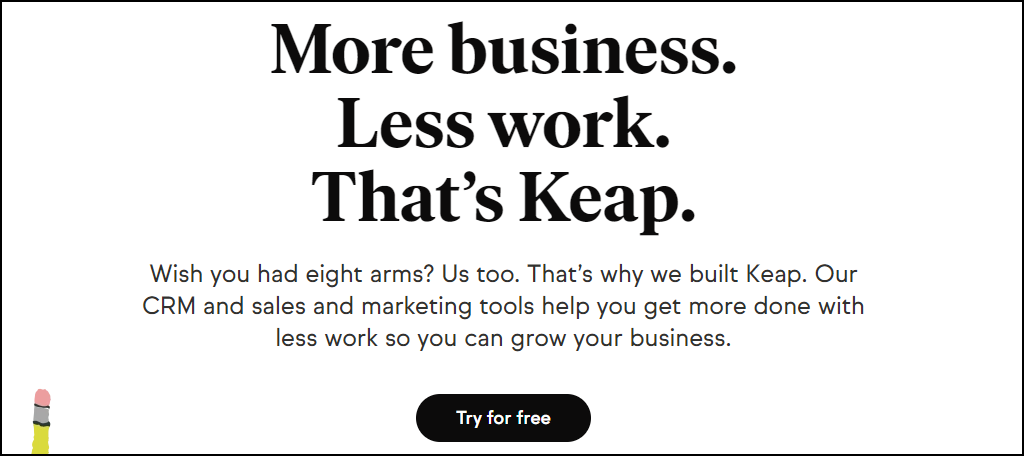 If you are not confident in your abilities to use CRM software due to computer skills, Keap is the best option available. It is, by far, the easiest CRM to use for a small business on this list thanks to its simple interface and customer support.
If you ever have a question about Keap, the 24/7 live chat will be there to assist.
Keap comes with an awesome selection of easy-to-use tools that help you get the job done. Some of the features include the contact manager, invoice payment and collection tracking, viewing all of your emails in one location (Outlook, Gmail, etc.), and much more.
The end result is an easy-to-use platform that is there to help you at every step. In fact, you can even pay for coaching to get advice from Keap experts to get the very best performance and optimization for your CRM.
Benefits of Keap
24/7 live chat support
Email integration to help organize your messages
Set up invoice payments for clients
Pricing of Keap
Keap Grow starts at $40 a month for the first three months
Keap Pro starts at $75 a month for the first three months
Infusionsoft starts at $100 a month for the first three months
7. Zendesk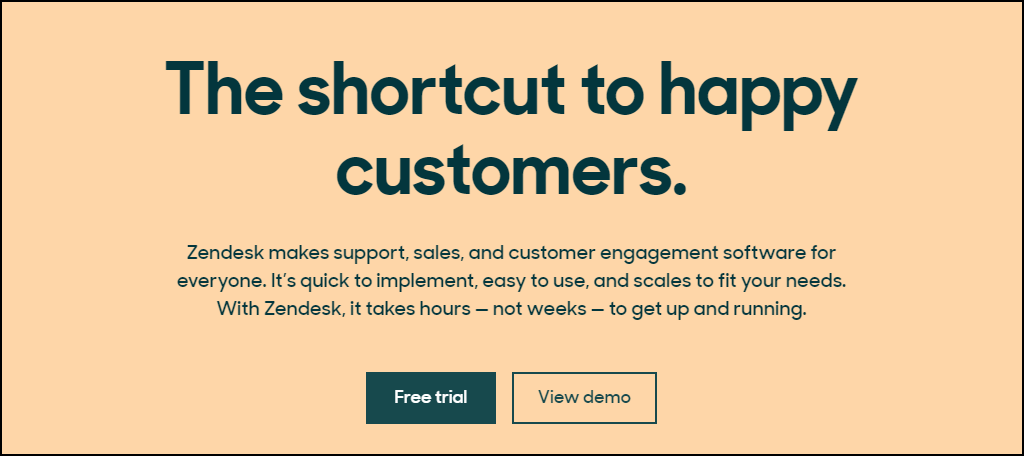 Zendesk is another great option to consider as a CRM solution for your small business. The full package is called the Support Suite and includes 4 services: Zendesk Support, Guide, Chat, and Talk.
However, you can trial and purchase each one separately.
As a result, this CRM allows you to pick and choose what your business needs, and with each service offering a free trial, you can get hands-on practice before purchase. And each one has a host of features that are perfect for getting great results.
One of the best parts about using Zendesk is its training program. You can take courses to help you learn everything there is about the platform. In fact, you can even be certified by Zendesk, which might be something to look for when hiring employees.
Benefits of Zendesk
The interface looks good on both desktop and mobile view
You have the freedom to pick and choose which services to use
Detailed training course to help you learn everything
Pricing of Zendesk
A free one month trial is available for all Zendesk services
The Professional Support Suite starts at $89 per month per user
The Enterprise Support Suite starts at $149 per month per user
8. Freshsales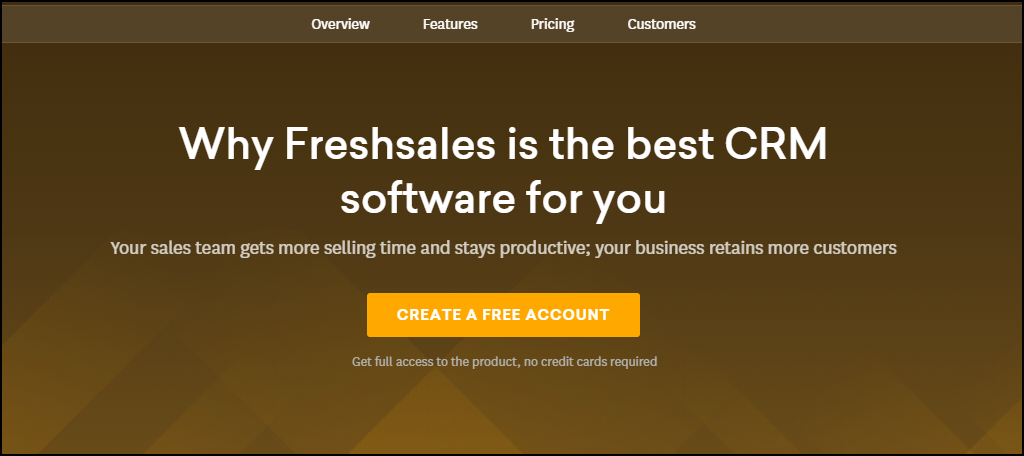 Freshales is intended for small to mid-size businesses and is easy to use, while also being quite cheap for the features it offers. It has an excellent design that showcases all of the important information you need to see.
As a result, it's one of the best CRM out there.
This CRM is feature-rich and some of them include module personalization (rename the modules), supports multiple currencies and languages, email templates, supports phone, email, SMS, and live chat communication, collaboration tools, and so much more.
What makes this great is the number of plans it offers. As a result of having so many to choose from, you can find one that is perfect for your website. And as we all know, picking the plan ensures that you are not paying for features you don't need.
Benefits of Freshsales
An amazing mobile app that supports voice notes
The ability to customize just about every part of the software
Multiple plans to choose from
Pricing of Freshsales
The Blossom package starts at $12 a month per user
The Garden package starts at $25 a month per user
The Estate package starts at $49 a month per user
The Forest package starts at $79 a month per user
Benefits of CRM Software
CRM software has a wide variety of benefits to offer businesses. And as a result, and according to 91% of companies with more than 11 employees utilizing CRMs, there is a lot of data to show off the amazing results of the software.
Most importantly is the sales increase companies see. According to Salesforce, companies see a 44% increase in sales leads, a 37% increase in sales revenue, a 45% increase in customer retention, and a 52% faster integration of business apps.
These stats alone should have every business hunting for the perfect CRM.
However, one of the most important benefits is how much time it saves business owners and managers. Being able to review a chat log and point out mistakes employees make, quickly review a customer's information, and other useful features just save time.
And if you own a business, you know the importance of saving time, which makes CRM solutions invaluable to any company.
You Need A CRM for Your Business
Any business owner will tell you that CRM software is one of the first things you need to set up. And that's because they save you a tremendous amount of time.
Keeping track of your interactions with customers, improving the experience customers receive, making the most out of sales leads, and other factors make CRM software an invaluable tool for any business.
Which CRM software are you planning to use for your business? How much has using a CRM helped your business improve?