Throughout history, project management has always been a challenging and time-intensive project, but it doesn't have to be. Over the years, project management software has made it far easier by streamlining the process with a variety of features.
Almost every industry has a use for project tracking software, especially on large-scale projects. And as a result, there is plenty of project software to pick from, which can make it difficult to pick the best one.
Thus, I have constructed a list to help make the process that much easier.
The Best Project Management Software Online
hide
What Is Project Management Software?
Project management software is a type of software used to manage projects across almost any industry. This includes tracking the project's budget, progress, documentation, team assignments, expected completion time, schedules, and just about everything else related to the project.
As a result, they can save hundreds of hours of work for companies and improve team efficiency.
Due to this factor, it is very unlikely a company does not utilize project management software because it has become a standard at this point. And in many cases, companies use them as a collaboration tool, although they should not be confused with actual collaboration software.
The Best Project Management Software to Use in 2020
1. Teamwork Planner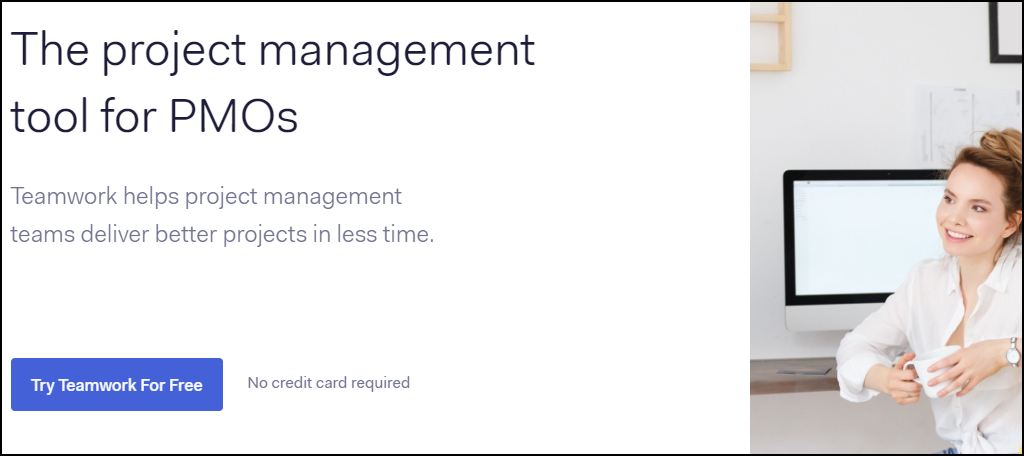 The Teamwork Planner is one of the most comprehensive pieces of project management software on this list. However, thanks to the excellent design choices, it never feels overwhelming to learn or use.
In fact, it's really simple once you give it a try.
It includes all of the features you would expect including task management, milestones, messaging for your team, time tracking tools, resource management tools (budget, supplies, etc.), prebuilt templates (makes starting projects quick and easy), and so much more.
It has multiple packages to choose from that make it suitable for small, midsize, and even large-scale businesses, which means it's got something for everyone. And for everything it offers, it comes at quite an affordable price.
Benefits of Teamwork Planner
Prebuilt templates to speed up project creation
Can integrate with most programs a business will use
Feature-rich, but extremely simple to use
Pricing of Teamwork Planner
Free version for up to 5 users and 2 projects
Pro version starts at $10 a month
Premium version starts at $18 a month
2. ProofHub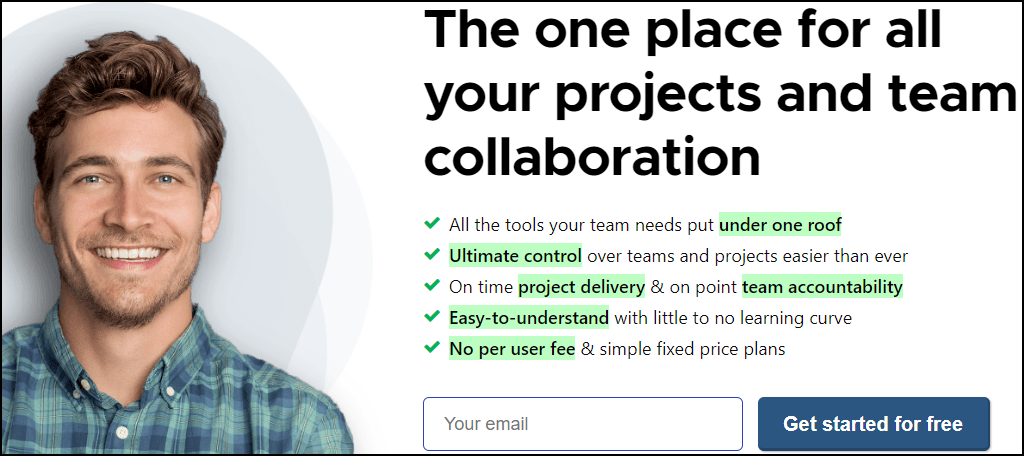 ProofHub is the perfect choice for small businesses for a variety of reasons. It focuses on simplicity, and as a result, it's probably the easiest piece of software on this list. But don't that let you think it is missing features.
Instead, it has most of the tools a small business needs.
This includes project assignments, events and milestones, calendar support, Gantt charts, workflows, estimated time to complete, chatbox, discussion, messaging tools, and much more.
It has everything a small team needs to manage projects.
Unlike many other services on this list, ProofHub does not charge on a per-user basis. Instead, you get one flat rate for an unlimited number of users, which makes it one of the cheapest pieces of project management software on this list in many regards.
Benefits of ProofHub
A simple interface makes everything easy to use
Highly customizable project tasks
Excellent workflow tools
Multiple messaging options to keep your group connected
Pricing of ProofHub
Essential package starts at $45 a month
Ultimate Control starts at $89 a month
3. Zoho Projects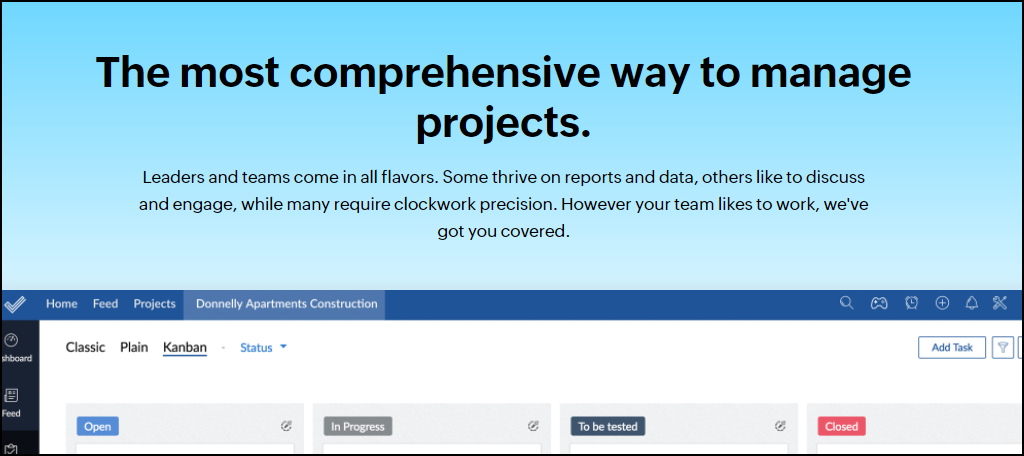 Zoho Projects might just be the top project management software on this list because it does everything and then some. It's easy to use, affordable, scalable, powerful, stylish, and just about every other compliment I can think of.
And it's not just me, Zoho Projects has a reputation for excellence.
It has everything from task management tools to issue tracking tools and everything in between. On top of an extensive list of features, it also has one of the sleekest designs on this list. As a result, it's intuitive to use and quick to learn.
Something that can not be stated enough is the free plan Zoho Projects offers. Unlike most others, it is free forever. That's right its not a trial. However, it's worth pointing out that it only supports up to 5 users and 2 projects.
Benefits of Zoho Projects
Superb time tracking tools to help you monitor workflow and stay on track
Mistakes happen, but can be easily tracked with issue tracking
The best visual workflow in the industry
Pricing of Zoho Projects
Offers an always free plan
Standard starts at $3 a month
Express starts at $4 a month
Premium starts at $5 a month
Enterprise starts at $6 a month
4. Basecamp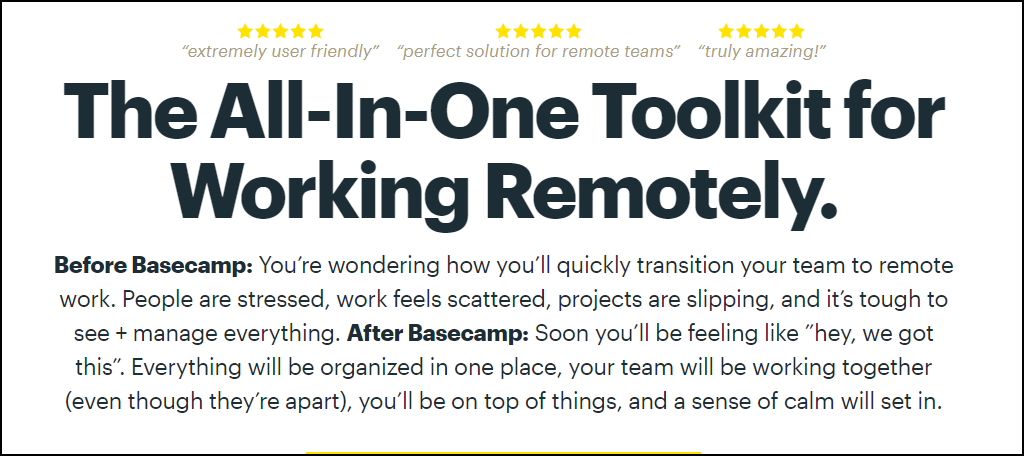 Basecamp is an excellent choice for small to midsize businesses that are looking for more organization. It allows you to display your workflow, schedules, to-do lists, and more in just a few clicks, which makes it hard to ever miss your next deadline.
And it's completely free to use as a student or teacher, so it's perfect for school projects.
It comes with a host of features that include a fully functioning message board, simple project and group creation, extensive hill charts to help stay on track, and an amazing search tool.
One of the most important parts of Basecamp is making sure everyone stays within the loop. As a result, there are amazing communication tools for teams to take advantage of.
Benefits of Basecamp
An awesome array of communication tools to help reduce meetings
A simple design that helps people keep track of their responsibilities
To-do lists are a great asset
Pricing of Basecamp
Free for students and teachers
Basecamp Business starts at $99 a month
5. Liquid Planner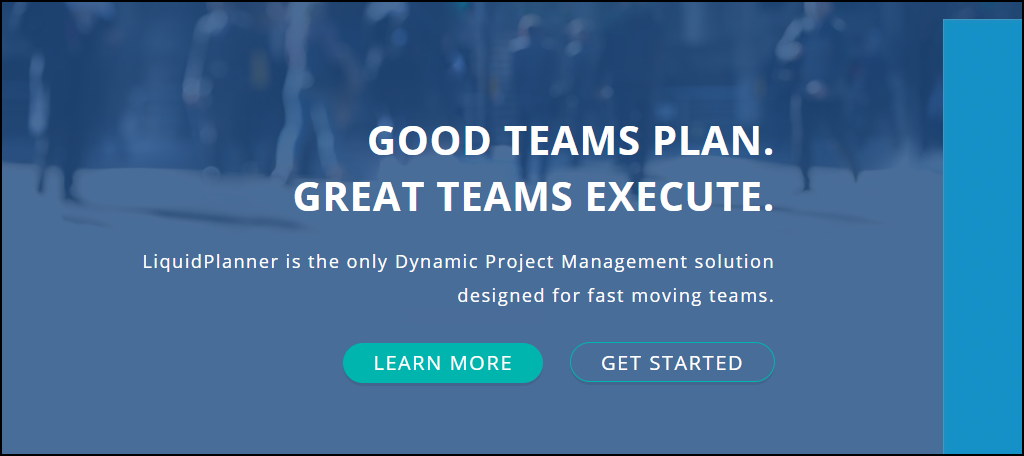 Liquid Planner is one of the most comprehensive and feature-rich project management software available on the market. However, it goes far beyond just project management and can cover other areas of businesses like staff allocation.
And that's why it is the most expensive piece of software on this list.
However, don't let the price tag scare you away. If you are looking for the most comprehensive project tool available, this is it and then some. Some of the features include automated resource leveling, an automated scheduling engine (the only one on the market), open API to allow further customization, and much more.
It should also be noted that this isn't ideal for new businesses. On top of an expensive price per user, it has a bit of a learning curve. Instead, it was created for large businesses that often handle big projects.
Benefits of Liquid Planner
Open API allows for creative user additions (like an invoice system)
It utilizes drag and drop to help lower the learning curve
An excellent workflow display for your projects
Pricing of Liquid Planner
The professional package starts at $45 a month per user
An enterprise package is available upon request
6. Asana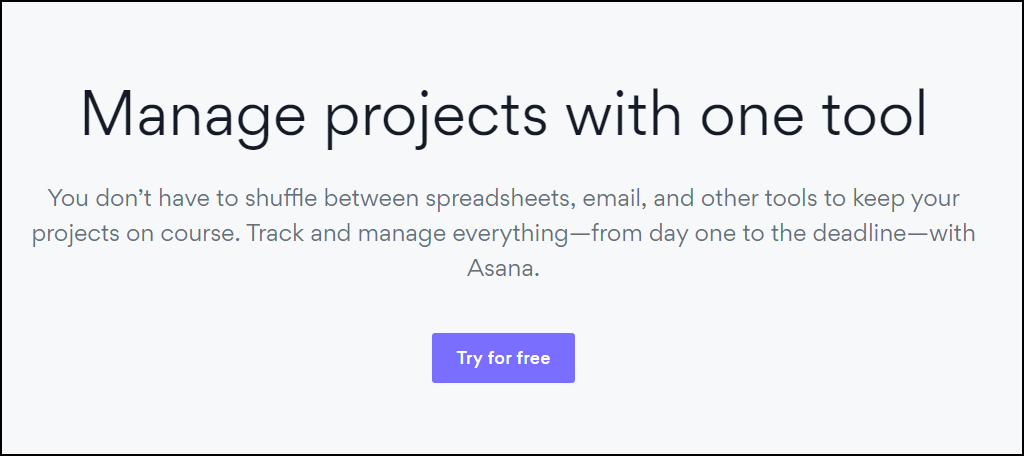 Asana is one of the best options for marketing and website project management you can choose. And that's because it only shows you information that is relevant to your specific job or task on the projects.
It's perfect for small to midsize teams.
It has a host of impressive features like task boards, timelines, simple task creation, mobile app support, smooth communication with the whole team, integrations with Google Drive, Dropbox, Github, Mailchimp, and a slew of other additions.
Most importantly, it's simple to use. And I can say from experience that it only takes a few minutes to get used to the whole system. If you're looking for a simple way to assign tasks and stay up to date, Asana is one of the best choices you can make.
Benefits of Asana
Multiple integration options to choose from
Excellent mobile app to help stay connected to your team
Easy to use regardless of your previous experience
Pricing of Asana
Basic is free and allows up to 15 users on your account
Premium starts at $10.99 a month per user
Business starts at $24.99 a month per user
Enterprise packages available upon request
7. Smartsheet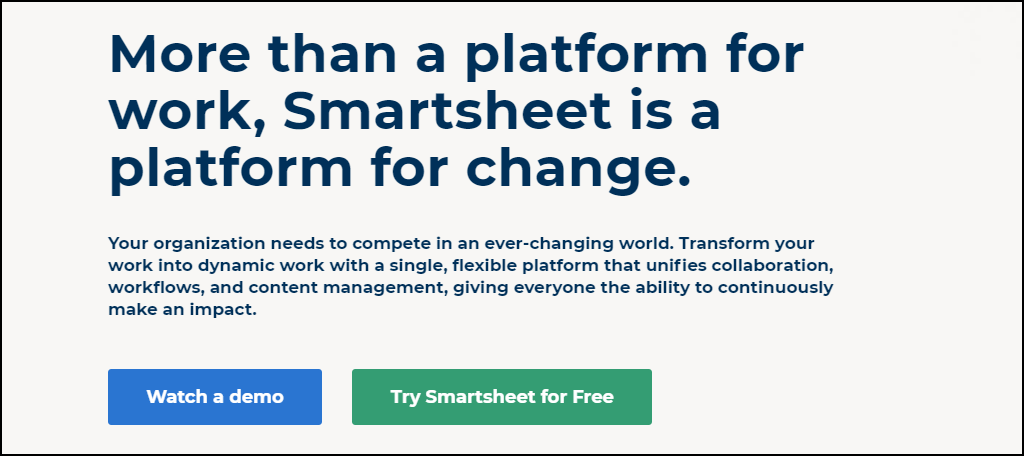 Smartsheets understand that spreadsheets have become the backbone of organization inside of a company. As a result, they have perfected them in a digital format to bring you one of the most intuitive pieces of project management software.
If you have ever wanted a hybrid-spreadsheet, this is the software for you.
As we know, all projects are different. And for certain trades, a more traditional spreadsheet is more efficient than some of the other choices on this list. Most importantly, it lowers the learning curve of spreadsheets.
If you relied exclusively on Microsoft Excel in the past, I'm sure you will be pleased to find out that Smartsheest simplifies the whole process. Adding different elements to columns and rows has never been easier, which makes this an ideal pick for those who still love spreadsheets.
Benefits of Smartsheet
The best spreadsheet focused project management system
Simplifies adding elements within a spreadsheet
Easier than Microsoft Excel
Pricing of Smartsheet
The individual package is available for $14 a month
The business package is available for $25 a month
8. Nifty
Nifty focuses on keeping team morale high and your projects on schedule by making its interface milestone-driven. This is accomplished by using their excellent task creation tools, which makes assigning work a breeze.
And you can even integrate them into your Google calendar.
As you can imagine, it comes with a wide variety of features and tools to take advantage of. Some of these include document sharing, time tracking, task and milestone management, and recurring tasks (assigning weekly tasks like a meeting).
It can not be stated enough how clean the Nifty UI is. Everything is intuitive, stylish, and enjoyable to use. It allows you to add employee photos and much more to make sure everyone gets to know each other. And in a team environment, that is critical.
Benefits of Nifty
Milestone-driven interface helps inspire employees to meet goals
Document sharing makes collaborating easy
Time-tracking tools help you monitor your employee's work
Pricing of Nifty
The starter package starts at $39 a month
The pro package starts at $79 a month
The business package starts at $124 a month
Understand Your Needs
Without a doubt, the best project management software is one that fits your specific needs.
While each of these pieces of software is amazing in its own right, it cannot be stressed enough that not every business needs every feature. In fact, in many cases, simpler options will work wonders for most businesses.
However, large-scale projects that have more extensive staffs, those feature-rich projects have the tools you might need. So before you make a choice, identify what your needs are and what features are necessary for your business.
Which project management software are you planning to use?