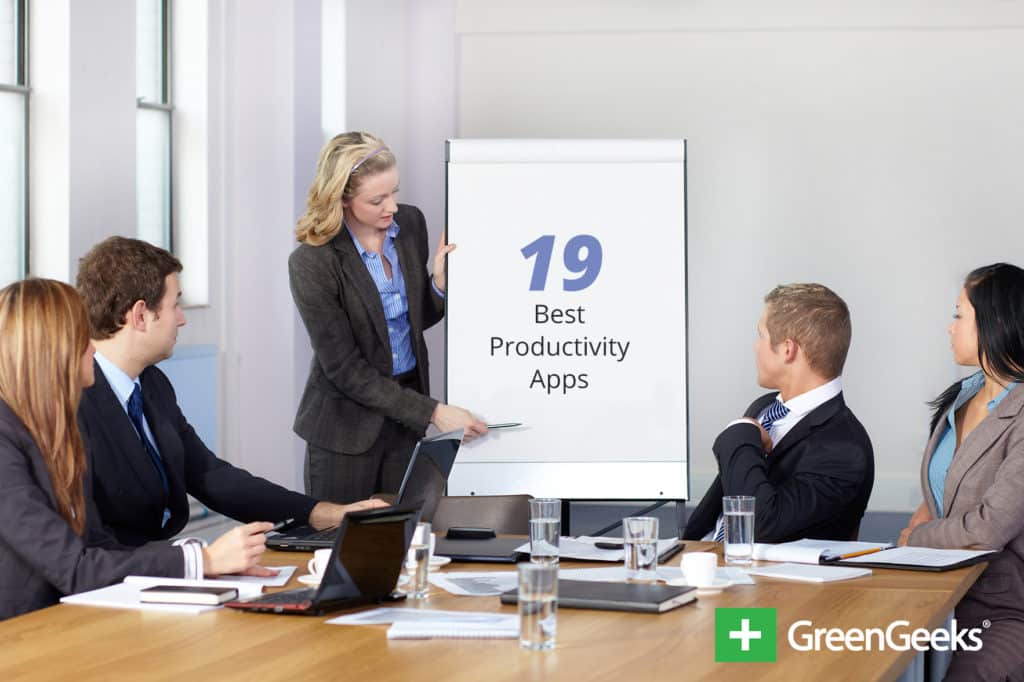 Being successful in today's digital world relies heavily on the software you use. While some things can make the small business more efficient, others can be a drain on resources. As a result, you need to find the best productivity apps you can.
Whether you're running a small business from home or have an office downtown somewhere, the right apps can make all the difference.
When it comes to finding online applications that can benefit your business, there are six important aspects to consider:
No need for additional hardware.
Most of them can be accessed anywhere you have an Internet connection.
Many of them can scale to your needs.
No need for upgrades or patch installs because the company does that for you.
Most can be used by virtually any computer or mobile device.
Efficiency of the business can be vastly increased.
Today, I've put together 19 of the best productivity apps that you can find on the Internet. From billing and invoicing to project management, nearly every aspect of the business can be done through the Cloud.
General Productivity
Below are a couple of the best productivity suites you can use for operating a small business. They combine some of the most used applications to give you a strong platform to work from.
1. Zoho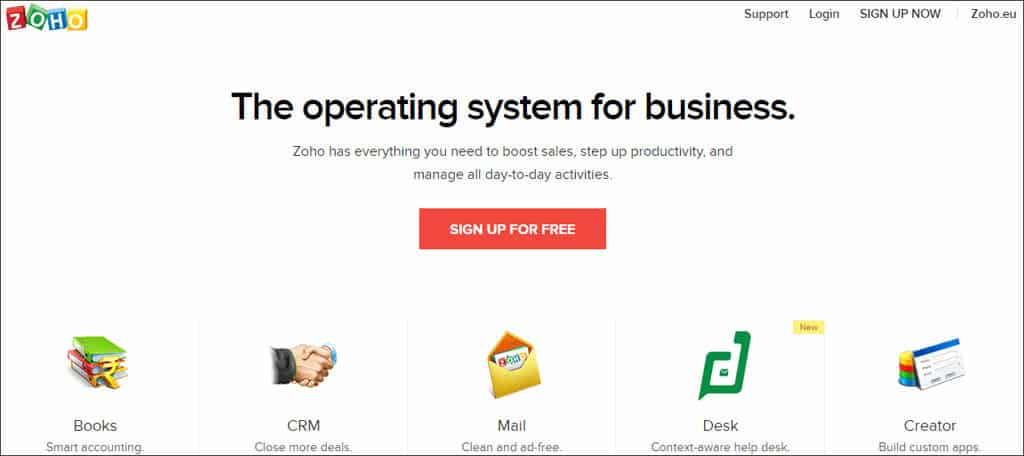 If you need a menagerie of tools to help keep the business functional, Zoho has a wide assortment to choose from. From customer relations management to email, this system has a great deal to offer any small business.
One of the most popular aspects to Zoho is the CRM module. It lets you govern over team communications, generate workflow reports and tracks user activity just to name a few benefits.
2. G Suite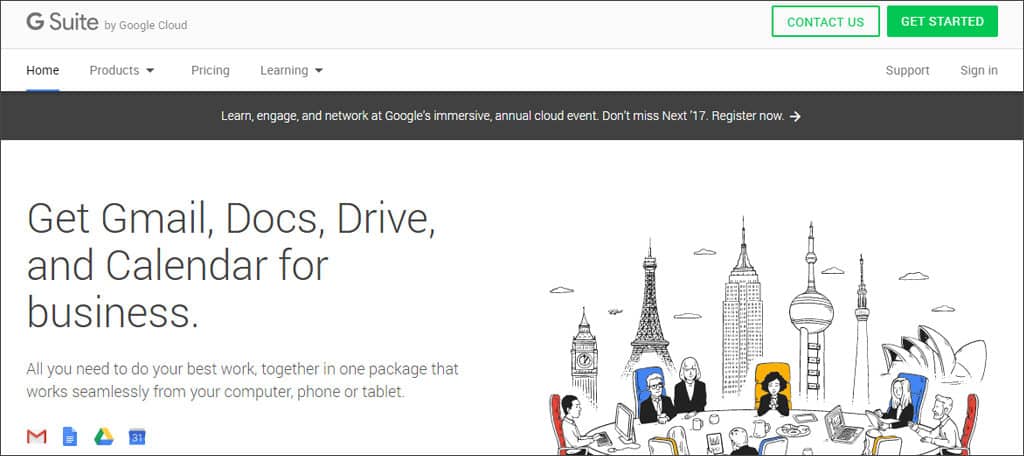 Originally known as Google for Business, G Suite incorporates some of the most powerful systems the technology giant has to offer. In fact, many of you may be using some of these tools already. G Suite integrates with Gmail, Hangouts, Calendar and Google+.
However, it also uses collaboration tools such as Docs, Sheets and Forms.
Instead of using a Gmail domain for business, you can set up a company address through Google. The system also allows up to 30GB of storage for you and your team, which is quite a bit of space depending on the files you save.
You can also migrate data from one system to another such as pulling emails from Microsoft Exchange into Google using migration tools.
3. OnlyOffice
When you need a Cloud-based solution for general office productivity, OnlyOffice has many tools and features that may be beneficial. Each of its additions go deeper into editing files than many other apps.
For instance, OnlyOffice supports editing HTML5 from its document software.
Developed with an easy to use interface, it delivers a powerful set of tools that make document development easy. In some instances, you may feel like you have total control for seemingly unlimited customization.
One of the finer points to this platform is the ability to use it on the Cloud, on a local server or downloaded directly to a computer system.
Accounting
No business can be successful without accounting. Here are some of the most effective solutions I've found online. From inventory control to processing bills, knowing your finances is a key part of success.
4. Quickbooks
One of the most prominent names in accounting software, Quickbooks by Intuit has been a favorite of many for years. It's a powerful system that gives you complete control over finances and can be customized to fit nearly any business type.
Quickbooks also makes paying taxes much easier at the end of each year as it keeps track of all pertinent data. A few clicks of the mouse and a couple of weeks worth of work is done in a matter of minutes.
This includes how easy and quick it is to do payroll taxes or create 1099 forms for contract labor.
Considering how accounting services are believed to hit $160 billion by 2018, things like Quickbooks could save you some money.
5. Freshbooks
Freshbooks is another financial app that has great potential for the small business. It gives you control over invoicing, time tracking, projects and more. Its extensive reporting system gives you a visual overview of how your company is doing from a financial standpoint.
If you operate an eCommerce site or process online payments through Stripe, Freshbooks integrates well with those platforms and more. Products such as Shopify, OneSaas, G Suite and Avalara connect seamlessly to this application.
6. Gusto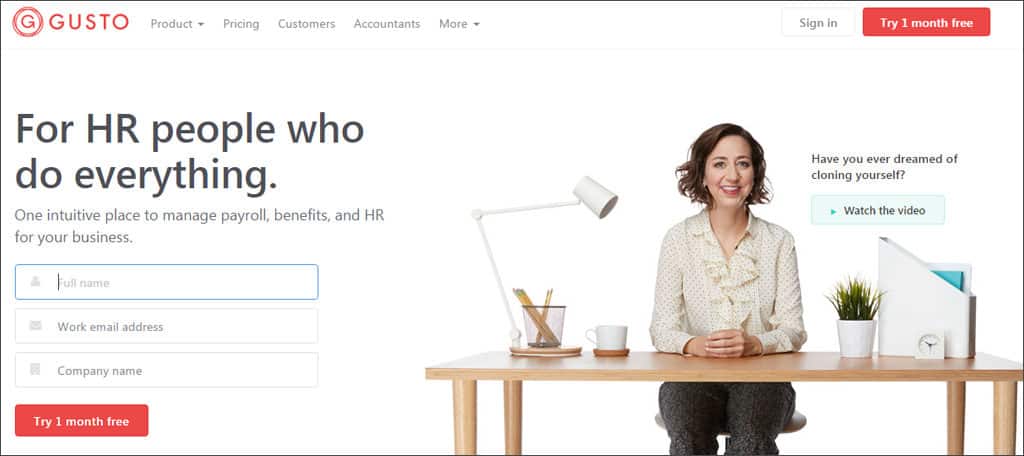 Another feature rich platform is that of Gusto. This online application has a wide range of capabilities perfect for businesses large and small. It governs over automatic employee filing with the government, makes annual tax forms easy and can manage over things like 401(k) plans and Workers' Compensation.
One feature that stands out, especially in today's economy, is the management over health benefits. From your dashboard, you can inspect things like medical, dental and vision benefits for your company.
Since enrollment is completely online, there is no actual paperwork and the process is faster.
Team Management
Part of keeping a business productive is making sure your team knows exactly what they are doing. Below are some of the best management apps to keep an eye on staff and project management.
7. Saba
Formerly known as Halogen, Saba gives you tools to manage over your team. Using various metrics during tasks, the system can gauge where your team's goals need attention. At a glance, you can determine the strengths and weaknesses of your workforce.
This can help you develop stronger teams and place staff in more productive roles.
Halogen also delivers an engagement system that will show staff where they need to be and their accomplishments. As morale is very important to any business dynamic, this feature is a great one to have in any team management app.
According to statistics, a bit more than 12 percent of money invested in business was a waste because of poor project performance. Keeping the team efficient is key to success and costs.
Poor project management can lead to failure. Even projects at IBM are only met 40 percent of the time.
8. Toggl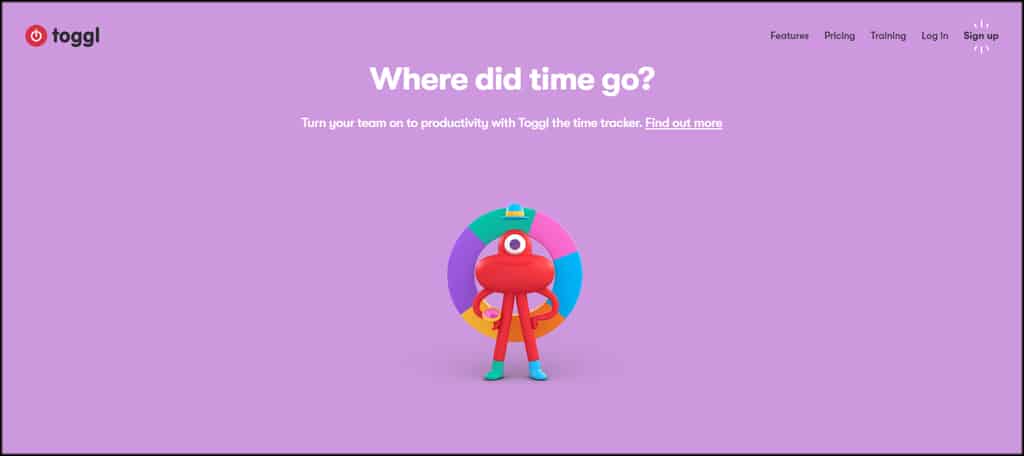 When time management is an important facet to your business, Toggl can help. Using a one-click system, projects can be recorded and billed according to the actual time it was processed.
The system can handle a wide scope of projects, set billing rates and share reports through links or exported files.
If you need a tracking system that works offline, Toggl can handle that as well. Time will still be recorded while you're away or located on a remote site and then uploaded once an Internet connection is detected.
9. Asana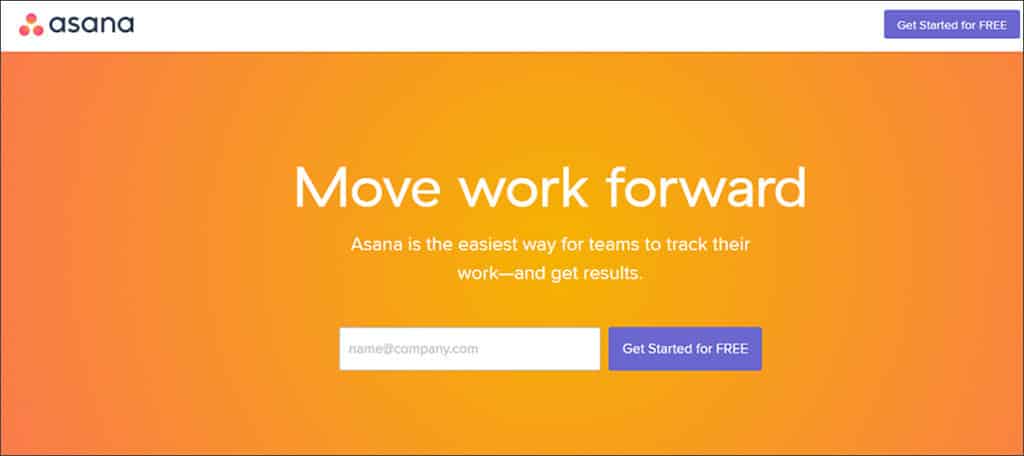 Asana is an excellent choice when looking for team and project management. At a glance, you can see when projects are completed and who is doing what for the business.
You can also share files regarding projects and display statistics in an easy-to-read report regarding efficiency in the workplace.
An attractive feature of the system is its cross-compatibility. Whether your staff is on their computers, tablets or smartphones, you'll have access to the same data. This can be incredibly useful if you have mobile or remote staff working for you.
10. Basecamp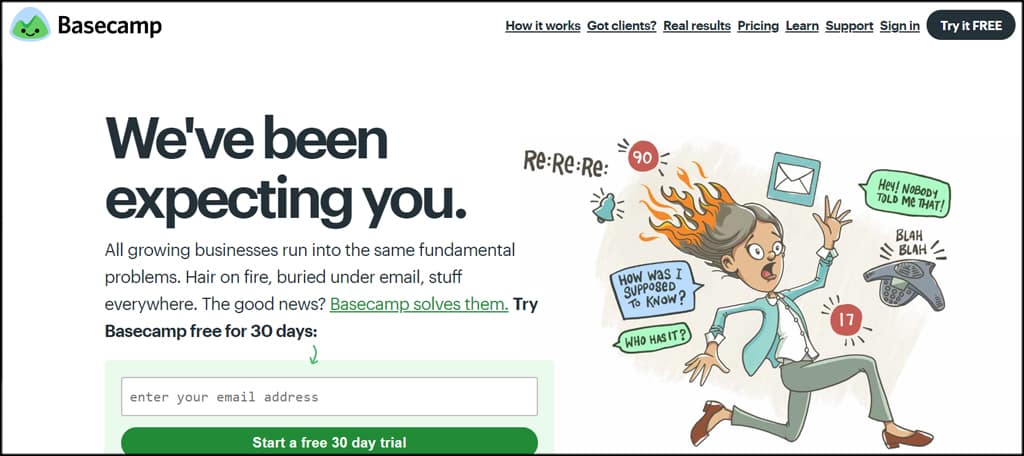 Keeping open communications about projects is vastly important, and Basecamp can deliver that sense of security for the small business. Staff can be assigned to projects and are laid out in an easy to view screen so there is no misunderstanding about who needs to do what.
The system includes chatting, message boards, file storage, scheduling, to-do lists and even automatic check-ins so staff can keep you apprised of what's going on. If you want further clarity, you can have automatic questions assigned to ask what everyone did during any specific day.
Besides, time management strategies can boost your business performance.
Customer Support
Customers are who keeps the business open and your pockets filled with cash. Without caring for them, your company will have a harder time staying open. Take a look at these apps that can boost customer service.
11. Salesforce Desk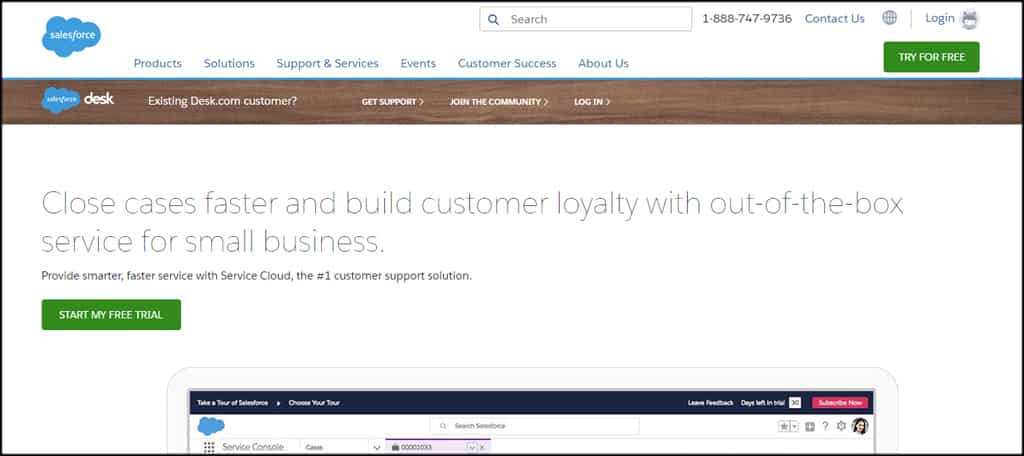 Many small business owners find the tools of Salesfaorce Desk to be very beneficial for customer relations. It offers multi-channel support so you can help customers regardless of how they contact you.
Case management tools are available to address issues. It also provides productivity tools to help improve workflow.
One of the key points to Salesforce Desk is the reports and business insights you gain with the app. You can identify strengths and weaknesses within your organization based on graphic reports that are easy to read.
This can help you grow your customer base over time.
12. Insightly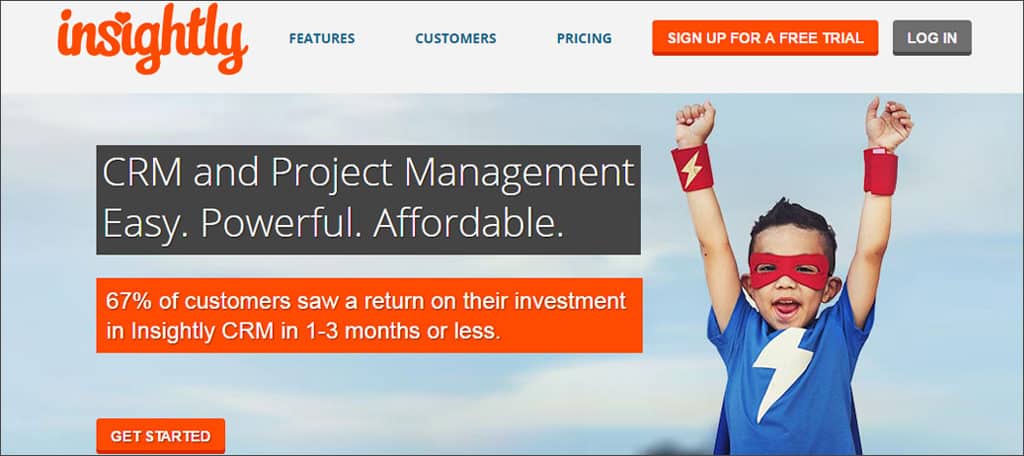 Having good CRM tools can make a profound difference in the small business. Insightly offers a wide scope of those whether you use the free version or pay for the upgrades. The system is designed to help assist lead, contact and project management.
Mass emailing, available templates and detailed reporting are available in all versions of this app. It also integrates with some of the most efficient systems online such as Dropbox, Evernote, GSuite and Office 365.
As the system uses military-grade encryption, you can feel good knowing your materials are safe from cyber attacks.
According to the Huffington Post, small businesses can expect to see a growth of apps in the triple digits focusing on improving the "customer experience." This is because of how important these relations are to continued success of any company.
13. Zendesk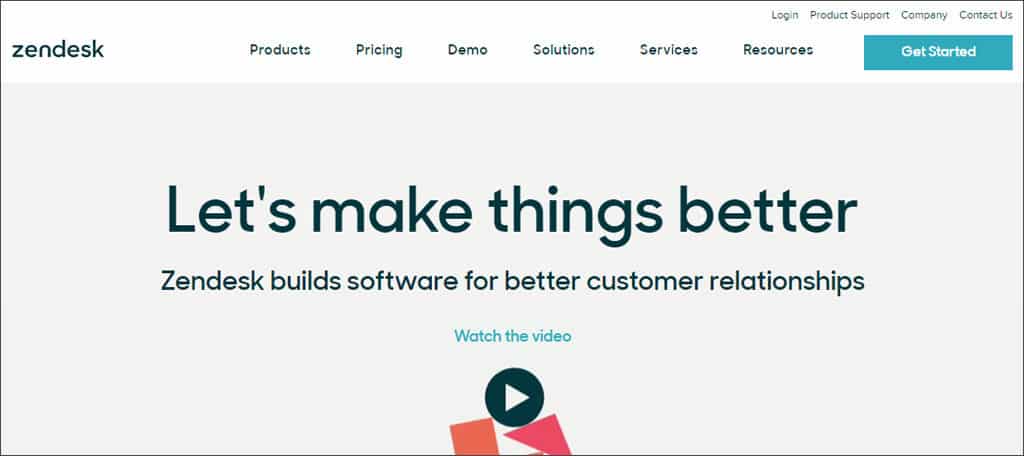 When it comes to providing customer multi-channel communication, Zendesk has a lot to offer. This system incorporates live chat, call center and social messaging apps into one system. It comes with analytics and reporting software to give you insight into customer relations for the business.
Zendesk gives you the ability to analyze your customers based on trends and behaviors. As a result, you can send focus specific messages to engage customers who display a specific interest.
This can help you increase performance of the business by engaging people on a more personalized level.
File Sharing and Communication
Communication is key in any organization. When there is a breakdown between parties, work can be delayed or completed incorrectly. Being able to share files and documents is part of that communication. Here are some of the best sharing and communications apps I've found online.
14. Dropbox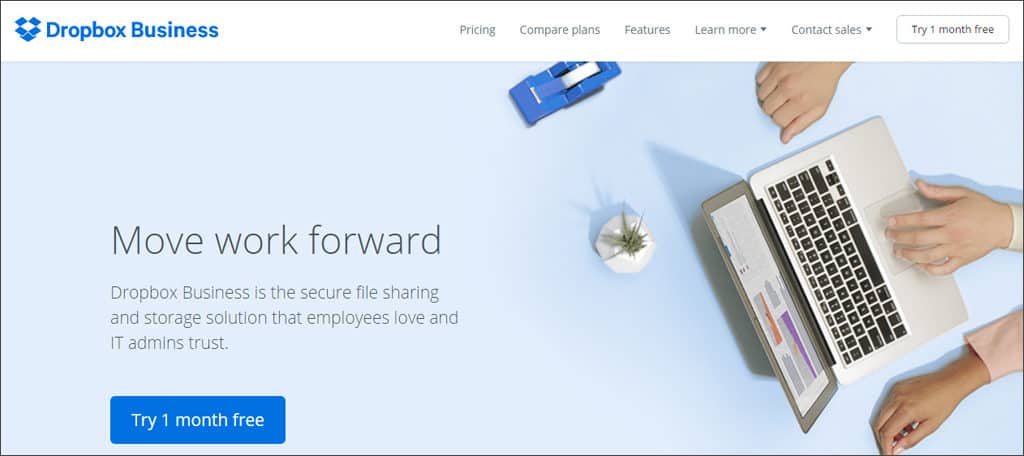 When it comes to keeping your files stored and easy to access among all of your computers, Dropbox is an amazing tool to consider. After installing the app on your computer systems, any files you share are instantly sent to your other computers.
For instance, if you have Dropbox installed on your home computer and your office computer, you can send files instantly back and forth.
What makes this great for the business is that you can also share files with anyone else who uses Dropbox. Since you get 2GB of storage free, it's a great way to make sure files are accessible by everyone.
You can even restrict access to certain folders you don't want everyone to get into.
15. Atlassian
For the small business that just needs a small communication platform, Atlassian may be worth looking at. This software includes slack which keeps everyone in direct communication on the team.
Video chat, file sharing and a searchable history give this app great functionality in the workplace. Atlassian also integrates with a variety of systems such as Jira Cloud, Trello and Confluence.
16. Skype for Business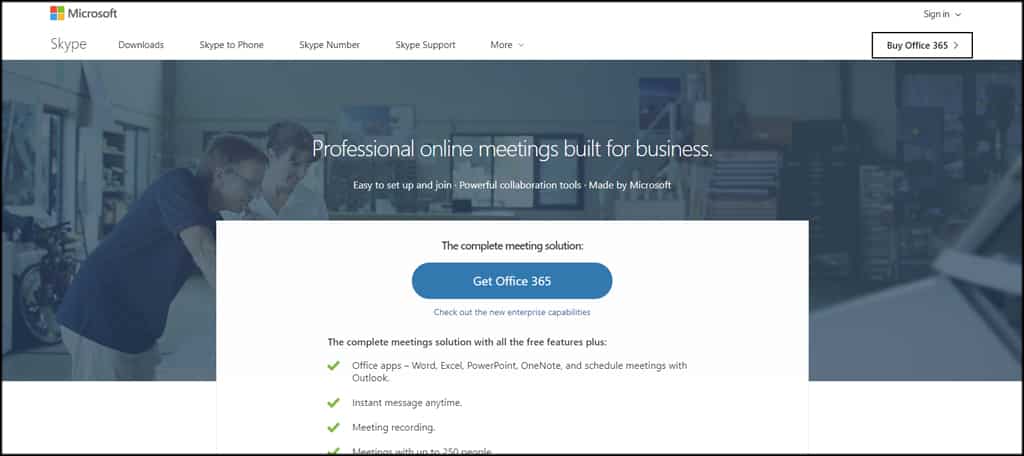 Now part of the Microsoft office suite, Skype is one of the largest systems for Internet-based communication worldwide. Skype for Business takes that platform even further.
For instance, Skype Meetings can be shared with up to 10 people simultaneously while using a personalized URL so others can join from any device.
With the free software, you can collaborate on PowerPoint presentations. However, the enterprise platform offers integrations with Microsoft Office apps and meeting recording.
This is aside from amazing additions like an editable whiteboard, built-in instant messaging and custom accessories specifically for Skype.
Payment Processing
There are many ways you can get paid by customers. You want a solution that is ideal for your small business. Below are some of the best payment processing apps on the Internet with excellent track records.
17. PayPal Here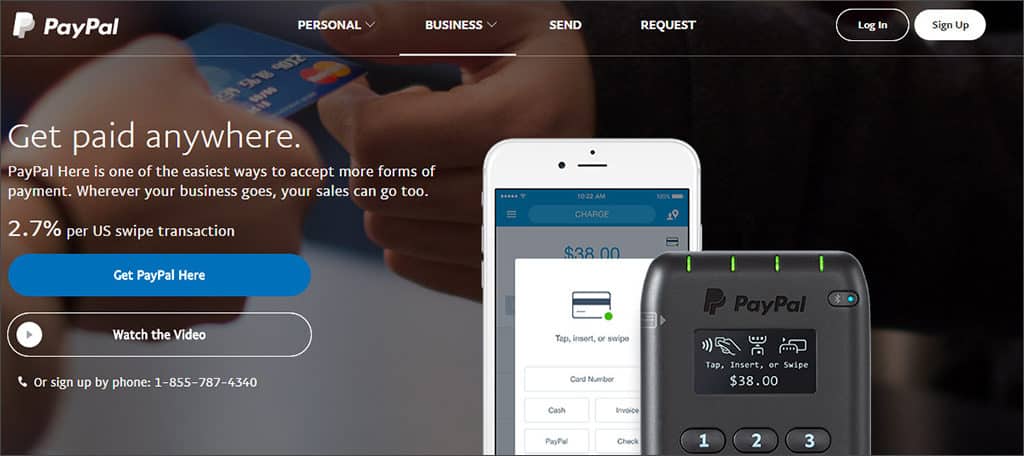 PayPal is one of the most prominent forms of online payment processing on the Internet. PayPal Here brings that system into the real world.
You can use card swipers that plug directly into your mobile device or have a card reader shipped to you that can accept chipped credit cards with ease.
The fees for using the system are comparable to many other payment-processing apps and much better than traditional merchant accounts with equipment leases. There are no hidden or monthly fees through PayPal and you have access to that money almost instantly.
As PayPal also offers a mobile payment gateway, you can get ahead of the trend. According to the numbers, mobile payment revenue is expected to surpass one trillion dollars by 2019. You don't want to alienate those paying customers.
18. Square
Square is another credit card processing system that is quite popular among small businesses. Not only are you able to receive your payments within one business day, but the system can also track goods and services.
You can even choose to record the cash you accept for payments.
Use a free card swiper that plugs into your mobile device or order an entire tablet and cash register system to accept payments. In either case, Square will deliver reports based on purchases sold, when and where cards were accepted and even email customers a receipt upon request.
19. Venmo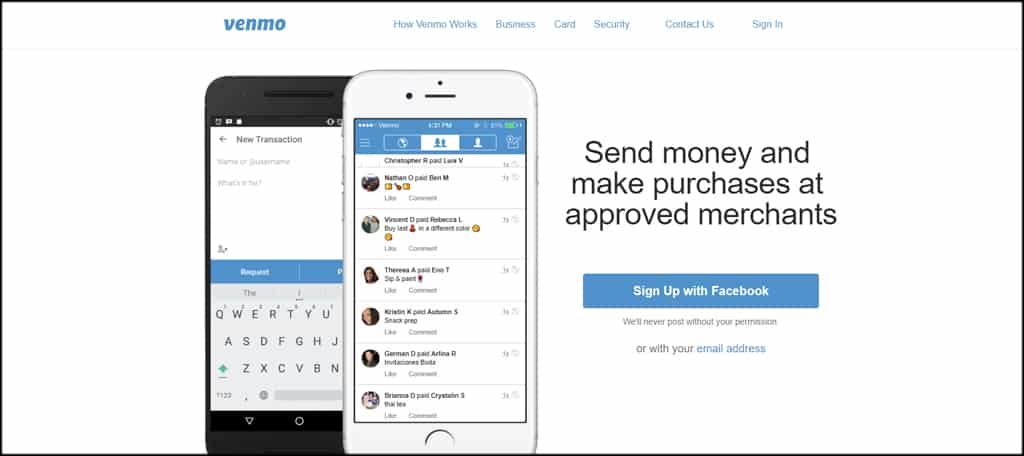 Venmo is a growing system that offers a lot of the same features you'll see form other platforms. In fact, you can use Venmo at areas where you see the PayPal button.
The system has comparable pricing for transactions and is often a cheaper alternative depending on the amount spent.
One thing that stands out with Venmo is the Mastercard you can apply for. It lets you withdraw from your Venmo balance at most ATMs for up to $400 in a single day. You can also use it at any location where Mastercard is accepted.
Boost Productivity with the Right App
When it comes to finding the best productivity apps, you don't want to worry about missing a specific tool. Before you find the best online application for your small business, make sure all of your needs are met.
It may greatly reduce lost time and improve efficiency in the workplace.