If you want your website to be successful, there is one thing you absolutely need to be good at, SEO. And when using the WordPress platform, you have a variety of SEO plugins that can help you succeed.
Search Engine Optimization (SEO) is the process of optimizing your website to receive the highest rankings possible on search engines like Google. The higher you rank, the more traffic you will receive.
It's simple to understand, but incredibly difficult to actually master. In fact, the rule set is constantly changing, thus you will need to stay up to date on the latest SEO trends if you want your content to rank well.
That's why it's important to find a reliable source you can trust to stay up to date on all the latest SEO changes. Failing to do so, could result in your rankings plummeting overnight.
The good news is that improving your website's SEO is not difficult with the right WordPress plugins.
What Makes A Great SEO Plugin?
If you own a website, you should already know why SEO matters. But what makes great SEO plugins for WordPress?
Firstly, while this list has 17 amazing plugins to choose from, you only need one. Installing multiple of the same type of plugin is never advised as they often conflict with one another.
Too many working at the same time can slow down your website, which would negatively impact your rankings, thus defeating the purpose.
For this reason, I highly recommend using a comprehensive SEO plugin that can handle everything. Each one is built in a specific way to present these tools in an easy-to-understand way, and that's really the most important thing.
It may sound simple, but truthfully, even if a plugin were to get the best results possible, it wouldn't be very useful if the user couldn't use all the features necessary. The good news is that most SEO tools are simple.
And if they are not, you won't find them on this list.
1. Yoast SEO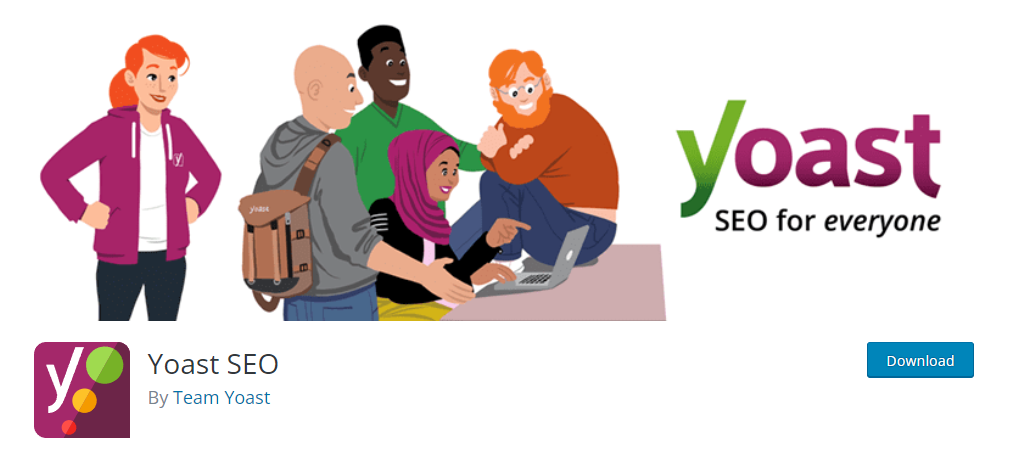 When it comes to improving the SEO of your WordPress website, nothing compares to Yoast SEO. It is among the most popular plugins on the platform with over 5 million active installs.
Yoast will analyze your content in real-time and provide tips to not only improve your SEO, but also the readability of the content. It handles a variety of other things as well like sitemap generation, improves performance, presents a Google view, and much more.
Yoast also has an awesome blog to provide you with the latest SEO information with detailed explanations.
2. All In One SEO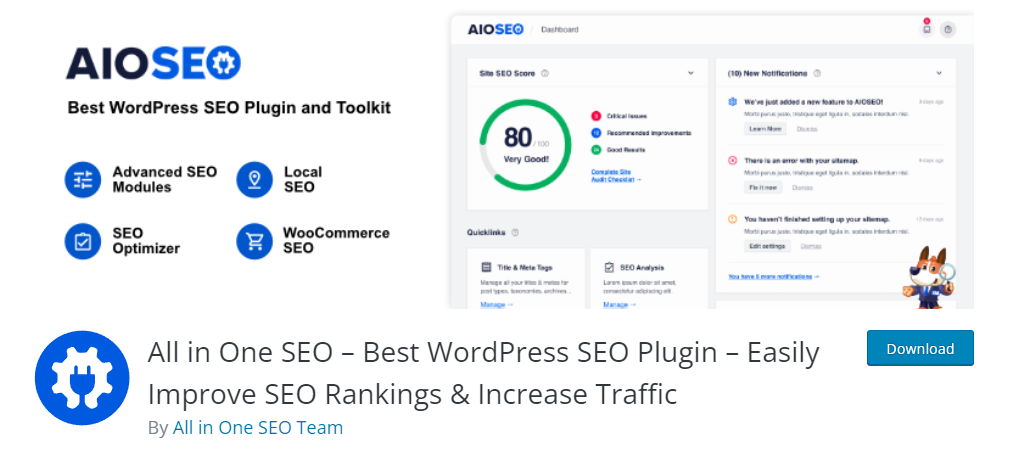 All in One SEO is another incredible SEO tool for WordPress that deserves all 3 million installs it has. Using it is incredibly easy thanks to an excellently designed setup wizard. With it, you can begin optimizing your website for the best results in minutes.
Of course, that's just scratching the surface. It offers users multiple sitemaps, including one for your video content, helps improve local SEO rankings, is a redirection manager, and much more.
It really lives up to its name when you look at the full list of features.
3. Rank Math SEO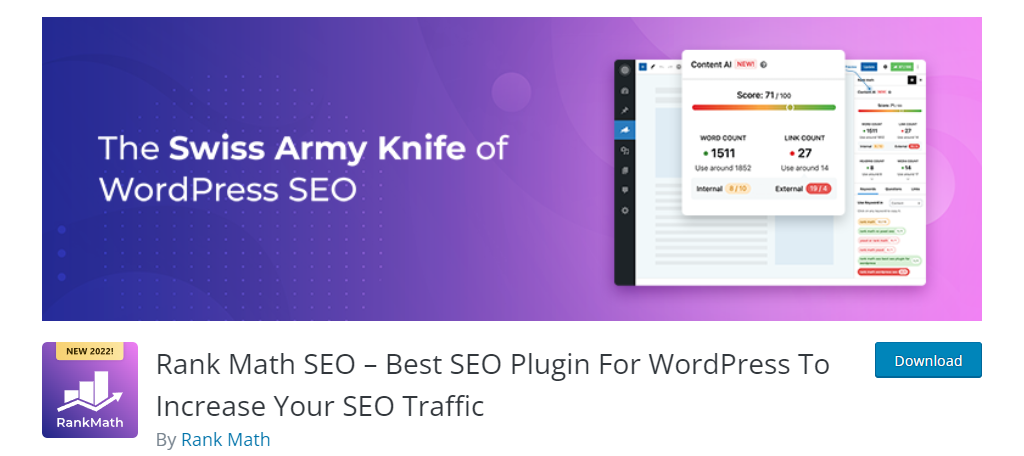 Dubbed the "Swiss Army Knife" of WordPress SEO, Rank Math SEO is another spectacular plugin to try with over 1 million active users. And it's incredibly easy to use.
Some of the highlights include real-time SEO suggestions as you write content, a redirection manager, a 404 error tracker, and about a dozen other features. It even boasts an excellent setup wizard to boot.
If you're looking for a little of everything, this is the plugin for you.
4. XML Sitemaps
One of the most important parts of a successful SEO strategy is providing Google, and other search engines, with a sitemap. If you are in need of one, XML Sitemaps is among the best options available in WordPress.
In terms of use, there's not much to say. You install the plugin, review the settings, and generate the sitemap. In most cases, you won't even need to change the settings, which makes it the easiest option out there.
Just keep in mind that many dedicated SEO plugins have sitemap functionality, so you may not need a dedicated tool like this.
5. Slim SEO – Fast & Automated WordPress SEO Plugin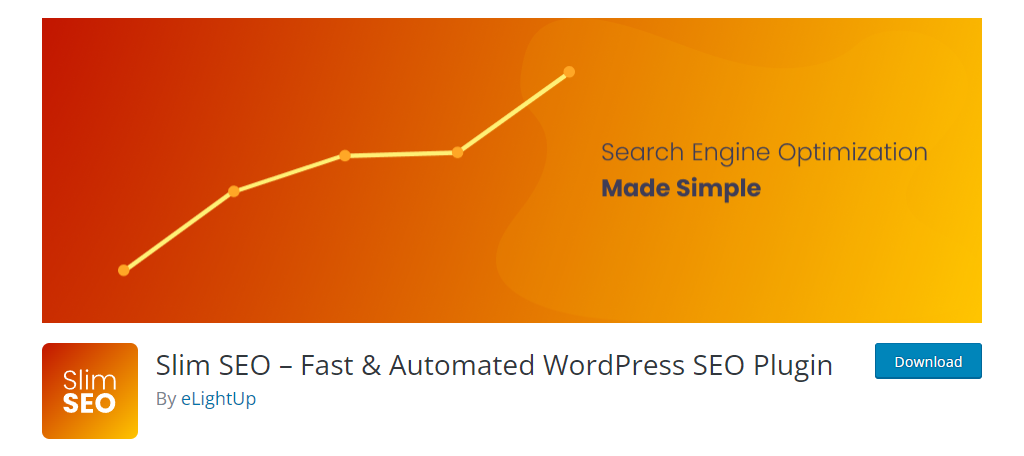 Potentially one of the biggest problems with SEO plugins is that they have too many options. This can be pretty discouraging and ultimately make people give up, but that won't be an issue with Slim SEO.
This plugin was built with simplicity in mind. You may think this would be lacking in features, but it's not. You'll still find ways to edit metadata, generate sitemaps, schema, create redirections, and much more.
However, everything is much easier than most plugins on the market, which makes it an excellent choice for beginners.
6. SEOPress, on-site SEO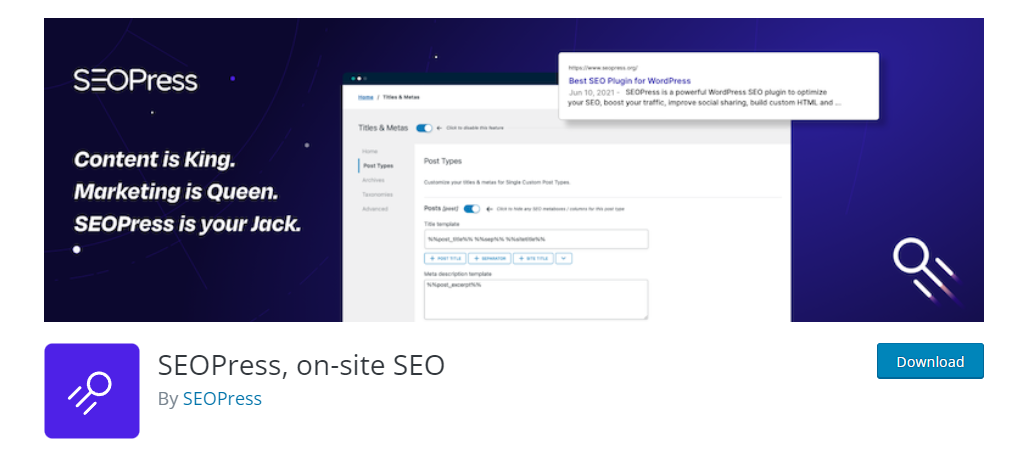 SEOPress is another all-in-one SEO plugin for WordPress that does just about everything. It offers users a robust selection of features in the free version, and there's, even more, to utilize in the Pro version.
Some of the key features to take advantage of include being able to quickly index your website on Google, Yahoo, and Bing, a fully-fledged redirection manager, a variety of social media tools, and much more.
Oh, and did I mention that the Pro version allows you to use it on an unlimited number of sites?
7. SEO Plugin by Squirrly SEO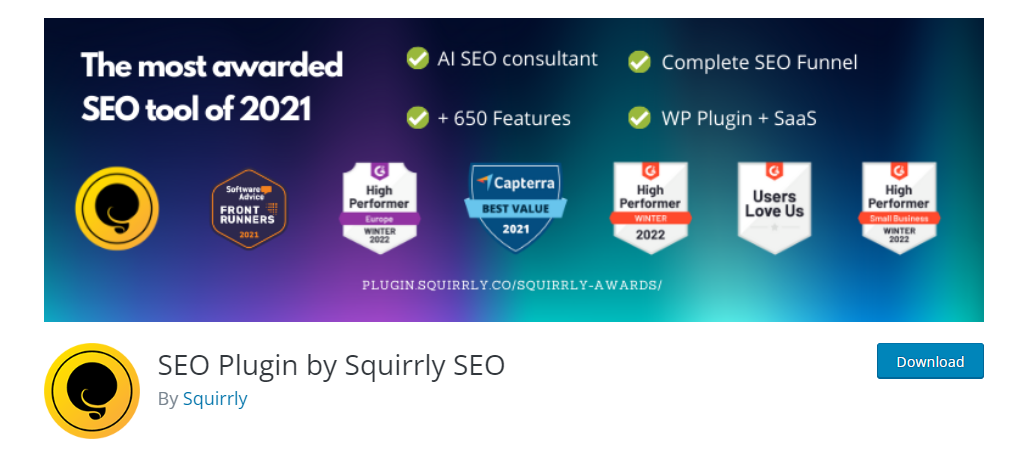 SEO can be a tough nut to crack, but with the SEO Plugin by Squirrly SEO plugin, you'll have no trouble. It's another all-in-one SEO solution for WordPress that has everything a website could need to manage its SEO.
Squirrly SEO utilizes AI to maximize your site's SEO rankings. This drastically reduces the amount of work you need to do because just by installing this plugin, you'll have over 650 preconfigured SEO enhancements active on your site.
It's an excellent choice for websites of any size and developers of any skill level.
8. The SEO Framework – Fast, Automated, Effortless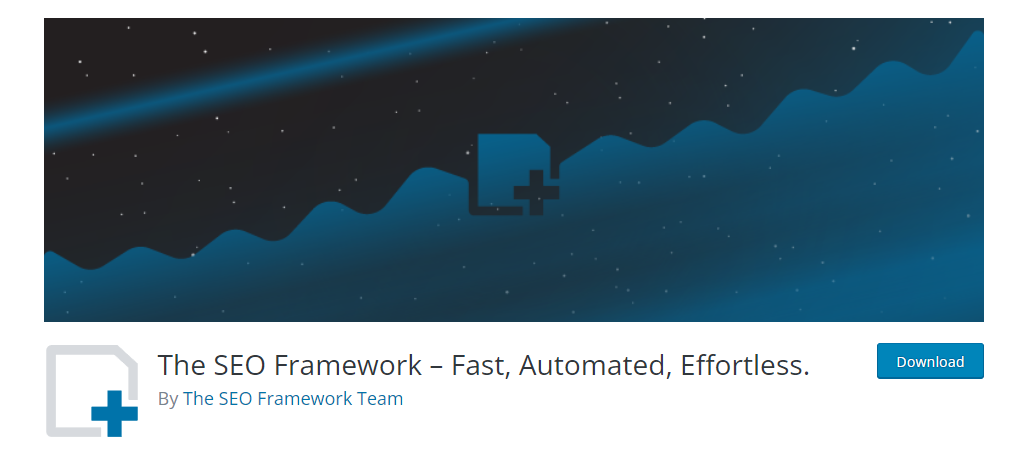 If you are looking for easy SEO plugins in WordPress, then you can't beat The SEO Framework. This plugin focuses on telling you what your website is lacking to highlight the areas you need to improve upon.
You can view a rating for every single post and page on your website. This can help you identify problem posts that may be dragging your rankings through the mud.
It's an excellent way to gauge how all of the effort you put into SEO is actually performing.
9. Rankie – WordPress Rank Tracker Plugin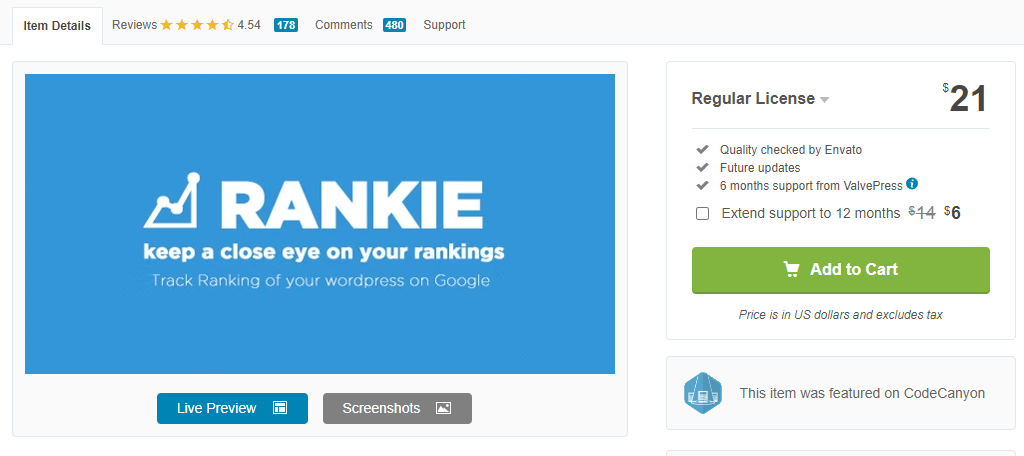 The main reason every website worries about SEO is to improve its rankings, but how do you actually know how your website ranks? That requires you to check on an analytics tool and Rankie is an excellent choice.
It offers users a full report on how well a page or post is ranking, and if it's not doing so well, how you can improve it. This is a better option than Google Analytics in the sense that it provides everything you need in one place.
Also, you can do all of this directly on your WordPress site.
10. Image Optimization For SEO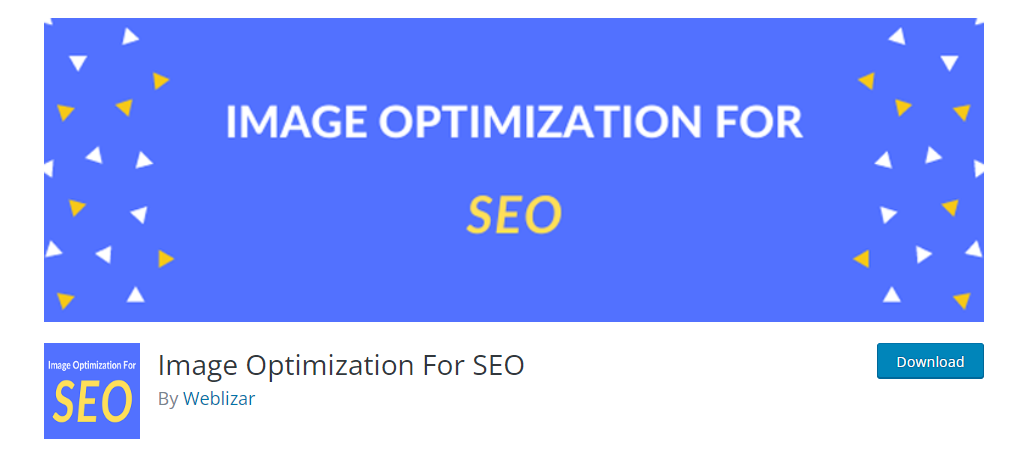 One of the most important SEO strategies for every website is ensuring your website is fast. Speed is a factor in your rankings, and often, most websites often run into trouble when it comes to images. The Image Optimization For SEO plugin can help.
Simply put, this plugin will optimize your site's images for SEO. This means making sure they are compressed to improve loading times, and ensuring that you always have a title and ALT text for every image.
Since every website will use images, image optimization is one thing you can't afford to sleep on.
11. Broken Link Checker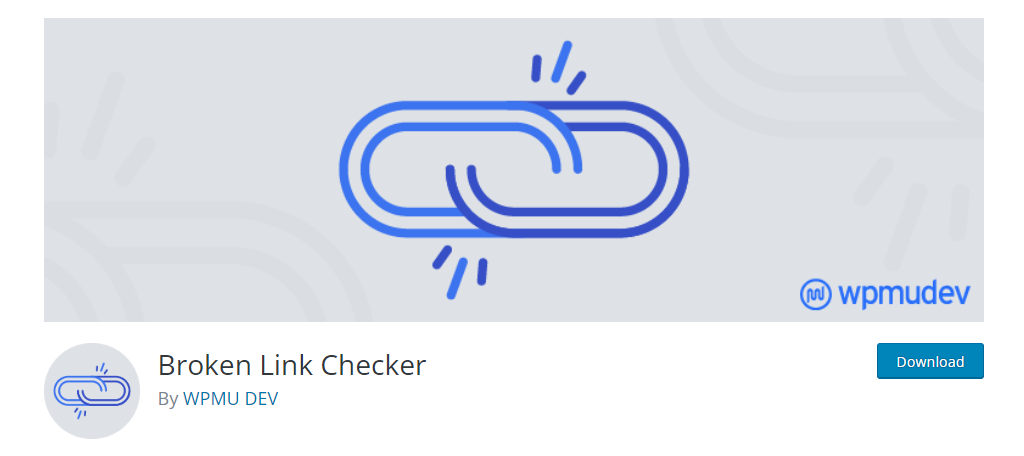 One part of any SEO strategy is to ensure that your website is including both internal and external links on every post and page. However, over time, some of those links may stop working.
And that can tank your rankings when a search engine bot follows that link. The Broken Link Checker can fix this by alerting you whenever a link is broken on your website.
You can then fix the link directly through the plugin page. It's easy to use and highly effective.
12. WP Meta SEO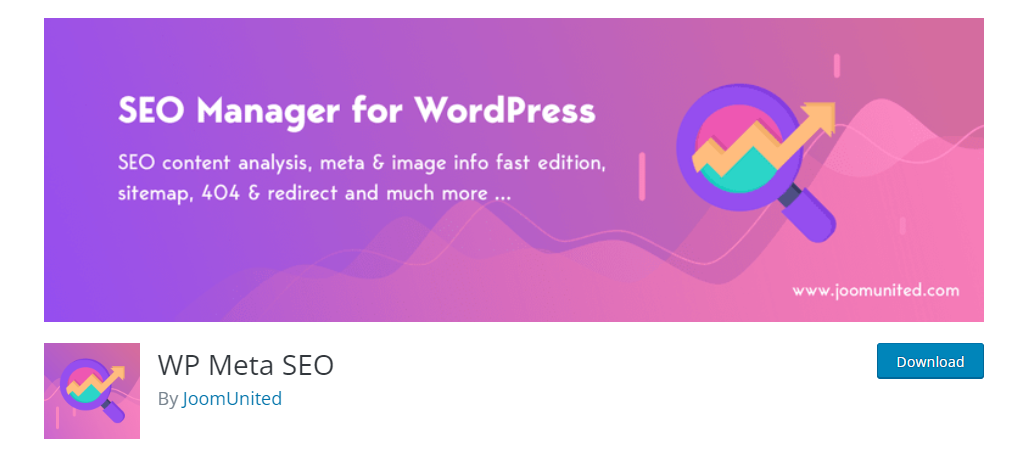 Your website's metadata is incredibly important for SEO purposes. However, there is a lot of it to keep track of. You can make your job easier by installing the WP Meta SEO plugin.
The best part about this plugin is being able to edit all of the metadata on a single screen. It trivializes the entire process and it can greatly improve your website's rankings, as all high-ranking websites have their metadata filled in.
There are also other features like sitemap generation, redirects, and plenty of other useful features.
13. SEO SIMPLE PACK
The SEO SIMPLE PACK lives up to its name, delivering an easy-to-use interface to boost your website's SEO rankings. This plugin largely focuses on metadata and makes it easy to input.
Everything is handled through the plugin's settings page, which is broken up into several tabs. While there are a lot of options, they just consist of a text box to enter the appropriate information.
And there are helpful tips, so you won't have any trouble.
14. Premium SEO Pack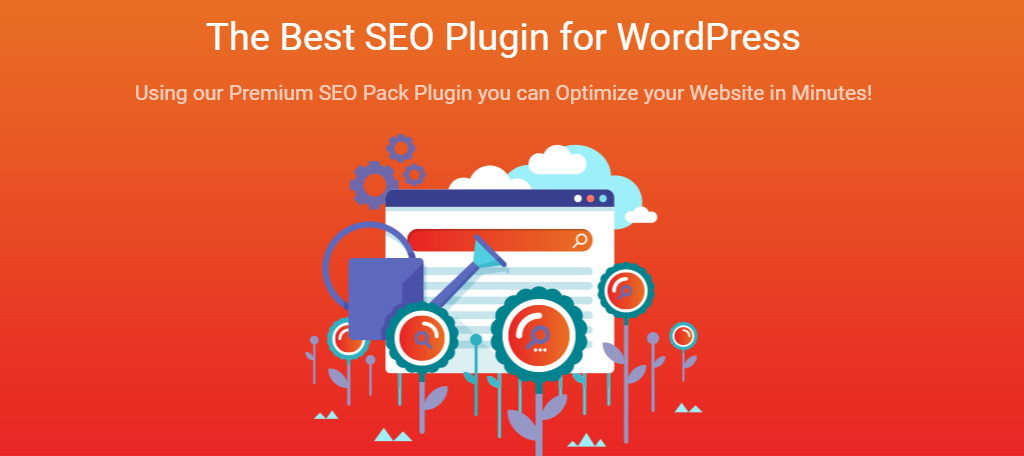 The Premium SEO Pack is another comprehensive all-in-one SEO plugin for WordPress. It includes a lot of the staples an SEO plugin needs like sitemap generation, 404 management, and much more.
Perhaps its most unique aspect is the tips it provides for your internal linking structure. And it's not just internal links, you can use the link builder to easily set up external links on your website.
Overall, the plugin is feature rich and easy to use. As the name suggests it is a premium plugin, so consider purchasing it today.
15. Schema – All In One Schema Rich Snippets
Perhaps one of the most useful types of SEO plugins in WordPress is Schema. This plugin allows you to feed search engines the information they need so that you can display everything you want to display in a search result.
This doesn't just make you look better, it improves your ranking position because search engines will have an easier time crawling through your website. These allow you to include eye-catching elements like ratings and images easily into your search results.
It's a great way to make sure once you get a ranking, that users click on it.
16. SmartCrawl WordPress SEO checker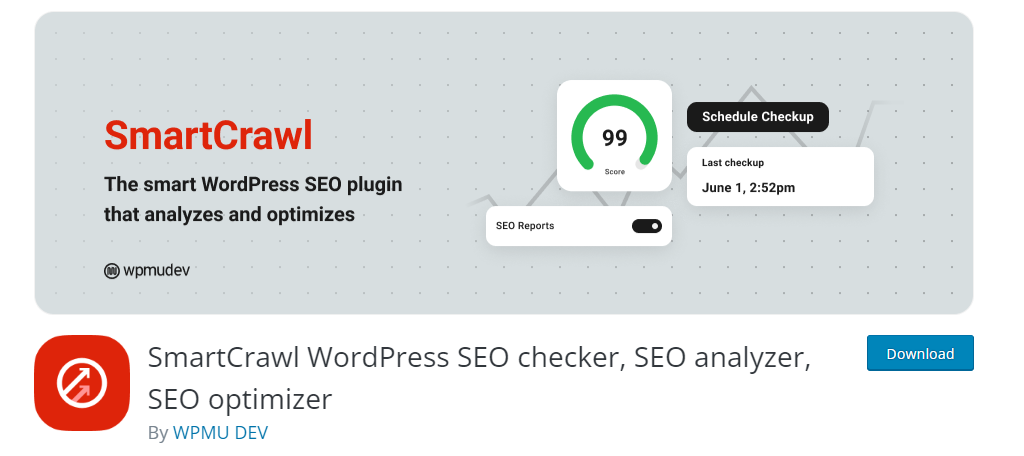 Want to improve your website's SEO, but don't want to spend a lot of time configuring settings? If that sounds good, then you need to install the SmartCrawl WordPress SEO Checker today.
With it, you can use the one-click setup to get your website ranking higher than ever before. It also has a lot of the staples other plugins offer like a redirection manager, sitemap generator, and access to multiple SEO reports.
It's a got a lot of great features for your site to take advantage of without all of the hassles.
17. MonsterInsights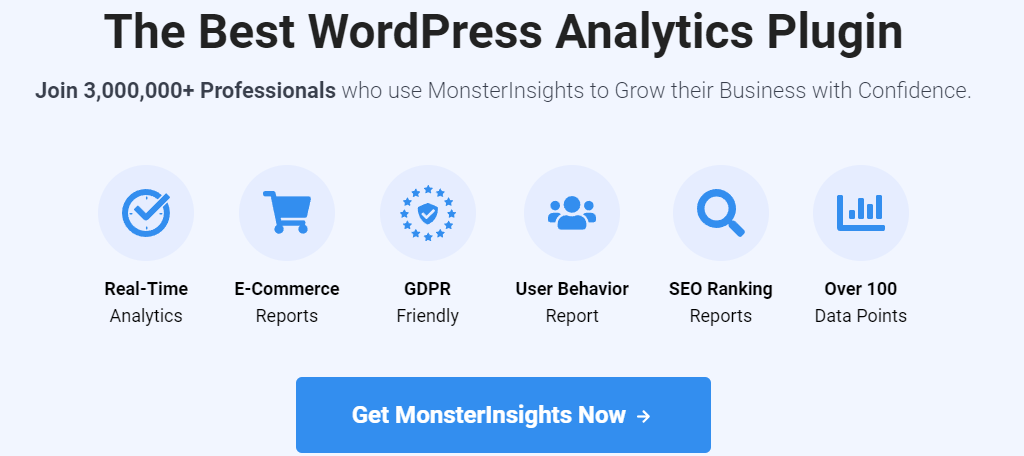 Closing out this list is perhaps one of the most useful plugins in general, MonsterInsights. When it comes to WordPress SEO plugins, this one may not be considered because it is technically an analytics plugin.
That said, analytics and SEO go hand-in-hand and MonsterInsights is the best because it adds Google Analytics to your WordPress site. This allows you to compare your website to the competition.
It also has a variety of SEO reports to let you know where you stand from Google itself.
Don't Be In A Hurry, SEO Results Take Time
Perhaps the most important thing to keep in mind is that an SEO change today could take weeks or months to pay off.
While that may be very discouraging to hear, it's really important to hear. In fact, a lot of beginners often quit or abandon their sites because they are expecting instant results.
Thus, I'll say it clearly. Installing an SEO plugin will not increase your rankings overnight.
It usually takes months to see even a small increase in your rankings, so prepare for the long haul. However, that waiting will pay off as a website can become a very stable income generator once you find success.
However, it takes a lot of effort and time to achieve it.
Install WordPress SEO Plugins Today
As you can see, there are a lot of awesome SEO plugins available on the WordPress platform. And to be honest, there are probably another hundred plugins available. Yet it can be overwhelming.
That's why you need to make a decision and install one of them today.
The sooner you install one, the quicker your rankings will climb. SEO is a long-term plan and it's important to act fast. Failing to do so could cost you a lot of traffic and potential revenue.
The more time you invest in setting up an SEO plugin, the more it will pay off.
What are your favorite SEO plugins for WordPress? What other steps do you take to ensure your website is ranking highly?