As the most popular CMS in the industry, WordPress essentially has a target on its back when it comes to hackers. You can make sure your WordPress site stays protect by using the best security plugins.
Just to be clear, that doesn't mean there's anything wrong with WordPress. In fact, WordPress is quite secure if you are using the latest version. However, because millions of sites use WordPress, it's targeted quite often.
This is a problem that any popular CMS will face, that's why you need to bolster your website's security with a plugin. And when it comes to security, there is no shortage of security plugins to choose from.
You can find all-in-one solutions or more specific tools that focus on a specific aspect. In some cases, the niche tools can complement larger plugins, assuming they are compatible with one another.
Today, I will cover the best 15 security plugins WordPress has to offer.
How to Choose the Best Security Plugin in WordPress
So what actually makes a security plugin good?
Well, it would be one that keeps your website safe from threats while being easy to manage. As you can imagine, a lot of security plugins are going to overlap when it comes to core features.
Generally speaking, most major security plugins have a similar toolset like firewall protection, CAPTCHA, brute force login protection, and much more. And that's because these features improve your website's security.
Of course, some plugins are far more niche. For example, there are many plugins that force users to create a strong password when creating an account. That's definitely a benefit to both the user and the website.
There are plenty of other specialized security tools as well. Thus, what is the "best" is highly subjective to what the site needs.
However, if you're looking for a recommendation, I highly encourage every site to use an all-in-one security plugin. These security tools are feature rich and help reduce the number of plugins you install.
In fact, you should really only have one security plugin installed. They are often incompatible with other tools and can cause problems for the site. They may even think the other one is a threat.
With that said, here are the top 15 security plugins for WordPress.
1. Wordfence Security
The Wordfence Security plugin is among the most popular WordPress plugins available with over 4 million active installs. And that's because it is the best WordPress security plugin on the platform.
It offers a free tool that provides a wide range of protection such as firewalls, blocking features, login security, and regular scanning for compromises. It's compatible with IPv6 networking, included caching features, and provides support for platforms like WooCommerce.
While a premium account is not needed, it will greatly expand your protection options.
More importantly, in terms of usability, it really couldn't be easier to set up WordFence. You just need to install it and go through a few various settings. The plugin will recommend any changes you may need making it very beginner friendly.
Benefits of WordFence Security
Malware scanner checks the core WordPress files
CAPTCHA support for all website forms
Monitor all activity including the number of hack attempts
The ability to repair files and restore them to default
Supports 2FA to log in
Price of WordFence Security
A free version of WordFence is available
WordFence Premium starts at $99 per year
WordFence Care starts at $490 per year
WordFence Response starts at $950 per year
2. iThemese Security
Formerly known as WP Security, iThemes Security is among some of the most installed components in WordPress with over one million active installs. It allows you to shield the website from more than 30 different ways hackers can attack the site.
The Pro version offers an incredible number of features such as detecting bots, spam protection, user logging, and much more. It also detects hidden 404 errors that may be affecting the search engine optimization of your site.
With around a million active installs, it's among some of the more popular security plugins. As you might have guessed, with such a huge install base, the plugin is usable at all skill levels.
Benefits of iThemes Security
Supports Google Authenticator on mobile
Updating your website's SALTS and keys is simple
Utilizes WP-CLI integration
Export your plugin settings from one site to another
Set an exploration date on passwords to force a change
Price of iThemes Security
A free version is available
iThemes Security Pro Basic plan starts at $80 per year
iThemes Security Pro Plus plan starts at $127 per year
iThemes Security Pro Agency plan starts at $199 per year
3. All In One WP Security & Firewall
The All In One WP Security & Firewall plugin offers some of the best security you can find in WordPress. Not only does it help protect your website, but it will also deliver an easy-to-read grading system regarding your current practices.
Aside from offering security improvements, this plugin also runs database backups on a schedule with email notifications when each has been completed. And it also protects your website from Bruce Force attacks.
This is done by blocking the IP addresses of anyone who repeatedly tried to log into an account.
Essentially, it shuts the hacker out for a set amount of time, but this can technically affect normal users that just can't remember their password. So, set it up with caution.
Benefits of All In One WP Security & Firewall
Displays password strength to users
Enhances the security of the WordPress pingback feature
Disable right-clicking on your website
Prevents access to the readme.html, license.txt, and wp-config-sample.php files
View a list of currently logged-in users
Price of All In One WP Security & Firewall
The plugin is completely free
4. Sucuri Security – Auditing, Malware Scanner and Security Hardening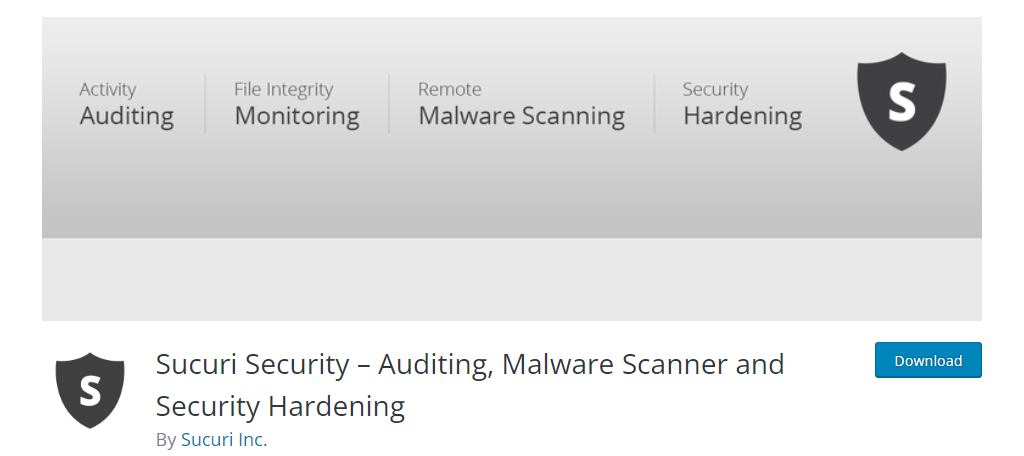 If you are looking for the top security plugin in WordPress, look no further than Sucuri Security. It is a great choice for those looking for an all-in-one system.
Features of this plugin include activity auditing, blacklist monitoring, and file integrity monitoring.
One of the more effective points of this system is the engine it uses for blacklist monitoring. Engines such as Sucuri Labs, Google, AVG, and other popular databases fuel this plugin's malware scanner.
Another useful feature is that the plugin provides a real-time security section. This will let you see everything that is wrong with your website the moment it happens. Since your response time can make a difference, it's a great addition to have available.
Benefits of Sucuri Security
Provides a post-hack wizard to ensure your website's security
Compatible with all other Sucuri WordPress tools
The Website Firewall protects against DDoS attacks
Compares files to find suspicious changes
Sucuri provides several SSL certificates you can use
Price of Sucuri Security
A free plugin is available
Sucuri Basic Platform plan starts at $199.99 per year
Sucuri Pro Platform plan starts at $299.99 per year
Sucuri Business Platform plan starts at $499.99 per year
5. SiteGuard WP Plugin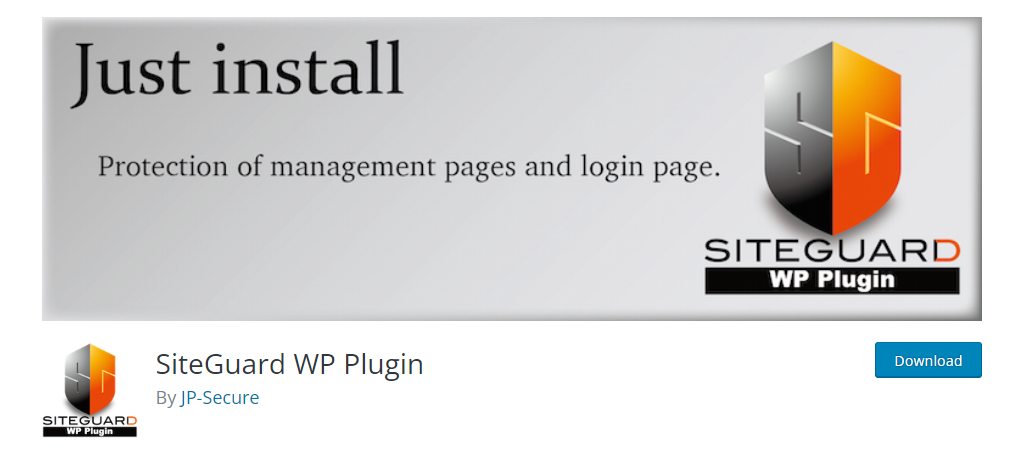 The SiteGuard WP Plugin protects WordPress from being accessed from the backend. One of the more effective features is preventing access to the admin page if the connecting IP address does not match.
The login information can be changed, locked, and protected through CAPTCHA. SiteGuard can also disable pingbacks while providing login email alerts of registered accounts. It's a simple system that is easy to use and maintain.
One of the more unique features is that it can help you rename your login area. This can help throw off hackers. If WordPress doesn't use the default login URL, then it's very difficult to find.
Benefits of SiteGuard WP Plugin
Renames the wp-login file to hide your login area
Automatically disables pingbacks in WordPress
The Fail Once feature can bolster important accounts login security
Prevents user name leakage
Emails are sent to users when they sign in
Price of SiteGuard WP Plugin
The plugin is completely free
6. Titan Anti-spam & Security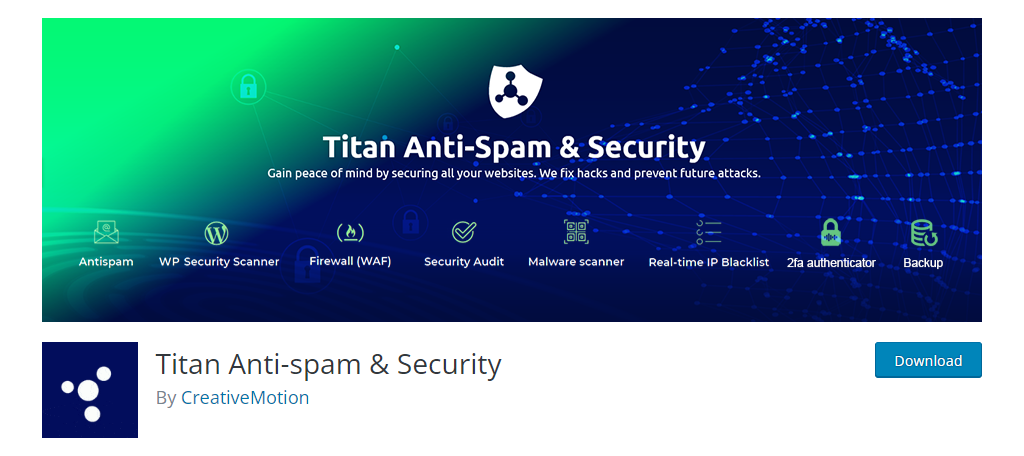 Titan Anti-spam & Security offers some of the best firewall protection in WordPress. It originally started out as an anti-spam plugin but has become another all-in-one security platform you can take advantage of.
This security tool has a variety of features at your disposal including a comprehensive malware scanner, advanced anti-spam protection that does not require CAPTCHA, access to a malicious IP address book, and more.
Perhaps the most unique aspect of this plugin is the ability to hide what version of WordPress you are using. While WordPress constantly updates, older versions often have exploitable security vulnerabilities, which is valuable information for hackers.
Thus, by hiding it, you are making their job much harder.
Benefits of Titan Anti-spam & Security
Firewall guards your website against brute force attacks
Force visitors to create a strong password when creating an account
A great interface to help users make the most of the plugin
Push notification on your web browser when URLs have an issue
You can hide the author login area
Price of Titan Anti-spam & Security
A free plugin is available
The Pro version begins at $55 per year for 1 site
The Pro version begins at $159 per year for 3 site
The Pro version begins at $319 per year for 6 site
7. Bullet Proof Security Plugin
When you need a system that does it all for protecting the website, the BulletProof Security plugin may be a good choice. It delivers a wide range of tools such as .htaccess protection, cookie expiration, error logging, and much more.
You can also set the plugin to back up the database in order to make recovery much easier to handle in the event of a severe problem. You also have access to a security log from the backend of WordPress.
Potentially one of the most useful features it offers is that it will automatically fix over one hundred plugin conflicts. Or in other words, it will prevent any compatibility issues from arising, which is always a concern when installing a new security plugin.
Benefits of BulletProof Security
Easy to set up, one-click wizard will help you get set up in minutes
Maintenance mode for both the front and back end
Requires all users to use a strong password
Advanced logging features for HTTP errors and security
Log out idle users after a specific amount of time
Price of BulletProof Security
A free plugin is available
The Pro version begins at $89.95 per year
8. MalCare WordPress Security Plugin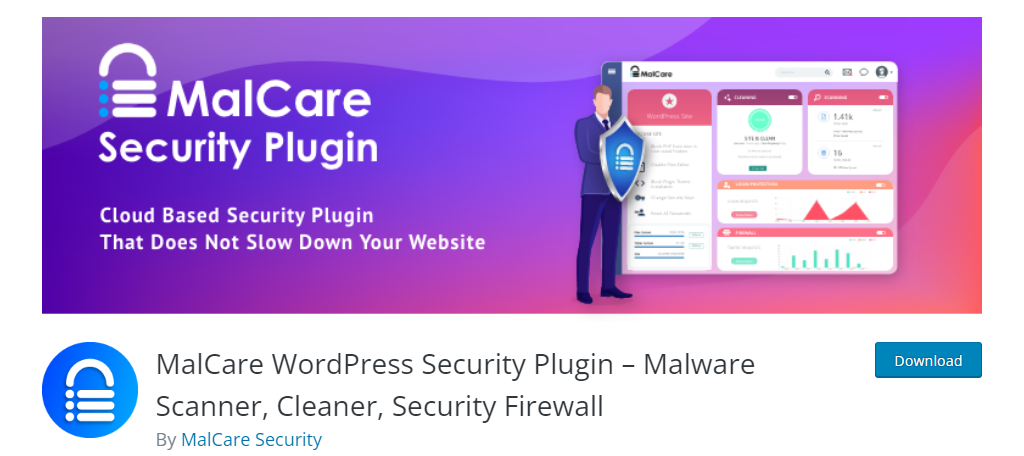 You might have noticed that all of the plugins up until now have focused on preventing your website from being compromised. However, even if you take the proper steps, your website may get hacked, thus, you'll need a tool to recover.
That's where the MalCare WordPress Security plugin comes into play. This plugin focuses on tracking down malware left behind by hackers. Typically, these files will contain a backdoor so the hacker can get back inside at a later time.
Perhaps the best aspect of this plugin is its simplicity. There is a one-click malware removal button that will get rid of any unwanted files on your website.
More advanced post-hack cleaning options are locked behind the Pro version.
Benefits of MalCare WordPress Security Plugin
All scans are performed from outside of your website, so speed is not impacted
The smart firewall blocks most threats before they reach your site
Easily adds CAPTHCA protection to your site login areas
Restrict users from accessing your website based on their location
Brute force attack protection
Price of MalCare WordPress Security Plugin
A free plugin is available
The Basic plan begins at $599 per year
The Plus plan begins at $799 per year
The Pro version begins at $1999 per year
9. Defender Security – Malware Scanner, Login Security & Firewall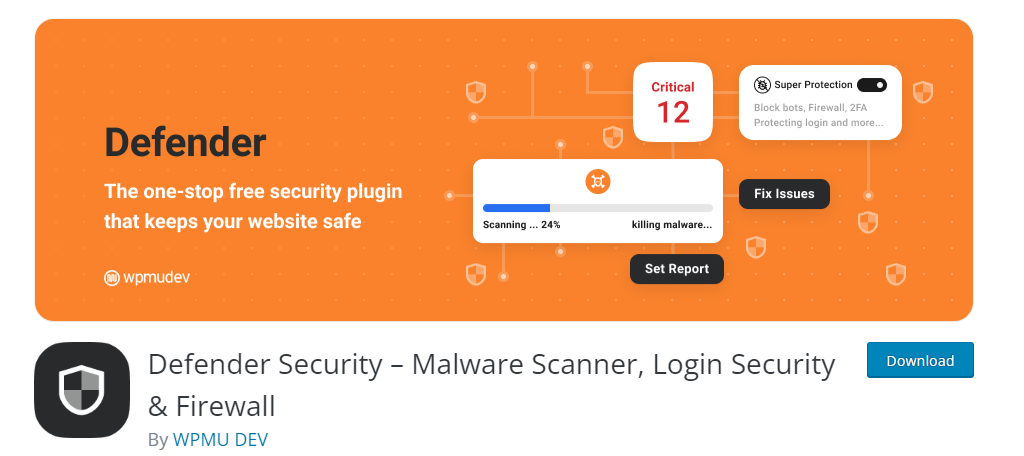 From the developers of Smush and Hummingbird, the Defender plugin adds incredible security to your WordPress site from talented programmers. It provides cross-site scripting prevention, login lockouts, disabling the file editor, and much more.
One of the things I like about Defender is two-factor authentication. To protect your site, you can use passwords and mobile app verification codes.
In reality, this is becoming a common practice on the Internet.
Of course, another approach you can use is adding reCAPTCHA. The plugin fully supports this, and you can add it to your site's login and registration areas.
Benefits of Defender Security
Block IP addresses that come from specific countries
Disable the file editor
Add security headers to improve security
Prevents PHP executions from happening
Prevents spam by disabling trackbacks and pingbacks
Price of Defender Security
The plugin is free to use
10. WP fail2ban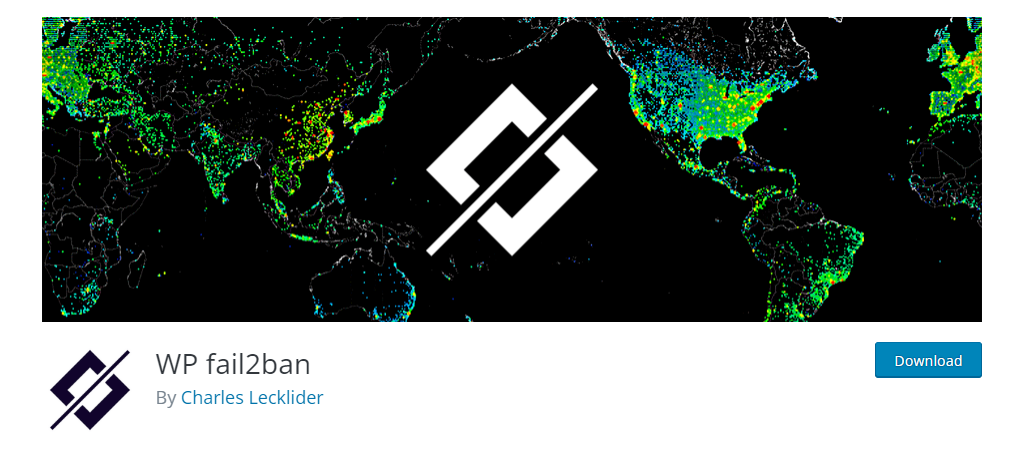 WP Fail2ban is a terrific addition to any website that is looking to secure its login area. It has a variety of features that focus on keeping bots from making multiple login attempts and preventing spam in other areas of your website.
Unlike many other security plugins, there are no settings to configure, at least in the free version. Thus, it becomes an excellent option for beginners that just want to improve website security without messing with settings.
It is also fully compatible with popular form builders like Contact Form 7 and Gravity Forms. And it even has support for a multisite network.
Benfits of WP fail2ban
Filters out login attempts that did not enter a username
Works with Gravity Forms and Contact Form 7
Limit login attempts for all users
Support for Multisites
Price of WP fail2ban
A free plugin is available
Paid add-ons are available
11. WP Hide & Security Enhancer
One of the easiest ways to secure a WordPress website is to hide common files hackers go after. The WP Hide & Security Enhancer allows you to change those default locations making it much more difficult for hackers to target specific areas.
The reason this is so effective in WordPress is that WordPress installs are identical. The important URLs are the same for every site (minus the actual domain name), which hackers can take advantage of.
This plugin also provides a control for custom admin URLs, blocking XML-RPC API commands and theme URLs. This plugin works with those who use CDNs such as Cloudflare as long as the cache is clear.
Benefits of WP Hide & Security Enhancer
Change default wp-content path
Removes WordPress admin bar for specific user roles
Minify HTML, CSS, and JavaScript
Creates a new wp-admin URL to help protect the backend login
Blocks access to multiple default files
Price of WP Hide & Security Enhancer
A free plugin is available
A one-year license for one site begins at $39 per year
A lifetime unlimited usage license begins at $139
12. Jetpack – WP Security, Backup, Speed, & Growth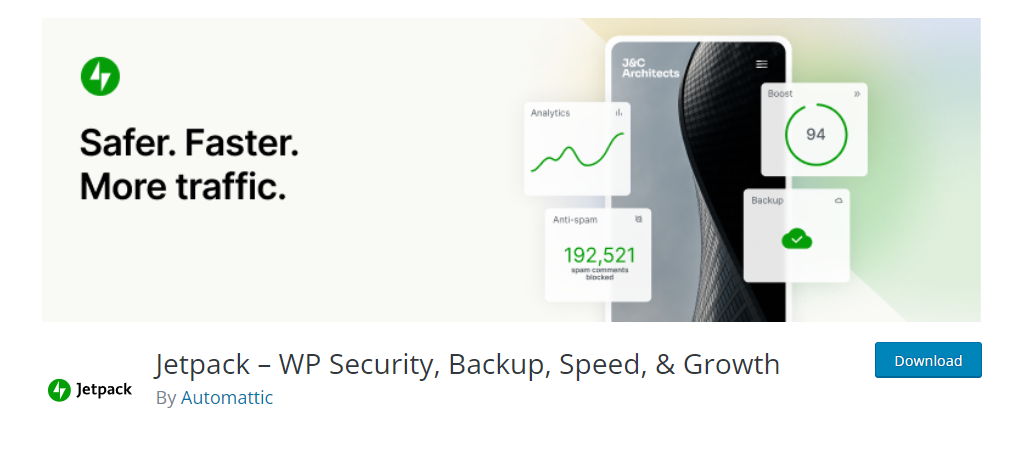 Jetpack is easily one of the most popular plugins in WordPress with over 5 million active installs. It is essentially a swiss army knife plugin for WordPress that does just about anything, and security is one of those things.
It has several free security modules you can activate within the plugin that deals with spam & malware protection, brute force login protection, activity logs, and much more.
To get more robust options, you will need to purchase the premium plan. This gives you access to more powerful modules like daily malware scans. You also gain access to the amazing Jetpack support team to help you troubleshoot site problems.
Benefits of Jetpack
It does way more than just security; there is a module for just about everything
You can easily back up your website and restore it in minutes
View all changes made to your website with a detailed activity log
Protects your comment section from spammers
Gives you the option to add 2FA login protection
Price of Jetpack
Jetpack is a free plugin
You can purchase a security plan for $299.40 per year or $24.95 per month
13. NinjaFirewall (WP Edition) – Advanced Security Plugin and Firewall
The NinjaFirewall plugin is another with excellent coverage for WordPress. It comes equipped to handle heavy issues, such as file monitoring and real-time detection.
This tool also delivers a Live Log allowing you to watch your site's traffic as it happens. This is all thanks to the firewall that can prevent any HTTP or HTTPS request from making it to your website.
Some of the things that give NinjaFirewall a reason to consider include multi-site support, IPv6 compatibility, and event email notifications to keep you in the loop if something happens.
Benefits of NinjaFirewall
The File Guard feature detects any changes to files and immediately checks for problems
Email alerts when specific actions are taken on your website
Multi-site compatible
All features within the plugin offer detailed descriptions
All of your information remains on your servers to improve privacy
Price of NinjaFirewall
The plugin is free to use
14. Shield Security
Shield WordPress Security is another excellent security plugin you should consider installing on your website. It works as a spam filter, monitors for malicious URLs, prevents brute force attacks, and more.
One of the best aspects of this plugin is its performance. One thing that security plugins have a reputation for is slowing down your site. This one avoids that problem by making optimizations for speed.
Another of this plugin's useful features is that your website is protected the moment you install it. Many other plugins only begin protecting your site after configuring the settings. With this one, you are protected immediately while you make adjustments.
Benefits of Shield Security
Never blocks a Google or other search engine bot
Detects and fixes core file changes
Additional security for WooCommerce forms
Detects abandoned plugins
Activate the plugin and it's ready to go
Price of Shield Security
A free plugin is available
Shield Pro begins at $79 per year
15. Security & Firewall Scan by CleanTalk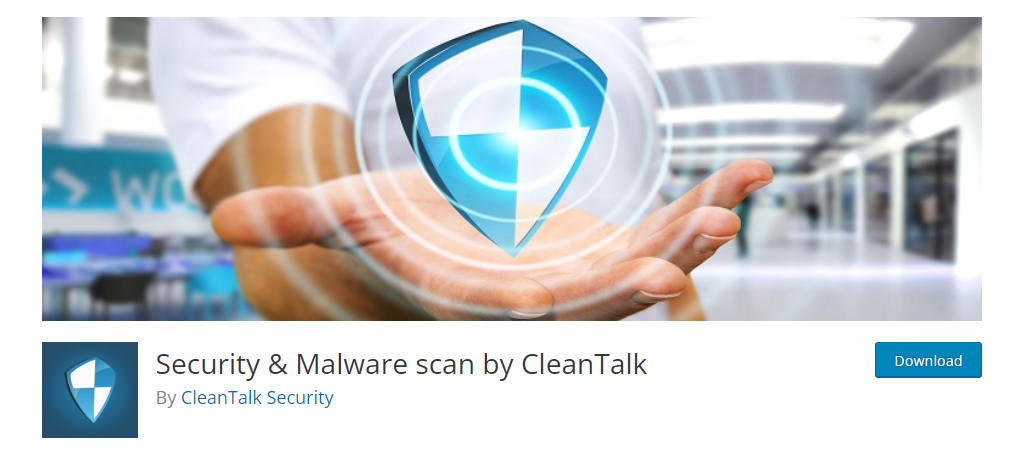 CleanTalk offers a good tool in the plugin Security & Firewall. It prevents brute force attacks from succeeding, which means there is less of a likelihood someone can gain access from login credentials.
It adds a few seconds to a failed attempt when someone tries to login into WordPress. This means that hackers cannot set up a bot to constantly bombard the login screen with attempts. It's a simple and effective way to keep many hackers at bay.
It also includes a Malware Scanner for SQL. It can identify code that will allow for SQL injections, which is essentially a way for hackers to get into your site.
Overall, it's a robust tool that's worth checking out.
Benefits of Security & Malware scan by CleanTalk
Checks all outbound links to prevent spam
Supports 2-factor authentication
Change the URL for your login pages
Automatically block users that make a certain amount of requests
Limit the login attempts to block DDoSers
Price of Security & Malware scan by CleanTalk
A free plugin is available
The CleanTalk security plan begins at $9 per year
Do I Need A Premium Security Plugin in WordPress?
You may have noticed that most of the plugins offer a free security plugin, and it probably made you think, do I really need a premium tool?
Well, to be completely honest, no, most websites will do perfectly fine with a free security plugin. At least if your website is smaller.
While smaller websites are still at risk, the truth is most groups target bigger fish.
The bigger your website, the more advanced security methods you will need to use. And this is definitely when you should be using a premium plugin. They offer more features and provide additional support.
That extra support can really save you from some headaches and make setup a breeze.
Of course, you might have noticed that as far as expenses go, a security plugin really won't break the bank with most yearly licenses under $100. Thus, you may just want to use one from the get-go for peace of mind.
Protect Your Website With A Security Plugin Today
No matter if your website is big or small, hackers and other malicious groups will target it. You need to make sure your website is adequately protected so you do not become another statistic.
Luckily, as this list has showcased, WordPress has a great selection of security plugins you can take advantage of. And just about every one of them on this list offers a free version that you can use.
No website should ever be without proper security, so be sure to install one today.
What security plugins do you use to stay safe? How easy do you find it to manage security in WordPress?