Getting YouTube videos to show up on your WordPress website is much easier now with the copy and paste link shares, as well as the ability to embed. However, what if you want to create a full YouTube gallery WordPress site?
Don't worry, you can create a YouTube showcase on your site with ease. In this tutorial, I will show you how you can quickly and easily start the process of building a YouTube gallery from your WordPress powered website.
Want to have one page dedicated to your YouTube carousel from WordPress? Want the entire site to be a video gallery to promote your channel? Whatever the need may be, the following steps will get you going in the right direction.
Let's take a look at how to create YouTube video galleries in WordPress.
Video Gallery – YouTube Playlist, Channel Gallery
In order to create a YouTube gallery in WordPress, we need to find a solid plugin that can help us accomplish this. I have chosen the Video Gallery – YouTube Playlist, Channel Gallery plugin.
The YotuWP plugin is a solid solution for embedding YouTube video galleries on your post or pages. This WordPress video gallery plugin with thumbnails is a very modern and mobile-friendly option that will help you build gorgeous and dynamic layouts.
It comes loaded with a ton of functionality and features. Some of the main elements include:
Easy to embed playlist / channel videos to WordPress post or page
Custom layout for displaying videos
Fully responsive video galleries
A Player with a large frame on top
Video player with popup/lightbox/modal with thumbnails
Fully responsive layout
Load more buttons
Fully compatible with WordPress page builders via shortcode
Tons of styling settings and options
Let's set the YotuWP Video Gallery plugin up together.
Install and Activate YotuWP
From the admin area of your WordPress dashboard, install and activate the YotuWP plugin.
Once the plugin has been installed and activated, click on YotuWP > General Settings. This will take you to the configuration page for the plugin, where you can set it up to your liking.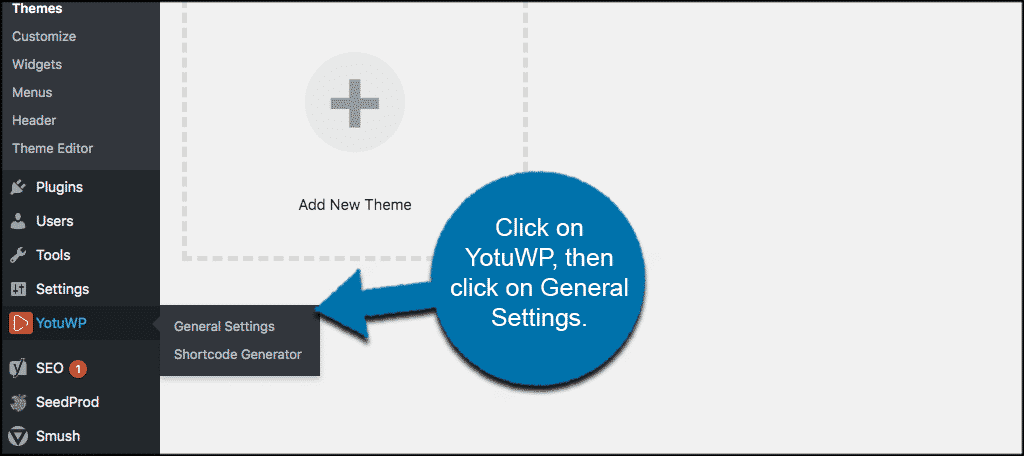 You will see 7 main tabs. All representing different configuration and setup options for the YouTube gallery for WordPress plugin. They include:
General
Player
Styling
Effects
Cache
API
Intro
Let's go over these.
General
This is where you will configure the main general settings for the plugin. These settings will include things like:
Video Layout Template
Columns
Videos Per Page
Pagination
Pagination Type
Video Thumbnail Ratio
Videos Title
Videos Description
Fill these out to your liking, click on the "Save Changes" button, and then click on the "Player" tab located on the top left of the screen.
Player
The player configuration tab is where you will be able to set up the Video Player itself. For example, you can change how it will operate and what type of functionality you will allow users to have. This will include options like:
Description
Auto Play
Branding
Width
Related Videos
Fill this area out how you see fit and click on the "Save Changes" button. Then click on the "Styling" tab on the left of the screen.
Styling
The styling tab will allow you to set your video thumbnail settings, the page layout, button styles and colors. And you can also change the hover and background actions of the layout.
When you finish setting these up how you want, click on the "Save Changes" button and move to the "Effects" tab.
Effects
The effects tab is very straightforward. If you don't have the pro version of the plugin, then you simply get to pick from 1 of 5 video box effects.
Choose the one you like best, click on the "Save Changes" button, and then move to the "Cache" tab.
Cache
This allows you to set up the caching action for the YouTube gallery in WordPress. You can enable it, perform timeout options, and clear the cache data if you need.
Click on the "Save Changes" button and move to the "API" tab.
API
You will need to get a YouTube API key. Follow the link on the page for instructions. You can also choose whether or not you want to allow tracking data.
Click on the "Save Changes" button and move to the final tab title "Intro."
Intro
Even though this is technically the introduction to the YouTube gallery plugin, the tab is listed last. If you want to find out a little about the developer and some other interesting things, go ahead and read the paragraphs that are presented.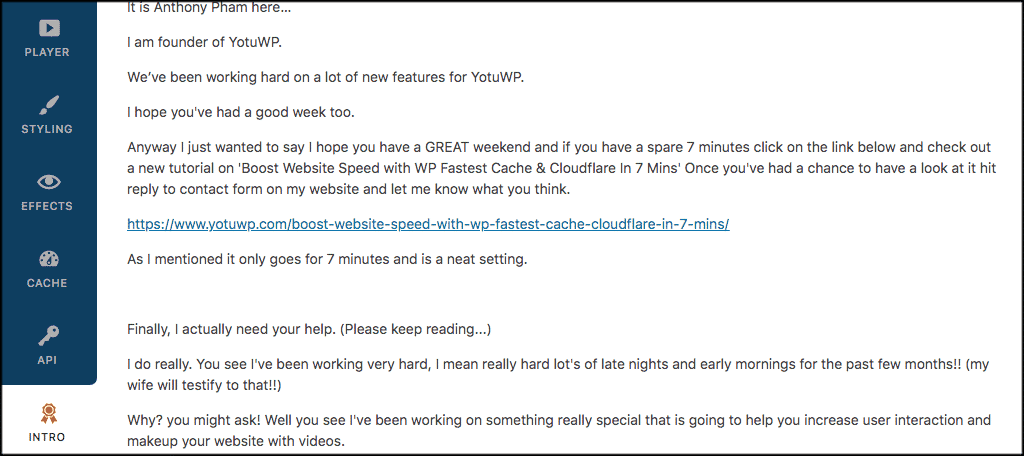 How to Show Your YouTube Gallery WordPress Video Page or Post
There are two ways to get YouTube videos to display. Simply go to any post or page and you will now see a YouTube gallery WordPress button in the editor. Click on that button and insert one of the YouTube galleries you have created.
Or, you can generate shortcodes for any of your galleries. Then, use those shortcodes to display videos on posts and pages. Just click on the YotuWP > Shortcode Generator.
Note: The shortcodes work well, but they are best used for incorporating the YouTube gallery WordPress videos into a WordPress page builder.
Final Thoughts
Displaying a YouTube gallery on a WordPress page, post, or full website is not difficult. With the use of the right plugin and setup, you can present your audience a beautifully laid out showcase.
YotuWP also has a pro version of their plugin that will give you even more options. Check it out if you want to do even more.
Have you ever tried to build a YouTube video gallery on your WordPress site without a plugin? What are some other ways you have accomplished showing your videos?