Cryptocurrency has been gaining popularity over the last few years, and right, now it is as popular as ever. You can see that vendors are starting to add Bitcoin payment gateways as crypto becomes even more mainstream. Perhaps it is a good idea to add cryptocurrency widgets to your site.
This will not only keep your site users up-to-date with prices and other things happening in the world of crypto, but it will give you a stronger foothold in this arena. This is even more important if you have an eCommerce website of any sort. You could even go as far as to add a cryptocurrency donation box to your site.
What is Cryptocurrency?
There are a lot of ways you can describe cryptocurrency. However, in the easiest to understand words possible, cryptocurrency is a type of currency that uses digital files as money.
The files are created using the same methodology as cryptography (which means the science of hiding information). Perhaps the most attractive thing about crypto right now is the fact that they are secure and use "decentralized control." This means that the currency (any of them) is not controlled by any one person or government.
Today, I am going to show you how you can add a cryptocurrency ticker to your website using a smooth plugin that will provide you all the tools you need to accomplish this.
Let's take a look at the plugin we are going to use today and see all that it has to offer.
Cryptocurrency Widgets – Price Ticker and Coins List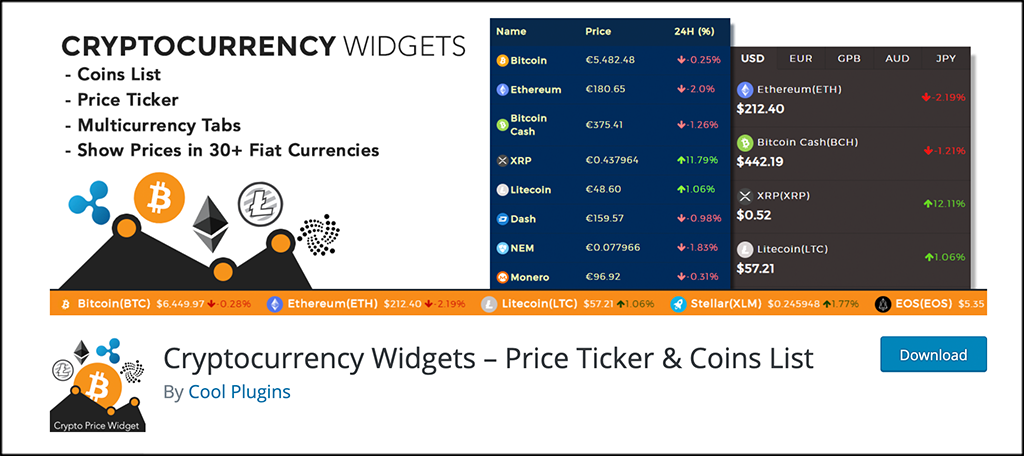 Cryptocurrency Widgets is exactly that. It is a plugin that gives you the ability to create a crypto ticker, or multiple crypto tickers, for your WordPress website. The plugin does a number of things including generating crypto coins prices, widgets, and coins list shortcodes.
This cryptocurrency price ticker widget plugin supports all of the most popular currencies including Bitcoin, Litecoin, Ethereum, Ripple, Dash, and many more of the most recognizable cryptocurrencies out there.
Essentially, the plugin allows you to create multiple customizable widgets that you can display as part of a cryptocurrency ticker. This means your website users will be able to see up-to-date ticker info on all their favorite coins.
Once downloaded and set up, you will be able to display a ticker and crypto pricing table anywhere on your website. This includes posts, pages, and widgets.
It also comes packed with features. Some of the highlights include:
Advanced Ticker
Crypto Price List
Price Label
Multi-Currency Tabs
Fiat Currency Support For 32 Coins
Custom Colors
Custom Settings
Ability to Add Custom CSS
All in all, if you want an advanced Bitcoin widget or other crypto widgets on your site, then this is how to do it fairly easily.
Let's get the Cryptocurrency Widget plugin installed and set up together. You can then build your own customized ticker widget.
Note: There is a pro version of this plugin available. It gives you access to other cryptocurrencies and a layout like Coin Market Cap, as well as some other features. If this is something you feel your site needs, then go ahead and give it a look. The rest of this tutorial is based on the free version of the plugin.
Add a Cryptocurrency Ticker Widget
Step 1: Install and Activate the Plugin
In order to start building ticker widgets using the Cryptocurrency Widgets plugin, you first need to install and activate it. You can do this by hopping over to the Plugins page of the WordPress admin dashboard.
Once you are there, you will see that there is a search field available. Simply use that search field to search the plugin by name. When it pops up, install and activate it right from there. The plugin will then be ready to configure and use.
Step 2: Checkout the Dashboard
This plugin is very straightforward, and all of the configurations are actually done when you build a widget. That being said, before we do that, take a look at the "Dashboard" area of the plugin.
To get there, click on Cryptocurrency Plugins > Dashboard, located on the left side menu area of the dashboard.
You can see that these options are now showing and available because you activated the plugin.
The Dashboard simply shows you what is currently running in the plugin, as well as shows you some other add-on options you may be interested in. Go ahead and give the page a look and make any notes you need.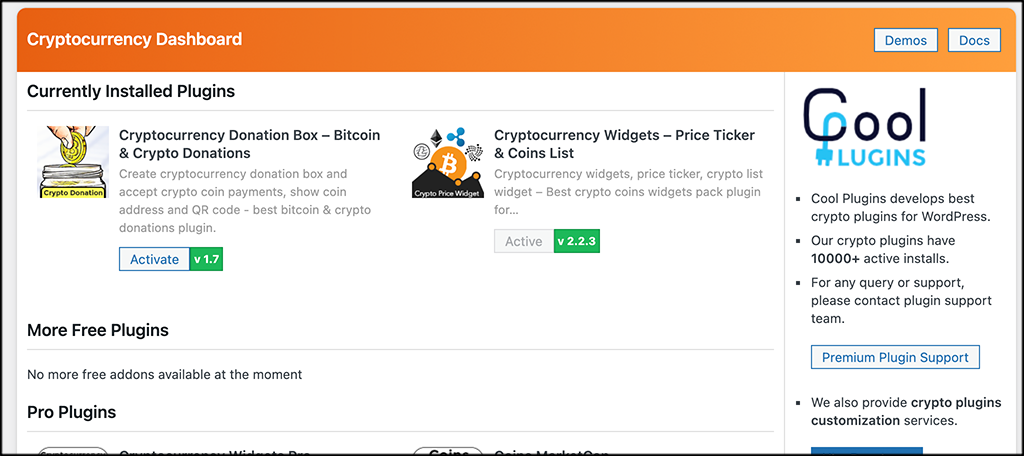 Step 3: Add a New Widget
At this point, you are ready to add a new widget. Click on the "Add New Widget" link that is located on the left side menu of the dashboard.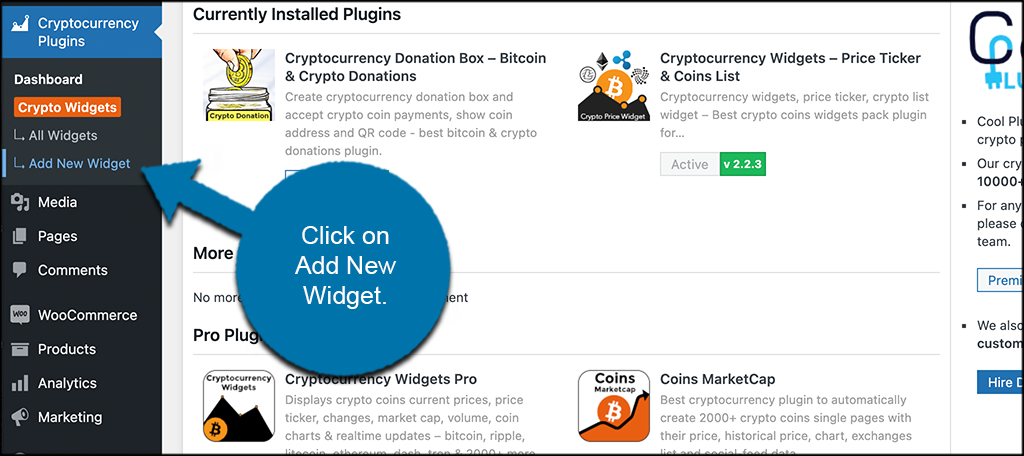 You can see it is located directly under the main Cryptocurrency Plugins tab.
Now that you have landed on the widget editor, start filling out the relevant info needed to properly create the crypto ticker.
On the top of the page, you will see a spot to enter the title. Go ahead and do that.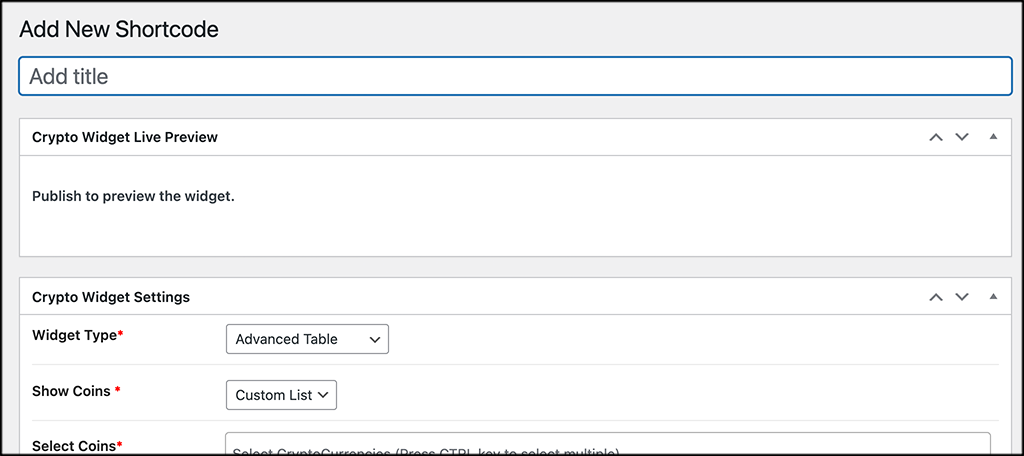 Note: The preview of the widget will only show once it has been published.
From here, scroll down some and add all the relevant widget settings that you want. This will include picking a widget type, coins to show, show only certain coins, select your fiat currency, and enable formatting.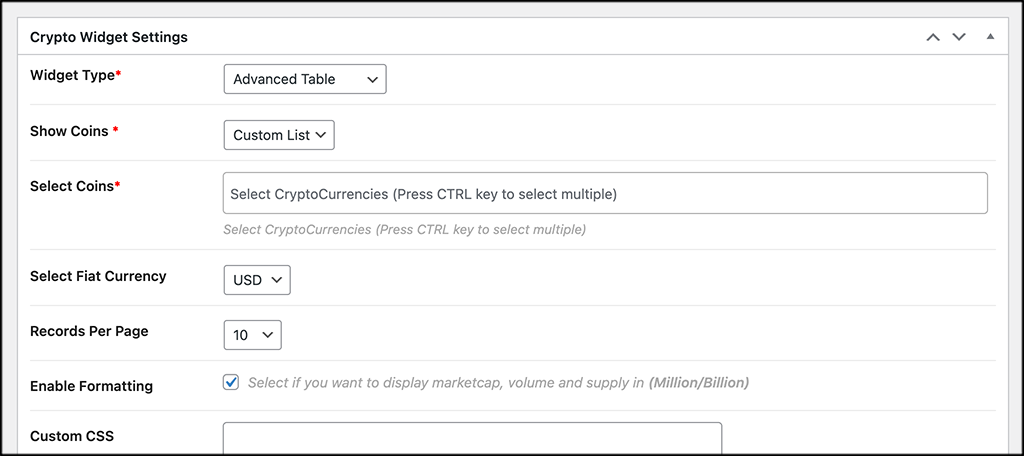 Last, but not least, if you know how to add Custom CSS, then you can do that in the box provided.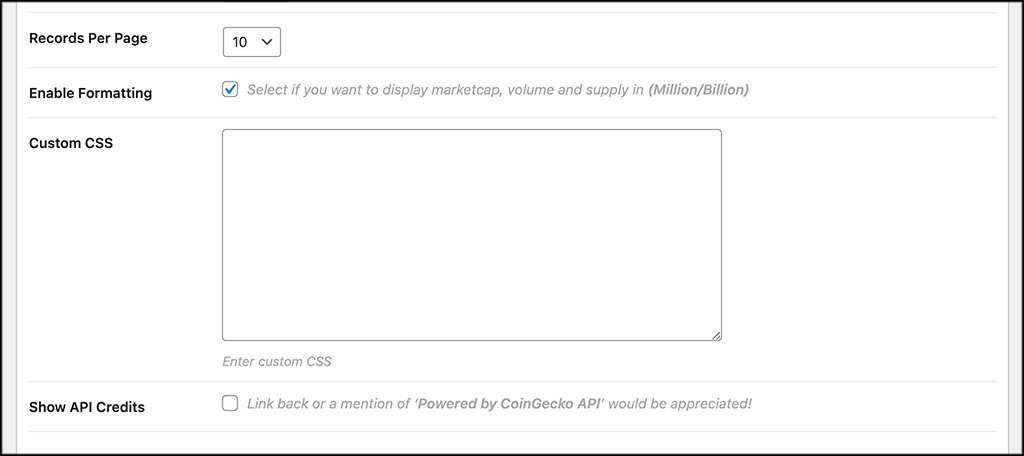 Now, public the widget and let's go place the shortcode on a page.
Step 4: Add Crypto Widget Shortcode to Page
When you click the "Publish" button, you will see a demo of how it will look right there in the editor. That being said, let's take the shortcode generated and paste it on a page. You can put it on any page you want it to show on.
Step 5: New Live Crypto Ticker
Now, view the live crypto ticker you just placed on the page. If you need to style some things differently, then go back to the widget and update some things.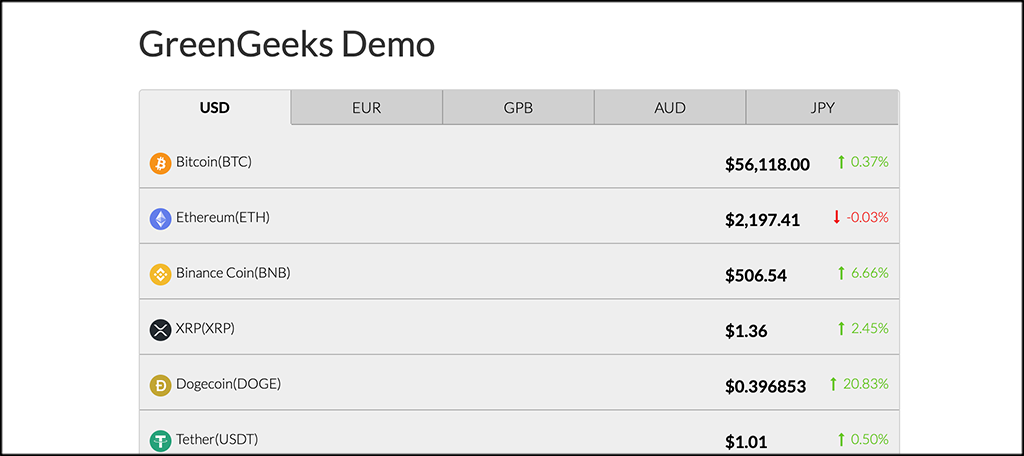 That's it! You can build as many different cryptocurrency widgets as you want and place them throughout your website. Simply repeat the process above.
Adding the Ticker Via Widget
As stated earlier in this article, you can also add the crypto tickers you build to your site using widgets as the plugin has one built-in. Head over to the widgets page in your dashboard.
Once you arrive, search for the widget title "Crypto Widget." Drag and drop it into the widget area of the place that you want it to display.
That's it. You can add as many of them via widget as well, as the plugin has no limit.
Final Thoughts
Cryptocurrencies are wildly popular and only continue to grow. Using this plugin is a great way to allow your customers access to prices and currencies. The plugin is stuffed with features and will give you everything you need to easily build as many cryptocurrency widgets as you would like for your site.
I hope this tutorial was able to show you how easy it is to dive into crypto prices and set up ticker widgets on your WordPress website.
Are you already familiar with crypto? Have you found a plugin that does what you want?