I am asked over and over; what is the best way to display my most popular WordPress posts? While there are a number of ways to display popular posts on your site, I feel the best way to do it is to display posts that spark conversation. The posts that have the most WordPress comments are usually a great way to go.
That said, it is important to actually moderate your comments section to remove spam. Otherwise, you might be promoting an article that a lot of spambots found instead of the posts that real visitors like. Luckily, WordPress makes this easy to do.
In this article, I will show you how to display WordPress posts with the most comments on your site.
Why Comments Matter
It's easy to not understand the importance of a bustling comment section, but it doesn't make it any less important.
The comment section helps websites build a community and interact with them. Visitors can interact with your content or other visitors. And once that community bond is formed, they keep coming back to see what their online friends have to say.
Comments also provide valuable feedback on your content.
Unfortunately, as content creators, it's hard to know how your content will be received, and if you don't get much traffic, it can be hard to improve. Comments can help you gather feedback and make improvements based on your visitors.
And with the explosive popularity of memes over the years, the comment section has become an excellent place to share them, if you allow images. This by itself can keep visitors coming back multiple times to the same post.
It's also worth mentioning that positive comments can help ensure visitors that your content works, in the case of tutorials. In fact, it's not that uncommon for a visitor to check the comment section to make sure the guide is working.
How to Show Off Your Most Commented Posts
Step 1: Install WordPress Popular Post
The WordPress Popular Posts plugin is a very simple plugin that allows you to display your website's most popular posts. Of course, the real question is how does it determine which are popular, and the answer is simple. It doesn't.
Instead, it provides users with a set of factors they can use to determine what is the most popular. For instance, you can use comments as the gauge and display the posts with the most comments, which is what we are after. Other factors include total views and average daily views.
The first thing you want to do to display WordPress post comments of your most popular posts is to install and activate the WordPress Popular Posts plugin.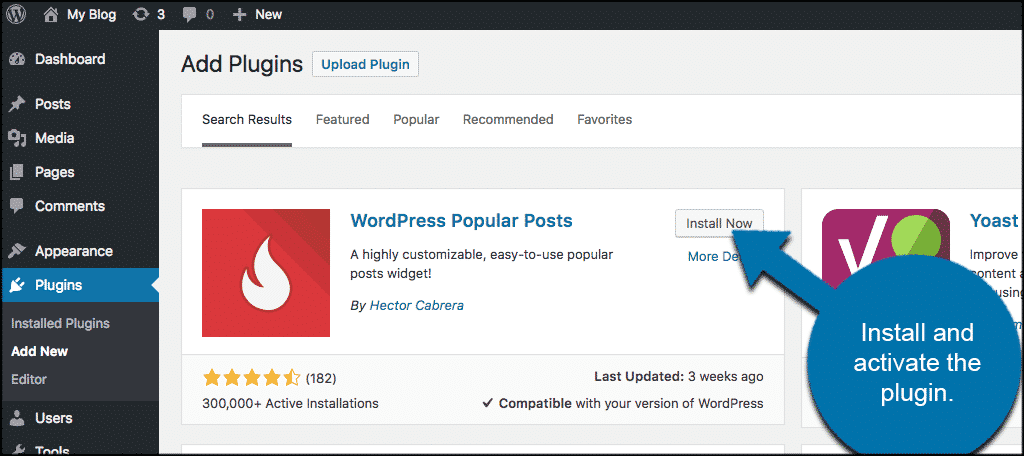 This WordPress comment plugin allows you to display popular posts in a number of ways, including displaying them by the amount of WordPress comments each post has.
Now, there are some settings you can go view if you would like. You would simply click on Settings > WordPress Popular Posts.
You will see some of the options available to you there. These settings will include options like Log Views, Log Limit, Data Caching and a way to place a default thumbnail if your post does not have a default image.
You will also find the stats area of the plugin, which will be automatically filled based on the WordPress comment display settings you choose.
Step 2: Display Most Commented Posts in Sidebar
The meat of this WordPress comment plugin lies in two spots. You can use shortcodes (which I will go over below), or you can use the WordPress comments box in your widget area to display your most commented on WordPress posts in the sidebar of your website.
When you have activated the plugin and looked at the settings (if necessary) simply click on Appearance > Widgets to get to the widget area of your WordPress website.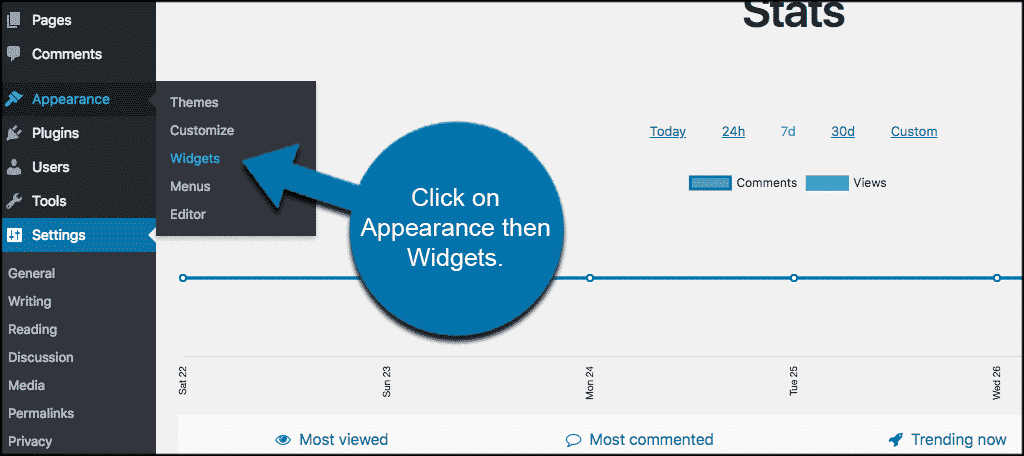 Once there you will see the WordPress Popular Post widget in the widget area. Drag it into your site sidebar and configure the WordPress comment box the way you would like it to display.
You will see that there are a lot of different configuration options. In order for the WordPress comment plugin to display the most popular posts by comments, you will need to select "Comments" under the "Sort posts by" dropdown box option.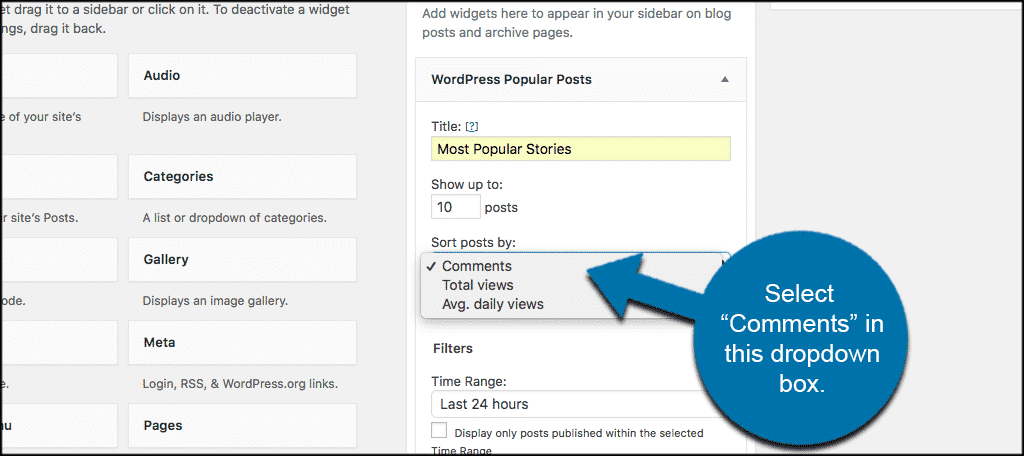 The rest of the configuration options include things like:
Time Range
Post Type
Post ID
Author ID
Post Settings
Stat Tag Settings
HTML Markup Settings
Step 3: Display Most Commented Posts Within a Page or Post
The WordPress Popular Posts plugin also comes complete with a shortcode that will allow you to display all of your most engaging and popular content within a post or a page.
The shortcode is just as powerful and engaging as the widget is and will allow you to display content in other parts of your site besides the main sidebar. For example, you can display WordPress's most popular posts by comments on your "About" page.
To display the all-time top 10 most commented on posts on your website you would use the following shortcode:[ht_message mstyle="info" title="" show_icon="" id="" class="" style="" ]
[wpp range=all stats_comments=1 order_by=comments post_type=post,page limit=10 wpp_start=
wpp_end=
]
[/ht_message]
To view a whole list of shortcodes and parameters go to Settings > WordPress Popular Posts and click on the FAQ section. Scroll down to the shortcode parameters question and click on it to expand. This will give you the info you need.
Congratulations on setting up the WordPress Popular Posts plugin.
Do Comments Affect SEO?
You may be wondering if there is a correlation between an active comments section and your rankings. Luckily, Hubspot already found the answer to that question. By analyzing over 100,000 blogs, the data shows that there is no correlation between comments and SEO.
However, do note that comment sections that are very active have more direct traffic, which can help organic traffic results.
Should I Moderate Comments?
By default, WordPress requires the site owner to approve every comment. This is to ensure that inappropriate comments do not get through. By properly moderating comments, you can help keep your website's comment section clean. It also helps protect against comment spambots.
Keep in mind that this can be changed via a plugin. In those cases, comments can go live immediately after submitting a comment. While this gives you less control, it does reduce the number of notifications you receive and helps keep the comment section going 24/7.
Should I Make Visitors Login to Comment?
This can significantly help reduce the amount of span found in the comment section. However, the harder you make leaving a comment, the less likely you are to receive one. This is highly recommended for larger websites that have an established following but shouldn't be necessary for smaller blogs.
What If I Switched to the Disqus Comment System?
Some developers do not like the default WordPress comment system, instead, they switch to Disqus. And if you made this switch, you have nothing to worry about. This plugin is fully compatible with Disqus and can still get the same results.
Make Sure to Reply to Comments
One of the biggest mistakes you can make is not interacting with your community in the comment section. After all, that's the entire point of it!
Take a few minutes to reply to the comments, thank them for sharing their opinions, or even laugh at a joke. It's not difficult and it will help encourage more people to leave a comment. After all, if they enjoy your content, it's the least you can do.
Some might even be pointing out mistakes that can be easily corrected. This can help bring your content to the next level.
What other ways do you like to display your most popular posts? Do you prefer using the shortcode or the widget to display your most popular posts?