Are you looking for a way to add an eBay feed to your WordPress website? While Amazon is certainly dominating the competition when it comes to market share, eBay is still holding its own. In 2018, it had a market share of 19.7%, which was second only to Amazon.
An eBay feed displays products you are selling or products being sold on a sponsored account. It can be a great addition to websites that have a strong presence on the platform and in turn, can boost sales.
Today, I will demonstrate how to add an eBay Feed to WordPress to help drive sales.
Why Display An eBay Feed in WordPress
Running an online website is just like running a business. Your goal is to please your customers (visitors) and to make a profit. And adding an eBay feed can help you significantly.
If you are an active seller on eBay, it can be hard to get noticed since there are plenty of other sellers on the platform with the same products. Advertising your personal eBay products on your website can be a great addition.
For example, it is very common for trading card stores with physical locations to do business on eBay. If you have a business website that has your store hours and contact information, adding an eBay feed is a perfect fit.
Just make sure that any feed you do add is not intrusive to your visitors.
What If I'm Not an eBay Seller?
While the above makes perfect sense if you are an eBay seller, how does this help non-sellers?
Displaying someone's eBay products is a form of affiliate marketing.
The more popular your website, the more appealing it is to potential marketers. This is a great opportunity for both parties to turn a profit.
For example, let's keep with the trading card theme. Let's say you have a blog that covers modern card strategies in Magic the Gathering. Your fan base is clearly interested in the card game. Thus, displaying an eBay feed of someone who actually sells Magic the Gathering cards makes perfect sense.
You can get some affiliate sales while the seller can advertise his wares to an audience that is interested in them. This makes it a win-win situation.
Installing WP eBay Product Feeds
The WP eBay Product Feeds is a great plugin to add an eBay feed to WordPress. The plugin makes it easy by place feeds directly into blog posts, add it to a widget, or place it directly into the theme. This gives you a host of customization options to choose from.
On top of this, the plugin adds a new Gutenberg block called eBay Feed and a new widget called WP eBay Product Feeds. This makes it simple to add the feed into any post, page, or widget area.
Let's start by clicking on Plugins and selecting the Add New option on the left-hand admin panel.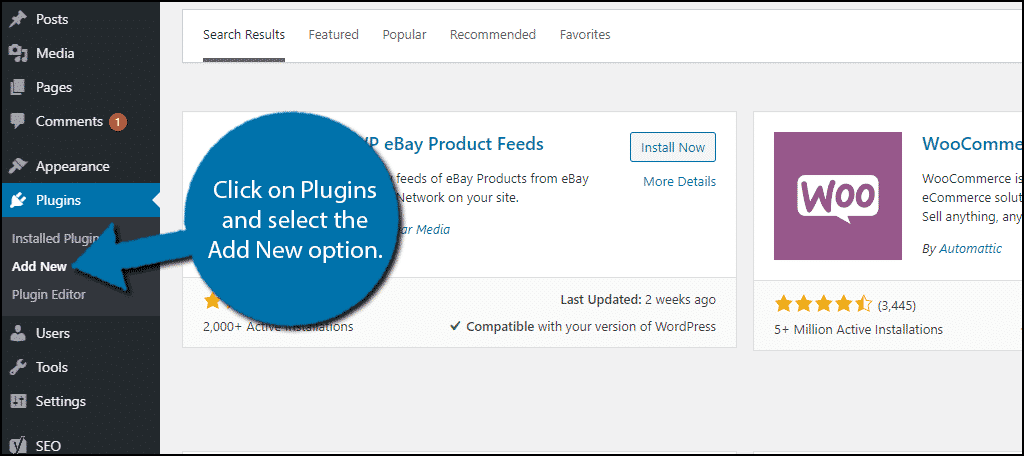 Search for WP eBay Product Feeds in the available search box. This will pull up additional plugins that you may find helpful.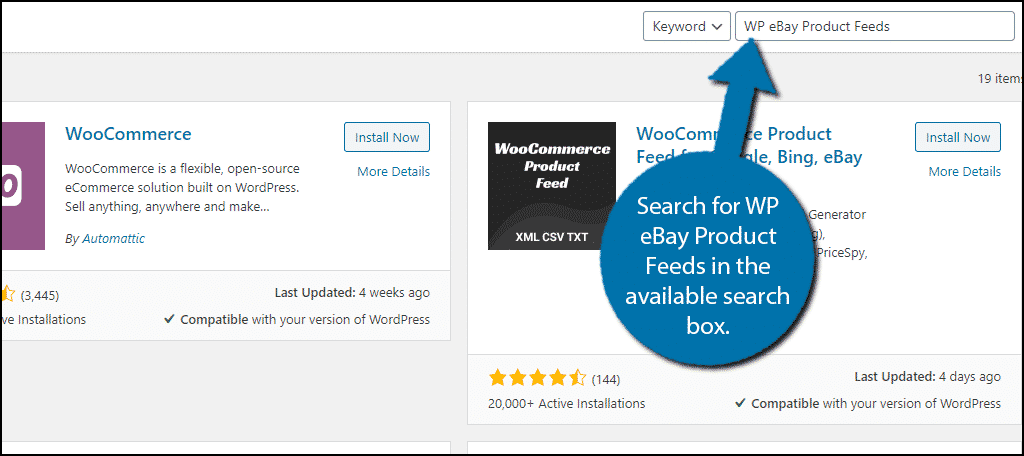 Scroll down until you find the WP eBay Product Feeds plugin, click on the "Install Now" button and activate the plugin for use.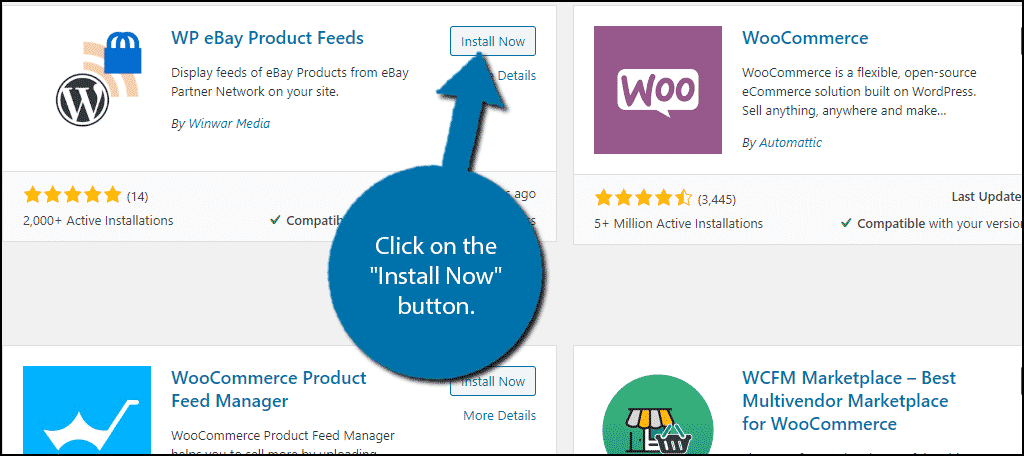 Setting Up WP eBay Product Feeds
On the left-hand admin panel, click on Settings and select the WP eBay Product Feeds option. This will pull up the main settings page.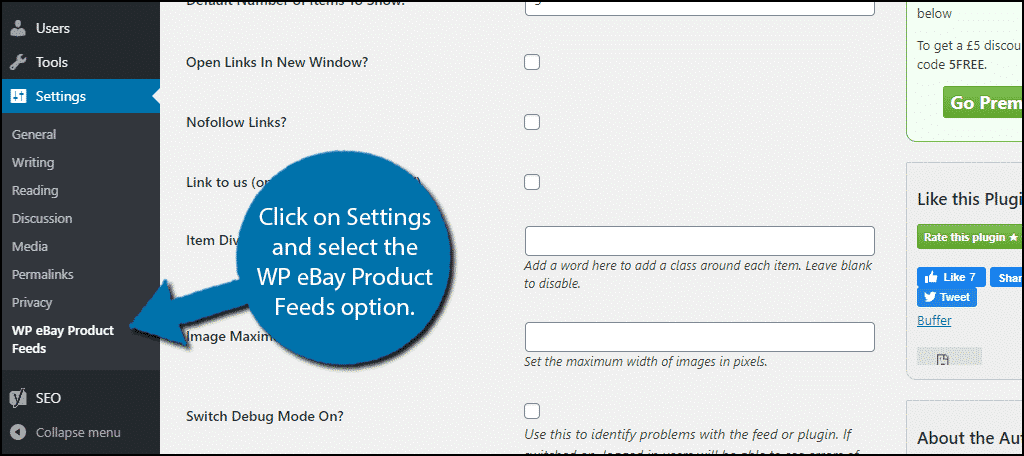 Here are where all of the plugin settings are located. This will determine how the eBay feed will look and behave on your website.
The first thing you need to do is add a default eBay feed. Simply paste the URL into the text box. If this is an affiliate deal, make sure you paste the link that was provided for you. Otherwise, you will not earn anything!
Underneath this, you will have an option for how many products should be displayed in the eBay feed. The default option is 3, but you can select any number. You may want to come back to this option after you see the feed in action. This way, you can get a feel for what it looks like on your site before committing to a certain number of items.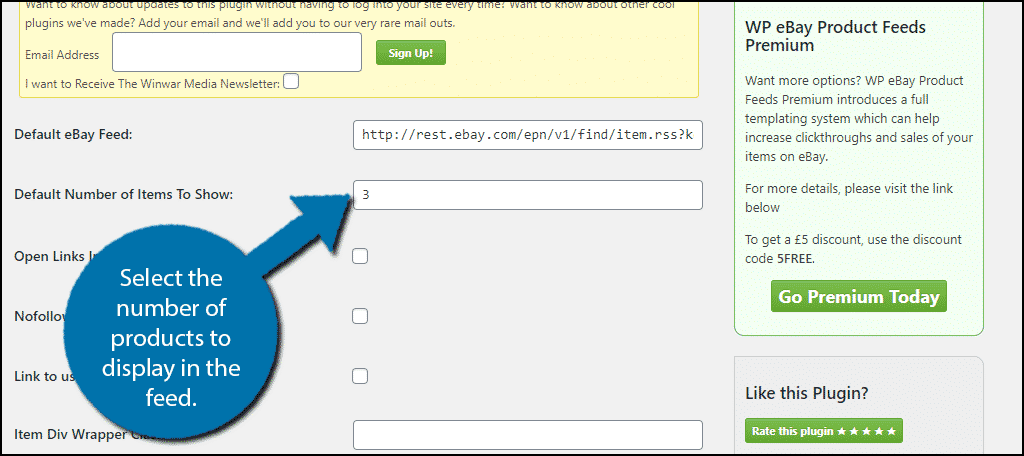 The next three checkboxes have to deal with how links work. Go through each of them and select the best option for your website.
Underneath these boxes, you will find more settings that need to be filled out accordingly. They are based on your preference and can be changed at any time by returning to this page.
When you are done click on the "Save Changes" button.
Now you are ready to place your feed on your website.
Placing an eBay Feed in WordPress
You have multiple options for placing your eBay feed within WordPress. The first option is to place it directly into a post or page.
Go into any post or page in WordPress, or create a new one for testing purposes. Once on a page or post, click on the "+" button and type "eBay Feed" into the search box. Select the eBay Feed block.
That's it, there are no settings to change. The eBay feed will appear where ever the block is located. Simply save the changes and view the eBay feed on your website.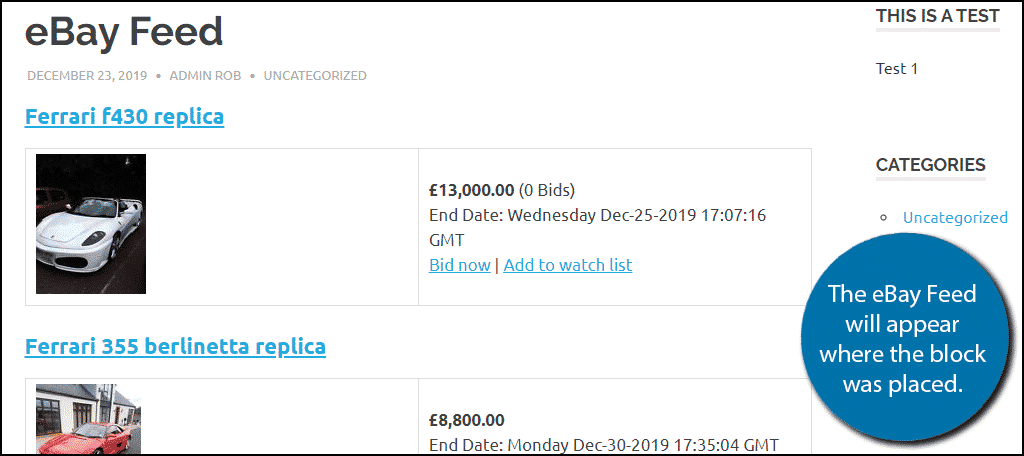 Alternatively, you could use the widget method. Go to the widget section of WordPress, locate the WP eBay Product Feed, and place it into the appropriate widget section.
You will need to enter a title, text, how many items to display, and the URL to the eBay feed. Click on the "Save" button when you are finished.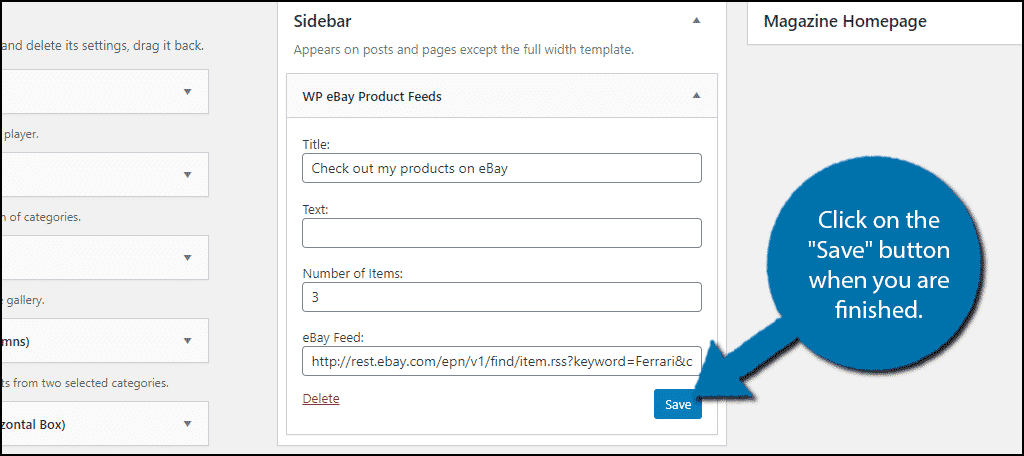 Note: The images should resize themselves accordingly, but if the product name is very long you could see some display issues. If this is the case, you may need to adjust those settings from the eBay account.
You can now view it on your website.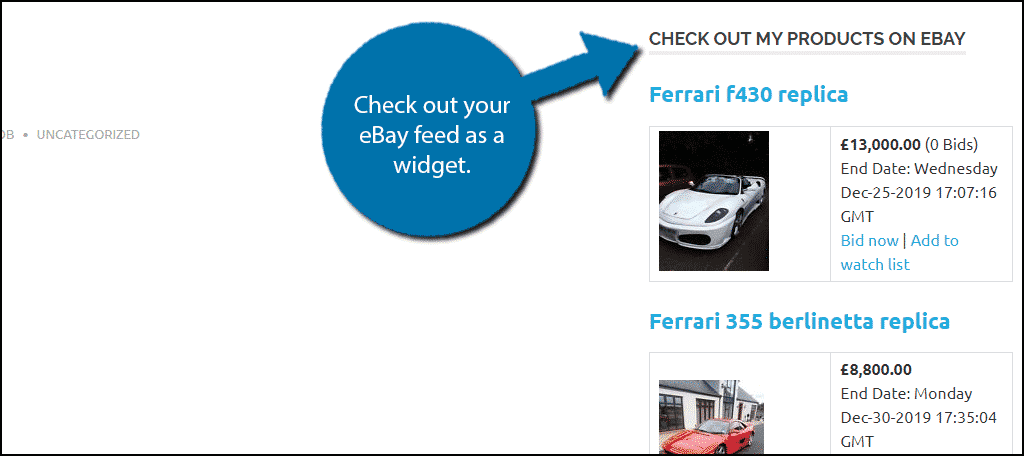 Congratulations on successfully adding an eBay feed to your WordPress website!
Advertise Quality Products
One thing to keep in mind is the quality of the products you advertise or recommend. The moment you recommend a product, the quality of that product will reflect your brand as well. That's even when you have nothing to do with its production.
For example, let's say you recommend a kitchen knife. However, the knife isn't very sharp and makes it very difficult to cut with. The customer will not only remember who made the product but the person who recommended it.
Thus, I strongly recommend making sure the products you choose to advertise or recommend work correctly. If not, it will cost you visitors and damage your brand's reputation.
Target Specific Audiences
The advantage of displaying an eBay feed on a WordPress blog is that it allows you to target a specific audience that is interested in your product line.
For example, let's say you run a cooking blog. Clearly your readers must be interested in cooking if they are coming back for more. Thus, displaying an eBay feed that offers pots, pans, knives, and other cooking accessories to your audience will be a big hit.
Just make sure it will connect with your audience. The last thing you want to do is advertise knitting kits to football enthusiasts.
How easy did you find the WP eBay Product Feeds plugin to use? Did you display your eBay feed by using the Gutenberg block or widget?