Do you need to sell event tickets in WordPress? Luckily, there are multiple ways to do so and the good news is that none of them are difficult. The easiest method by far is to use a WordPress Event Tickets plugin.
Most of the plugins available have everything you need to start selling tickets and they can be added to any type of website. Today, I will demonstrate how to sell event tickets in WordPress using the Event Tickets plugin.
Why Sell Event Tickets?
Many businesses run an event at some point and need a reliable way to sell tickets. This can include something as simple as a barbeque or something more complicated like a cooking demonstration or live music performance.
And as you may expect in today's society, buying tickets online is far more convenient and popular than doing so in person. This is exactly why you need to offer tickets online if you host an event.
Installing Event Tickets
The Event Tickets plugin was made for this very purpose. Some of the key features include RSVP support, works with the Events Calendar plugin, responsive mobile support, and makes it easy to sell tickets in WordPress. And the best part is that it is very simple to use!
Let's begin by clicking on Plugins and selecting the Add New option on the left-hand admin panel.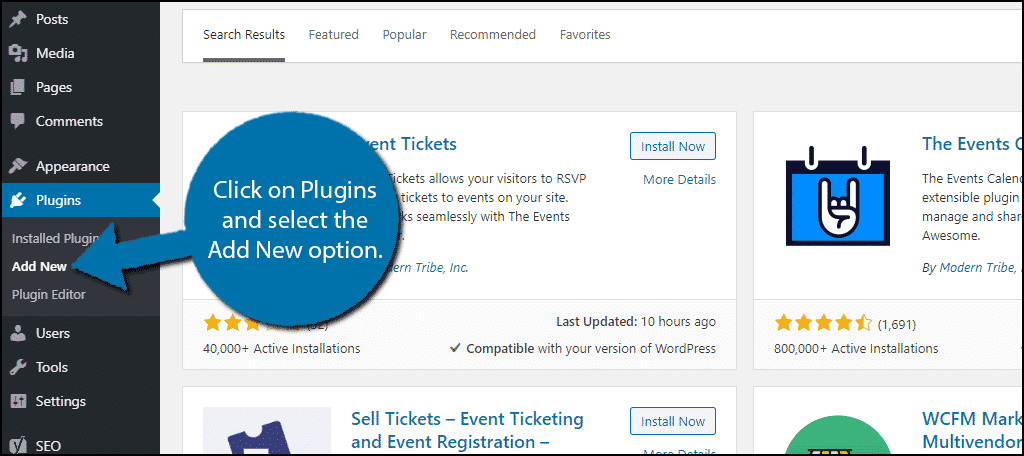 Search for Events Tickets in the available search box. This will pull up additional plugins that you may find helpful.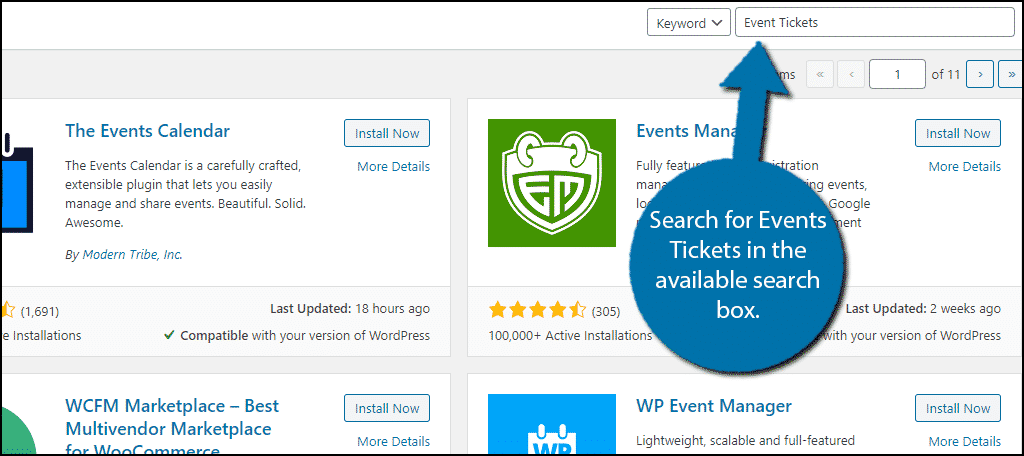 Scroll down until you find the Events Tickets plugin and click on the "Install Now" button and activate the plugin for use.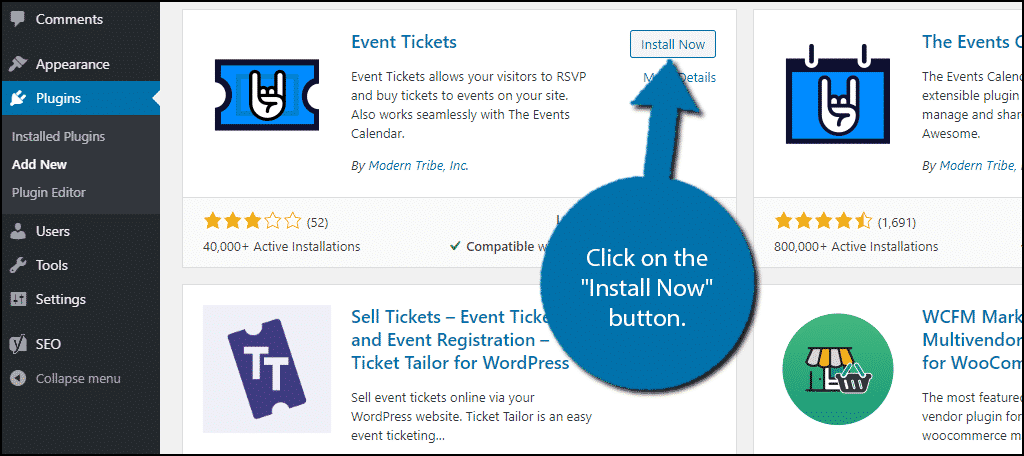 Setting Up Event Tickets
The first thing you need to do is change the settings. By default, the plugin will not work on any post or page on your website, which is obviously something we need to change.
On the left-hand admin panel, click on Events and select the Settings option.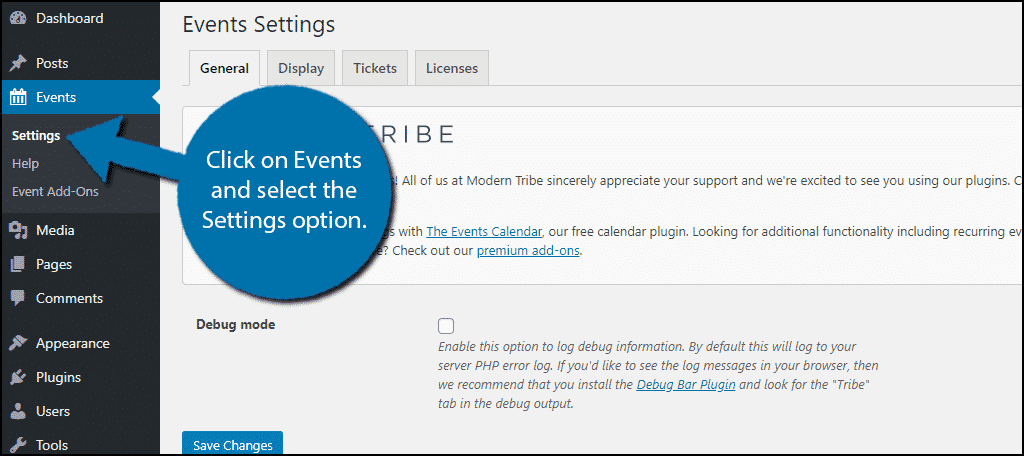 Luckily, there are not many settings. There are four tabs: General, Display, Tickets, and Licenses.
On the General tab, all you will find is the debug option. In the Display tab, all you will find is how you want the date to be formatted.
To actually make sure the plugin works, the Tickets tab is what is important.
The very first setting decides what post types can have tickets on them. By default, none are selected. Thus, you need to select where tickets can appear.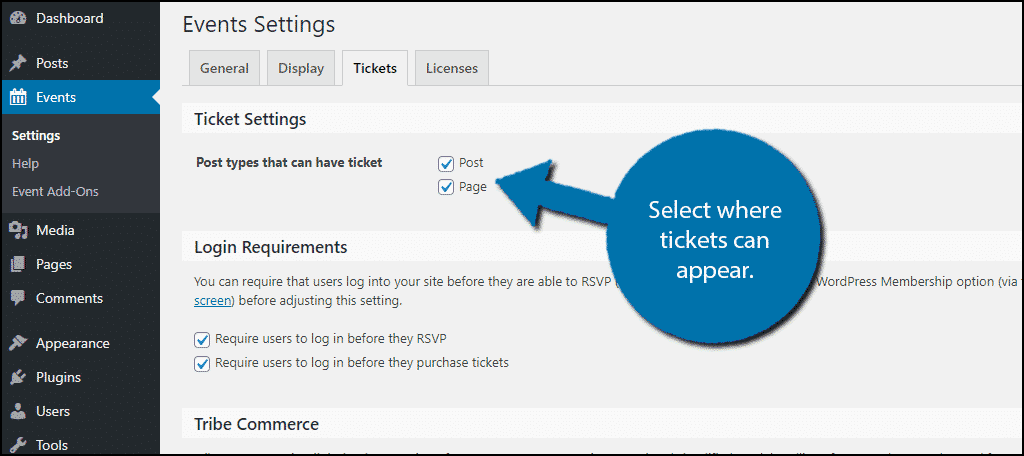 Underneath, you will find the login requirements. While the choice is up to you, I recommend forcing visitors to log in to RSVP or purchase tickets. Otherwise, it's easy for spammers to reserve all of the spots.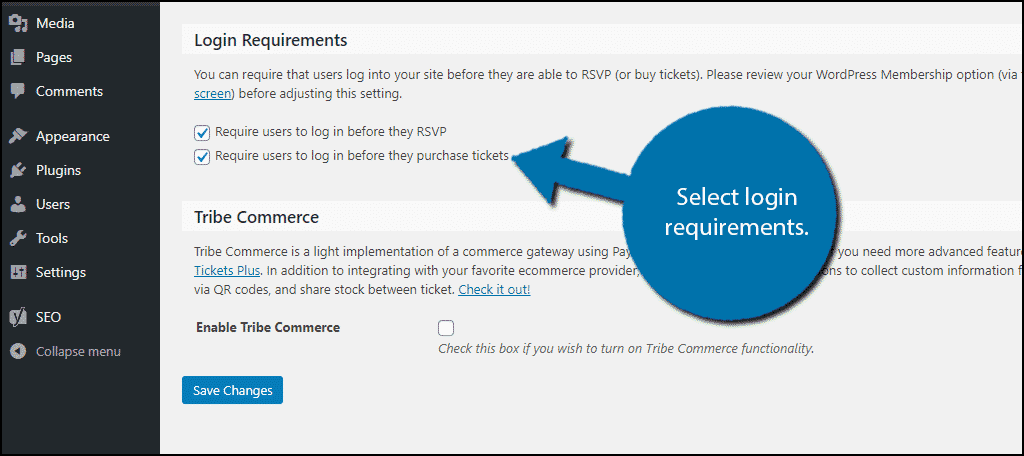 The last option allows you to enable Tribal Commerce. Essentially, it allows you to take ticket orders and have the payments transferred to your PayPal account. Check the box to enable it if you choose.
Click on the "Save Changes" button when you are done.
The last tab is for the premium membership, so it can safely be ignored for now. But if you choose to upgrade, this is where you enter your product key.
Using Event Tickets
Now that the plugin is all set up, it's ready to be used.
Go to any post or page on your website. You can also create a new one for testing purposes.
Once inside, click on the "+" button and search for "Tickets" in the search box.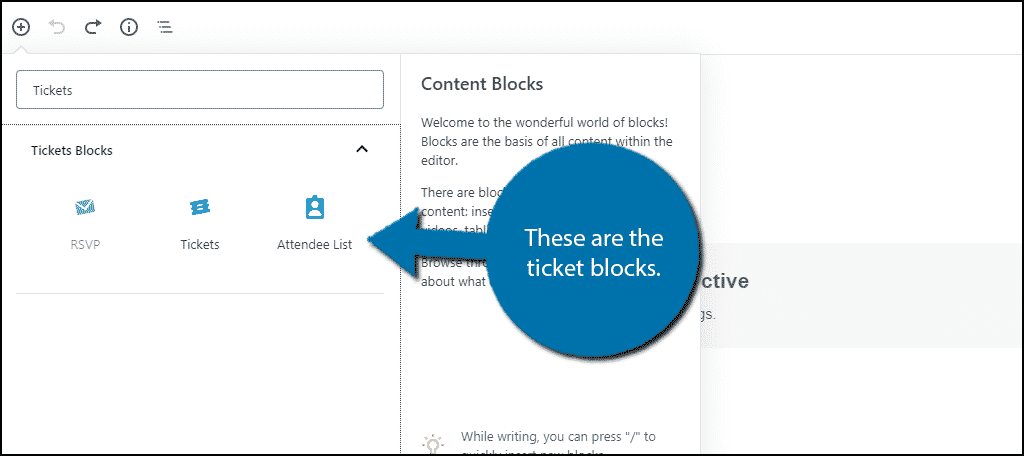 Here you will see three Gutenberg blocks, which include RSVP, Tickets, and Attendees. As the names suggest, the RSVP block allows visitors to RSVP an event, which does not require a purchase. While the Ticket block allows visitors to buy tickets. The Attendee List block is simply a list of those who are attending.
Keep in mind that you need to set up an eCommerce option to sell tickets. Without one in place, the tickets block does not work.
Note: If you chose to enable Tribal Commerce, you cannot set ticket prices at zero due to PayPal's rules. If you want the tickets to be free, it is better to use the RSVP block.
Luckily, each block is simple to use. Just enter the information necessary and you're done.
Sell Those Tickets!
If the event is part of your regular business operation, you need to make sure you are selling tickets. This means you need to make sure you have a proper sales pitch for the event.
For example, let's say you offer cooking classes. It's important to have a sales hook on those posts or pages. On top of this, it might be smart to have some blog entries about what class is like and some general guides on how to cook.
Adding these types of things makes you seem like an authority on the matter, which inspires people to learn from you.
How do you use WordPress to sell event tickets? Do you use Tribal Commerce?