Your homepage is often the first experience a visitor will have on your website. And while categories in WordPress can help visitors find the content they are looking for faster, you may want to hide them.
The truth is that the space on your homepage is valuable, you need to use it to show off your best and newest content to visitors. Categories are probably better off in another area or their own dedicated page if you have a lot of them.
This is especially true if you spend time changing the layout of the homepage to suit a specific aesthetic. You don't want your hard work to be marred by an extremely long list of categories.
In this tutorial, I'll show you how to remove a category from the WordPress homepage without knowing a single line of code.
Why Hide Categories in WordPress?
As websites grow over time, they start adding new categories for their content. And after many years, you can find websites with over one hundred categories, especially on larger websites that try to cater to a diverse audience.
And this is a smart move. Categories help you organize your content so that visitors can find it easier. So why hide them?
Once there are a lot of categories, showing one giant list of them on a page not dedicated to them starts to look…ridiculous. Essentially, the page will continue well past the content on the homepage, which will just have visitors scrolling down a list of categories with nothing else on the page.
And I bet you've actually seen this in the past, as it is common on older websites. But make no mistake, it is a bad design choice.
How to Hide Categories on the WordPress Homepage
Today, I'll show what Ultimate Category Excluder can do for you and why you may want to give it a try. It gives you an easy option to make WordPress exclude a category from the homepage with just a couple of clicks of the mouse.
It also allows you to hide categories on feeds as well. Thus, it can be a versatile tool to take advantage of.
Step 1: Install Ultimate Category Excluder
Let's start by clicking on Plugins and selecting the Add New option on the left-hand admin panel.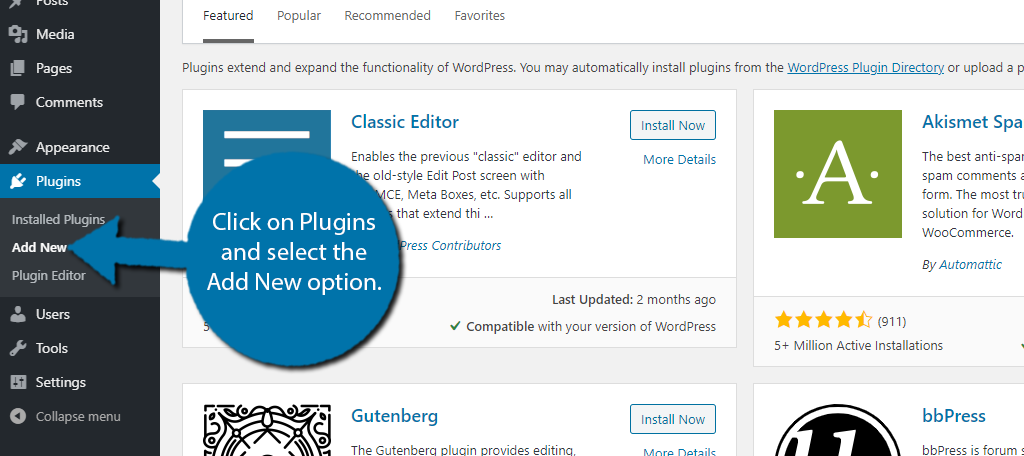 Search for Ultimate Category Excluder in the available search box. This will pull up additional plugins that you may find helpful.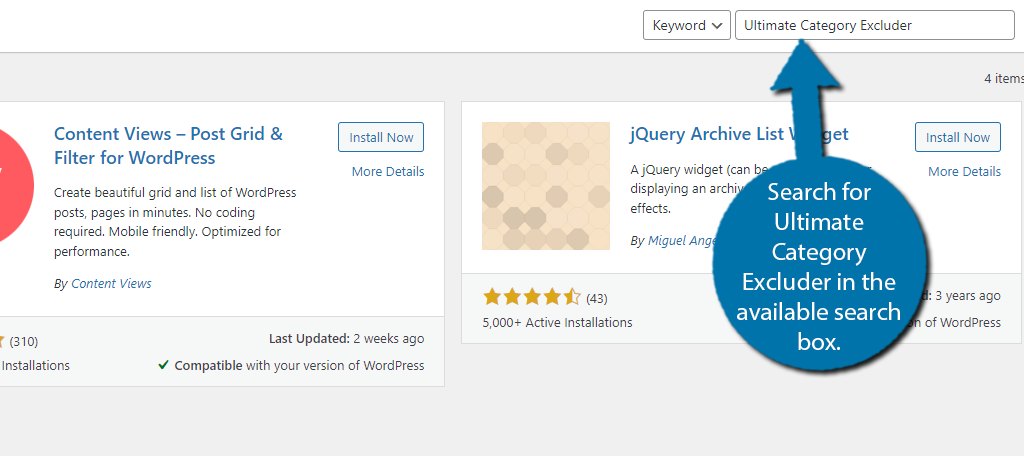 Scroll down until you find the Ultimate Category Excluder plugin and click on the "Install Now" button and activate the plugin for use.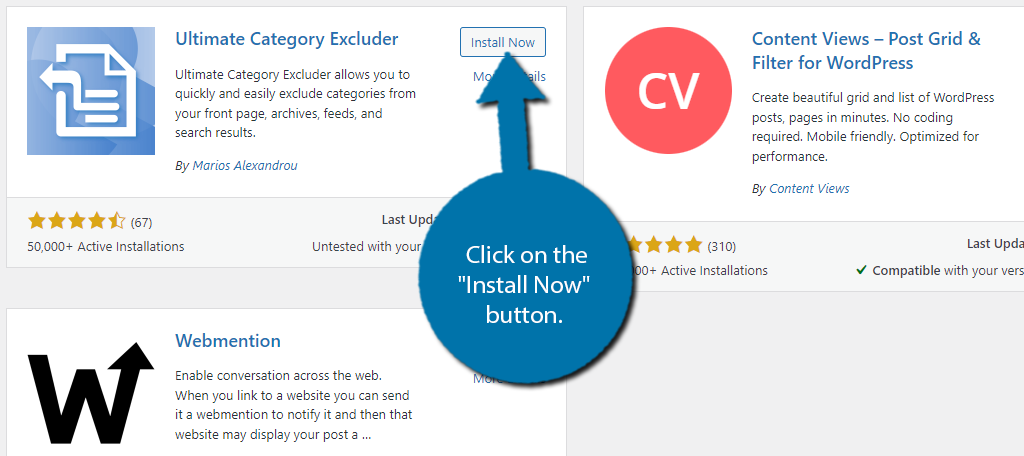 Step 2: Hide WordPress Categories
The plugin is very straightforward. You just need to go to the settings page and select which categories to remove from the homepage. This also gives you the flexibility to display your most popular categories.
Note: The plugin uses the term front page, which just refers to whatever page you have set as the homepage.
Go to Settings and click on the Category Excluder option.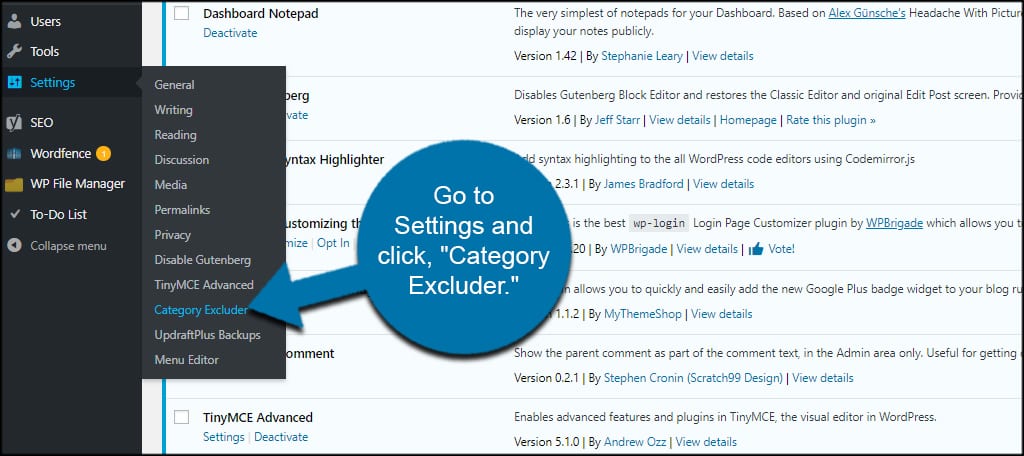 On this screen, you can choose which categories you want to show. You also have the option to exclude categories from feeds, archives, and the search function of WordPress.
For instance, what if you have a separate category RSS feed and don't want it to show in another? This tool may help keep the feeds and category content organized and set apart.
Click the checkbox of the category to remove it from the front page. There is also a second checkbox to exclude it from feeds.
Scroll to the bottom of the list and click on the "Update" button.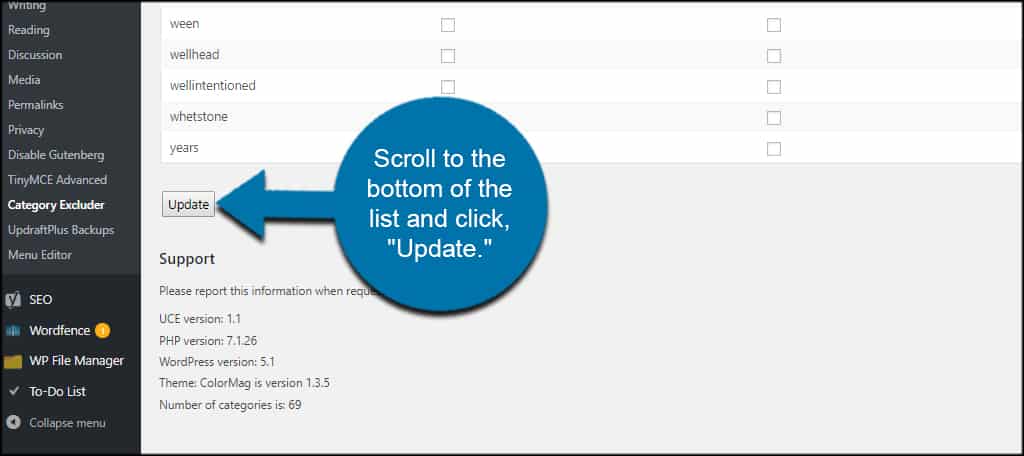 Now, those categories you selected are no longer visible from the homepage. Congratulations!
You can come back to this section last any time and update what categories are visible. It is beneficial to regularly update this list to keep it relavant.
Other Plugins to Hide Categories in WordPress
While Ultimate Category Excluder works well for this purpose, perhaps you want something that better fits your development. And that's one of the awesome things about WordPress: tens of thousands of plugins to choose from.
Here are a few other tools that will help you hide categories on the homepage of WordPress.
Collapsing Categories List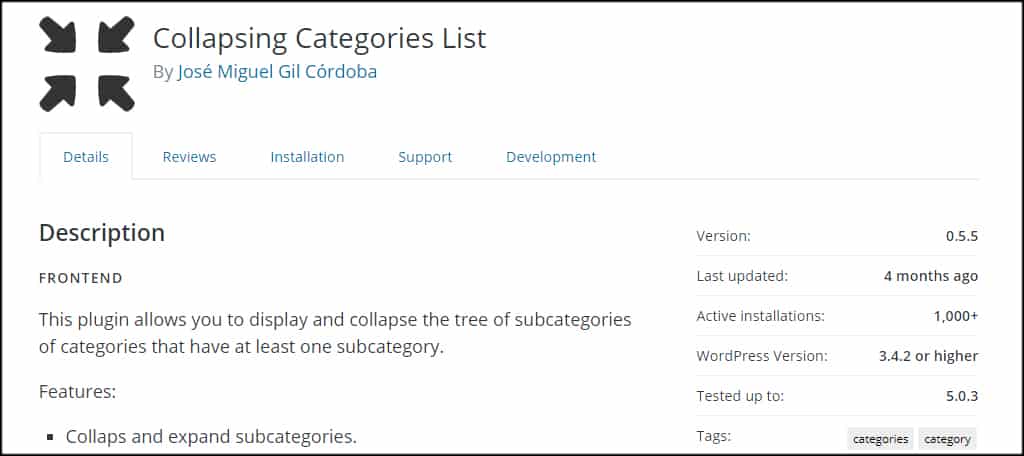 Collapsing Categories List gives you several options for customizing your archives in WordPress. Not only can you hide several categories, but you can also remove links and collapse subcategories by default.
Most of the features for this tool are available from the Widgets screen in WordPress.
Category and Subcategory List Widget
If you want to add a bit more flair to your list, the Category and Subcategory List Widget is a fun option to consider. You can hide empty categories, display custom icons to each and it is compatible with custom post types.
It's an option that may add a bit of visual appeal to your sidebar.
Front Page Category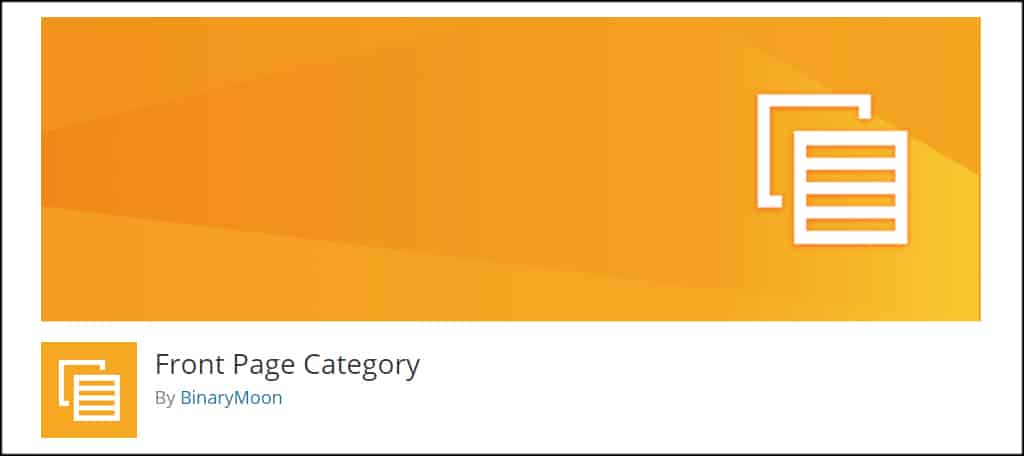 The Front Page Category plugin is a bit basic when it comes to features. It simply removes categories you choose from the front page of your website. If you just want a tool that offers this feature, this plugin is easy to use.
You can access the category options from the Customizer in WordPress and uncheck the categories you don't want to show.
It's Good Design to Hide Categories on Your WordPress Homepage
There could be a number of reasons why you would want to remove certain categories from the homepage in WordPress. Whether they are empty or you just have too many different elements, it's all about keeping the site clean and user-friendly.
For example, if you cover movies, you may want to limit the categories on the homepage to the most recent or popular releases. This will make them much more useful to visitors. Just be sure to have a full list of them somewhere on a dedicated page.
Customize the appearance of your site and keep your audience engaged. You don't want your list of categories to seem overwhelming to visitors.
How many categories do you have set up on your website? How do you customize the category list to make it more unique or attractive?