With almost limitless design possibilities, the Elementor WordPress page builder plugin has become one of the most popular page builders around. It offers a ton of functionality and one of the more popular options available is the ability to duplicate Elementor pages.
What is Elementor?
Elementor is the most popular WordPress page builder out there today. Once the plugin has been installed and activated on your website, you will be able to build and design pages using a drag and drop builder. This type of design is also called a WYSIWYG (what you see is what you get) layout.
Basically, you can build pages in real-time, and see exactly how they will look. You don't need to know or understand code, as the page builder gives you the ability to build an entire website without any code at all.
Elementor comes in a free version and a pro version. Both versions allow you to duplicate pages. The pro version of the plugin does offer more features, but the free version gives you all the tools you need to build a dynamic website.
After you have installed the page builder and created a page you will be in a place to duplicate pages in Elementor whenever you like using this simple and easy process.
Note: This process will work no matter what type of page you have built, main page, contact, landing page, or otherwise.
How to Duplicate Elementor Pages
Step 1: Click Update Button and Then Save as Template
When you are building a page and it is time to save it, click on the arrow next to the "UPDATE" button to open the Save Options. When those options open up, click on "Save as Template."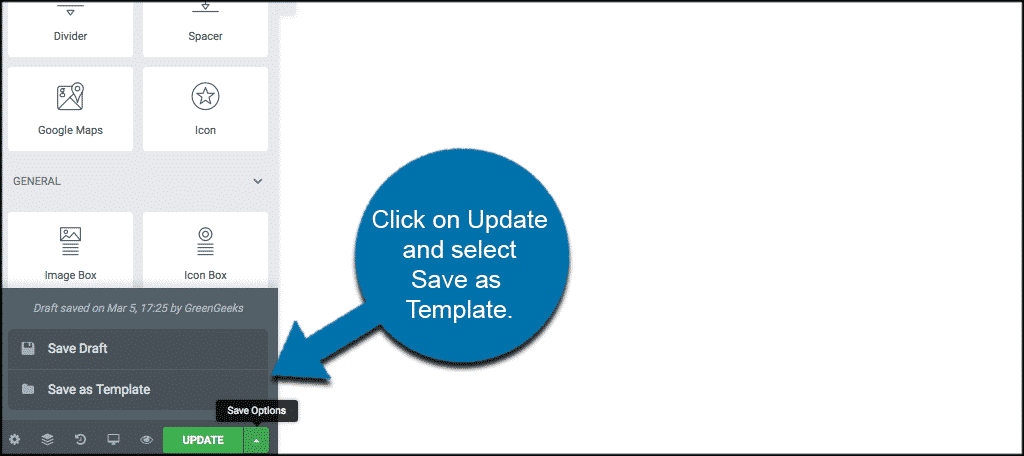 Step 2: Name Your Page Template
A popup will appear asking you to name the new page template you want to duplicate. Go ahead and give the page template a name and click on the Save button.
Step 3: Access the My Templates Area
The popup box will remain so you can simply click on the "My Templates" tab on the top right.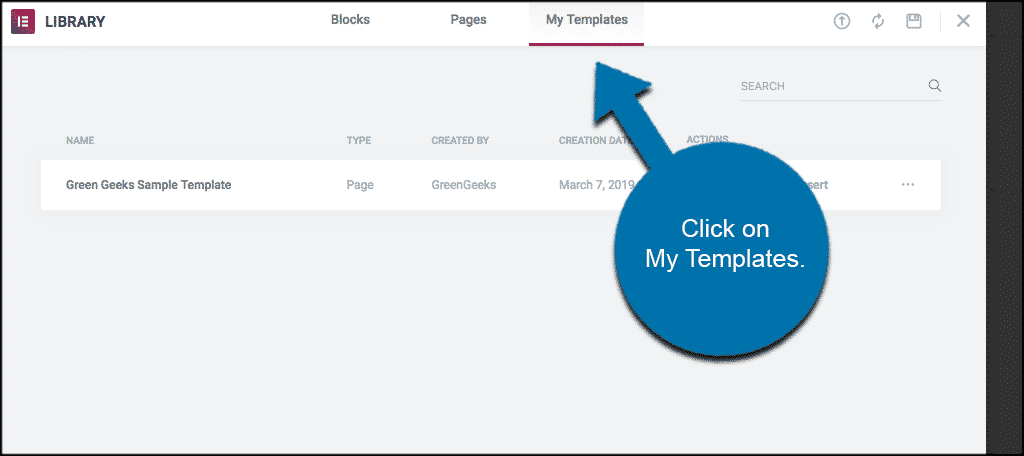 Just click "Import" next to the saved page template you wish to use and you are all set. You can repeat the process over again and create as many duplicate templates as you want in Elementor.
Final Thoughts
Working with the Elementor page builder within WordPress can open up a lot of great design possibilities. If you know how to take advantage of all the functionality, then you can build and design a fantastic website that users and clients will be happy to visit.
Elementor offers a lot of options and features. The ability to easily duplicate a page you build allows for time saved, as certain pages are used several times within a website.
Now that you know how to duplicate a page in Elementor, you can save yourself time and effort. Access all of your duplicate pages at any time by clicking on the "My Templates" option.
I hope this tutorial was able to show you how easy it is to duplicate pages in Elementor. If you know where to start, then the process is not difficult at all.