Are you looking for a way to add a print option in WordPress? If you have not made your website printer-friendly, you will probably be printing a lot of unintentional things like sidebars and graphics. This is a very common thing that visitors like to do, so it is important to add the feature.
This is especially important if your content is meant to be used by students, after all, many may be required to print out their sources. If you do not set this up, they will be wasting a lot of ink and have a very hard time reading the printed paper.
Today I will demonstrate how to add a print option to WordPress posts and pages using the PrintFriendly plugin.
Why Does Your Website Need a Printer-Friendly Option
Making a printable page in WordPress is very easy. You're probably thinking, who would actually print out an article today?
Well, it is still surprisingly popular for articles to be printed out. If your articles contain any educational information, then students will be more likely to use them and it is still a popular practice to print out the articles they use for school reports.
It's important to please all of your visitors and not taking a few minutes to make their experience better could cost you many visitors. This would not be such a big deal if the theme's default printing was not so bad.
It will print all of your graphics, sidebar text, color options, and even comments, but these are highly dependent on the theme you are using. Each theme has different printing options and you may want to install a theme that gives more printing options.
That way, you are allowing people to easily print out the article, blog, post, or whatever content they were after.
How to Add a Print Option to WordPress Posts
Step 1: Install PrintFriendly
PrintFriendly is a simple printing plugin that allows visitors to print posts, pages, and even PDFs from your website. However, it goes a step above traditional printing options by providing users the ability to edit the font and graphic size. You can even add copyright information!
Note: I highly recommend checking your theme's printing options before starting this tutorial. Many themes have printing options that may be on par with a plugin. The location of these options varies on each theme.
Begin by clicking on Plugins and selecting the Add New option on the left-hand admin panel.
Search for PrintFriendly in the available search box. This will pull up additional plugins that you may find helpful.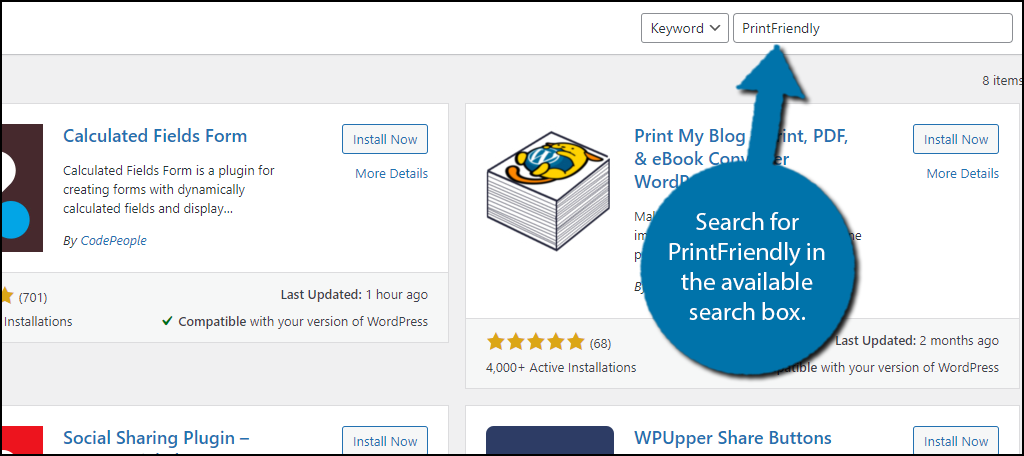 Scroll down until you find the PrintFriendly plugin and click the "Install Now" button and activate the plugin for use.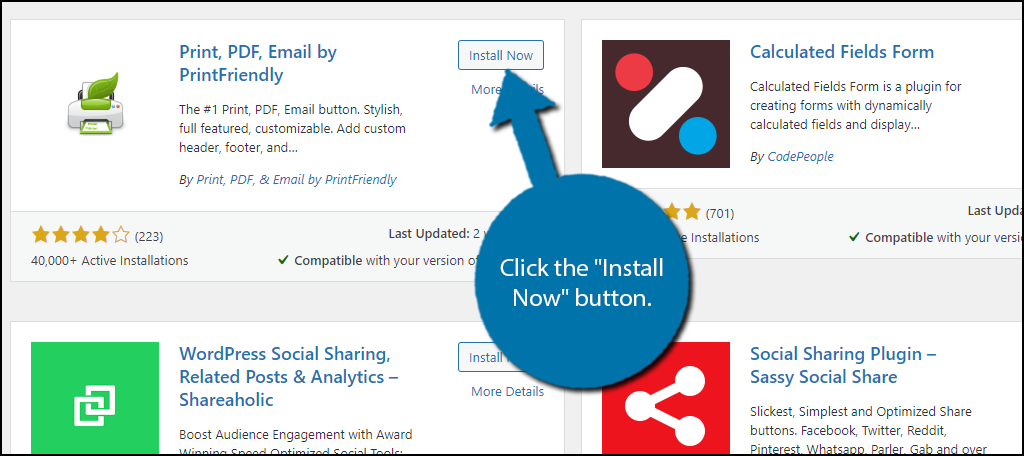 Note: The plugin will actually work upon activation, thus, if you like the way it looks by default, you can leave the settings alone, but if not, the next section will help you customize it to your liking.
Step 2: Configure the Settings
The plugin is very easy to set up and should only take a few minutes at most to add a print option in WordPress. It only involves going through the settings, which are straightforward.
On the left-hand admin panel, click on Settings and select the PrintFriendly & PDF option.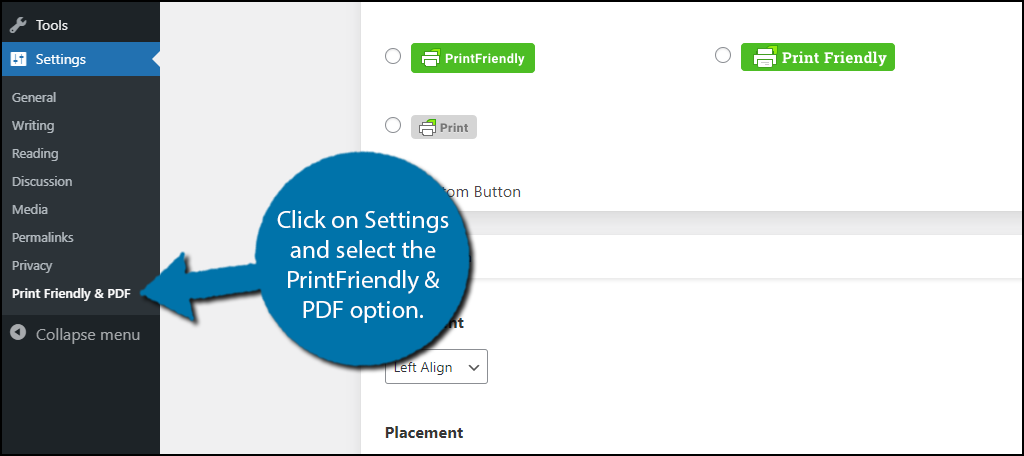 At the top of the settings page, you will find a Pro section. You can actually test out the Pro version for thirty days by clicking the "Activate" button. This tutorial will only cover the free version, but feel free to give it a try.
The rest of the settings you will find are very simple. You will use a series of drop-down boxes, radio buttons, and checkboxes that you can use to make your choice. Carefully go through the options and pick the best.
Click on the "Save Options" button when you are ready.
Click on the Advanced tab at the top.
Here, you will find even more settings to configure like how printing will work on password-protected content. Once again, go through each setting and pick the best option for your website.
Click on the "Save Options" button when you are done.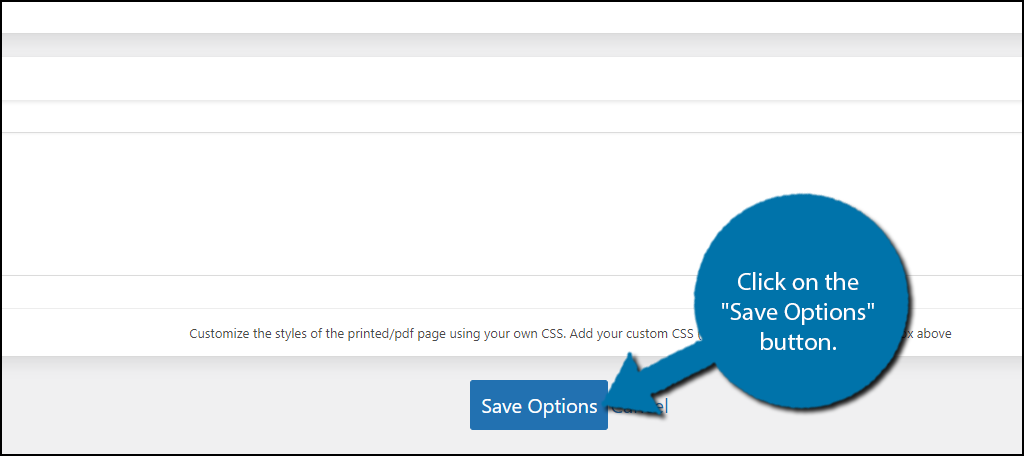 That concludes the setup process of the plugin, visitors will now be able to print content on your website. You should be able to view the print button on the type of content you chose during the settings.
Note: If you do not see a button, go back and check the settings. You must choose which types of content will have a print option.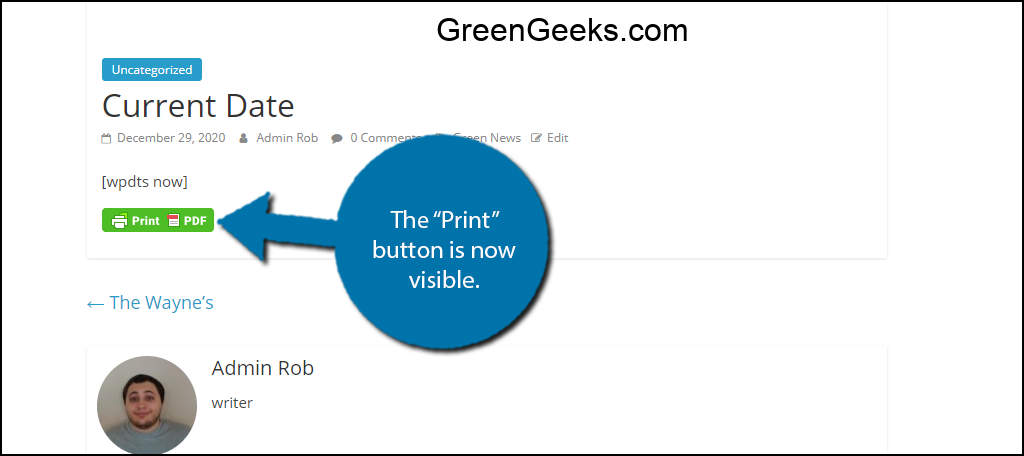 Congratulations on adding a printing option to WordPress. Remember that you can change the options at any time.
Additional WordPress Plugins for a Print Option
There are many WordPress plugins available that can solve all of your printing needs. They will add a useful print-friendly extension to your website, perfect for content relating to recipes, schedules, maps, and more.
Here are some plugins that I can recommend trying out to add a print option to WordPress.
Print My Blog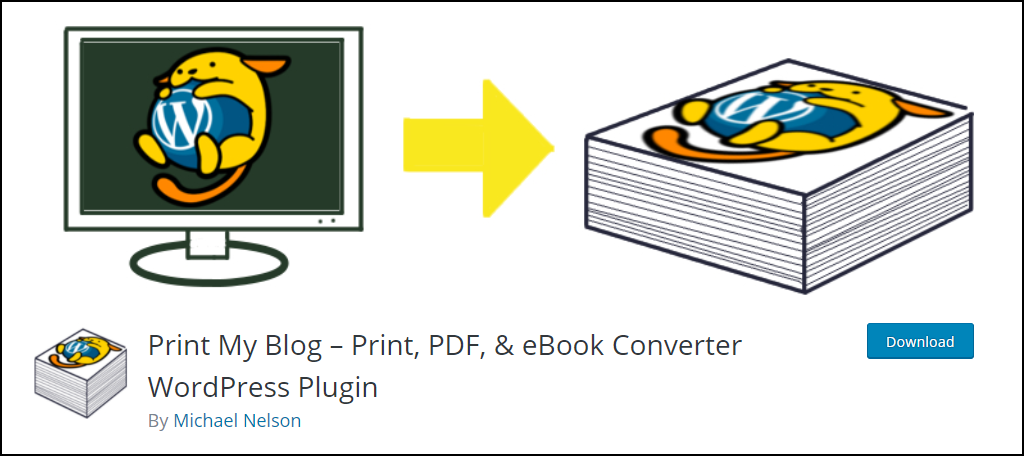 The Print My Blog plugin allows you to print your own blog and even convert it into an ebook. That said, these features are not for visitors, these are exclusively for admins. Thus, if your goal was to add a print-friendly button for visitors, this isn't the plugin for you.
This tool is for website owners that want a hard copy of their blog, repurpose their content into an ebook, or easily create PDFs. It is a powerful tool that many websites can take advantage of.
Print-O-Matic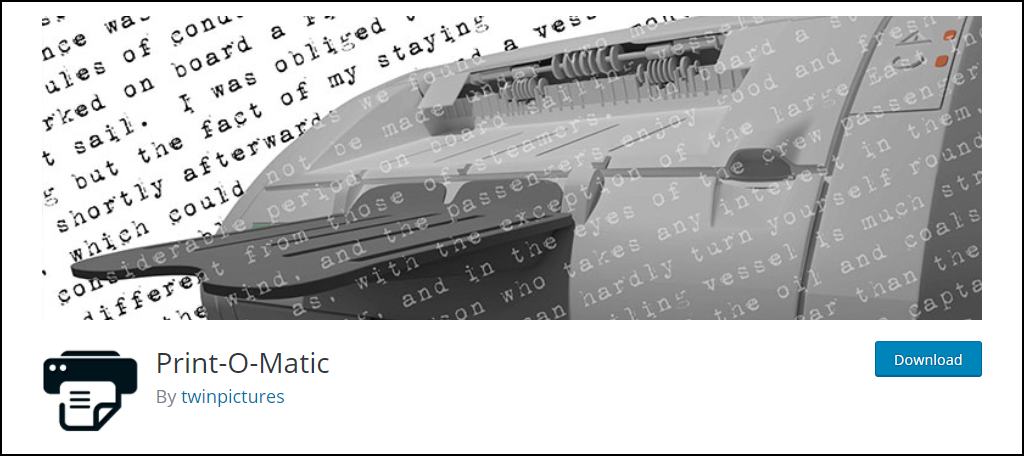 The Print-O-Matic plugin allows you to make any post or page printable by using a simple shortcode. This is very useful if you only want to add the feature to specific posts or pages, however, it can be very annoying if you want to add it to hundreds of posts.
After all, this would mean pasting the shortcode into each post or page individually. That said, the plugin is very easy to use, thus it is perfect for beginners and very effective.
PDF & Print by BestWebSoft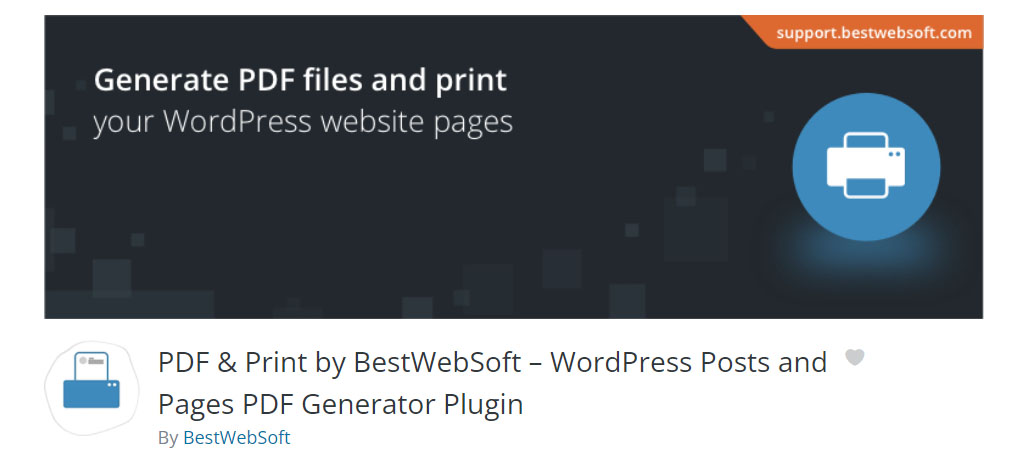 If you're looking to build a great, printer-friendly page with a lot of functionality, PDF & Print by BestWebSoft may be a great alternative. With more than 10,000 active installs, a lot of people trust the platform.
In the free version, you're able to add PDF and print buttons to pages, posts, custom post types, and even the archive screens. You also have the option to choose button positions, add buttons using shortcodes, add print buttons as a sidebar widget, and so much more.
If you decide to upgrade to the pro version, you get a slew of features ranging from WooCommerce compatibility to adding text or image watermarks.
All in all, this is an incredibly flexible and versatile WordPress plugin to add a print button.
Why Print When People Have Mobile Devices?
While it's true that mobile technology greatly reduces the need to print off documents, sometimes it's easier depending on the circumstance.
For example, I know a lot of people who prefer to print a recipe they found online as opposed to trying to read it off of a small mobile screen. Adding a printing plugin just makes their life a lot easier.
Not to mention how some people want a copy saved to their computers as a PDF file. Not all "prints" consist of paper and ink. Adding a method to save a PDF makes your site printer-friendly and convenient.
What about documents you might provide that require hand-written signatures? There are a lot of businesses out there that would prefer paper-and-ink documents over digital signatures.
Give WordPress an Easy Print Option Today
It may be hard to believe that some visitors would like to have a paper copy of a piece of content in today's digital world, but making your website printer-friendly is easy to do and will make your visitors happy.
This is especially important for pages that may contain forms or other sensitive material. Of course, not only do visitors can use a printing feature, some developers and staff who work on your website may also like this feature.
Regardless of who is actually using the feature and what your thoughts are on the use of it, it is important to offer it when many other websites including potential competitors do. Remember, your website is only successful when your visitors like the content and features on your website.
Do you know anyone who prefers printing out articles over reading them digitally? What are some reasons that you would think your visitors would want to print your content?