Are you unhappy with your current WordPress username? Unfortunately, many people create less than stellar usernames at first and it is quite common to change a username. It is important to pick an appropriate username and understand that staff and visitors will see it and the name they see will be one of the first impressions they have of the website.
It's no secret that usernames need to be an accurate representation of the professionalism of the website and a good way to accomplish this is by using the website's name, or a shortened version, as part of the username. Keep in mind that some websites can get away with goofier names, but it is tied to the kind of content produced.
Today, I will demonstrate how to change your WordPress username.
The Importance of the Username
Usernames are quite important, which is why changing usernames in WordPress is made so easy. Take a second to think about the last time you had a chat with someone from a larger website. Was their username a nickname or catchphrase?
Odds are no, they weren't and there is a good reason for that.
Would you feel comfortable discussing business or a serious topic with a representative with FunkyMonkey21 as the username? If you even had to stop and think about it, the answer is no. Most customers only take a split second to decide if they want to do business and you probably just lost a customer in that second.
This may be one of the hardest transitions if you are used to writing in comments sections while using a goofy username, but when you are representing a business then you need to add a bit more seriousness to the message you are sending out and it all starts with the username you pick.
Two Methods to Change Your WordPress Username
I will cover two methods to change your WordPress username. They include creating a new user to transfer all of the content from your old username to it and directly editing the username stored in the database.
I would highly recommend using the first option before attempting the second, but sometimes there is no choice.
Method 1: New User
The first method involves creating a new user. When you create a new user you can give it the admin privileges and name it what you want, but you will need a new email account to do this. While this may sound strange, it's quite easy to do, as it avoids coding or adding a plugin.
Step 1: Create a New User
On the left-hand admin panel click on Users and select the Add New option.
Fill out the information to create a new user. Make sure you give it the Administrator privileges. Click on the "Add New User" button at the bottom once you are done.
Step 2: Delete Old User
Click on Users and select the  All Users option.
You should now see all of the registered users on your website, which includes your current user and the one you just made. You must sign out of your current username and sign in as the one you just created.
Now it is time to delete your old account. When you delete an account you will be asked what to do with all of the content under that username. One of the options is to transfer it to another user. Go ahead and click on the Delete option under the old username.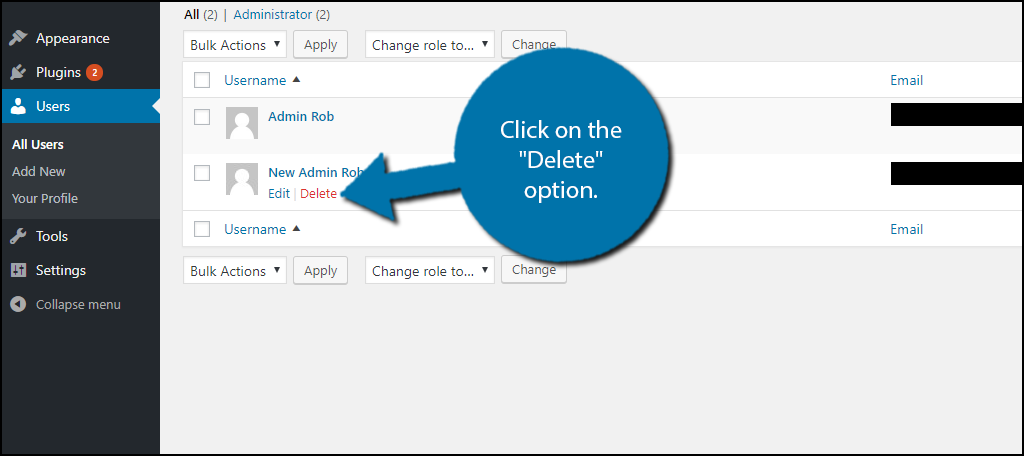 Choose to Attribute all content to the new username you created. Click on the "Confirm Deletion" button.
Once this is done you will now have all of the content from your old username, but with a new name. Thus, you essentially changed your username.
Note: Remember that to do this method, you will change your email, and this might be an issue depending on the types of website notifications you receive. Make sure to check your new email or convert everything from the old one to the new one.
Method 2: Code Approach Approach
The second method involves editing your username directly in the database. While this is by no means hard, you should proceed with caution and create a backup of your website. This will ensure that if something goes wrong, you won't be locked out of your website.
After all, if you change the username incorrectly you can actually lock yourself out of the website, but since your following this guide, that won't be happening.
Step 1: Locate Your Database
You will need the login information for your cPanel, which is provided by your web host.
Log in to your cPanel and click on the "phpMyAdmin" option under the Databases section.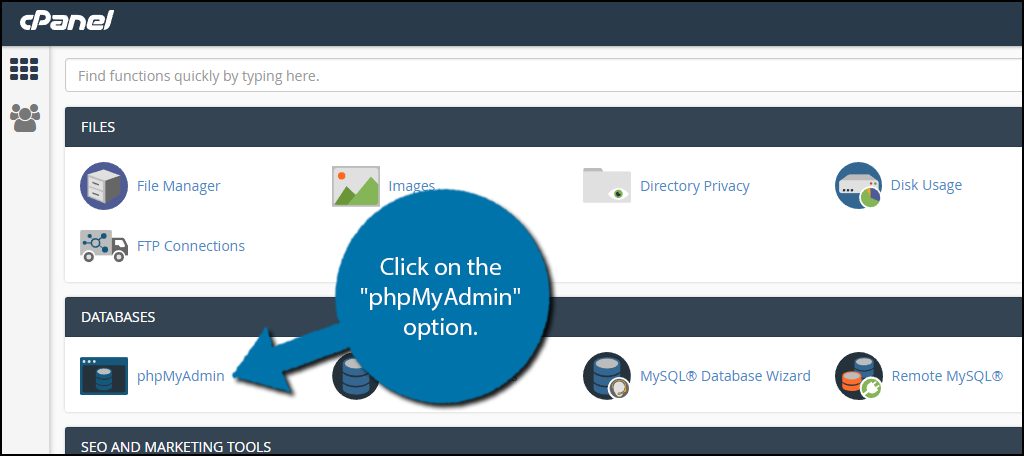 You will see the databases for all of your domains on the left side. finding your database may be tricky depending on your hosting situation.
In general, WordPress uses the "wp-" prefix, so it should be easy to identify the correct one. Expand the database by clicking on the "+" symbol next to it. The naming can vary, but you should see an option that is named wp-users.
In my case, it is called "wpx4-users" and you should click on it. You should see your usernames once inside and if you don't, then you are in the wrong location.
Step 2: Edit the Username
Click on the Edit option next to the username you would like to change. Simply, change the value in the user-login field to the desired username, but remember to write down that username. It will now be a required piece of information to login.
Thus, if you forget it, you would have to return to this part to find it or revert your website using a backup.
Once you are done, click on the "Go" button to update the changes.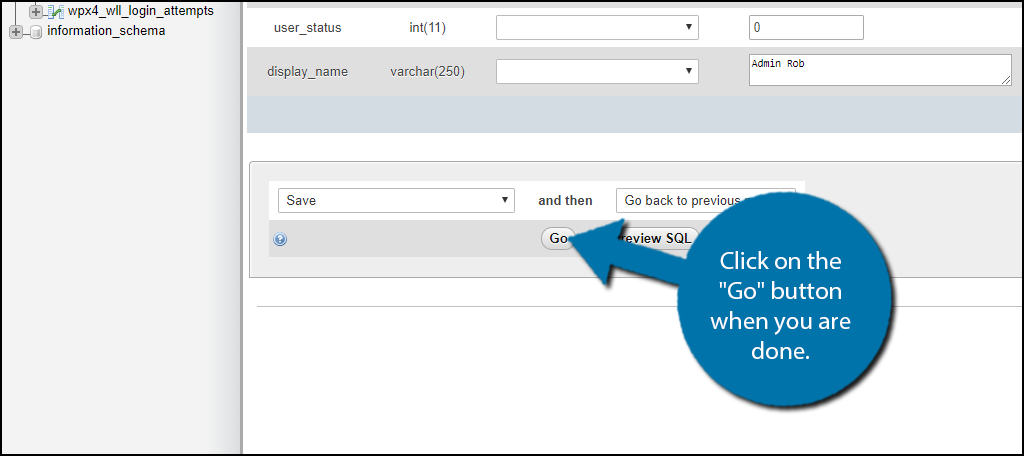 Congratulations, you now know two different ways to change your username in WordPress.
Keep Your Website Professional
While all businesses are different, the vast majority of them operate in a professional setting. This means the tone in messages, content, and all forms of communication are always professional. and your username is no exception.
However, not every business needs the same level of professionalism.
For instance, if you run a family restaurant, just being kind and courteous is more than enough.
Keep in mind usernames are only one part of creating a professional website. You need everything on your website to have the same professional tone, while not ruining the already established attitude of the website.
Being professional creates a website that other entities may want to advertise their product on.
Why did you decide to change the username on your admin account? Does your new username sound better for business?