Comments are a great way to get feedback on articles, blogs, videos, and all forms of created content. Sometimes, however, they have many negative repercussions that include an overly negative comment section, taking the spotlight from the content, and even worse having an empty comments section. There are many pros and cons to this topic and it important to understand that you can disable comments in WordPress.
For this reason, it is important to keep in mind how valuable comments are to websites. They allow for direct interaction between the creator and visitor. This creates a very engaging and interactive website environment, which can be made even more engaging if you give your audience more options in the comment section.
The Importance of Removing Comments in WordPress
Many pros and cons concerning comments on WordPress exist and are important to know. Firstly, it is important to understand as a website creator that sometimes comments simply do not belong on the Page, Post, Media, or the entire website that is being hosted.
If you have ever viewed a comments section on another blog or Youtube, you may have noticed that these comment sections can get very negative. This may get so negative you may have to go in and manually delete these comments because they could be too offensive. This can eat up a lot of time and hurt content production so it may be easier to disable comments on very negative comment sections.
There is also a very popular belief among bloggers that comments sometimes can take the spotlight from the actual piece of content. There's no reason to include comments if they take away from the actual blog's content or if visitors are only visiting the blog to leave comments. This is especially common with controversial topics like politics.
For these reasons, it is important for all creators to be aware of how to completely remove comments in WordPress at any given time.
How the Disable Comments Plugin Can Help
Disable Comments is a very popular plugin that can accomplish all of your comment disabling needs when using WordPress comments. It has the ability to disable all comments, comments on a Page, comments on a Post, or comments on media. The options allow for you to customize your website to only display comments where you want to. Best of all it is very simple to make changes quickly.
How to Install and Use Disable Comments Plugin
Today I will demonstrate how to use the Disable Comments plugin on your WordPress website.
First, go to the plugins area of WordPress and click on the"Add New" button.
Next type "Disable Comments" in the available text box. This will make multiple plugins appear on the page.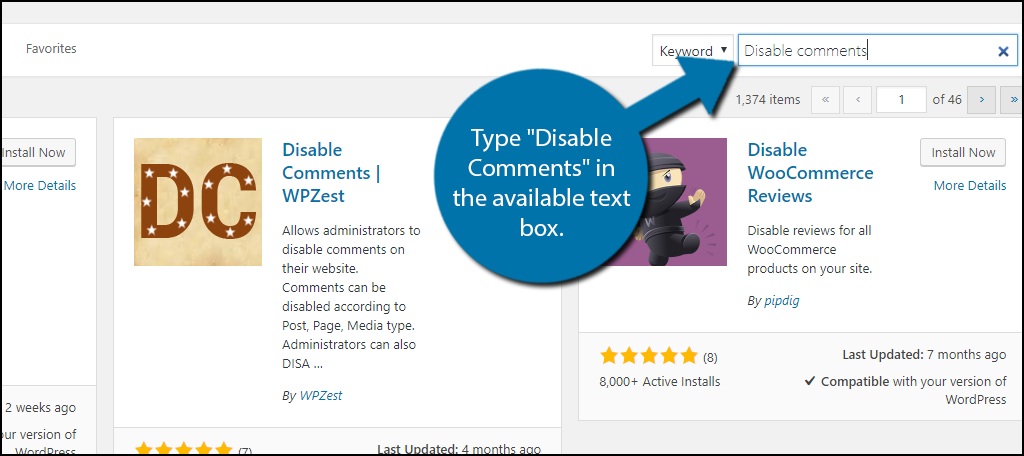 Search through all of the available plugins until you find "Disable Comments" and click "Install" and activate the plugin.
On the left-hand side admin panel, select "Settings" then click on "Disable Comments" option.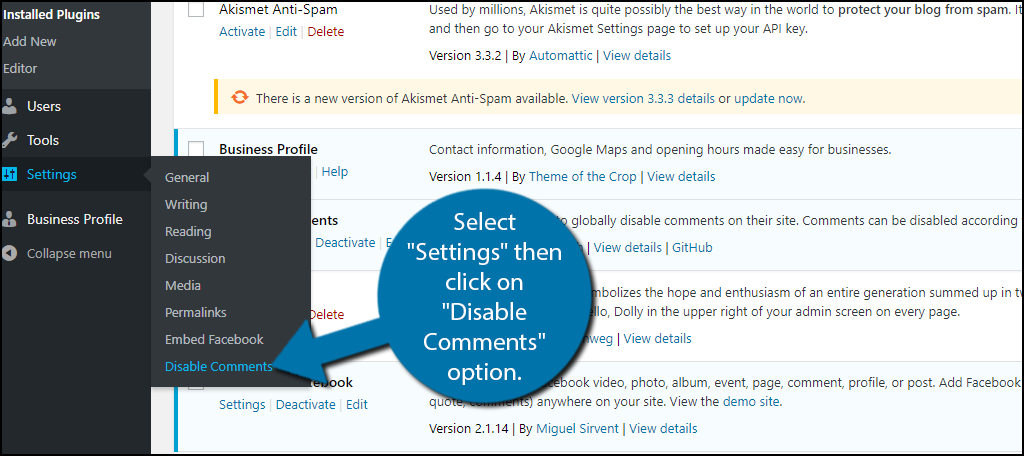 You will now be in the following window.
This is where you can choose to turn off comments on Posts, Pages, Media, and the entire site. It is very important to choose the option that best fits your websites needs.
To disable all of the comments on your WordPress website click on the first bubble. Make sure to select "Save Changes" when done to apply the changes.
This will remove all traces of comment functionality on your WordPress website. You will no longer see any comments on your website and will not see "Comments" on the left-hand admin panel.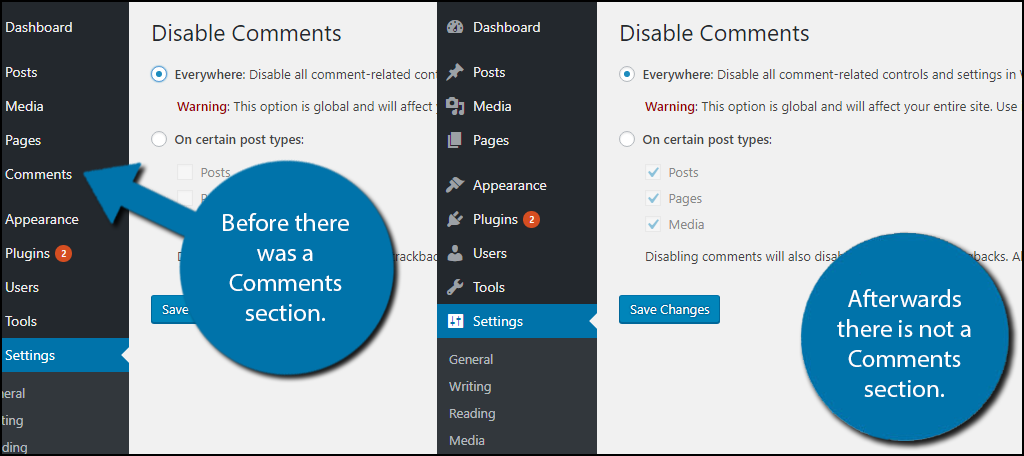 If this was your goal, then congratulations you have successfully removed all comments on your WordPress website.
However, if you wished only to remove comments more specifically, click on "On certain post types:" and select whichever option you would like to remove comments from.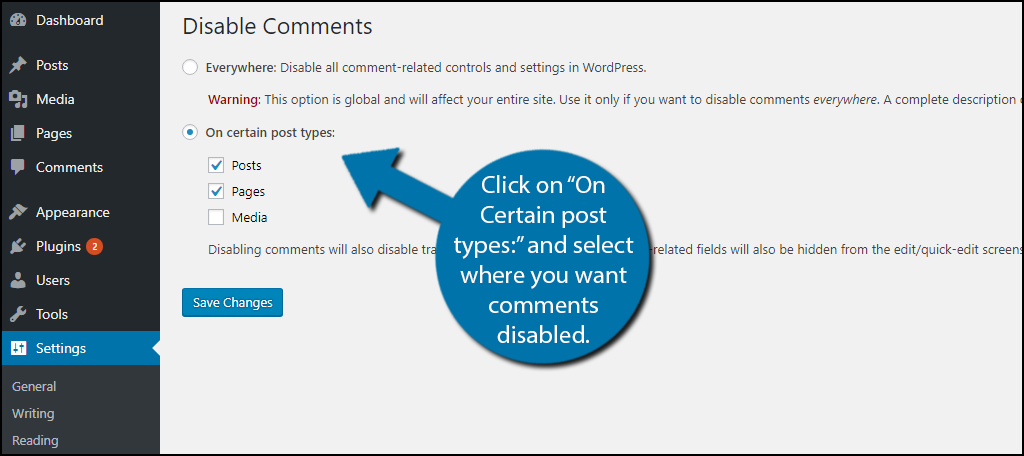 Once you have selected the best choices for your website click "Save Changes" to save and apply all of your choices.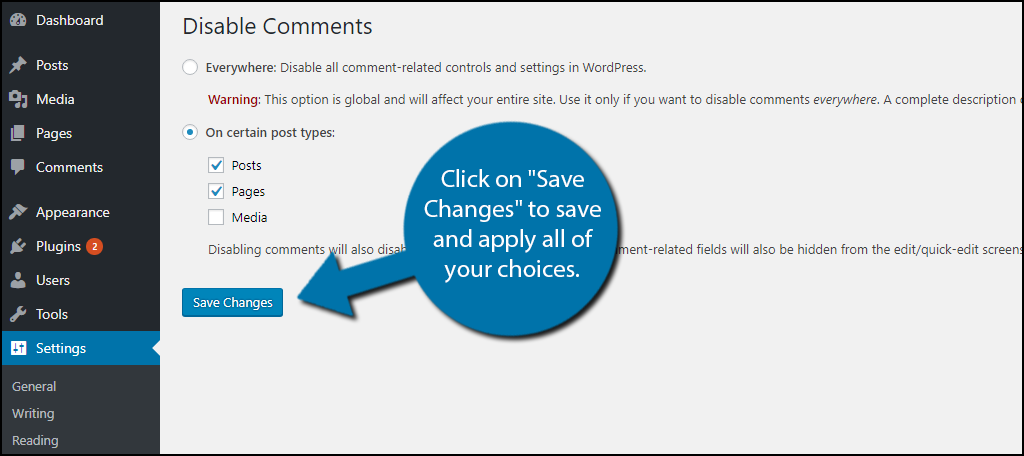 Congratulations! You have successfully removed comments from the selected choices. Always keep in mind you can freely change your comment options at any time to see what works best for your website.
Other Comment Disabling Plugins to Note
As with all WordPress plugins, there are a lot of alternatives to any plugin. The vast majority of other comment disabling plugins offer similar functionality as the Disable Comments plugin. Here are a few I can personally recommend using.
Disqus Comment System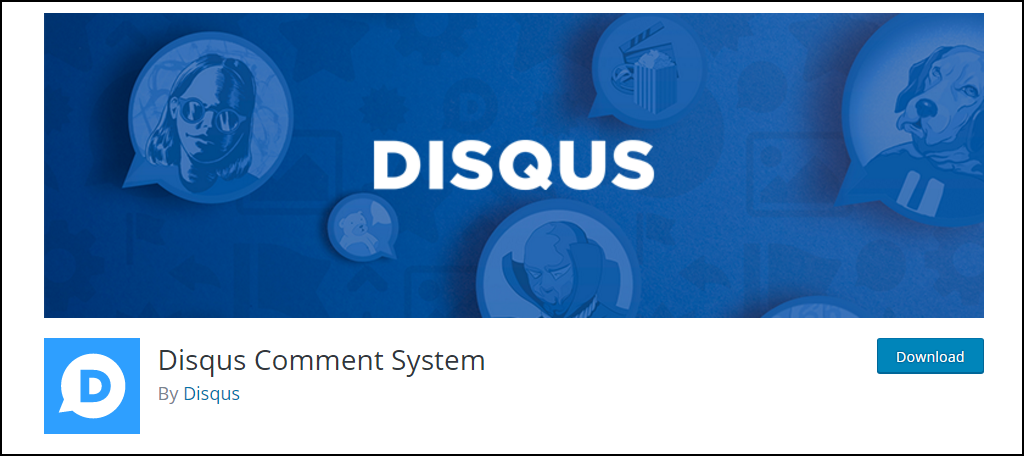 Disqus is one of the most popular comment tools on the web. It has its own WordPress plugin to help make a seamless transition to switching from WordPress comments to Disqus comments. It, of course, offers the ability to remove comments from WordPress pages. If you're one of the many websites using Disqus Comment System then it already provides all of the tools you will need for managing comments. It's definitely one of the most popular on the web for a reason so give it a try.
Disable Comments | WPZest
Disable Comments | WPZest is a very simple and straightforward plugin to disable comments on your WordPress website. Its main features include easy enable or disable comments, disable comments globally, disable comments on certain pages, disable comments on posts only, and disable comments on pages only. This plugin will solve all of your comment disabling needs and is very user-friendly.
No Page Comment
Another useful WordPress comment disabling plugin is No Page Comment. It has a very organized settings page that can turn on and off comments throughout the site. it also has a feature that allows you to control if comments are enabled on new Pages or Posts. This is great for websites that may choose to disable comments on certain topics or pieces of content while allowing them on others.
Display What is Best For Your Website
The key is to disable comments when you know they are hurting your website. Comments are important to most blogs and media websites, however, it is important to understand that not all comments are beneficial and it may be in your website's interest to disable them. There are many plugins that can help with this.
Disabling Comments can also make your website appear more organized and display the most important information. You want visitors to remember the content on your site, not the comment section. This is why many bloggers choose to disable comments on their content.
Which plugin do you choose to use? What type of content do you disable comments on? Have disabling comments made your website more appealing?