Announcements are effective at getting a visitor's attention for a specific topic. You might see these on other sites as a scrolling message regarding a coupon code crawls across the top. These messages often change in regards to current events, and they give the site a sense of being active. This is why a lot of developers will add announcements in WordPress websites.
In this tutorial, I'm going to show you how to add announcements in WordPress a few different ways. If you're marketing products or services, this can easily become part of a marketing campaign.
Plugins to Add Announcements in WordPress
Plugins are one of the biggest attractions for WordPress. With more than 45,000 tools available, you can make a website for just about anything you can think of. Today, I'm looking more at the tools for sharing announcements.
Here are three plugins I've found that you may be interested in trying. I tested all of these and found them to work with WordPress 4.8 with no problems. You will need to know how to install plugins to benefit from this tutorial.
Plugin #1: Using Alert Notice Boxes
Alert Notice Boxes is a fairly simple tool to use. It places a colored pop-up message on the site while displaying the message. It doesn't have a lot of customization available, but it's a quick and easy system to get up and running.
Go to the plugins area of WordPress and install, "Alert Notice Boxes."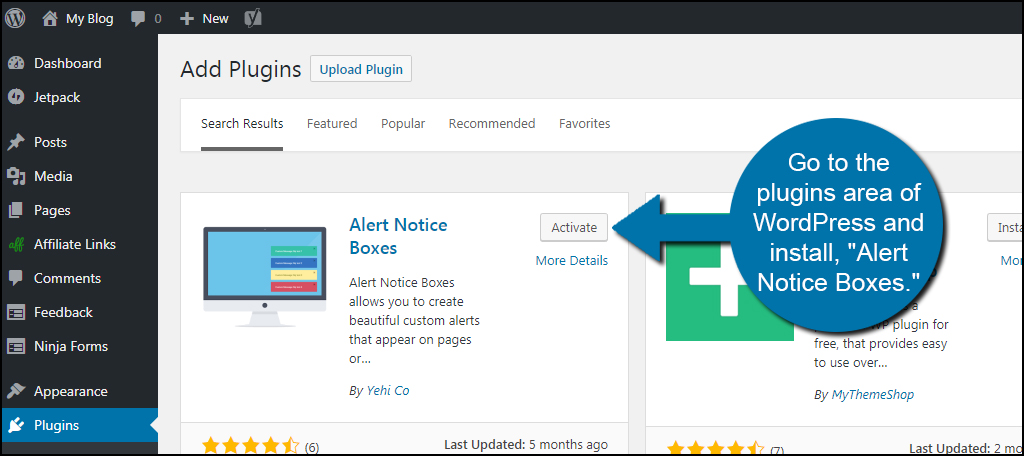 Once activated, this plugin will add a new tool to the left admin panel. Click the "Alert Notice" tool to open its settings.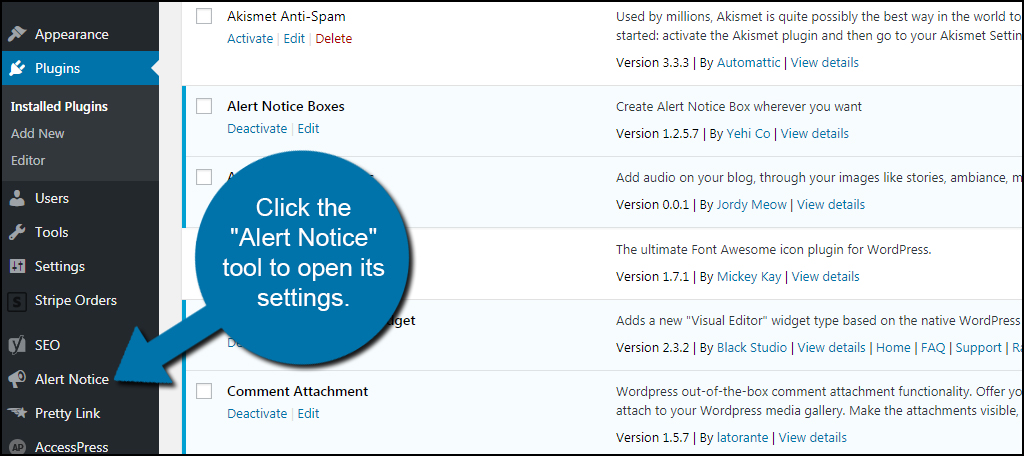 This next screen shows all of the alerts you have created. Click the "Add New" button on the top of the page.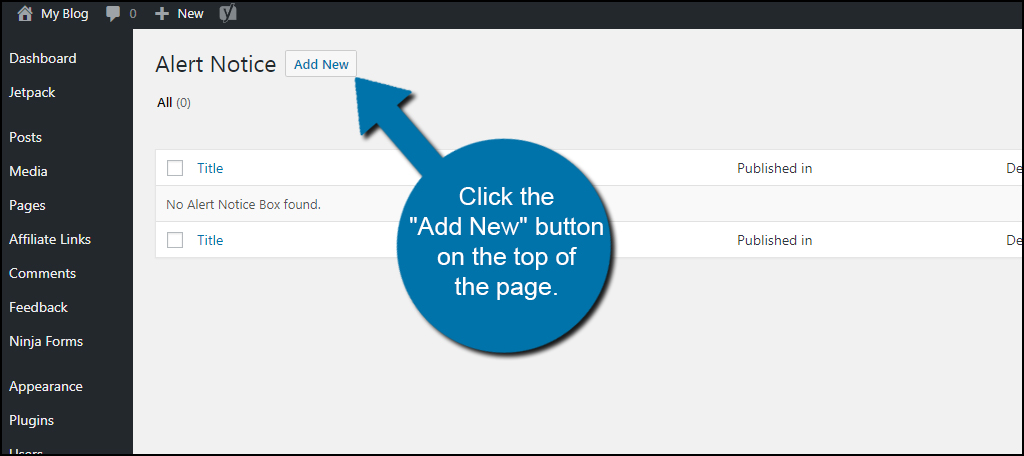 In the next screen, you'll see the WordPress editor. You can add a variety of text, HTML or anything else you can do when creating a post or page. Just be mindful that the alert is meant to be a small pop-up blurb, so you don't want anything that is too large like a massive graphic.
Under the editor, you have control over timing, where the alerts are displayed, the style of the box and the link that is used when someone clicks the message.
Once you have the alert set up, click "Publish."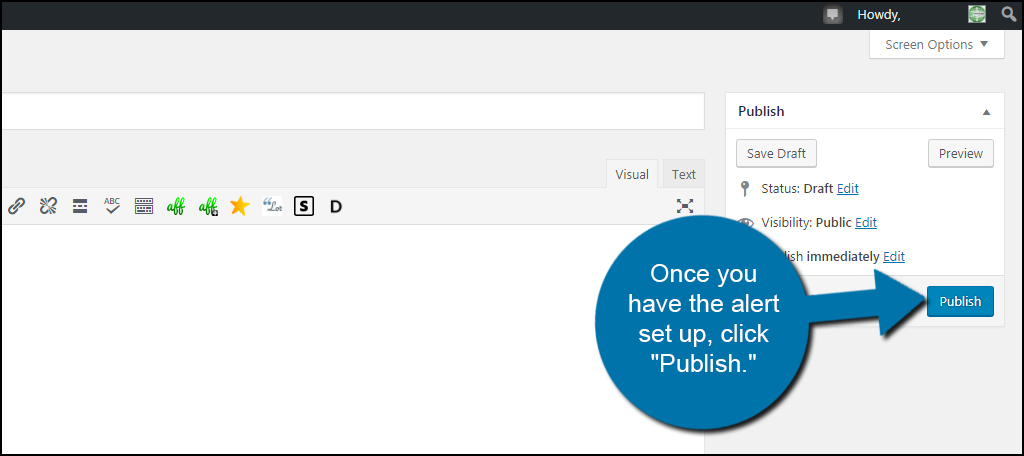 The alert will now be available on your website.
What if you don't want certain alerts to show up on every post or page? You can modify which alerts are displayed directly within those posts and pages. This plugin will add a new function to your content editor screen titled, "Alert settings for this page." Click the check box for the elements you want to keep.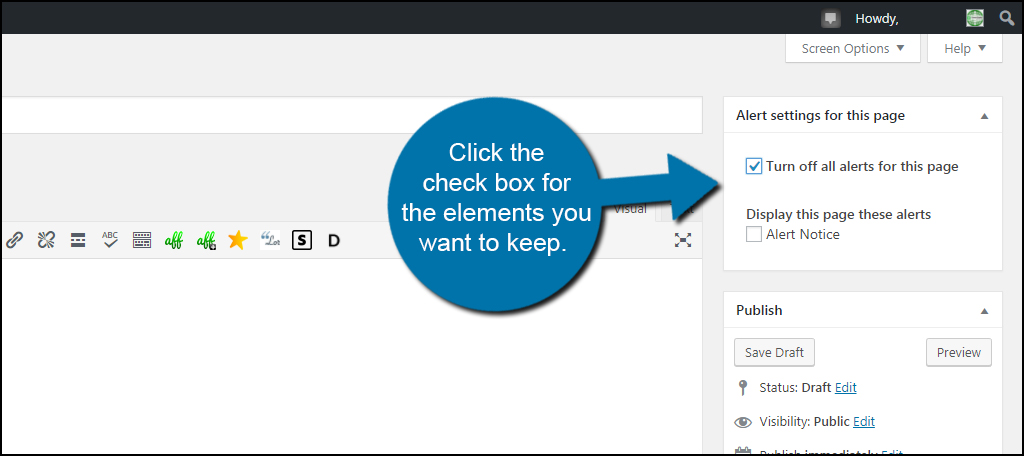 If you don't want the alert to appear on every post and page, make sure you leave that option unchecked in the Alert Notice settings page. This way, you can choose which posts and pages show the alert by using the check boxes above.
Plugin #2: Using News Announcement Scroll
The News Announcement Scroll plugin is a bit different than the above tool. It doesn't deliver a pop-up alert. Instead, it has a widget you can use to add to your sidebar.
Install and activate "News Announcement Scroll" from Plugins.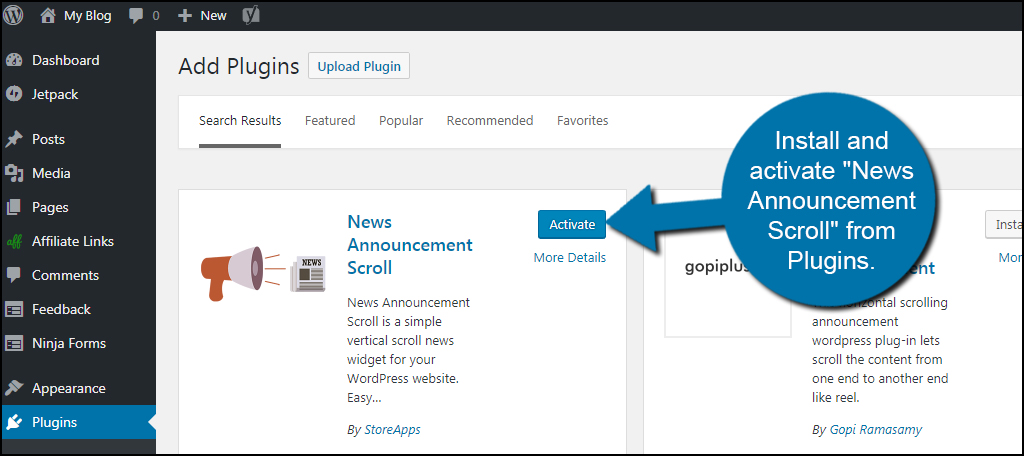 Activating the plugin will take you directly to its settings page. From here, you can add new lists or change the widget settings. Let's start by adding a new piece of news.
Click the "Add New" button on the top.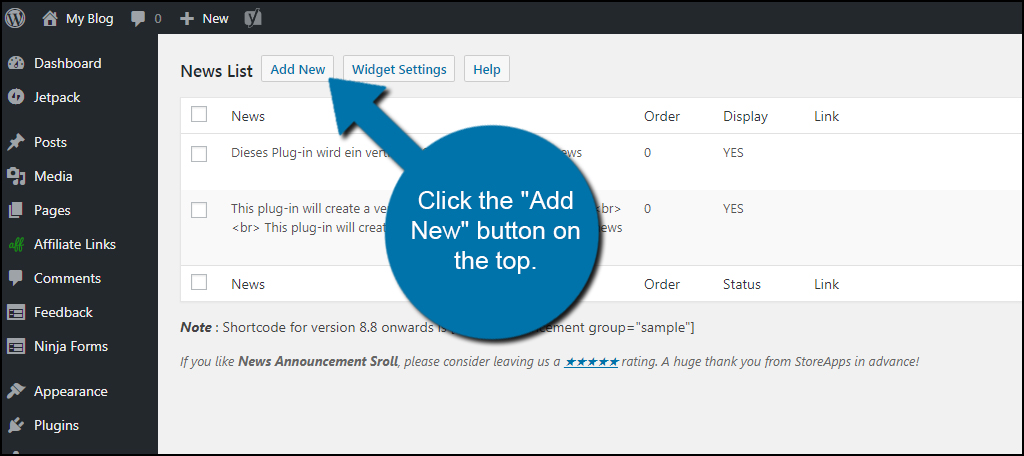 In the details page, you have access to the text and the general control of the message. For instance, you can set the display order as well as the publish and expiration date. This is very useful if you want to show time-sensitive materials such as holiday sales or other events.
Once you are done creating the news, click the "Save" button.
Before you publish the widget on your site, let's take a look at the settings you can adjust.
Click the "Widget Settings" button on the top. This is done from the News List screen of the plugin.
From here, you can change the title of the widget and other visual aspects. For instance, you have access to font sizes and colors as well as font family and alignment. This helps you design the widget according to your theme's layout and color scheme.
After making your adjustments, click "Save."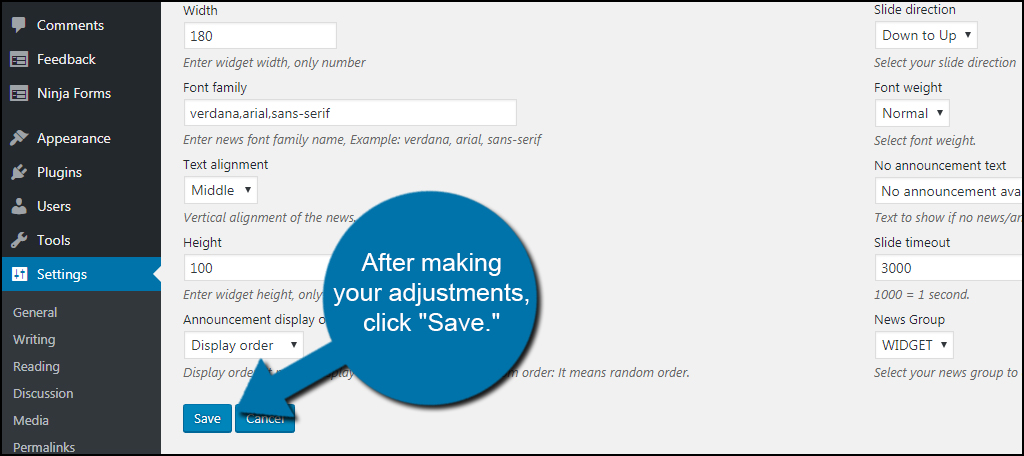 Now, you'll need to place the widget in your sidebar. From the Appearance area, click "Widgets."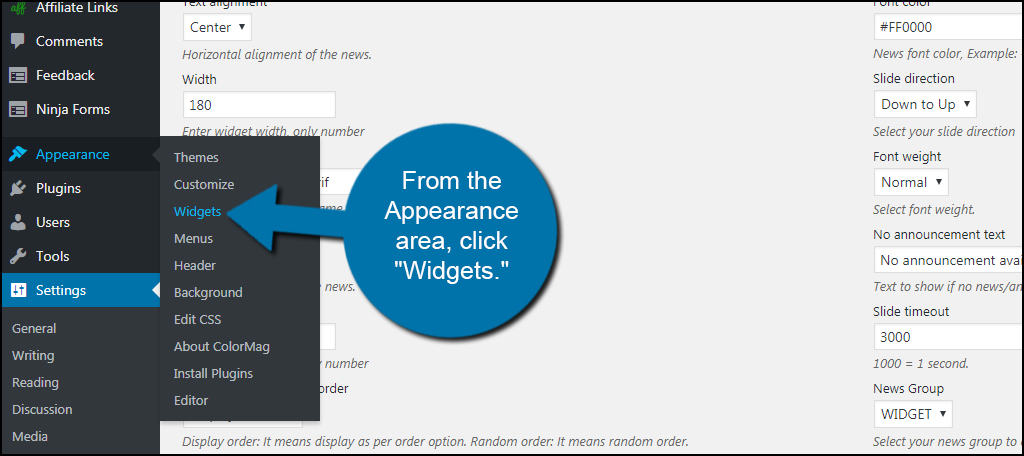 Drag and drop the "News Announcement Scroll" into your sidebar. You can move this to any area you like. However, I would suggest keeping important news elements near the top. This increases the likelihood the content will be seen by visitors.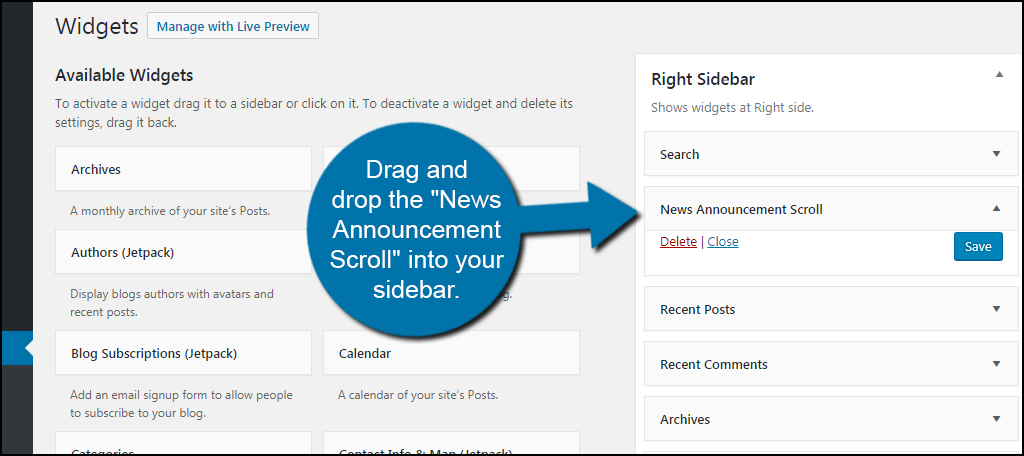 After dropping the widget where you want, your messages will begin to scroll live for all to see.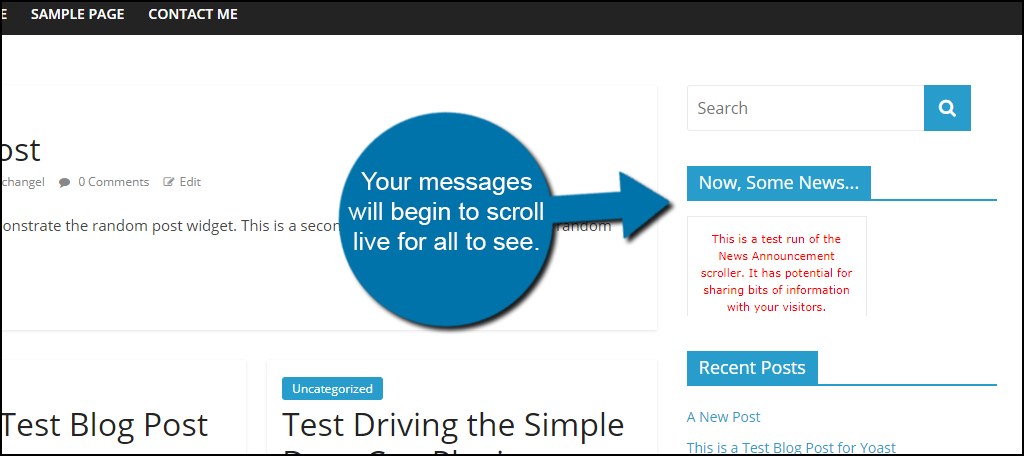 You may have to adjust the settings of the widget to make sure it fits your sidebar perfectly. As you can see above, the message doesn't quite reach the end of the sidebar. This is because I kept the default 100 pixel setting. If you know the width for your sidebar, you can enter it into the settings of News Announcement Scroll.
You can access the plugin from the Settings area of WordPress.
Plugin #3: Orbisius Simple Notice
The Orbisius Simple Notice plugin is just like it sounds, simple. It has a few customization options available, but overall it's a very basic alert system for your website. If you just want a quick news blast without putting much thought into it, this is a good plugin to try.
From the Plugins area, install and activate "Orbisius Simple Notice."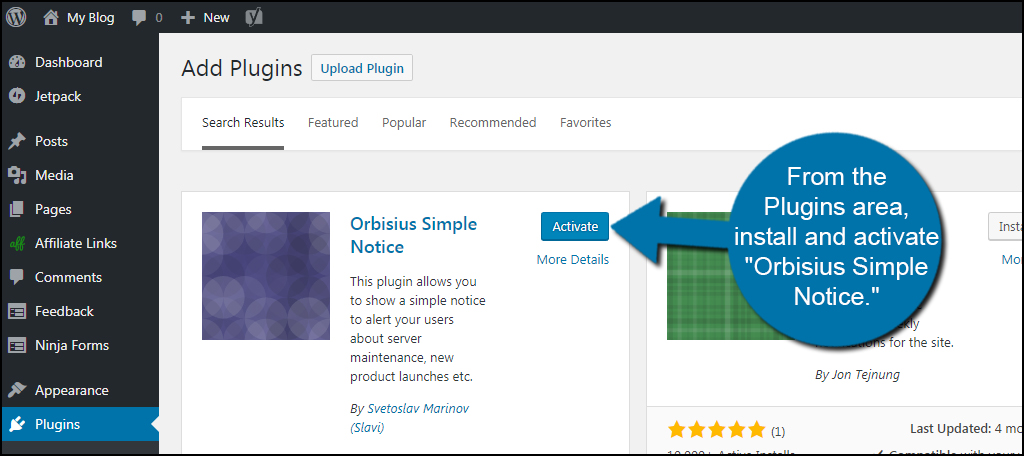 This will add a new function in the settings menu. Go to Settings and click, "Orbisius Simple Notice."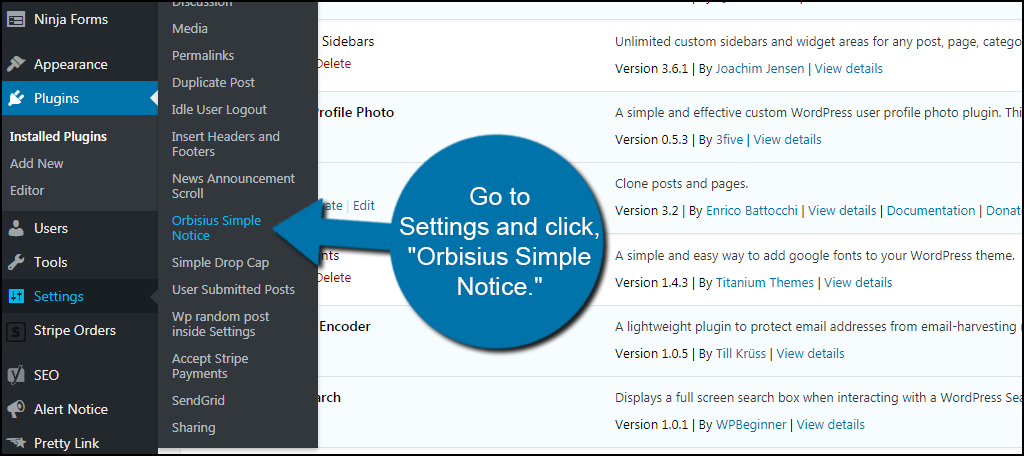 In the settings window, you have a basic text editor at your disposal. However, it will be missing some of the extra tools you might have installed. For example, Thirsty Affiliates does not work with this editor.
From here, you can change the appearance of the notice, text colors and font sizes. This lets you modify the alert to compliment the design of your website. just make sure you click the "Enable" button at the top next to "Show Notice." It is set to "Disable" by default.
The text itself is fairly basic. While you do have access to common elements such as bold and linking, you won't be able to insert images. This is somewhat logical as it would expand how big the announcement appears on the site.
When you're done, click the "Save Changes" button.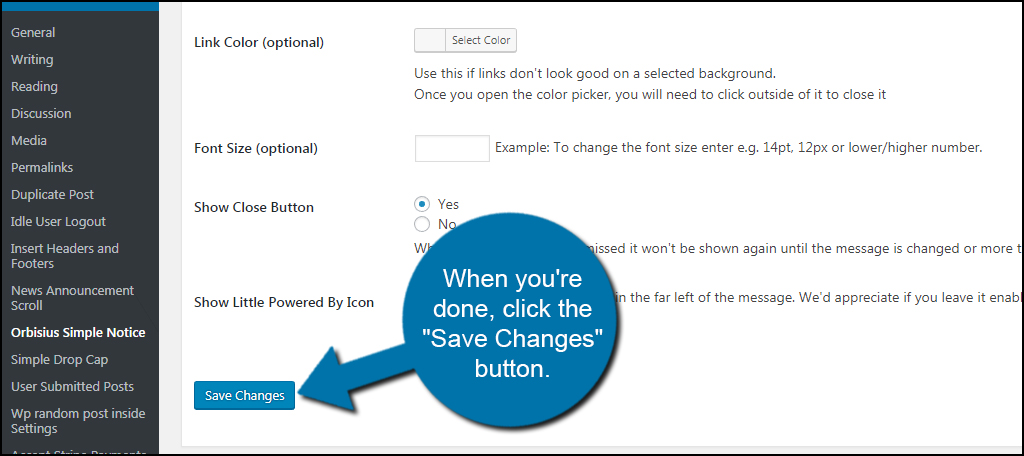 As you can see, the notice will appear at the top of the website. However, you can change this to show in the body of the content instead of the header. This is done in the plugin's settings page.
Informing Your Visitors
You have a lot of tools available for marketing when you use WordPress hosting. Something as simple as a news scroller highlighting a product or service often does wonders for boosting sales and interaction. In fact, you may even find this ability built directly into specific themes. Engage your audience with something other than pure text content. It will impact everything from retention to bounce rates.
What kind of marketing tools do you use directly from WordPress? What is your most effective plugin for engaging the audience?