Does your website distribute a lot of PDF content to visitors? If so, then you might want to add a PDF viewer to your website so visitors can view PDFs directly on the site. Most PDFs will open in a new tab after you download them and are displayed by links on the website. By setting up a PDF viewer you can essentially embed PDF files in WordPress.
This is also a great feature because you can use the embedded PDF as the content of a page. This has many benefits and will also make it very easy for visitors to download or print your website's content.
Because of the many advantages PDFs bring to websites, there are a lot of great PDF plugins available. Today I will demonstrate how to add a PDF viewer in WordPress using the PDF Embedder plugin.
Why Use a PDF Viewer
As I said before you can use the PDF as the entirety of the page's content. You might ask yourself, why would I want an entire page to be a PDF? Well, the main feature of PDFs is that they do not compromise the content regardless of which system they are opened with.
This means you can use formats normally not seen in WordPress inside your PDFs. This will also benefit high-resolution images stored in the PDFs. Since the preservation of the file is the main reason PDFs are so popular, it is important to take full advantage of it.
Another popular reason to use a WordPress PDF viewer is to save your visitors' time. PDFs are opened in a new tab after they are downloaded. This can be a problem with larger files and slower visitors' Internet speeds.
By embedding PDFs on your website visitors will not need to download the file unless they want to. The last, but possibly most important reason is when the PDF opens in another tab, most visitors will not return to your website, which is a problem that is solved by adding a PDF viewer.
How to Include a PDF Viewer in WordPress
Step 1: Install PDF Viewer
The PDF Embedder plugin is very popular with over 300,000 active installs. There is a premium version that unlocks features like being able to download the PDF file, clickable hyperlinks inside the PDF, a download tracker, mobile-friendly options, and security enhancements.
The mobile-friendly option is really important because a lot of the web traffic today comes from smartphones.
Let's start by clicking on Plugins and selecting the Add New option on the left-hand admin panel.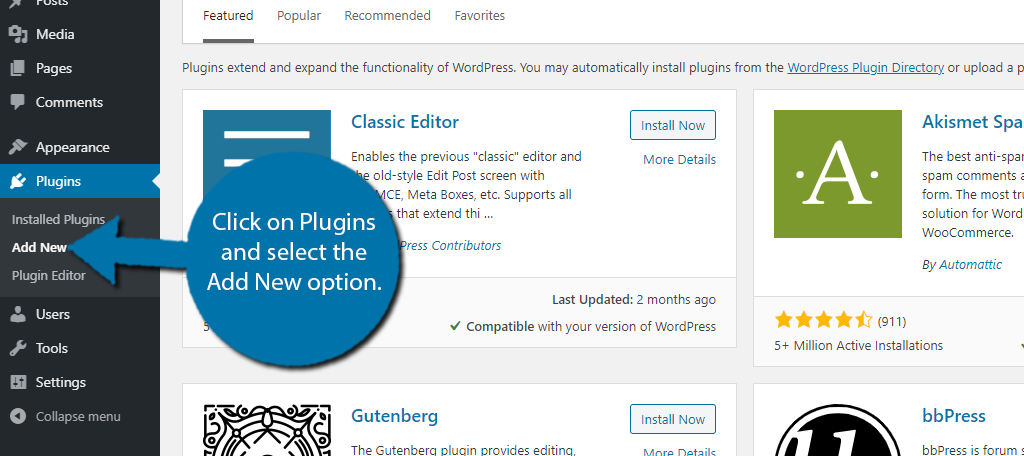 Search for PDF Embedder in the available search box. This will pull up additional plugins that you may find helpful.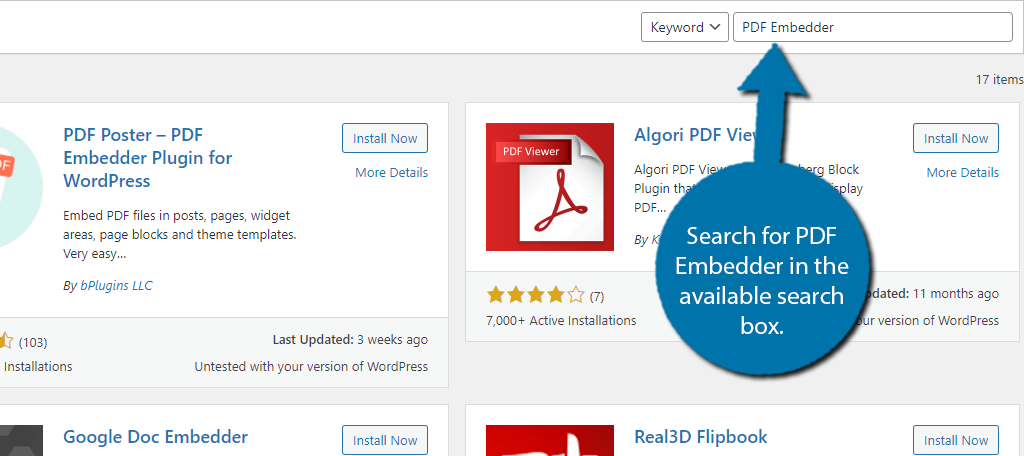 Scroll down until you find the PDF Embedder plugin and click the "Install Now" button and activate the plugin for use.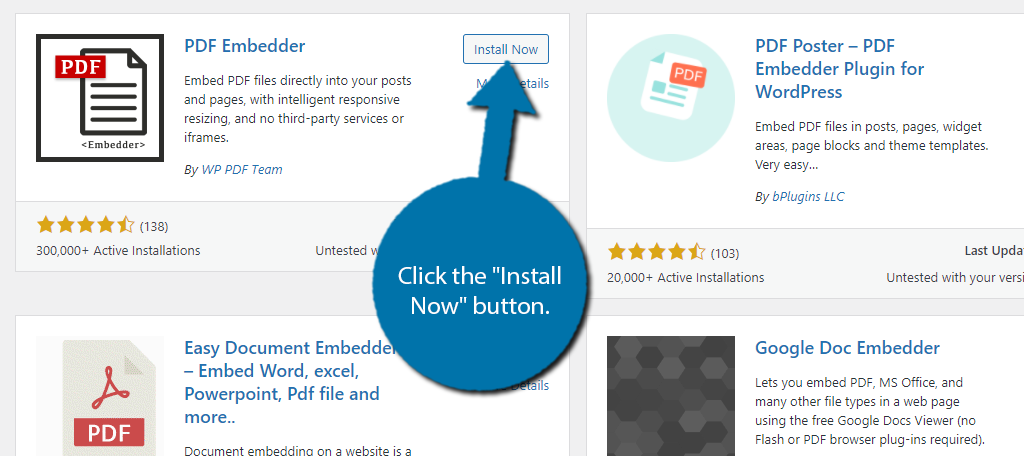 Step 2: Configure the Settings
While you could immediately start adding PDFs to pages and posts, I highly recommend configuring the settings first. This will allow you to customize the size of the PDF on the page.
On the left-hand admin panel, click on Settings and select the PDF Embedder option. This will pull up the main settings page.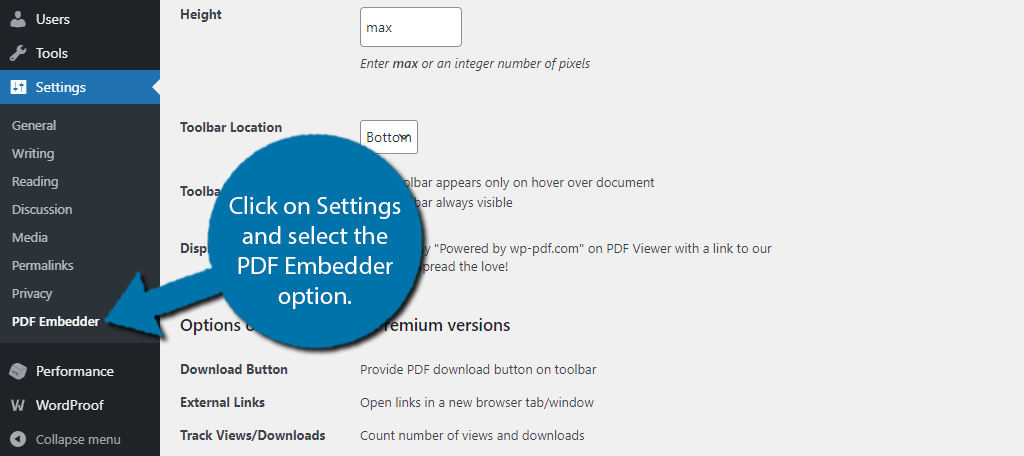 The settings page is very easy to use. The first thing you must pick is the Width and Height of the PDF viewer. You need to pick one that works with the existing width and height on your pages.
You may have to adjust this a few times if you are not sure about the dimensions of your pages. Also, you can select where you want the toolbar to appear and when it is visible.
Note: There are actually three tabs of settings, but both the Mobile and Secure tabs are not available in the free version.
Click on the "Save Changes" button to save your settings.
Step 3: Embed and View PDFs
Now it's time to actually embed some PDFs. Start by going to any post or page that you wish to embed a PDF in. Alternatively, you can create a new one for testing purposes.
Click on the "+" button and select the PDF Embedder block.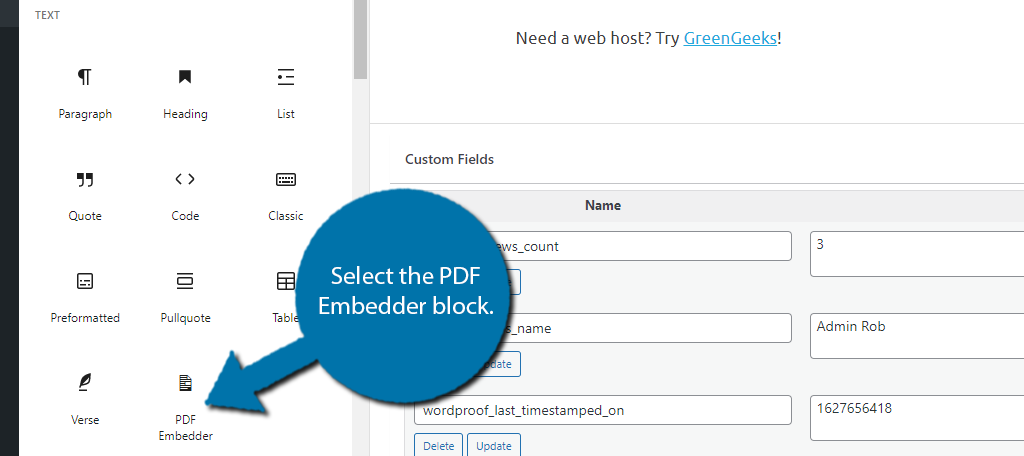 Click on the "Click here to Open Media Library to Select PDF" button. This will open up the media library and allow you to select or upload a PDF file.
Congratulations, you have successfully added a PDF viewer to the pages of your website. Just click on the "Save" or "Publish" button to finish.
Keep in mind that a lot of the functionality is locked behind the premium version of the plugin. The free version includes some of the basic features that are expected when viewing a PDF file, like downloading it or clicking on hyperlinks.
Additional Plugins
WordPress is full of great plugins available and I'm sure you can imagine there are a lot of plugins that improve how PDFs work on websites. It's no surprise considering PDFs are the most popular file format in the world since they never change the content of the PDF regardless of which system they are opened with.
Here are some plugins I can recommend trying to improve the PDF experience for your visitors.
Print, PDF, Email by PrintFriendly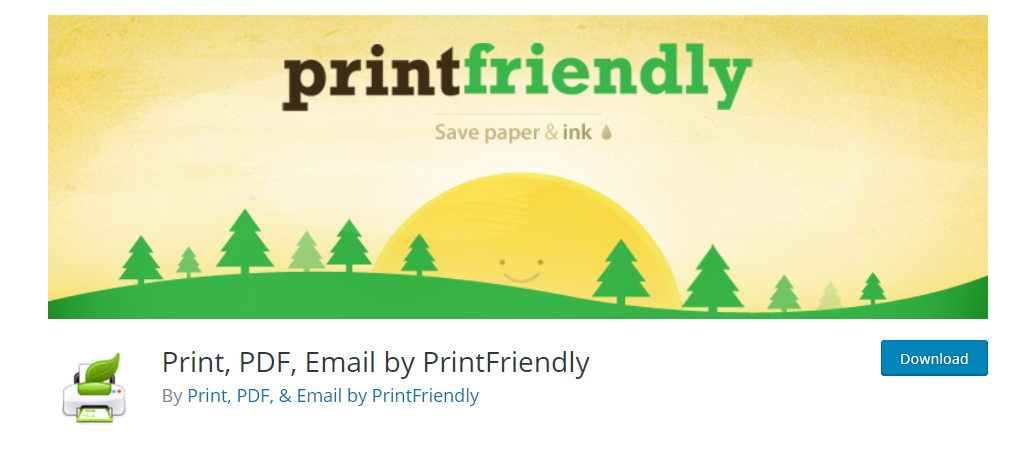 Print, PDF, Email by PrintFriendly is a cool PDF plugin that specializes in printing your PDFs. Printing PDFs is very common as many forms and applications are stored as PDF documents on websites. It's no surprise this plugin has gain popularity with over 40,000 active installs. It's definitely a plugin worth trying.
PDF Viewer for Elementor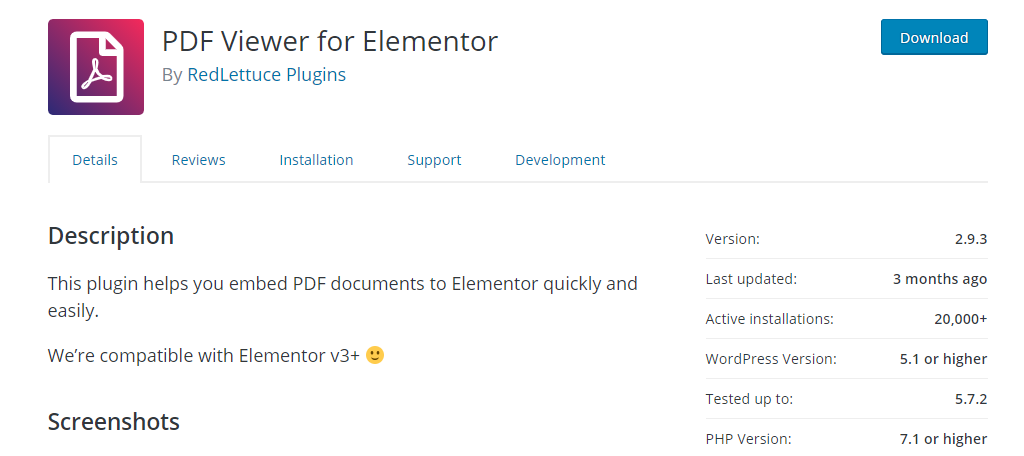 Elementor is one of the most popular page builders on WordPress, and you can add PDF functionality to it with the PDF Viewer for Elementor add-on. This plugin adds two new widgets to Elementor that allow you to embed and view PDFs on any page.
Embed PDF Viewer
Embed PDF Viewer is another excellent choice to make it easy to view PDFs in WordPress. It adds a new block to the Gutenberg editor that allows you to select a PDF file and display it on the page or post.
It's simple but effective.
Keep Your Website Convenient For Visitors
Adding a PDF viewer on your website should only be done to benefit your website's visitor interaction. Doing this keeps visitors on your pages longer and they will be more likely to keep exploring your website.
It also saves them time by not having to actually download the PDF file to view it. Visitors with slower Internet speeds will really appreciate this because a larger PDF could take them more than a few minutes to download.
Something you definitely need to consider is making your website mobile-friendly. The option is available as a premium addition, but there are lots of ways to improve your website for mobile viewing.
Remember, if there is a way you can make your visitor's experience better, then you should be aiming for that and a mobile-friendly website should be a top concern.
What are you using your PDF viewer to show on your website? Do you notice that visitors are now staying on your pages longer with the PDFs embedded on your website?