Want to see who's visiting your website right now? There's a lot of reasons to track visitors ranging from content strategy building to sheer curiosity. For whatever the reason, you can easily show WordPress users in real-time with the right tools.
Data plays an important role in creating the perfect user experience. And keeping an eye on how people use the site helps you come up with ideas regarding the best way to do this.
In this tutorial, I'll show you a couple of easy ways to display WordPress active users in real-time. You can even see what post or page they are currently reading.
Using Slimstat Analytics
The first plugin we'll take a look at is Slimstat Analytics. It's a semi-popular tool which has an incredible rating. It's full of features and reports in relation to how people interact with your content, including real-time user tracking.
Install and activate, "Slimstat Analytics."
By default, everything you'll need is already enabled. However, you can customize the layout and functionality of Slimstat. Let's take a quick look at some of these features.
Customizing Slimstat's Layout
Go to Slimstat and click, "Customize."
In this screen, you can drag and drop reports to suit your needs. You can also remove reports from the dashboard. It's kind of like how widgets work in WordPress. If you don't want something visible, just drag it off or click the "-" icon.
Adjusting Settings
Go to the Settings function of Slimstat.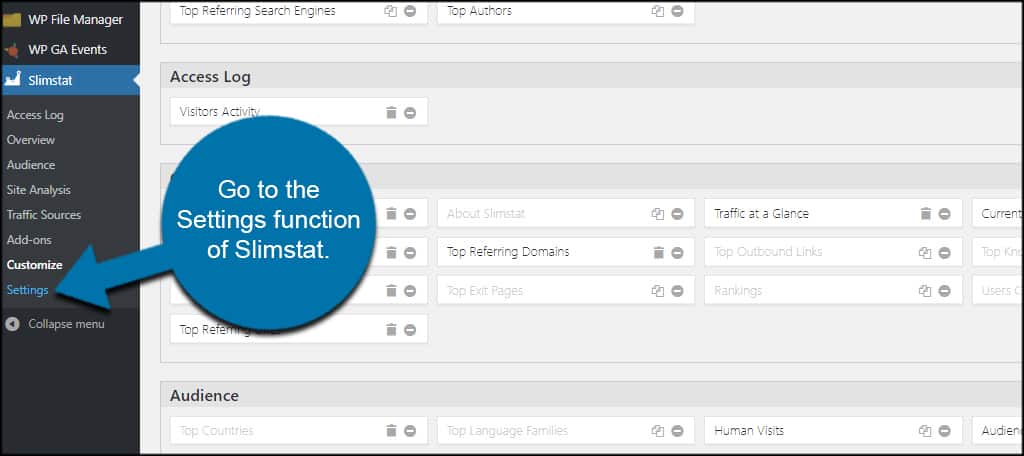 From these tabs, you can control the different aspects of Slimstat. It includes settings for integration, how the tracking feature works, the way the layout appears and even maintenance options.
I suggest leaving these set as default for now until you feel more comfortable making changes.
Using Slimstat in the WordPress Dashboard
By default, Slimstat includes a variety of reports for the WordPress dashboard. These can be altered by going to the Customize screen I mentioned a minute ago.
Click the Dashboard function from WordPress.
Slimstat gives you a lot of reporting screens for the dashboard. But for this tutorial, we're only worried about the one for real-time online users in WordPress.
Drag and drop the "Currently Online" report where you want it. You might have to scroll down a bit to find it depending on the layout of your dashboard.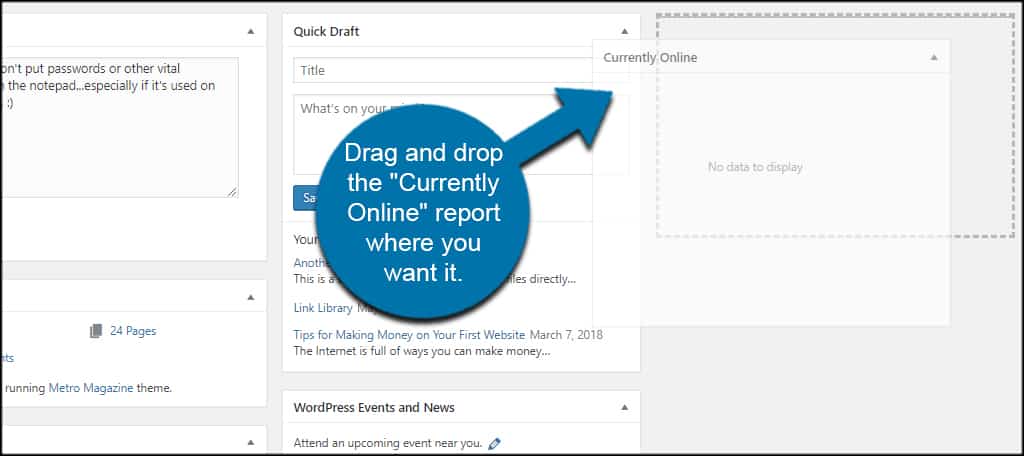 And there you have it. When someone accesses your website, you will see the activity as it happens. Slimstat will even show the users current IP address and any pages or posts he or she visits on your site.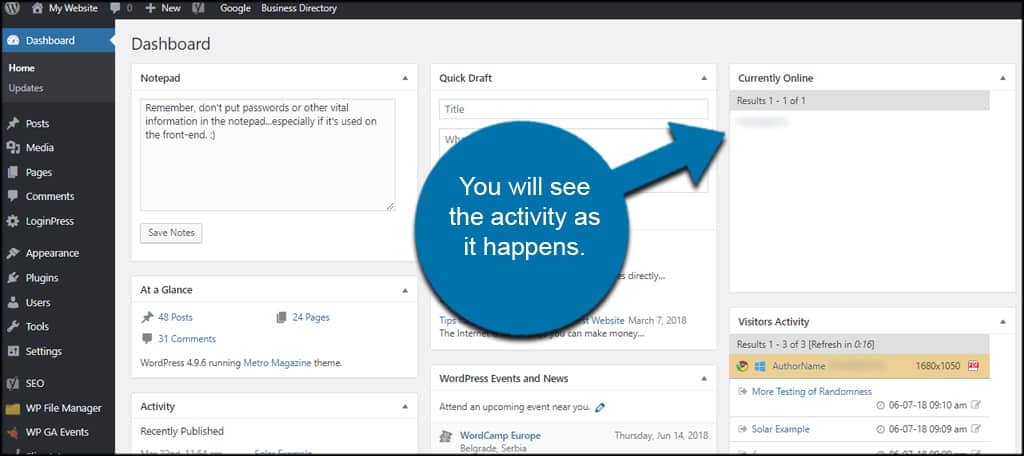 Slimstat will also track other WordPress users who are logged in.
By default, Slimstat will not track admin users. Which is good if you want to generate reports without your visits being recorded. If you want to enable admin tracking, you can do it from the first tab in the settings of Slimstat under, "Track Admin Pages."
Unfortunately, this also means it will track any admin page you visit as well, such as the plugin screen or even the dashboard itself.
Using Google Analytics Dashboard
Google Analytics is perhaps one of the most prominent visitor data tracking systems used on the Internet. It's a free service that includes a slew of information while integrating things like AdSense or even AdWords to track your conversions.
One of the attractions of Google Analytics is being able to monitor real-time user tracking from the WordPress dashboard.
Go through the steps to install Google Analytics in WordPress if you haven't already. This involves installing and activating Google Analytics Dashboard for WP.
From your WordPress dashboard, drag and drop the Google Analytics Dashboard report where you want it.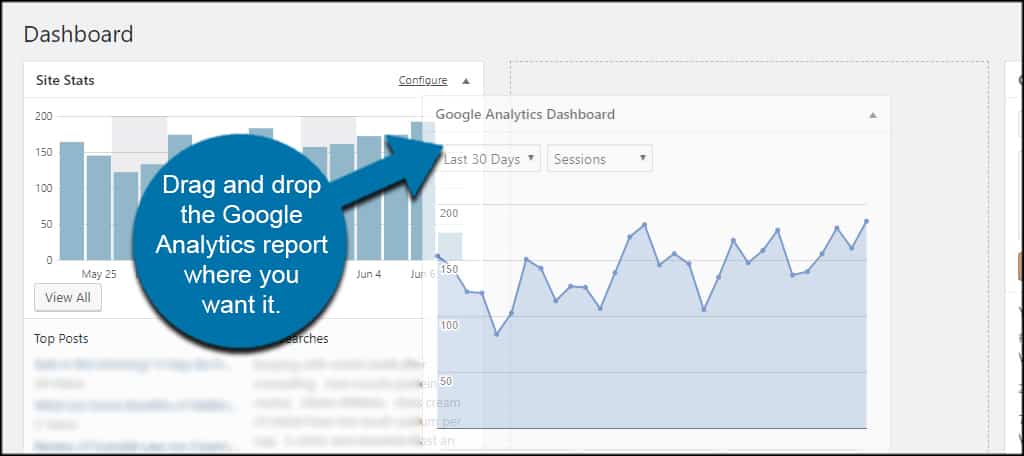 Use the drop down window and select, "Real-Time."
Google will then show you current visitors including how they reached your site and what posts or pages they are currently viewing.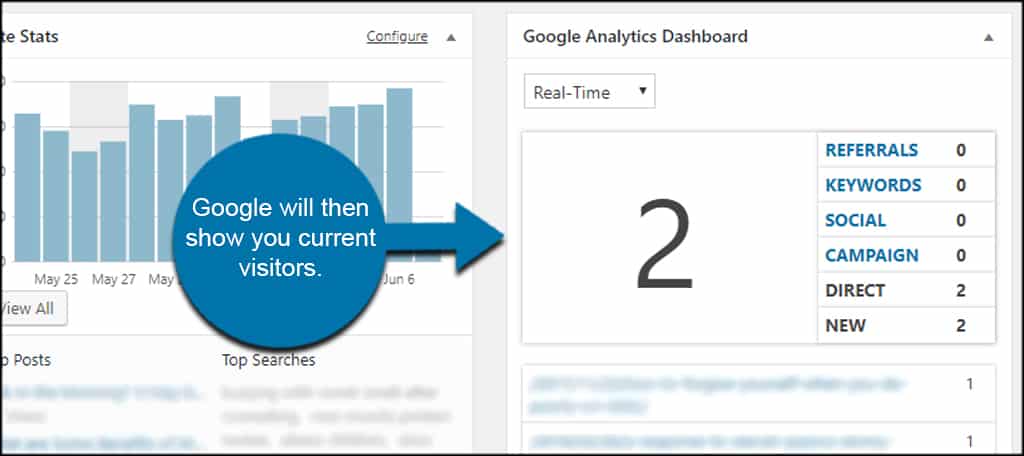 Giving Visitors What They Want
WordPress visitor tracking is invaluable when trying to come up with new content or understanding how your target audience behaves. It gives you insight for what kind of marketing strategies to try next. This is not to mention how showing WordPress users in real-time can help fuel inspiration to keep building the site up.
How often do you use analytical data to create new content? What's your favorite tool for collecting and analyzing how people use your website?