Modules can offer a great bonus to operating an eCommerce website. Whether you use an extension to place advertisement banners or you want to add a new payment method, these add-ons provide flexibility. For instance you can easily add Google Analytics to Magento, but there are a ton of other data components available in Magento Marketplace.
However, there will undoubtedly be times when you have to update modules in Magento. Although the system comes with a lot of tools after you install Magento, add-ons give the system more capabilities. Over time, these additional plugins will need to be updated for various reasons.
Perhaps the developer found an exploit and wants to seal up a potential hacking problem. Maybe the developer wants to make the coding more efficient. In any case, updating keeps the site functioning properly.
In this tutorial, I'm going to show you a quick and easy way to perform updates to find new versions that are released.
Checking for Module Updates in Magento
From your Magento dashboard, select the System section and click "Web Setup Wizard."
In the Setup Wizard screen, click the "System Upgrade" tool in the middle.
Now, this next part goes by pretty quick. Once the window loads up, you need to click "Yes" on the radio button for Other Components.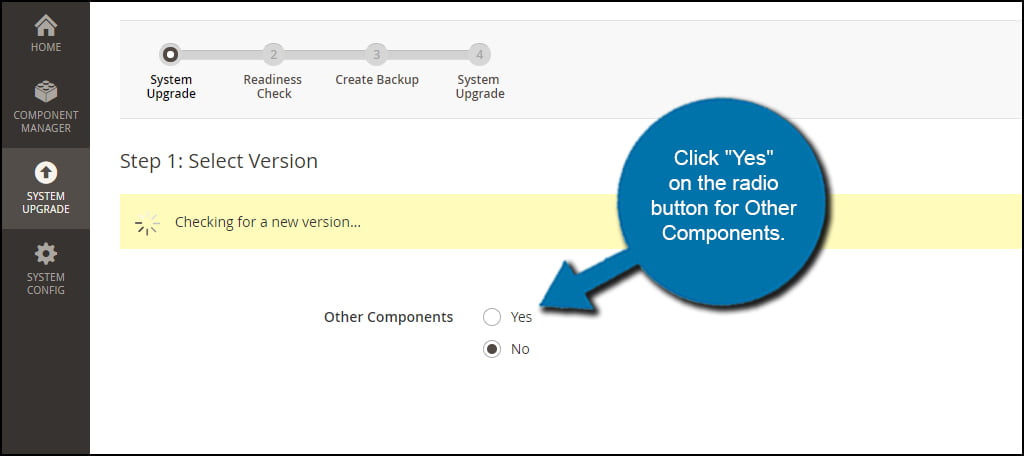 This will cause Magento to look for upgrades for both the site core files as well as any additions you have installed onto your system. If you're too slow, you will need to click the "Try Again" button on the top right.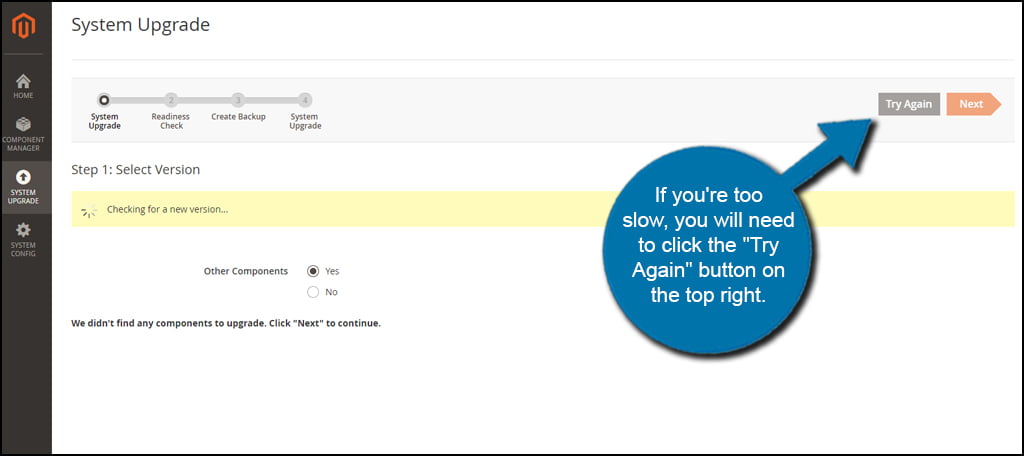 If upgrades are found, you will need to run the Readiness Check, create the backup and then perform the system upgrade. The on-screen instructions are clearly defined and will walk you through the process of upgrading your modules as well as the core files for Magento.
Keeping modules updated is but one of many ways to keep your Magento hosted site secure. Whether it's from bad coding or hacking attempts, new versions of add-ons are quite common. It's always best to check for these updates periodically. You never know when the developer will release a new version.