One feature of Magento allows users to import product and customer data from a spreadsheet directly into the online store. This is a huge time saving option, especially if you have exceptionally long lists to bring into Magento. When you first build the online store, the import ability may be monumental in setup time.
Magento also allows users to import and export tax rates for backups or reference for other apps and software.
However, this doesn't always go according to plan. Sometimes an error will occur when trying to import or export data. Luckily, some of these problems can be addressed.
In this Magento import and export tutorial, I'm going to go over a few of the more common problems you may come across during the procedure.
Fixing Magento Import and Export Problems
The import and export functions can be found in the System area of Magento. From here, you can perform the necessary tasks. So, how do you address the problems that may arise during the process?
CSV File Formatting
Magento supports CSV file types. However, a bad formatting of the data can lead to imports failing or even missing important rows. Because the process of importing data is very strict in Magento, everything needs to be accurate in the spreadsheet.
Sometimes a bad conversion by third-party applications can cause formatting problems. For example, a CSV file converted from Excel may be prone to incorrect table structure.
A good way to get around this problem is to download the CSV file directly from Magento and use it as a sample. This will guide you to how the system is recording the data and how you should structure the additions.
Short Description Information Loss
The short description for products is intended to be a kind of teaser for the main product page. If the text is too long, an error could occur or the text will be cut during the import. The end result is anything but ideal.
It's recommended that you stick with a maximum of 255 characters for a short description in Magento. All you really need is a condensed version of the long description itself. Keep in mind that spaces between words will count towards this limit when importing data to the website.
If you're unsure about description length, most word processors offer a word count tool that will show the number of characters within selected text. Many of these applications are free to use, such as Libre Office.
Import and Export Paths Blocked
If file and folder permissions are set incorrectly, there will be a problem importing data. These permissions dictate what can be done to the file system of the website.
Luckily, these permissions are relatively easy to change in cPanel. Use the File Manager in cPanel to edit the folder permissions.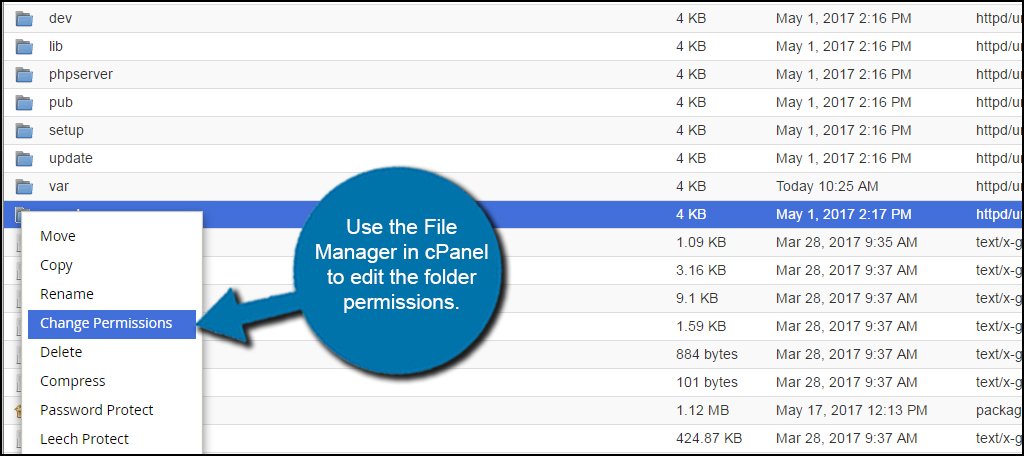 You can also use some FTP programs such as FileZilla to edit the files and folders.
Image Saving Location Problems
Text isn't the only thing that is capable of being imported into Magento. Many people will have images contained within CSV files as well. The path of these files needs to be accurate in reflecting where the correct folder is located on the website. Otherwise, an error will occur and the images will not be saved.
Issues When Trying to Import Multiple Images
Not all imports for images are going to work well. For instance, sometimes problems will occur if you try to import multiple images between CSV and Excel conversions. As a result, small, thumbnail and actual size images may be causing problems during the import.
You may have to upload images separately if the CSV is not importing correctly.
Use Magento's Import/Export Feature to Save Time
The import/export feature of Magento is still worth the effort when it comes to saving time. For the most part, a lot of these issues can be averted simply by using the sample CSV or a backup copy of Magento's actual CSV file. Using it as a template to upload your products or customers can save you a lot of aggravation in the long run.