WordPress is known for creating great blog content and is used by many big named bloggers, but were you aware that you can actually remove blog features in WordPress? This is important for sites that will not use blogs at all or very minimally.
This will keep your website focused on where the developers feel it is best used.
You may be wondering why you would want to reduce the number of features your website offers and the simple answer is less is more.
You want to create a compact website that has exactly what visitors need to enjoy and if blogging is not one of those, it's better off gone. That said, blogging is a great addition to any site, so think about it before you commit.
Today I will demonstrate how to disable blog features in WordPress.
Why Disabling Blogs Could be Important for You
Blogs are pieces of content that are meant to share the author's thoughts and experiences on a specific topic. They can act as a stand-alone piece of content and are easy to make.
On other websites, however, they feel like tacked-on pieces that don't quite belong on the site. Remember sometimes it is better to cut off content if it's out of place.
Let's say that you want to run an online chair store using WordPress.
Blogs don't really have a place if your website is for viewing and buying chairs online, whereas a tech-related website may have blog sections discussing a different type of technology like hardware, software, website creation, and web hosting services.
Remember you can disable comments in WordPress, disable posts in WordPress, disable RSS feeds in WordPress, and much more if you feel they don't belong.
How to Disable the WordPress Blog Area
Step 1: Install Disable Blog
Today, I am going to demonstrate how to install and use the Disable Blog plugin to completely disable blogs. This plugin is very easy to use and the settings can be changed at any time.
It also goes a step further and removes the posts section from your admin bar. And you won't have to worry about 404 pages as the plugin will redirect users to your new homepage automatically.
If you decide at a later time that you do want to add the blog back to your website, simply uninstall the plugin.
Let's start by going to the plugins area of WordPress. Once there, click on the "Add New" button.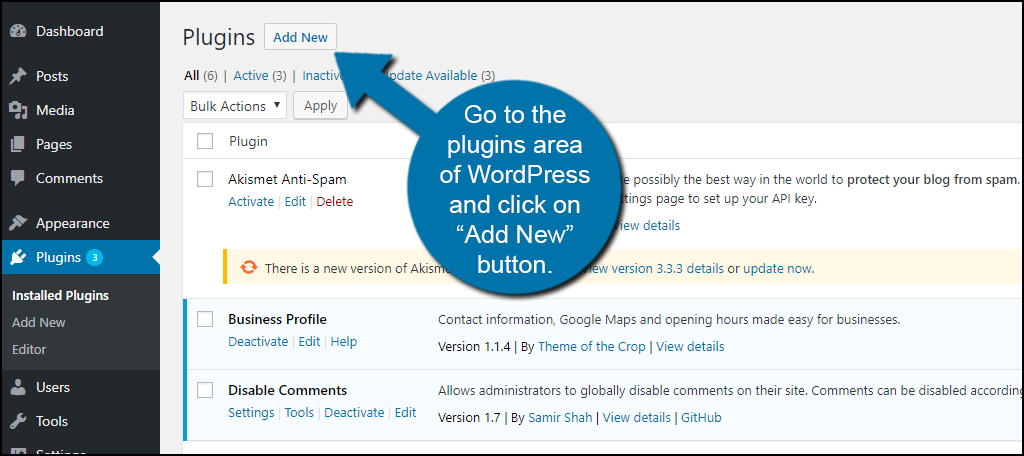 Search for Disable Blog in the available search box. This will pull up similar plugins that you may find helpful.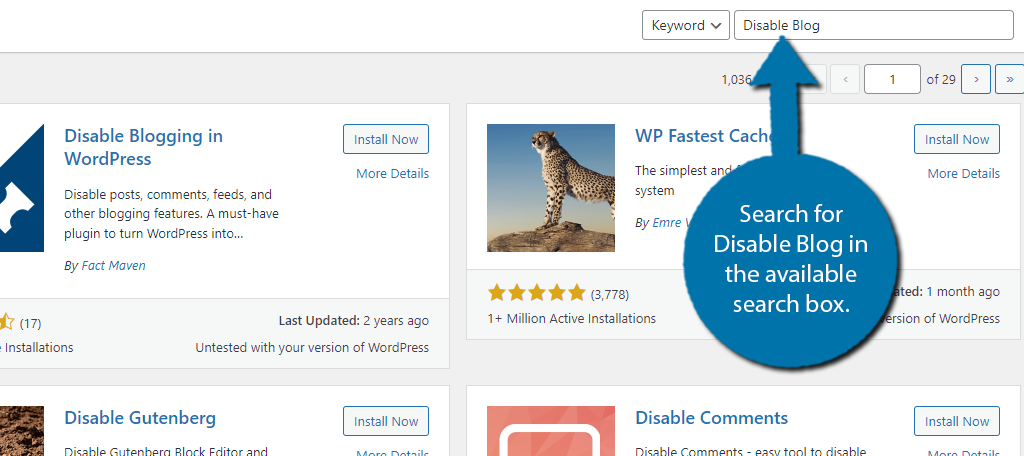 Scroll down until you find the Disable Blog plugin and click on the "Install Now" button and activate the plugin for use.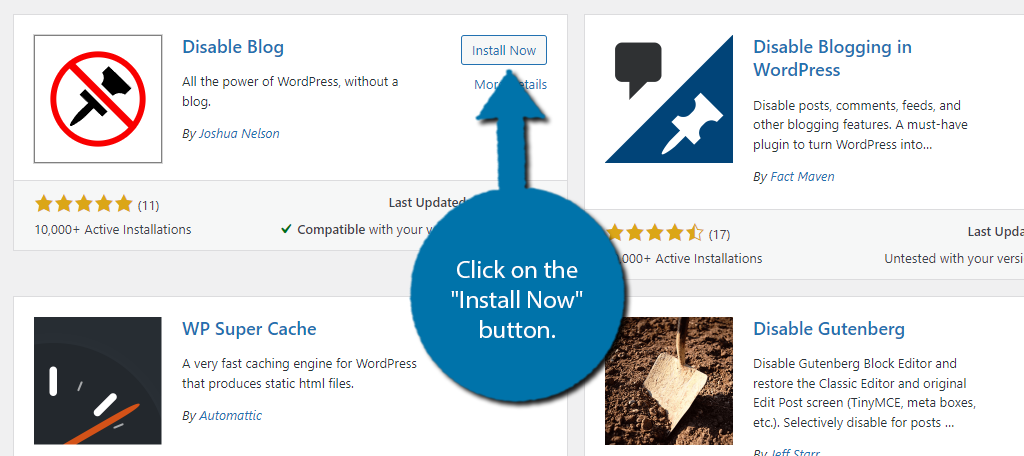 The cool thing about this plugin is that the moment you activate it, it will disable the blog unless you haven't set up a homepage. The plugin will also handle redirects to make sure visitors end up on the homepage instead of the default blog posts page.
Note: If you have not yet created a homepage, you need to do so now as it is required for the plugin to work correctly.
To set a homepage in WordPress, click on Settings and select the Reading option.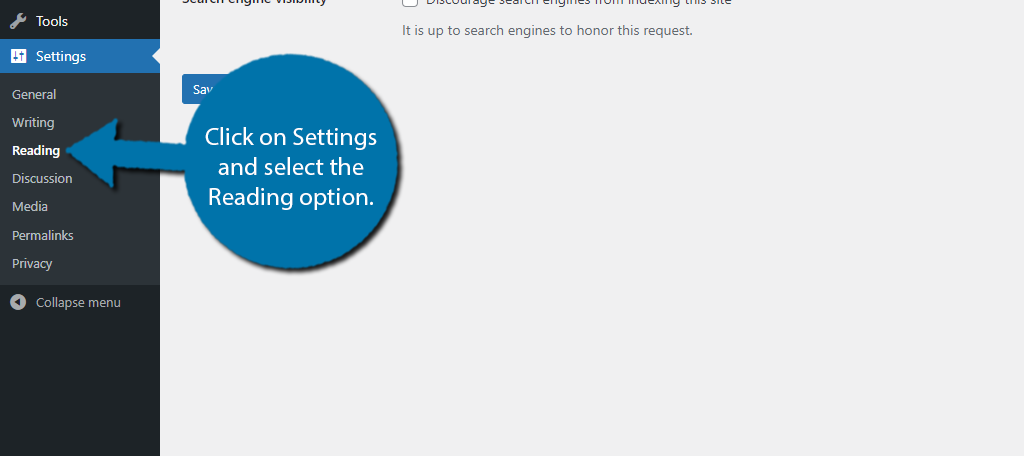 Right at the top of this section, you will see homepage options. Simply use the drop-down to select which page you want to use as a homepage.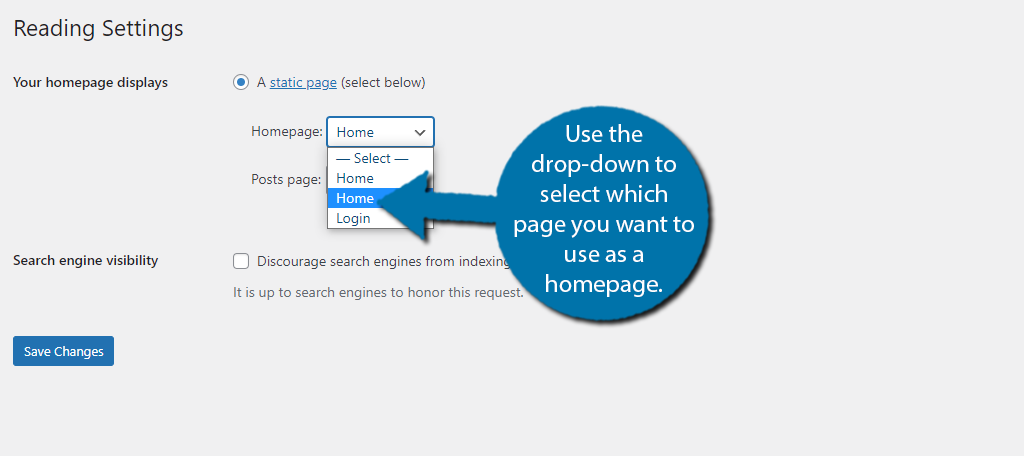 After that, save the changes, and you are done. It's actually that easy to remove the blog.
Step 3: Update Links
As a reminder, this plugin will automatically redirect users from the post page to your home page, but it is still recommended to go through your website and update any links that contain the old posts pages, especially on other platforms like social media.
One way you can consider speeding this process up is by using another plugin like Better Search Replace. This tool can help you search for links on your pages and replace them with updated links.
Just make sure to spend some time checking over the links on your website. Redirects only go so far.
Additional Plugins to Disable Blogs in WordPress
There are many alternatives to the plugins on WordPress. Here are some blog disabling plugins I can recommend trying to use.
Disable Blogging in WordPress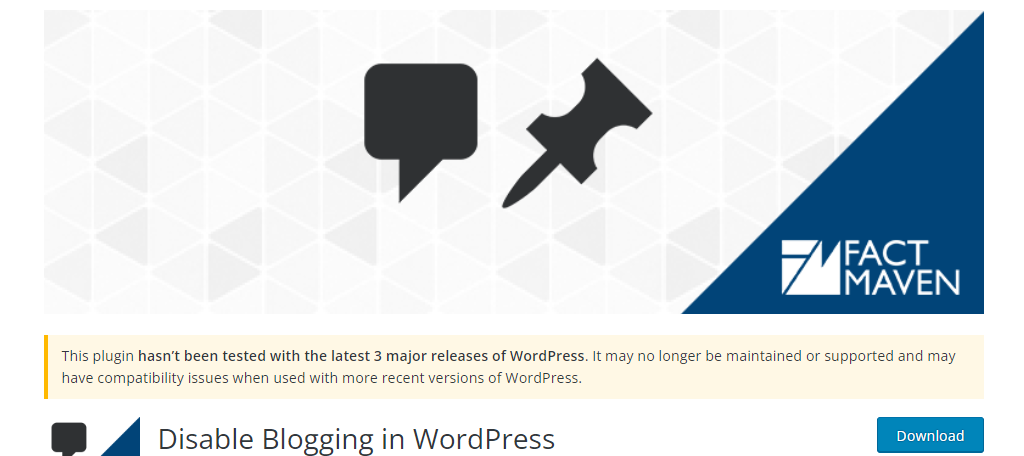 Disable Blogging in WordPress was previously featured as the best way to remove the blog on your website. While it has not been updated in some time, it still works perfectly, thus, I will still list it as a good alternative.
It offers users far more options to remove and control the blogging aspects of WordPress, while also remaining easy to use. In a matter of minutes, you can customize or disable the blogging aspects of WordPress.
Blog Designer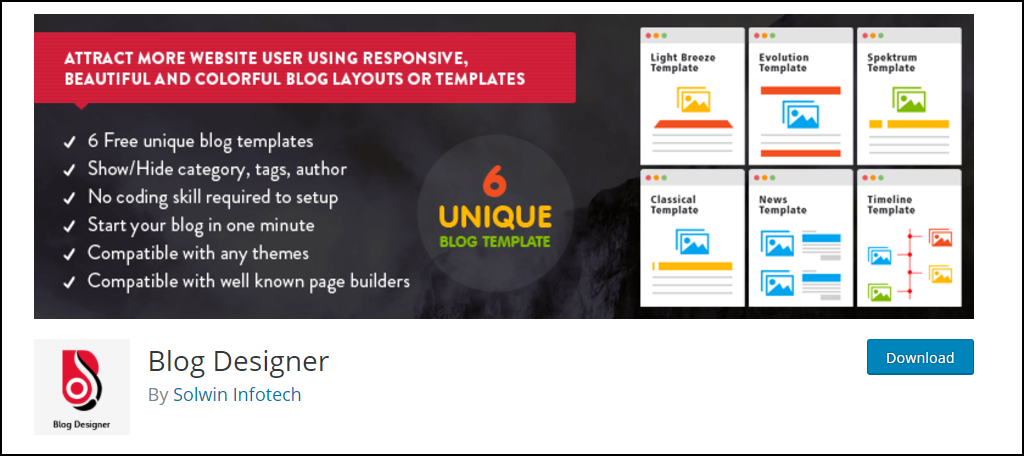 Blog Designer may be a better approach to handle your blogging needs. By following the tutorial, it is clear that you can choose to disable certain parts of your blogging features.
This plugin will allow you to take full control of blogging features that you leave active on your website and make them look better. It's a great plugin packed full of template options in its premium version and is worth giving a try.
Avoid Using Code to Disable Your WordPress Blog
You might have considered using code to disable your blog in WordPress. And that is completely viable if you know what you are doing. The problem is that many people, mainly beginners, do not.
Attempting to do so can tank your website's SEO because if you disable the blog without setting up redirects, you will generate a ton of 404 errors on your pages. This will hurt your SEO, and many beginners don't even realize it is happening.
For this reason, the Disable Blog plugin is superior as it automatically sets up redirects for you.
Another factor to consider is that you could just mess up the code you add. All WordPress websites are unique, thus, sometimes you might need to edit your theme as well. This can lead to other errors on your website.
Troubleshooting them can become a real pain as they were probably made for blogging.
It's also worth pointing out that it's just much quicker to use a plugin to do it. As you can see from the tutorial, the process will take you about two minutes, whereas editing your site's code can take much longer for some.
Only Keep Mandatory Features Active on Your WordPress Website
Websites should contain as many features as necessary to operate them. Any extra features will only make the website look bad if they are not properly maintained and have quality content. Blogs are one of these features that you may want to disable if your website has no use for them.
Just imagine clicking on a blog area of a website and discovering that there is no content. The visitor may feel that the website is not safe to make purchases on. It is important for every part of a website to look and run perfectly and using the Disable Blogging in WordPress will help you achieve this.
Has disabling blogging features made you want to disable other features? Do you feel that the quality of your website has improved since removing blogs? Do you have any plans for reintroducing blogs in the future?