The appearance of your website is extremely important, which is exactly why you need to choose one of the many OSSN themes available. A theme can be thought of as a set of clothes for your website. The clothes you wear change your appearance, and the same can be said when choosing a theme.
Since picking out a theme is so important, you will be glad to know that it is a pretty simple process. Today, I will demonstrate how to install and manage your Open Source Social Network themes.
Why Change Your Theme?
By default, every OSSN install comes equipped with the same theme, and while you might be a fan of the look, let me assure you, you are not the only one. It does look very nice after all. While you can certainly change the appearance of a theme to make it unique, if you have the coding knowledge, having the same default theme as everyone else who installs OSSN is not a good idea.
You need to stand out from other websites, especially the ones that will have identical features available to them.
Appearances Matter
The appearance of your website is the first thing a visitor sees when they stumble upon your website. And if it does not impress them or looks shady, you can probably bet they will not return.
Thus, you need to make sure your website looks good and matches the content tone.
In OSSN's case, you should be making a social network. On these types of sites, visitors will create accounts, leave personal information, and build connections.
Now let me ask you a question…if your social media website of choice looked shady or untrustworthy, how likely would you be to leave your personal information on it?
If you are like most people, you probably wouldn't. Picking the right theme can fix this and enhance the experience your website provides, so make sure to do so.
Installing OSSN Themes
Picking out a theme is one of the first things you need to do after installing OSSN. In fact, I recommend it as the first thing because the theme you choose may influence how you approach certain design decisions. Luckily, this is a really straightforward process that only takes a few steps.
All OSSN themes can be found on the theme directory, thus, the first step is to visit the theme directory.
Once there, you can select one of the themes available. Now if you are used to using other CMS like WordPress, you may notice that there are not many themes available. The theme directory only provides 7 themes at the time of writing this tutorial.
However, it is worth noting that these are simply the free themes available. There are plenty of premium ones, and it is possible to create your own theme as well.
Select a theme from the list that you wish to install.
Click on the Download button at the top of the page.
Note: It is recommended that the theme be compatible with the latest version of OSSN, but it may work fine even if this message is not visible. The choice is up to you, but always make sure to thoroughly test themes that are not stated as compatible.
A zip file of the theme should now be added to your download. If you are unsure about which theme you want to use, feel free to download more than one. You can see how each one looks on your website later on.
Return to your OSSN site's administrator page. Click on Themes and select the Installer option.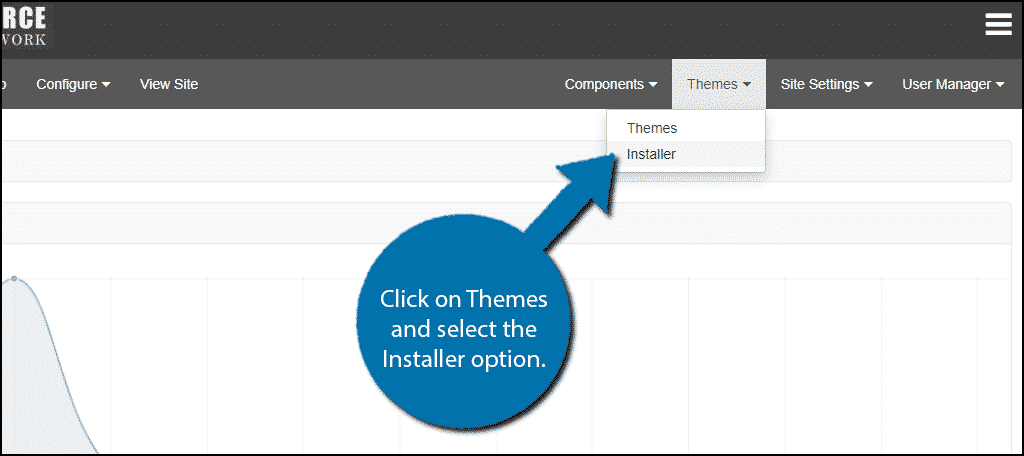 Click on the "Choose File" button and select the zip file you downloaded in the previous step. And finally, click on the "Upload" button.
You should see a green message that states that the theme has been successfully installed. Repeat these steps if you wish to install multiple themes for testing purposes.
Managing OSSN Themes
The theme you just uploaded will now be usable on your website. Managing OSSN theme's is pretty simple. You can install, enable, or delete them. Learning how to do this is a critical skill if you are serious about using OSSN.
Click on Themes and select the Themes option.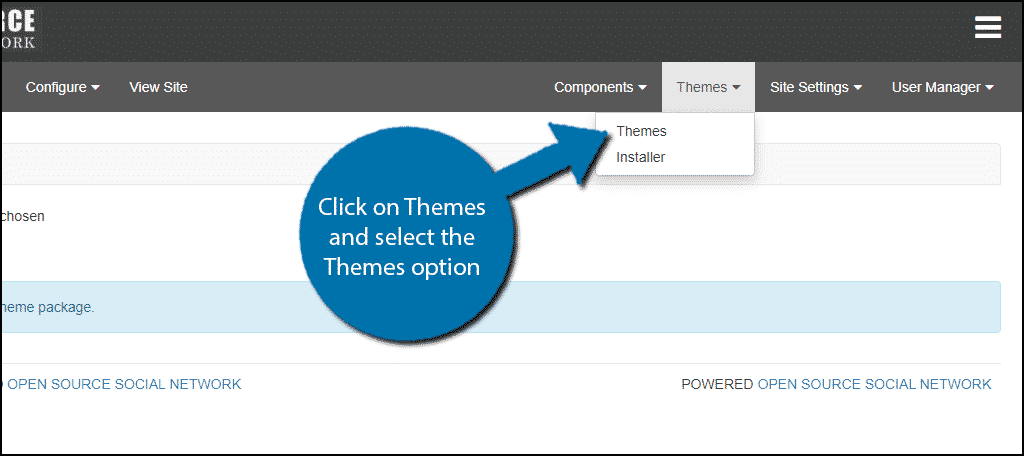 You will now see all of the themes you have installed on OSSN. If you only added one, you should see the default OSSN theme, GoBlue, and the one you installed.
You can tell which one is currently activated on your website by the green checkmark next to it. Themes that are not currently activated have a red X instead. Click on the theme you just installed and click on the "Enable" button.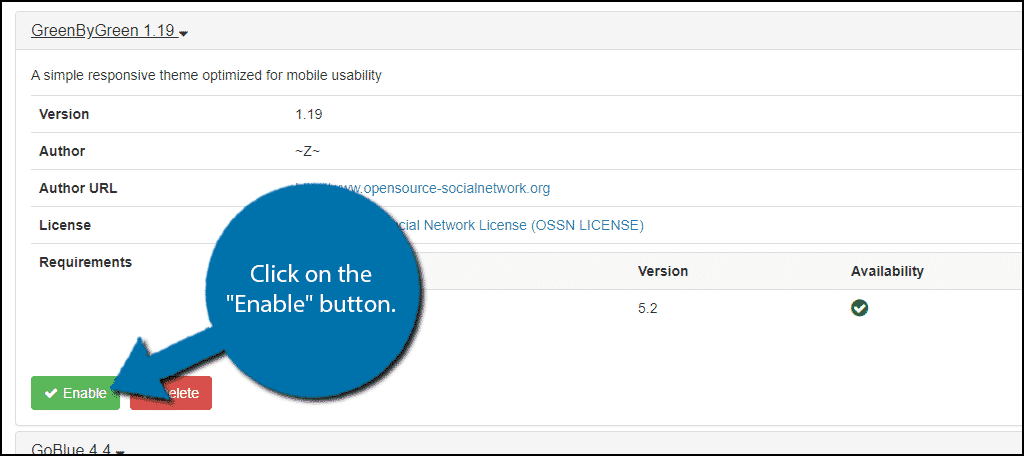 You should receive two green messages. The first being that the theme was successfully enabled, which means it is now on your live website. While the second is informing you the cache was flushed. This happens every time you enable a new theme.
Visit your website to see your new theme in action.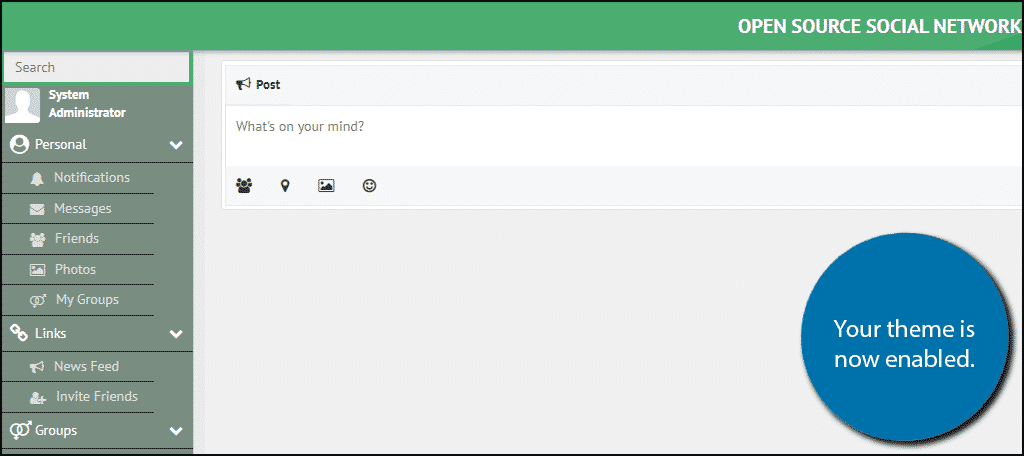 If you do not like it, simply swap themes using the previous steps. If you want to delete a theme, simply select the theme and click on the "Delete" button.
Note: OSSN does not currently support automatic theme updates. This means you will need to check the source of the theme regularly to get the latest version. You are essentially just installing the theme over again when there is a new version.
Congratulations on learning how to manage your OSSN themes.
Should You Consider Using a Custom Theme?
Creating your own custom OSSN theme is a lot of work, but completely viable. This gives your website a unique look that any other OSSN website cannot use. Unless they take the time to recreate your theme themselves, which is unlikely.
Alternatively, if you do not have the technical skill to make your own, you can hire someone to do it for you. This will definitely cost you some money since programmers do not work for free. However, it will certainly be worth the expense in the long run.
If you are just starting out for the first time, using a pre-built theme is the way to go. I would only recommend going the custom route if you have the knowledge to do it yourself or if your website is bringing in a lot of traffic.
Otherwise, you could spend a lot of time and money to see a very small reward.
Stand Out From the Crowd
If you are starting a social network, it is very important to differentiate yourself from the competition. You need to have something that separates your website from everyone else, and selecting a theme or creating your own is a great way to do just that.
Platforms like Facebook, Twitter, Instagram, and just about every other major social media site are built on top of a unique platform. While OSSN is a great starting point, it isn't going to compete with these feature-rich sites. However, you can make your site look better, and that can go a long way.
Which theme do you use on your OSSN website and why did you select it? What is the most important factor to you when selecting a theme for your OSSN site?